6 Best Splatter Screens For Frying Pans Of 2020 – Buyer's Guide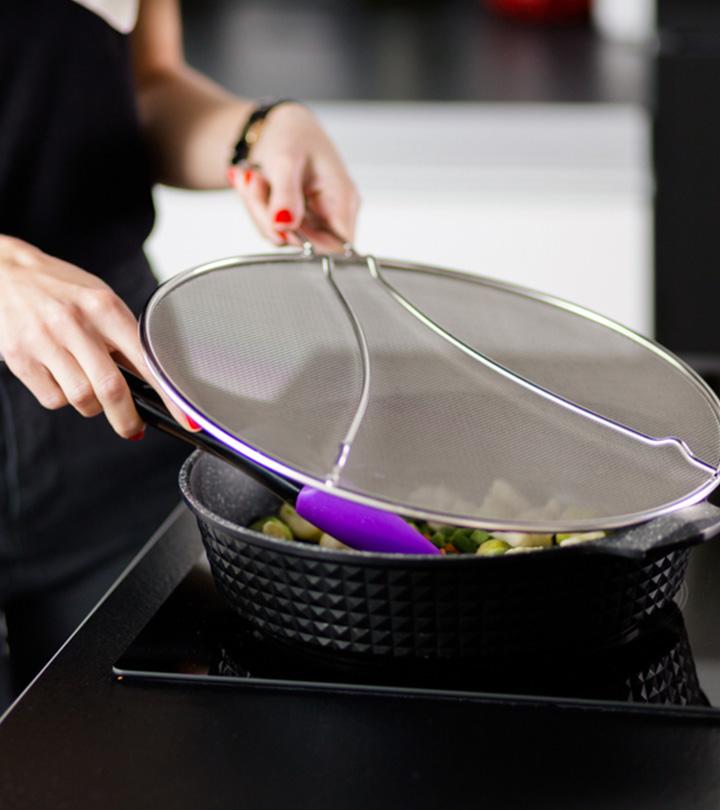 After months of being locked up at home, we've familiarized ourselves with every nook and cranny of our homes and learned to utilize these spaces in innovative ways. We've also learned how to find the silver lining and keep ourselves occupied. Some shed a few pounds and achieved that summer body they've been dreaming about for years, others discovered their talents in playing an instrument or trying to discover the Picasso hidden deep inside them. A majority of us dedicated our time and efforts into becoming the best home chefs we could ever be.
Every day we put on a new hat in the kitchen, don't we? We attempt the fluffiest pancakes in the morning, followed by a high-protein lunch, and when the evening rolls around, we try out different recipes that involve frying and grilling. Yet, some of us still haven't mastered the art of containing oily splatters all over our stoves, our counter tops, and from flying at us. All of that can change right now. Once you get your hands on a splatter screen for frying pans, you'll be left wondering why you never had one in the first place. Let's help you find the best splatter screen for frying pans right away.
Top 6 Best Splatter Screens For Frying Pans In 2020
An amateur cook knows the struggle of dealing with greasy splatters all too much. Cooking lids offer some respite from splatter but they tend to trap moisture, which ultimately affects the taste and texture of the dish being prepared. However, a durable stainless steel splatter screen for frying pans like this one can solve all our greasy woes. This 13-inch screen is ideal for all your pans, pots, and cast iron skillets. It comes with an extra fine mesh, which stops 99% of the splatter while it lets the steam out. The handle is made of high-quality TPR plastic to protect your hands from burning or the handle itself from heating. When you're not using it for cooking, it can double up as a sieve, a strainer, a steamer, and even a cooling rack.
Pros
Made of 304-grade stainless steel
Rust-proof
Dishwasher-safe
Heat-resistant plastic handle
Handy hook on the handle
Resting feet to place over counter tops
Cons
It is not safe for use in an oven.
It may see some staining after repeated and extended use.
Can we, once and for all agree that cleaning up the stovetop and the kitchen top is harder than preparing the meal itself? But, if we get ourselves an effective kitchen splatter screen like this one, cleaning up is bound to be a cakewalk. It is constructed with an extra-fine mesh that prevents up to 96% of splatter while letting the steam out. As it is made of food-grade stainless steel, you can rest assured that it is corrosion-resistant. It also features a sturdy silicone-covered handle for a comfortable grip.
Pros
Resting feed to prevent greasy countertops
Loop hanger on the handle
Extra-fine weaved mesh
Can be used as a strainer
Silicone handle
Dishwasher-safe
Cons
Some may find the screen a little too bulky for their liking.
It may not be easy to clean by hand.
This multipurpose splatter screen for frying pans is designed with perforated holes to contain oil and grease from flying about. It doubles up as a strainer, a cooling mat, and even a lid for your pans. Made of heat-resistant silicone materials, this screen is 13 inches in diameter. It can withstand temperatures as high as 445°F. It features an anti-slip cutting-edge stainless steel handle, which also acts as a hanging loop.
Pros
Non-toxic materials
Food-grade silicone
Can withstand up to 445°F
Non-slip stainless steel handle
Cons
Some may find the perforated holes too large.
This cooking splatter guard is all your frying pan needs, you may not even know it yet. Constructed with industrial grade 304 stainless steel, and a micro-mesh screen that prevents up to 99% splatter. The mesh-screen is protected by a solid rim, which also helps in reducing messy residues on the gas stove. The outer rim comes with 3 placement grooves to accommodate 9, 10, and 11-inch pans, skillets, pots, steamers, and even a Dutch oven. When not in use, you can fold the handle for easy storage. The handle is also equipped with a lock for extra stability while cooking.
Pros
Anti-rust
Made of high-quality stainless steel
Dishwasher-safe
Prevents 99% splatter
Micro-mesh screen
Ideal for 9, 10, and 11-inch pans
Cons
The edge of this frying pan splatter guard may be too sharp.
It may stain.
You might have noticed that finding a splatter screen with a handle is as easy as pie, but finding a high-quality screen with a loop-handle lid isn't as simple. However, we've found one that will solve all your greasy splatters woes. Available in 10, 11.5, and 13-inch variations, this universal splatter screen lid features a tightly-woven mesh to contain splatter. The handle features a loop for easy lifting.
Pros
Fits most standard-sized pans
Dishwasher-safe
Fine mesh-screen
Loop-handle of top
Cons
Oil and grease tends to get on the base of the loop handle.
You must introduce your pots, pans, and skillets to Frywall. Seen on the famous TV show, 'Shark Tank', it features an open top and a silicone body that covers the pans from all sides to prevent any splatter from hitting the stove top or your kitchen counter. It sits on your pan perfectly and also helps in preventing spillovers when you're sautéing a large batch of fresh vegetables. It can withstand up to 450°F and rolls up into a smaller cup-shape for convenient storage.
Pros
Silicone splatter guard
Withstand up to 450°F
Dishwasher-safe
BPA-free
Easy storage
Cons
It is not suitable for downdraft stoves.
It may not offer a good fit for pans that are less than 9.5 inches in diameter.
If you're still undecided about which splatter screen to buy, this buying guide might help make your choice easier.
How To Buy The Best Splatter Screen – A Helpful Buying Guide
What Is A Splatter Guard?
A splatter guard is a device, typically made with a fine mesh overlay that sits on top of your pans and prevents oil and grease splatter from flying out into the stove top or kitchen counters. It catches and contains oily droplets inside the screen while letting steam out.
Things To Consider When Choosing A Splatter Screen For Frying Pans
Material
Stainless steel and silicone splatter screens are the most common screens available in the market. However, most people prefer a food-grade stainless steel splatter screen as it is durable, anti-rust, and doesn't stain easily. Most stainless steel screens are also dishwasher-friendly and do not absorb food odors or smells.
Mesh
The primary objective of a splatter screen is to limit the oil splatter from shooting out while cooking food thoroughly and allowing steam to escape. The more intricate and tightly woven the screen is, the more it contains splatter inside the pan.
Shape
If you have a square shaped pan, it may not be too easy to find a splatter screen that fits over it perfectly as most screens are round in shape. They typically measure 9, 11.5, and 13 inches to accommodate most standard-sized pans. If you have a flat pan with very little rim space, choose a dome-shaped screen that covers the whole pan but also allows for food to pile up. If you have a pan with a decent-sized rim, any flat splatter screen will do the job well.
Handle
When we are stir-frying or sautéing our veggies and meats, we are continuously stirring it. This means that the splatter screen will need to be removed every once in a while. Choose a handle that is well-insulated and heat-resistant to protect your hands from burns. A handle that folds flat into the pan is also a good choice as it saves a lot of space for convenient storage.
Stability
The whole point of getting a splatter screen is to keep our kitchen clean, isn't it? You put in hours of elbow grease to remove grease from your kitchen counter, don't you? Before you purchase a screen, make sure that it is sturdy and not too lightweight for equal weight distribution. Ensure that it sits comfortably over your pots and pans, otherwise the size difference could make it slip off and fall on the side. 
How To Keep Your Splatter Screen For Frying Pans Clean
If you are using a dishwasher, rinse the splatter screen with hot water thoroughly ensuring that no food particles are left behind before you toss it in. To hand wash the splatter screen, choose a hard bristle cleaning brush. Soak the screen in a warm bucket of soapy water for at least 20 minutes. Scrub off the oils along with other dirt and grime. Scrub it one more time if you feel like it is not clean enough. Rinse well and hang it to dry. 
A splatter screen can be life-changing. We urge you to give it a shot and perhaps, you'll agree with us instantly. How many times have you had to run away from splattering oil or shield yourself from it with a large lid? How often do you complain about cleaning the grease off your kitchen countertops? If these instances have happened too many times, it's high time you bring home a splatter screen. We hope that you found one that's best suited for you from this list. Reach out to us and let us know if you liked any.
Expert's Answers for Readers Questions
Do splatter screens really work?
Yes, splatter screens catch the droplets of oil that fly out and keep it contained inside the screen.
Why do some customers have problems with screens warping?
If the splatter screen is exposed to high levels of heat, more than it can withstand, it tends to warp.
Is steel or a silicone splatter screen better?
It entirely depends on how you like to cook food, and how often you cook a certain type of dish. Steel screens are readily available and significantly more affordable than silicone splatter guards for frying pans. However, silicone splatter screens are easier to clean. A mesh with a plain weave is also easier to clean than a tightly-woven mesh, but may not offer as much protection.
Can you use a splatter screen in the oven?
Splatter screens may not be suitable for ovens.
Can I use a splatter screen as a steamer?
Yes, a splatter screen can be used as a steamer, a strainer, and even a cooling rack.
The following two tabs change content below.

Latest posts by Sneha Manandhar (see all)

Sneha Manandhar
Sneha Manandhar holds a Master's degree in English from the University of Pune. She has previously worked with media and publication houses in varied capacities as a lifestyle writer, an editor, a copywriter, and a translator. She reviews beauty, skin care, and wellness products from specialized curated lists. She believes that SEO-driven content is the present and the future and keeps herself busy by dabbling in SEO-related tools and honing her editing skills.