15 Best Sports Bras For Small Chests For A Well-Fitted Look – 2022
Keep your breasts from bouncing amid trainings with comfortable and supportive bras.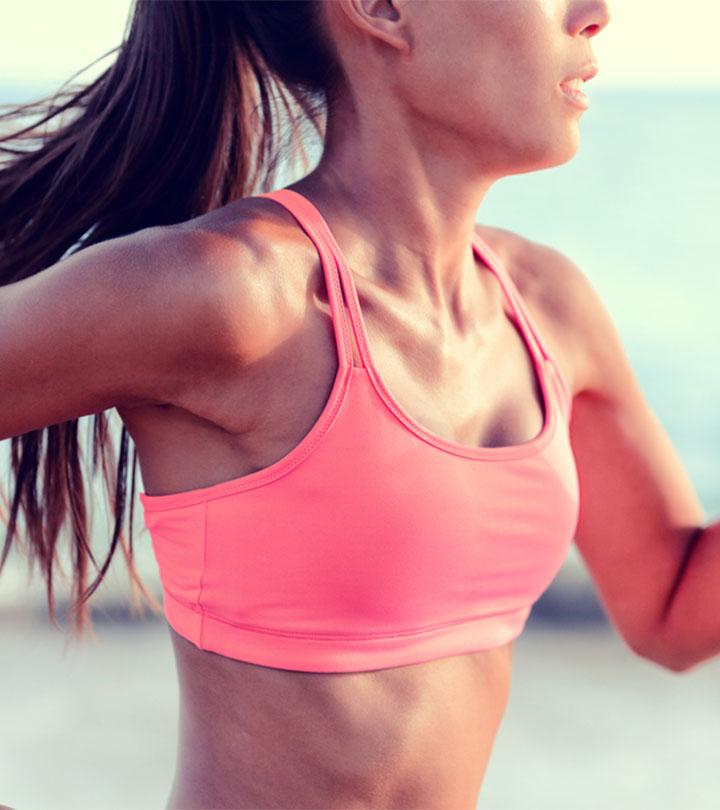 This article is dedicated to helping you find the best sports bras for small chest women. The lingerie and underwear world feeds large-breasted narratives but usually sidelines the needs of women with a smaller bust. It is a misconception that they don't need to wear bras because support is essential for all sizes. A sports bra should not leave too much open room as it will feel uncomfortable and provide absolutely zero support to the bust. The cups don't have to be too large to make you look curvy, just the right size to get the proper well-fitted look. So, here's our list of the bests.
15 Best Sports Bras For Women With Small Chests
The Lemedy Padded Sports Bra is made of a soft and comfortable fabric blend of 87% nylon and 13% spandex. It is lightweight and moisture-wicking and has high elasticity, making it breathable and comfortable.
The bra comes with removable pads. It provides light support for A, B, and C cups and is ideal for yoga, gym wear, or any type of physical activity. This longline sports bra has a simple design and comes in various colors. It is a fantastic combination of fashion and functionality that makes it a must-have for your wardrobe.
Pros
High elasticity
Moisture-wicking
Lightweight
Comfortable
Removable pads
Stretchy straps
Cons
If you are looking for a high support snug fit sports bra, this one from Champion would be an ideal choice. This anti-bounce bra keeps you stable, while its mesh ventilation takes care of the moisture and keeps your body cool. The straps have inbuilt gel, which prevents them from digging into the shoulders.
The wirefree cups and the bottom elastic band make it comfortable and seamless. The bra has a cushioned hook-and-eye closure that makes it easy to wear and take off. It is perfect for cycling, walking, running, cross-training, and court sports.
Pros
Comfortable fit
Easy to wear and remove
Soft fabric
Durable
Available in a variety of colors
Cons
The Dragon Fit Sports Bra is well-designed with high coverage in the front that makes you less conscious during your plank pose. It has a wide U at the back that provides adequate support and airflow. The wide shoulder straps and elasticated hem make it perfect for low, medium, and high-impact activities.
This crop longline bra is made of soft, stretchy, breathable fabric that provides movement control, push-up, and great support. It has removable pads and is ideal for yoga, exercise, dance, and loungewear. Pair it with your high-waisted exercise tights or slip it under your shirt for a seamless look.
Pros
High coverage
Moisture-wicking
Soft fabric
Seamless
Comfortable
Cons
None
The Alyce Ives Intimate Sports Bra is made of 90% nylon and 10% spandex with removable foam pads that provide support and retain shape. It is seamless and non-wired with a wide band that keeps your breasts in place and gives you all-day comfort. The racerback design makes it a top pick in the market. It can be worn under your exercise outfit or any.
Pros
Comfortable
Durable
Seamless
Machine washable
Removable pads
Soft
Stretchable
Adjustable straps
Cons
The Puma Women's Seamless Sports Bra is made of 80% nylon, 12% spandex, and 8% polyester and is stretchy and moisture-wicking. The bra comes with removable cups and adjustable straps. It has a pull-on closure design that makes it easy to wear and remove.
The wireless design provides a natural shape and is supportive and comfortable without being restrictive. It provides a light lift and an adequate amount of compression, making it a good option for daily office wear. This bra flatters your shape, and the band at the bottom makes it snug, keeping your girls in place.
Pros
Removable cups
Stretchy fabric
Moisture-wicking
Adjustable straps
Seamless
Cons
If you are looking for snug compression and medium support, the Nike Victory Compression Sports Bra is a perfect choice. It has a racerback design that controls bounce and is ideal for various physical activities. The fabric is made of 88% polyester and 12 % spandex.
The inner lining is made of jersey material, which absorbs sweat and keeps you dry and comfortable. The elastic chest band at the bottom is soft and provides sufficient security and comfort. This sports bra is suitable for athletes wearing A, B, C, and D cups. The simple design with no zips or removable pads is a favorite among runners.
Pros
Soft material
Moisture-wicking
Machine washable
Pull-on closure
Cons
The Hanes Sport Compression Sports Bra understands your sport and style and helps enhance your moves and reduce your bounce. It is made of 89% polyester and 11% spandex, and it wicks sweat and keeps your body cool and comfortable. The wirefree compression design keeps your breasts in place during workouts. The racerback design enhances motion and provides medium support. This chafe-free and seamless bra are perfect for your gym days.
Pros
Moisture-wicking
Wirefree
Racerback design
Medium support
Chafe-resistant
Seamless
Cons
This sports bra from Oalka is made of 86% nylon and 14% spandex. The quick-drying material keeps you dry, cool, and comfortable all through the day. The racerback pullover design offers a great range of motion, while the double layer provides full coverage.
This wirefree bra has an impressive compression fit that offers excellent hold during running and gym workouts. It is also seamless and chafe-resistant and has a wide elastic band at the bottom for support. You can pair it up with high-waisted tights or wear it under a shirt.
Pros
Moisture-wicking
Full range of motion
Full coverage
Compression fit
Seamless
Chafe-free
Cons
The Jockey Modern Micro Bralette is made of 95% nylon and 5% spandex and has adjustable straps. It is wireless and extremely comfortable. It looks like a tank top and can be easily slipped under a T-shirt.
This bra comes with removable pads that are quick-drying. It offers moderate support and is perfect for light physical activities like walking, running errands, light workouts, and lounging around. The elastic band at the bottom helps to hold and keep your breasts in place.
Pros
Adjustable straps
Removable pads
Comfortable
Quick-drying
Seamless
Soft fabric
Stretchy
Moderate support
Cons
The band keeps rolling up.
The Champion Motion Control Sports Bra is designed with motion control cups that keep you secure during your workout and provides excellent support. The cups minimize lateral, vertical, and front-to-back movements, while the smooth panels control the bounce.
The racerback and power mesh sides allow maximum ventilation. The zip closure makes it easy to put on and take off. It is made of 88% polyester and 12% spandex that is sweat-wicking. It keeps your body dry and cool during your workout. This sports bra is perfect for running, training, and other high-intensity activities.
Pros
Wireless molded cups
Adjustable straps
Easy to wear and remove
Stretchy fabric
Comfortable
Sweat-wicking
Lightweight
Cons
The Core 10 Compression Sports Bra provides support for medium-impact activities like light running and gym workouts. It is made of 81% polyester and 19% elastane, which makes it super soft and moisture-wicking. It also has a power mesh lining that offers support and extra compression. This bra snugly fits A to C cups and can be paired with training leggings.
Pros
Medium support
Soft fabric
Moisture-wicking
Extra compression
Comfortable
Cons
The Melody Strappy Sports Bra has a strappy design at the neck that makes it fashionable. This wireless, hookless bra has adjustable straps and removable pads that hide seamlessly under your outfit. It is made of 92% nylon and 8% spandex.
The stretchy fabric adjusts to your body perfectly even if you gain or lose some weight. It is light and breathable, and the elastic band at the bottom provides medium support. This fancy bra is ideal for a workout, jogging, yoga, Zumba, aerobics, clubbing, or lounging around.
Pros
Soft and stretchy fabric
Removable pads
Comfortable
Adjustable straps
Assorted colors
Seamless
Wireless
Cons
None
The Under Armour UA Infinity High Sports Bra provides strategic support and is meant for high-intensity activities like running, aerobics, field sports, and court sports. It has molded cups with one-piece padding that offers comfort and coverage and mesh panels that allow breathability. The sweat-wicking fabric is made of 87% polyester and 13% elastane. The adjustable crisscross straps provide a custom fit, while the hook and eye closure system makes it easy to wear and take off.
Pros
No digging into the skin
Comfortable
Light lift
Durable
Stylish
Breathable fabric
Streamlined fit
Cons
The Fitath Sports Bra is made of 92% nylon and 8% spandex double-layer ripped fabric. It has a pullover style with a scoop neckline and wide straps and is supported by an elastic underbust band. The bra has a compression fit and is perfect for Pilates, yoga, weight training, and low-impact sports activities. It is wireless and seamless and provides comfort, functionality, and style. The crop-top-like design goes well with workout tights.
Pros
Comfortable
Double-layered fabric
Compression fit
Wide straps
Fashionable
Multiple color options
Seamless
Cons
The Ultrafun Women Running Sports Bra is made of 88% polyester and 12% spandex material that is lightweight and super soft. It has a mesh liner that helps in quick drying of sweat and keeps you cool during any activity. It comes with removable pads that offer full coverage and minimize bounce.
The racerback design has good elasticity, and the wide stretchy band below the bust provides support during workout sessions. This sports bra is ideal for running, jogging, aerobics, yoga, dance, gym, and daily wear. Its most interesting feature is a back pocket where you can keep your phone and go hands-free while working out.
Pros
Chafe-resistant
Removable pads
Full coverage
Lightweight
Soft fabric
Back pocket for phone
Cons
Sports bras come with different features. In the section below, you will find all the factors that you need to consider before buying a sports bra if you have a small chest.
How To Choose The Right Sports Bra If You Have A Small Chest
Fabric: If you are small-chested, there is a good chance that the cups might have quite a bit of jiggle room. So, go for a sports bra made of a fabric that fits snuggly and is moisture-wicking to keep you cool and dry while you exercise.
Support: The most important factor in a sports bra is adequate bounce control and support. Depending on the kind of activity you are into, go for high, medium, or low support.
Compression: If you have a small chest, a compression fit would be ideal to put pressure on the breasts and prevent them from moving. However, it shouldn't be so tight that it hampers breathing.
Style: If you like to pair your sports bra with a bottom wear, you might want to go for attractive styles and bright colors. However, if you want to wear it as innerwear, you will have to find one that is seamless.
Why Trust StyleCraze?
Baishali Bhattacharya is an expert in makeup and fashion, and with her experience as a certified Style and Image Consultant, she knows what looks good and which trend holds weight. Here, she delves into the best sports bras suitable for small-busted women and will keep them comfortable throughout the day. She conducted in-depth research and spent hours looking through reviews to recommend the best products to her readers.
Frequently Asked Questions
Do sports bras make your chest flat?
No, snug sports bras do not make your chest flat. Tight sports bras may compress your chests temporarily while you keep them on, but there are no long-term effects.
What cup size is a small sports bra?
A small sports bra ranges between the cup sizes 32C to 34C.
Do sports bras help with breast pain?
Yes, sports bras help alleviate breast pain. Well-fitted sports bras support your back and neck while eliminating breast sagging which usually causes breast pain.
Can I wear a sports bra while sleeping?
Yes, sports bras keep your breasts comfortable so wearing them while sleeping can be a good idea. However, do not opt for suffocating sports bras and go for the ones that are neither too tight nor too loose.
Does wearing a sports bra prevent breast growth?
No, wearing a sports bra does not prevent breast growth. Genes and hormones control breast growth. A well-fitted bra only helps keep your breasts secured and protected.
What are the side effects of wearing a sports bra?
If the sports bra is too tight, it weakens your back muscles, increases shoulder pain, and makes your posture appear strange.
Can sports bras cause stretch marks?
Wearing a wrong-sized sports bra may cause stretch marks on your breasts due to sagging and damage your breast ligaments.
Recommended Articles