12 Best Sports Bras Available In India
With their supportive fit, you can comfortably step up your workout routine.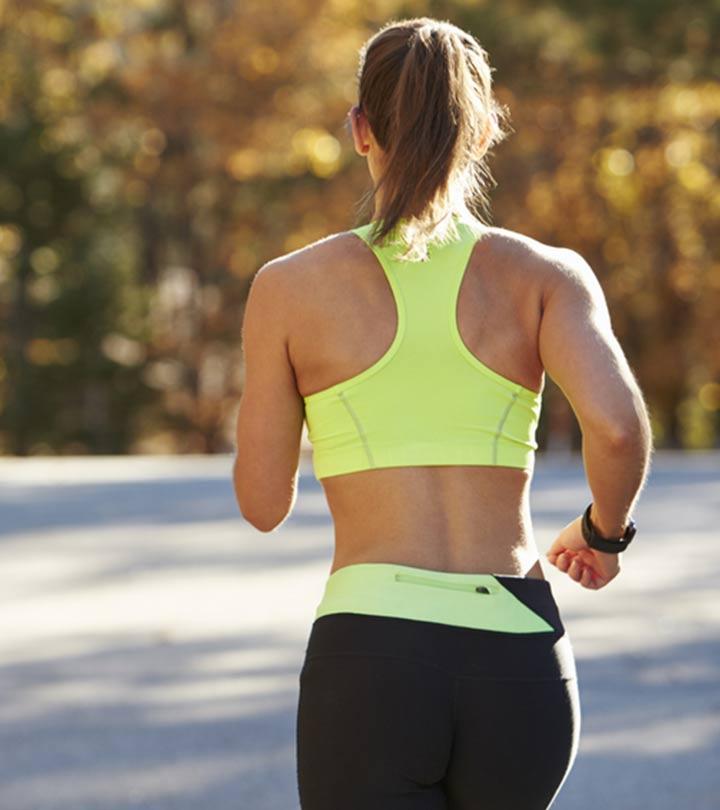 Wearing the right kind of clothing is important during workout sessions. While most of us go for Climacool T-shirts and sweatpants, we often tend to neglect investing in suitable innerwear for workouts. A sports bra allows you to carry out your body training with ease. It offers great support to your breasts and prevents them from sagging or getting injured due to physical activities.
Sports bras are made of comfortable, stretchable, and breathable fabric to keep you dry and sweat-free during intensive training. They come in different styles and designs to meet all your workout-related needs. If you wish to check out some trendy, comfortable, yet highly supporting range of innerwear, browse through our list of the 12 best sports bras available in India below!
12 Best Sports Bras Available In India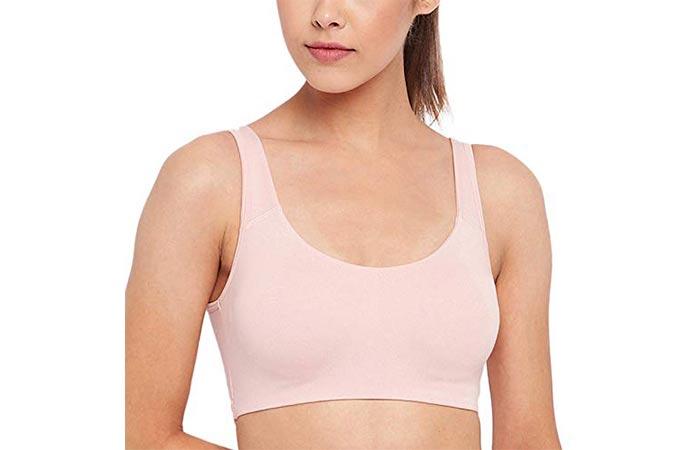 The Enamor SB06 Low Impact Bra is suitable for both beginners and adults for light workouts due to its comfortable fit. It is made with soft and breathable cotton fabric. This low-impact bra has a perfect shape with molded design and a double layer front to reduce show-through. Its seamless design shows no lines, and the wide straps provide full support. This wire-free, non-padded sports bra has a keyhole back and a deep U-shaped neck to team up with your regular wear.
Pros
Comfortable
High coverage
Little or no bouncing
Available in different shades
Cons
Doesn't have a good hold.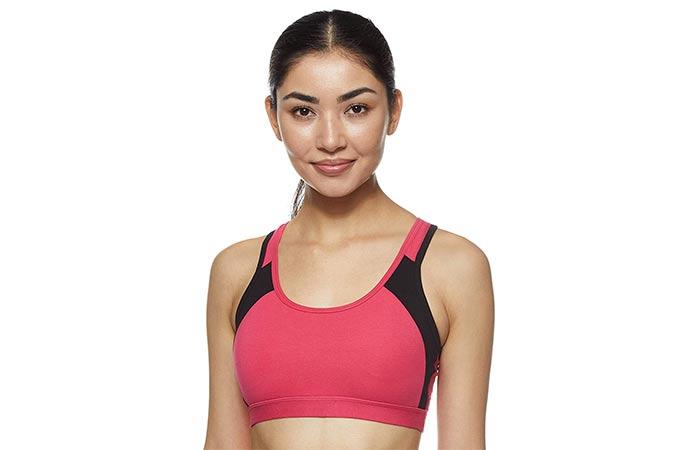 This Cotton Padded Active Bra from Jockey Women is crafted out of super soft and smooth cotton that undergoes an additional processing step. The fabric is made from lycra, elastin, and spandex to offer extra stretchability. Its excellent compression reduces bounce, and its stay dry technology helps prevent sweat.
The sports bra features double-layered cups with removable pads. It has a broad bottom band elastic to offer firm hold while providing a comfortable fit for all-day wear. The racerback cut offers more flexibility and movement to the shoulders while making it easy for you to wear the bra. The broad straps provide additional support during workouts.
 Pros
Available in different shades
Comfortable
Seamless
Full coverage
Plus sizes available
Cons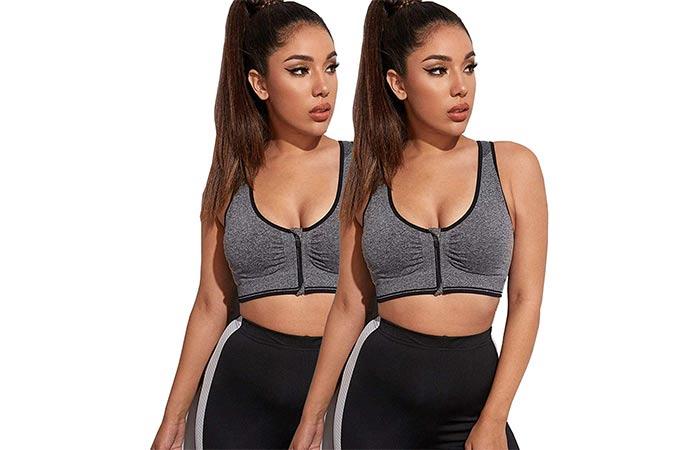 This Front Zipper Padded Sports Bra from Two Dots offers full support during indoor and outdoor workout sessions. It has a front zip closure for easy and convenient wear and secure fit during workouts. This racerback padded bra has a wireless design and allows maximum movements of the shoulders. The removable pads are secured in shaped cups that offer extra support and prevent your nipples from showing. These pads can be easily removed and put in as per your convenience. This full-coverage women's sports bra is available in multiple sizes and suitable for extended wear.
Pros
Easy to wear
Secure fit
Comfortable
Full coverage
Seamless
Breathable fabric
Cons
Not suitable for intense workouts.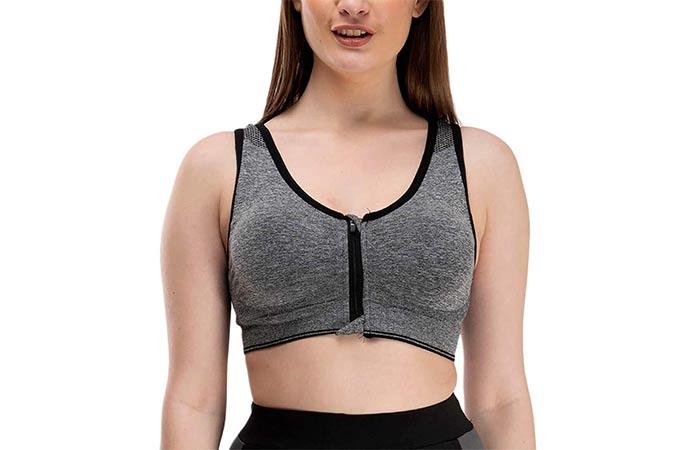 The Mysha padded and non-wired bra has a comfortable design and is made of soft, easy-to-care fabric. It is available in sizes from 30B to 36B and is made from a quick-dry fabric that wicks sweat to keep you sweat-free and dry. The racerback neck allows maximum shoulder motion, and the pads can be easily removed and placed back in according to your preference.
 Pros
Wide range of sizes
Different color choices
Comfortable fit
Front zip closure
Cons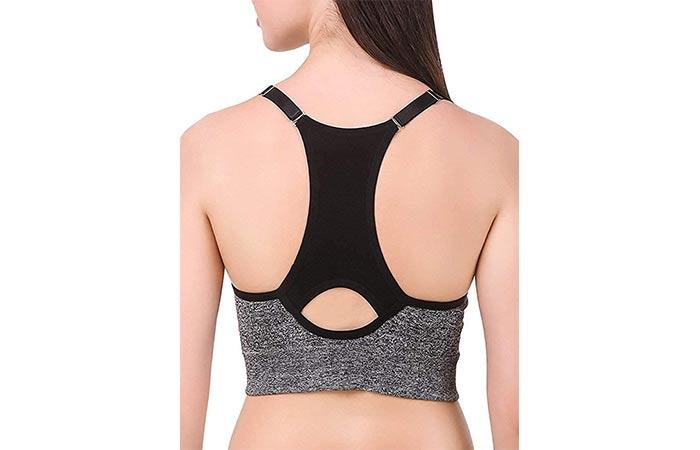 The Pipal Women's Sports Bra offers comfortable to wear for light to intense workouts. This skinny fit sports bra comes in sizes ranging from 30B to 36B. It features easy-to-remove pads to let you wear it as per your convenience. The soft and cool fabric is designed with quick-dry technology that wicks sweat to keep you cool and dry. This bra has a racerback neck to offer maximum shoulder movement. Its front zip design makes it easy to wear, and the wide elastic band provides full support.
Pros
Front zip closure
Multiple sizes
For day wear
Cons
Releases color with every wash.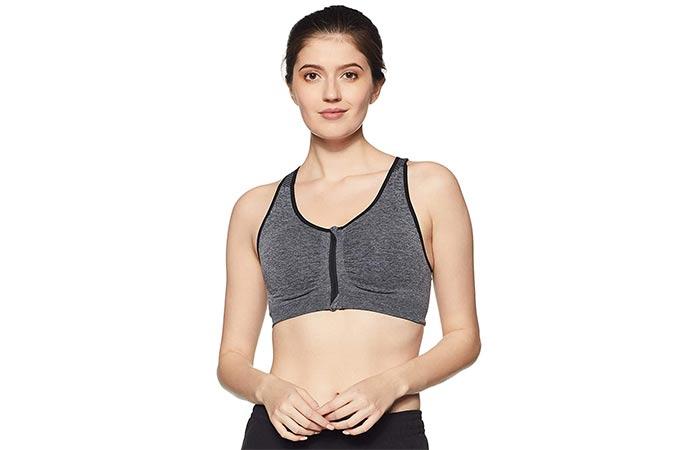 This Women's Poly Cotton Sports Bra from Fabme offers optimum protection and support during workouts by minimizing bounce, maintaining breast shape, and offering comfort. This wire-free, padded, and free-size sports bra is made from nylon and spandex material that prevents sweat, chafing, and burden while being super light and trendy. The front zip closure makes it easy to wear, while the removable pads allow you it wear it the way you like. This sports bra is highly breathable and fitted with fine elastic to provide maximum support.
Pros
Easy to wear
Wide straps
Breathable fabric
Cons
Not for high-impact workouts.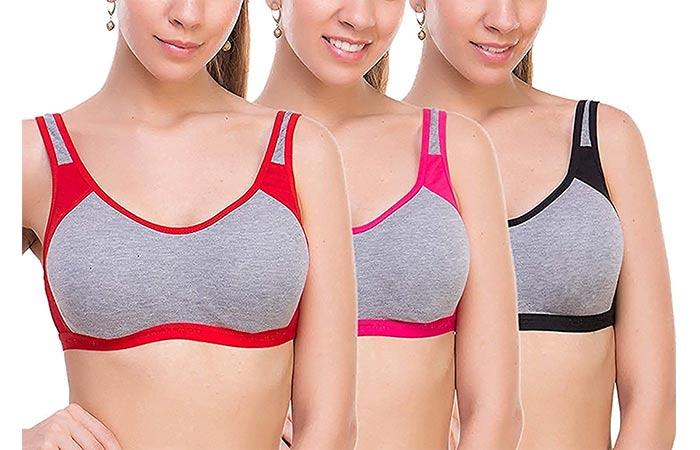 The Vibrant Fashion Women's Workout Sports Bra is an excellent choice for beginners and adults due to its soft cotton fabric and comfortable fit. This This non-padded, wire-free sports bra  offers great shape, support, and comfort due to its molded design. It is not only shockproof but also trendy and stylish. This superior-quality bra is available in various shades and designs and is suitable for workouts, jogging, yoga, Pilates, boxing, gym, etc.
Pros
All-day wear
Stretchable
Breathable
Stylish
Safe for sleeping
Comfortable
Cons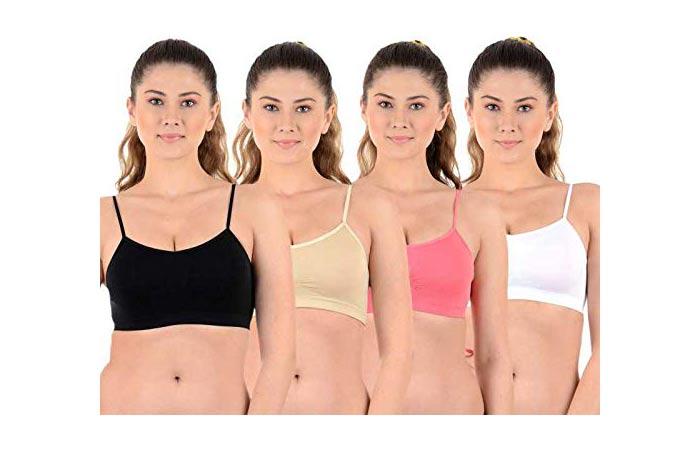 The Sports Air Bra from SQIN does not have regular fit issues like strap slipping, painful hooks, or building edges. It offers a comfortable fit and enough support to carry out your daily workouts with ease. This non-padded, non-wired bra has a wide elastic band to provide optimum support, while its back design offers full movement and ease. This sports bra is made of soft and stretchable cotton and spandex fabric and features inner bust edging of fine mesh to improve airflow and comfort.
Pros
Pack of four
Wide elastic band
Various shades available
All-day wear
Lightweight
Cons
The new blue eyes Women's Sports Bra has a classy and comfortable style to offer optimum support during workouts. This trendy sports bra is made from spandex material and has a regular fit. It provides full coverage to let you carry out various activities comfortably. The wide and broad front and back design with no wiring ensures all-day-long comfort.
Pros
All-day wear
Full coverage
Stylish
Comfortable fit
Cons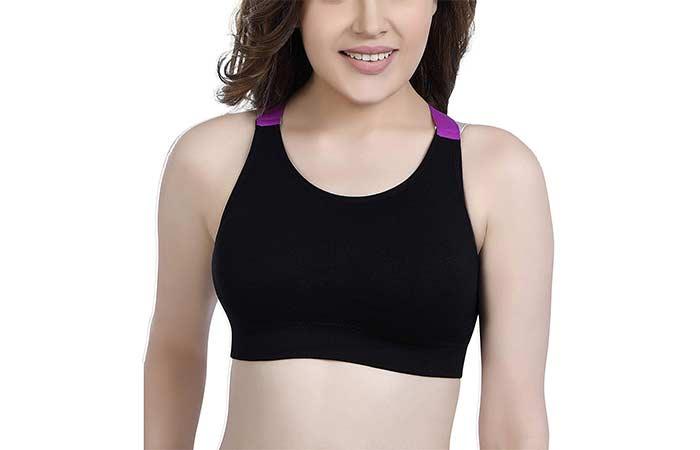 This trendy and peppy sports bra from Shoppy Villa has light padding with wired cups to offer extended support throughout the day. It is made from super soft and stretchable polyamide and spandex fabric to provide a comfortable fit. The cross-back design allows you to put it on and remove it easily. The pads can be easily removed or put back based on your preferences.
Pros
Various color options
Soft material
Comfortable fit
All-day wear
Cons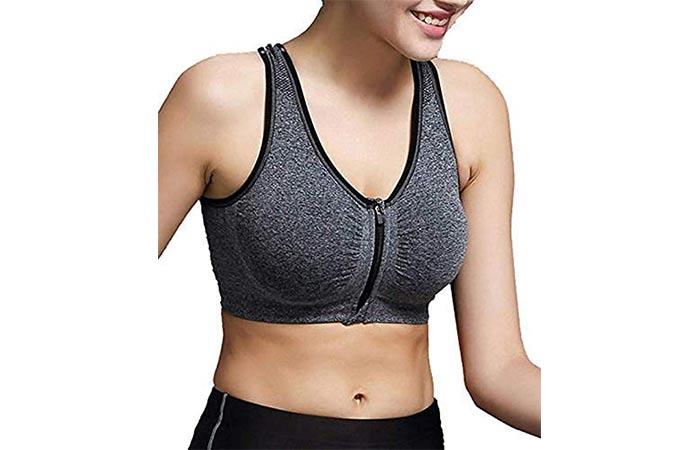 This sports bra is ideal for daily fitness activities like yoga, gym, running, Pilates, etc. It comes with a front zip closure and racerback design to make it easy to wear and offer complete shoulder movement. The bra is made of soft and breathable spandex and polyamide fabric with quick-dry technology to keep you cool and dry by wicking sweat. This casual wear bra can be worn all day long and provides full coverage and extended support.
Pros
For high-intensity workouts
Quick-dry fabric
All-day comfort
Full coverage
Cons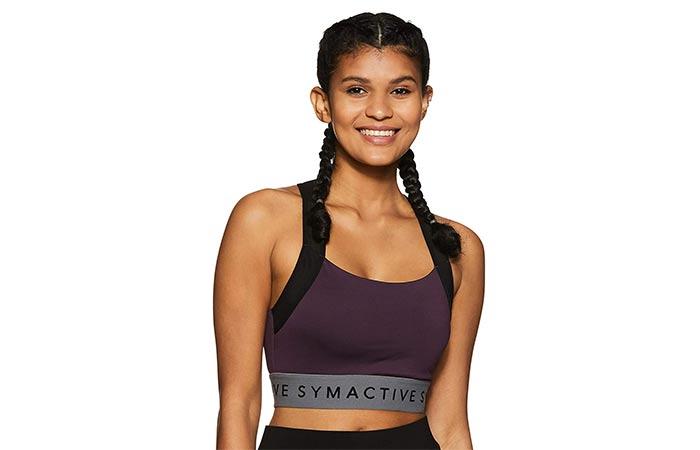 The sports bra from Symactive is made from spandex and polyester fabric that is stretchable and comfortable. This padded, non-wired sports bra has cut-out details to offer better shape and support. It uses unique antimicrobial technology to keep odor-causing bacteria at bay and let you be carefree throughout the day. The moisture-wicking capability absorbs sweat and keeps you dry, while the UV protection technology keeps the skin protected from the harsh sun rays.
Pros
Lightweight
Stretchable fabric
Comfortable
Cons
Not for high-impact workouts.
There are certain features that you should look for before investing in a sports bra. The following are some points to consider.
How To Choose The Best Sports Bras
If you are involved in high-intensity workouts, go for a high-impact sports bra as it offers adequate support to carry out intense activities. For low-intensity and light workouts, opt for low-impact sports bras.
A sports bra made from soft and breathable fabric that keeps you dry and comfortable all day long.
The wider the straps, the better the support you get from your bra. Hence, it is essential to choose a bra that has sturdy straps.
The neck type of the sports bra determines how easy it will be to wear or remove. A sports bra with front zip closures, back hooks, or racerback neck is easy to wear.
Whether you are a beginner or an advanced level fitness enthusiast, wearing the perfectly fitted sports bra is imperative. It also maintains the shape of your breasts, prevents them from sagging, and helps you avoid bounce while training. Choose a suitable product from our list of the best sports bras and hit the gym in style!
Frequently Asked Questions
Is it bad to wear a sports bra 24×7?
Wearing any bra all day long is not recommended as it can lead to a higher risk of developing fungal infections or rashes.
Is it unhealthy to sleep with a sports bra on?
No. There is nothing wrong in sleeping with a bra on. However, it may cause irritation, discomfort, and itching.
Recommended Articles