The 10 Best Workout Headbands That Actually Stay Put
Keep your hair away from interfering during an intense workout session for the best results.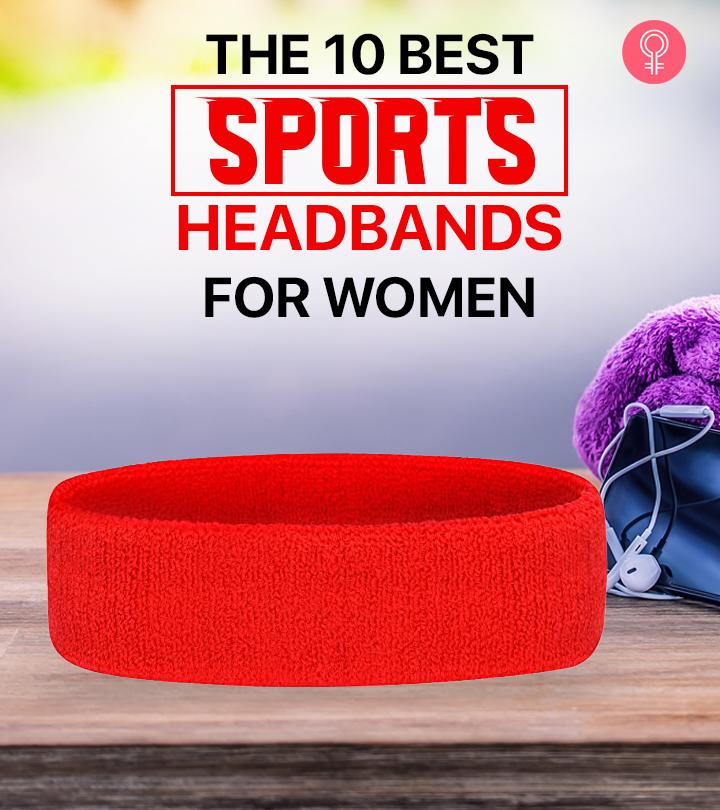 Sweat pouring down your brow while participating in high-impact sports can be very distracting and unpleasant, but don't worry, we have something that can help. When it comes to keeping your hair out of the face while achieving your personal transformation goals, using the best sports headbands for women is really necessary. They work because they are efficient and handy. There are numerous sports headbands in the market, each with its own set of functions. They include a variety of intriguing features, including rapid absorption, breathability, and sweat resistance.
You can choose your preferred design from the myriad of alternatives, but trust us when we say the choices are overwhelming. However, if you are unfamiliar with these headbands women use during high-impact sports and would like expert guidance on which one to choose, we can help.
The 10 Best Sports Headbands For Women
This pack of three Beace Sweatbands is made of cotton, spandex, and nylon and feels soft and comfortable on the head. They have a moisture-wicking feature that lets you concentrate on the sport. Their non-slip feature allows keeps them in place no matter how much you sweat. The fabric is breathable which absorbs sweat quickly, and keeps your face dry for extended hours. Many reviews indicate that these headbands for different sports are lightweight and highly stretchable.
Specifications
 Material: 85% Cotton, 10% Spandex, and 5% Nylon
 Band Width: 2 inches
 Colors: Black, White, and Gray
Pros
 Soft
 Comfortable
 Lightweight
 Moisture-wicking
 Breathable
 Quick-drying
 Highly elastic
Cons
Pros
 Thinnest headband
 Non-slip silicone grip
 Stretchable
 Sweat Wicking
 Sturdy
Cons
 Slides towards the crown or back of the head
Pros
 Quick-absorbing
 Quick-drying
 Breathable
 Perfect for long hair
 High absorbent
 Machine washable
 Stretchable
Cons
None

Say goodbye to the distractions due to sweating during your workouts or while playing your favorite sport. This set of three stylish sports and yoga headbands of 3-inch width effectively absorb sweat trickling down your forehead. The fabric is breathable and has high elasticity to fit all head sizes. These headbands are skin-friendly and comfortable to wear. Further, they are durable and are abrasion-resistant as well. These are also ideal for multiple hairstyles like a ponytail, short hair, and curly hair.
Specifications
 Material: Polyester
 Band Width: 3 inches
 Colors: Black, Gray, and Striped
Pros
 Breathable
 Extra-wide
 Skin-friendly
 Durable
 Stylish cross design
 Abrasion-resistant
 Stretchable
 Breathable
Cons
None
If you like to remain fashionable but also want to keep away sweat and hair from falling on your face, get an ONUPGO sports headband. This pack of 12 sports and running headbands is non-slip and helps set your entire focus on your game. These not only absorb the sweat but are also odor-resistant. They are quick-drying and moisture-wicking too. Multiple reviewers highly recommend purchasing this headband as it stays in place without sliding down and absorbs excess sweat like a charm.
Specifications
 Material: 80% cotton, 12% spandex, and 8% nylon
 Band Width: 2.16 inches
 Color: Black
Pros
 Lightweight
 Non-irritating
 Extremely comfortable
 Stretchable
 Non-slip
 Moisture-wicking
 Odor-resistant
Cons
None

For all you sports enthusiasts who sweat a lot, try these super-soft headbands by Dasuta. These have a reversible design and are wide enough to absorb maximum sweat. They are made of 87% chinlon and 13% lycra spandex, which is super soft, breathable, and stretchable. These are highly elastic and fit all head sizes. These eight headbands are fully reversible and can be worn on both sides. These comfortable sports headbands can also be used as neck warmers or scarves outside of the gym in winter. Amazon reviews suggest that these headbands can be styled and worn all day long without any discomfort.
Specifications
 Material: 87% Chinlon and 13% Lycra Spandex
 Band Width: 3 inches
 Colors: Black, Gray, Blue, and Striped
Pros
 Eco-friendly material
 Comfortable
 Multipurpose
 Odor-resistant
 Breathable
 Stretchable
 Moisture-wicking
Cons
None
The Bememo Sweatbands Set will include six pieces of sweatbands and wristbands, which are soft, comfortable, and highly durable. They are made of sweat-wicking cotton, which maintains its shape for a long time. These gym headbands look great on the head, especially when you wear them with color-matching outfits. Both the headband and wristband give you a comfortable sporting experience. Whether you are looking for tennis, basketball headbands, or CrossFit headbands, this pair is ideal for all. If you wish to rock a 90s look, reviewers suggest getting this one.
Specifications
 Material: Soft Cotton
 Band Width: 2.16 inches
 Color: Blue and White
Pros
 Good ventilation
 Soft
 Comfortable
 Durable
 Universal size
 Lightweight
Cons
GonHui Sport Headbands have high absorption power and are best for excessive sweating. They are made of eco-friendly material, which is neither too tight nor too loose. The fabric is breathable and features a double silicone layer that prevents slipping and keeps the headband in place. The bands are highly stretchable, quick-drying, and are perfect for daily use for all outdoor activities. If you are not sure that it will do its job during workouts, check out some reviews to get more information.
Specifications
 Material: 78% Nylon, 15% Polyester, 7% Spandex, and Silica gel
 Band Width: 2.2 inches
 Color: Black
Pros
 Anti-slip
 Highly absorbing
 Quick-drying
 High stretchable
 Durable
 Breathable
 Eco-friendly
Cons
None
Enjoy sweat-free workouts and sports with this pack of four ASM Sports Headband. These headbands for outdoor activities are a blend of spandex, nylon, and silicone, which makes them stretchable and soft. The fabric is breathable and moisture-wicking too, which does not itch or irritate the skin. The bands feature a double-layered silicone inside, which resists slipping without disturbing you. They are available in other bright colors that complement your personality.
Specifications
Material: 50% Cotton, 45% Spandex, and 5% Silicone
Band Width: 3.5 inches
Colors: Black, Pink, Blue, and Gray
Pros
 Itch-free
 Breathable
 Stretchable
 Anti-slip
 Moisture-wicking
 Machine-washable
Cons
 Not for larger head sizes
This women's headband by Unique Sports is made of eco-friendly material and fits all sizes. It has a high percentage of cotton, which absorbs moisture quickly. In addition, the thickness of 2.5 inches protects the eyes from heavy sweat. It is perfect for all kinds of sports and workouts and is also available in black, blue, yellow, green, and white to match your sports or exercise clothes. According to the reviewers on online forums, it is very thick and tight, making it extremely absorbent and comfortable on your head.
Specifications
Material: 95% Cotton and 5% Elastic
Band Width: 2.5 inches
Color: Red
Pros
 Non-allergic
 Non-toxic
 Comfortable
 High quality
 Quick-absorbing
Cons
Sports headbands are simple accessories that help you concentrate better on your game by preventing the distraction of sweat trickling down your face. But, choosing the perfect one is not that easy, especially if you do not have any hands-on experience in purchasing a headband before. Various factors need to be considered while choosing the best women's sports headbands. Check those out in the next section.
What To Look For While Choosing The Best Sports Headbands For Women
 Size And Fit: The headband must fit your head perfectly; otherwise, it will slip off and need constant adjustments. While checking the size, also check for elasticity. It should not be too tight or too loose. Usually, the headbands come in universal size but do cross-check the size again. You can also find adjustable headbands that can be adjusted depending on your head size and shape.
 Fabric: Always opt for headbands that are made of high-quality materials like nylon, lycra, spandex, polyester, cotton, or a blend of some of these fabrics. These fabrics are usually snug fit, moisture-wicking, soft, and comfortable. However, cotton blends are highly durable and stretchable, along with high-absorption features.
 Non-slip Materials: Some cooling headbands feature a non-slip silicone layer that prevents the band from falling off. The non-slip coatings can be stripes or dots that firmly the band on the head.
 Colors: There are multiple color options available that match your attire or the pattern of your outfit. But, if you are looking for something different, you can choose a themed design that matches the wristband. Reversible and striped bands also look stylish because of their two-toned colors.
 Width: The width of the band does matter since it has a broader surface area for sweat absorption. However, the thinner band also offers superior moisture absorption and holds back your hair without feeling too stuffy or tight.
Why Trust StyleCraze?
Aditi Naskar has a diploma in health and wellness and specializes in reviewing fitness products. After thorough research, she has provided a detailed list of the best sports headband for women. She went through numerous reviews and feedback on multiple forums and brand websites to help you pick the perfect sports headband. These products are breathable, absorb sweat quickly, and keep your face dry for extended hours.
Frequently Asked Questions
Should I wear a headband while working out?
Yes. Wear a headband that stays in place and keeps the hair off your face during vigorous movements.
Do headbands help with hair sweat?
Yes. Sweat-resistant headbands minimize the sweat buildup on your scalp and forehead and wick away the excess moisture.
Do headbands keep sweat out of the eyes?
Yes. Headbands wick moisture from your forehead and prevent sweat from rolling into your eyes.
Do headbands make your hair greasy?
No. Headbands made up of moisture-wicking fabric keep sweat from accumulating on your skin and prevent your hair from getting greasy.
Why do headbands pop off my head?
Usually, the head sizes of women are around 20 to 24-inches. So, if you wear a headband made for smaller head sizes, they will tend to pop out of your head. So, always invest in bands that fit your head or have good elasticity.
Do headbands go over your ears?
You can place your headbands behind your ears or let them lay over them. Just ensure to push all your hair backward, away from your face.