Flaunt Flawless Skin With The 9 Best Spray Foundations Of 2023
Use the most smoothening base to create an even texture before you apply makeup.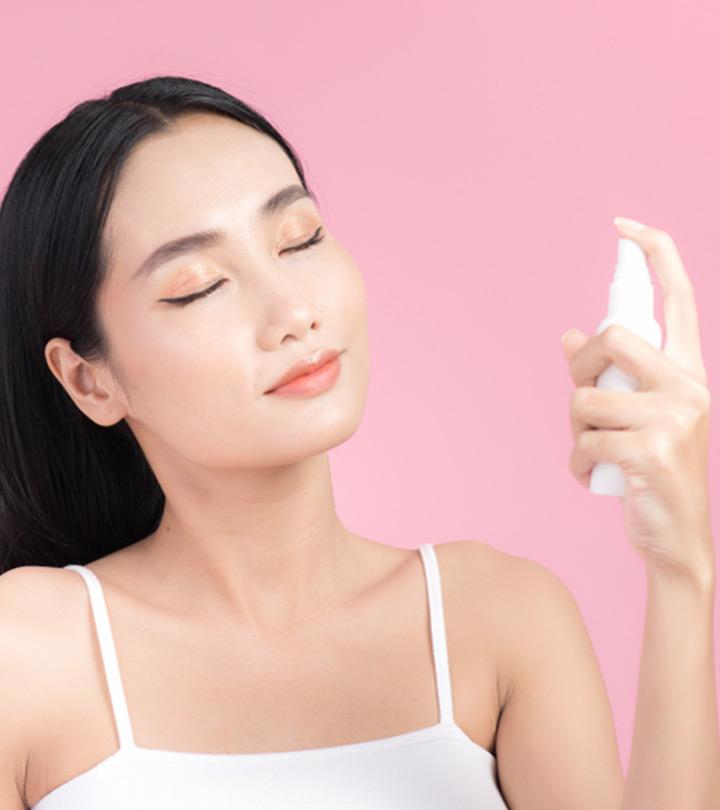 Spending so much time blending your foundation in the morning takes away half of your extra sleeping time. That's why, to rescue you from the horror of running late, we have got the best spray foundations for you. These easy-to-use formulas are truly magic in a bottle. They save you time as you can skip a couple of steps of your regular makeup blending routine. Instead, just spritz a little of your spray foundation all over your face and get an instant smooth and flawless finish.
High-quality spray foundations often have misty and airy textures that deliver lightweight coverage on the skin. They don't feel cakey or thick and deliver a natural-looking appearance that makes your skin look fresh and radiant. Spray foundations are the talk of the town in the world of cosmetics amongst makeup professionals and enthusiasts. They make your makeup routines easy and quick, allowing you to spend less thought and effort throughout the process. If you are still wondering where to begin and find the best spray foundations, well, worry not. We have got the 9 best spray foundations for you. Now, getting an even-toned appearance is just a quick spray away.
Top 9 Spray Foundations For A Quick, Flawless Finish
Say hello to glowing, healthy, and youthful-looking skin with this airbrush foundation spray that will have you looking gorgeous all day long. This product is infused with hyaluronic acid adds and locks in moisture, while Argireline and matrixyl 3000 boost collagen production, elasticity and reduce lines and wrinkles. Get buildable coverage with this lightweight formula that provides an even, flawless, and non-streaky finish while gently repairing skin. Breathable and humidity-resistant, this microfine foundation is an absolute must-have in your air brush makeup kit for special occasions.If you want to know more, check out this video on YouTube detailing the tester's experience with the product.
Pros
Infused with active ingredients
Water and sweat-resistant
Long-lasting formula
Suitable for all skin types
Cons
Some might find the consistency of this foundation spray a bit oily.
For that salon-like soft focus and luminous finish, try the TEMPTU Air Foundation Airpod. This dewy-finish foundation comes with an airbrush applicator to give you natural-looking flawless makeup at home. This foundation offers long-wear benefits and skin-perfecting glow and comes with a 4-in-1 formula that is designed to work as a primer, concealer, foundation, and corrector.
It is formulated with SilkSphere Technology that consists of an advanced smoothing complex that is engineered to mimic the appearance of a flawless skin. It minimizes the appearance of pores, dark circles, fine lines, and wrinkles and offers healthy-looking and well-hydrated skin. The weightless formula is buildable and gives sheer, medium to full coverage while concealing spots, blemishes, and even toning the skin. It has advanced color-correcting pigments which work as a magic eraser to even conceal rosacea and acne scars. The non-comedogenic and hypoallergenic properties make this foundation suitable for all skin types. Create statement-making looks with this amazing product!
Pros
Lightweight formula
Luminous finish
Buildable formula
Color-correcting pigments
Long-lasting formula
Travel-friendly packaging
Non-comedogenic formula
Hypoallergenic
Easy to use
Oil-free
Paraben-free
Phthalate-free
Fragrance-free
Alcohol-free
GMO-free
Sulfate-free
Petroleum-free
Gluten-free
Talc-free
Vegan
Cruelty-free
Cons
Always running short of time in the morning but don't want to compromise on a perfect look? Get your makeup done in half the time with this flawless spray foundation that delivers an impeccable finish with just the right amount of color and brightness without feeling heavy on the skin. Long-lasting and water-resistant, this foundation blends effortlessly and helps reduce the appearance of fine lines and wrinkles with streak-free coverage. To use, spray some foundation directly onto your hand and apply evenly on your face for a healthy-looking complexion and young, radiant, and flawless skin. Check out some reviews online and see what other users have to say about this product.
Pros
Long-wearing, lightweight foundation
Water-resistant formula
Medium to full coverage
Suitable for all skin types
Cons
Some might find the color of this foundation a bit dark.
Limited shade range
Are you looking for a gorgeous, airbrushed look with a bit of sun protection thrown in for good measure? This PUR spray foundation delivers flawless skin with its skin-perfecting coverage and lightweight finish that is designed to impress. Infused with retinol and ceramides, this age-defying formula intensely hydrates to smoothen out lines and wrinkles. "Spray foundations can give you buildable, beautiful coverage. The key is to spray lightly and evenly and blend to smooth out," says Lorrie Pearson, a professional makeup artist. Apply this spray-on foundation across your forehead, cheeks, nose, and chin for a dewy, soft finish and buildable, satiny smooth coverage that you'll adore. To get a better understanding, you can check out this video on YouTube featuring the reviewer's experience with this professional makeup product.
Pros
Infused with liquid crystals
Photo-friendly
Broad-spectrum SPF 15
Satin finish
Butane-free and paraben-free
Cruelty-free
Cons
Might not be ideal for very oily skin
Get your hands on this crowd-favorite spray foundation by this celebrity-endorsed brand for quick, radiant makeup with customized coverage, and look flawless and beautiful in a flash. Infused with mother-of-pearl pigments, this spray makeup foundation evens skin tone, reduces the appearance of fine lines, hides dark circles, and diffuses light for a radiant finish. Spray this velvety foundation directly on your face, and use a makeup brush or sponge to blend effortlessly for a soft, smooth finish. What's more, you can easily pack this makeup essential in your handbag for quick touch-ups as you go about your busy day. You can also check out some review videos online to get a better idea of the product.
Pros
Lasts up to 12 hours
Water-resistant formula
Smoothes unwanted texture
Easy to use
Radiant finish
Cons
Might not be best suited for acne-prone skin
Skip the expensive appointment with the makeup artist and create a mistake-proof, gorgeous look in the comfort of your home with this Sephora spray foundation specially designed for the time-pressed young woman who likes her makeup to always be on point. Easy to use and fuss-free, this spray foundation instantly provides a luxurious, airbrushed look that stays on all day. A popular choice with many, add this must-have beauty product to your makeup regime, and it will quickly become a favorite.
Pros
Lightweight, oil-free formula
Easy to use
Suitable for all skin types
Free of parabens and synthetic fragrances
Cons
Some might find the consistency of this spray foundation a bit thick.
Look gorgeous with an airbrush-finish makeup in the comfort of your home with the LUMINESS Airbrush Spray Silk Foundation. This foundation formula gives you seamless, smooth skin and a flawless finish. It covers and conceals all your skin's imperfections, wrinkles, and fine lines and helps offer a flawless and even-toned complexion. It is enriched with hydrolyzed silk for the ultimate skin conditioning. The formula also comprises hyaluronic acid and aloe vera which nourishes and hydrates the skin while offering a smooth-satin finish.
Hydrolyzed silk retains the moisture in your skin and boosts natural radiance, while conditioning your skin for a smooth finish. Hyaluronic acid helps in improving your skin's elasticity and makes it supple, while aloe vera soothes and moisturizes your skin. Packed with such potent and hydrating ingredients, your skin is sure to feel thoroughly conditioned while looking flawless. The formula provides medium coverage with buildable properties and is suitable for all skin types. If you're on the fence about this product, go through some online reviews to learn more.
Pros
Buildable formula
Provides a natural finish
Medium coverage
Suitable for mature skin
Hydrating formula
Offers satin-smooth finish
Easy spray applicator
Nourishing properties
Retains moisture
Conceals signs of aging
Easy to apply
Travel-friendly packaging
Cons
None
Here's an industry favorite amongst celebrity makeup artists that will have you looking flawless and gorgeous with a professional finish. This airbrush spray foundation is sprayed directly onto the skin for a healthy-looking, glowing complexion that lasts all day long for exceptional results. The full-coverage foundation provides coverage for scars, veins, and tattoos for a flawless finish. Easy to use and suitable for all skin types, this dermatologist-tested makeup product offers a beautiful finish that will see you through your early morning meeting, high-powered lunch, to evening cocktails with your friends, all without requiring frequent touch-ups.
Pros
Long-lasting full coverage
Lightweight formula
Paraben-free and talc-free
Cruelty-free
Dermatologist-tested
Cons
Some might find this spray foundation a bit difficult to blend.
Blur imperfections and say goodbye to streaky lines with this spray foundation. It ticks all the right boxes when it comes to a makeup product that is easy to apply and delivers efficient, long-lasting results. Formulated with skin-loving ingredients like vitamin E and macadamia nut oil, this foundation nourishes and repairs skin while providing full buildable coverage. Suitable for all skin types, this foundation is transfer-resistant and can be used daily for a flawless, younger-looking complexion. Check out some reviews online to learn more.
Pros
Lasts up to 12 hours
Transfer-resistant formula
Infused with nourishing ingredients
Flawless matte finish
Cons
Some might find the consistency of this foundation a bit thick.
*The prices provided in this article are based on the latest available information. However, they may vary due to changes in pricing by the seller and/or promotional offers.
Now that we've had a look at our pick of the 9 best spray foundations in 2023, let us look at some things to consider when picking the right product for your skin.
How To Choose The Best Spray Foundation
Perhaps the most critical step in picking a foundation is the color of the formula. It is essential that the color you choose blends in well and complements your skin tone. Don't hesitate to try a few before you find the right color to match your complexion. And make sure you apply your foundation on both your face and neck to ensure an even tone and texture.
This is not only a matter of personal preference but depends a lot on the look you're going for. Pick a foundation with a lightweight, misty texture for all-day wear, as it will provide a flawless finish without looking caked-on. You can go for a spray foundation with a thicker consistency when getting ready to flaunt some dramatic party makeup, as it will provide the right coverage and finish for all that sparkle and shine.
A quick look at the ingredient list will tell you volumes about the product you're about to buy. If you're looking for an all-in-one foundation to last all day, pick a spray foundation labeled as long-lasting and waterproof. Steer clear of foundations with parabens, phthalates, and artificial fragrances listed as ingredients, especially if you have sensitive skin, as these tend to irritate the skin. Those with dry skin can pick a foundation with moisturizing ingredients like vitamin E and aloe vera. Lastly, ensure your foundation has added SPF for essential sun protection, especially if you're not planning to wear sunscreen underneath.
Tips To Apply Spray Foundation
If you're new at using spray foundations, begin with proper skin prep and start by spraying some on a brush or a makeup sponge and blending it evenly across your face. This will allow you to get the desired coverage without wasting any excess product. Once you're more used to it, you can save a ton of time by spraying the product directly onto your face for a professional, airbrushed finish that lasts all day.
Why Trust Stylecraze?
Srijani Roy Chowdhury is a makeup aficionado and takes pleasure in trying out different products and writing well-researched reviews. She advocates using spray foundations for quickly achieving a smooth and flawless finish to save your precious time. Hence, she has come up with the above list of the best spray foundations after thorough research of products and a careful evaluation of hundreds of reviews. These foundations do not feel cakey or thick and deliver lightweight coverage on the skin.
Frequently Asked Questions
Do spray foundations work?
Absolutely! Spray foundations provide buildable coverage and a flawless, airbrushed finish that lasts all day long. What's more, the lightweight formula and misty texture makes it the ideal choice for those who want to avoid a caked-up look.
How long do spray foundations last?
Depending on the formula, most long-wear spray foundations last upto 12 hours without requiring touch-ups. It is best to check the label of the product you're about to pick to see how long it is meant to last.
Are spray foundations good for oily skin?
It is best to go for a spray foundation which is designed specially for oily skin. Check to see if the product is labelled as non-comedogenic, as these foundations will provide good coverage without unnecessarily clogging up your pores. You can also try finishing up with a good setting spray for a matte finish which prevents the appearance of greasy, oily patches.
Is airbrush better than spray foundation?
Spray foundations are better than airbrush foundations. Spray foundations are lightweight and make your skin appear smooth and radiant. Airbrush foundations are a little heavier than spray foundations and offer a dewy finish.
Is foundation spray worth it?
Yes, foundation sprays are effective and worth it. They offer lightweight coverage and are perfect for your 'no-makeup' look.
Do celebrities use spray foundations?
Yes, some celebrities use spray foundations. The formulations in these foundations sit evenly on the skin without blocking or enlarging pores.
Recommended Articles