Best Spray Sunscreens Available In India – Our Top 7 Picks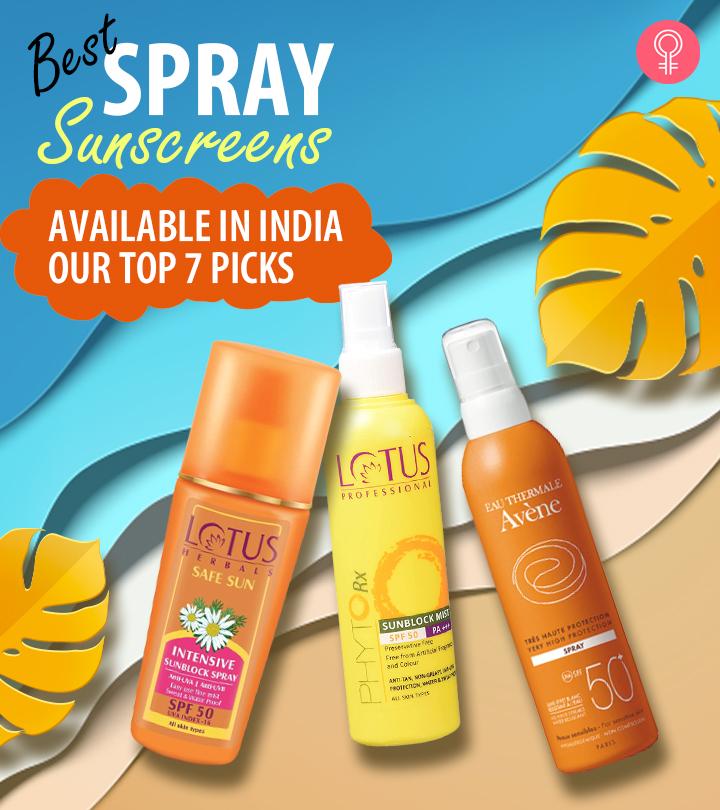 Sunscreens are an essential part of skin care. They protect your skin from the harsh ultraviolet rays of the sun and prevent tanning and sunburns. But goopy creams can be pretty messy. This is where sunscreen sprays can save the day. They can prove to be quite convenient with their airy application, especially when you are on the move.
To guide you in your search, we have come up with a list of the 7 best spray sunscreens available in India that feel light and non-greasy and let your skin breathe. Scroll down to check them out.
Best Spray Sunscreens Available In India – Our Top 7 Picks
The water-based sunscreen from Wow Skin Science is quickly absorbed into the skin and keeps it hydrated. It spreads instantly and evenly across the skin, forming a transparent shielding film that blocks sun rays and pollutants. This sunscreen is enriched with botanical ingredients like raspberry extract, rich in vitamin C, to protect the skin naturally against sun damage.
The carrot seed extract infused in this formula contains vitamins A and E that hinder premature aging and neutralize free radicals. The spray also contains avocado oil that prevents tanning by forming a barrier of monounsaturated fats on the skin. The almond oil in the formula is rich in vitamin E that reverses skin damage caused due to the sun rays.
Pros
Botanical ingredients
Absorbed quickly
Lightweight
Non-greasy
Non-sticky
Non-patchy
Oil-free
Paraben-free
Silicone-free
Oxide color-free
Mineral oil-free
Benzophenone-free
Cons
The Safe Sun Intensive Sunblock Spray from Lotus Herbals is formulated with SPF 50 that ensures a long-lasting and protective shield from UV rays. The formula is non-sticky prevents tanning, spots, aging signs, and fatigue. It is infused with chamomile extract, known for its anti-inflammatory benefits, which moisturizes and soothes inflamed and sensitive skin. The sunscreen also contains thyme extract, a natural sun blocker with antiseptic properties. The sage extract in the formula possesses astringent qualities, purifies the skin, and reverses suntan. This sunscreen spray has a heavenly chamomile fragrance that refreshes and calms your senses.
Pros
Lightweight
Absorbed quickly
Sweat-proof
Waterproof
Mild fragrance
Cons
This dermatologically tested broad-spectrum sunscreen spray from Wow Skin Science contains SPF 50. The formula is non-greasy and contains raspberry extracts loaded with antioxidants and vitamin C that ward off skin-damaging free radicals and reverse their harmful effects. The carrot seed extract infused in the formula helps with cell regeneration and heals skin damage.
The sunscreen also contains avocado oil that blurs fine lines, blemishes, and signs of aging and shields the skin's lipid barrier. It is also enriched with almond oil that prevents sun damage and delivers vitamin E to the skin. The blend of natural ingredients keeps the skin hydrated and nourished while offering protection from the sun.
Pros
Absorbed quickly
Non-patchy
Non-greasy
Non-oily
Paraben-free
Silicone-free
Oxide-free
Color-free
Mineral oil-free
Benzophenone-free
Cons
May cause breakouts in oily skin
The Sunblock Mist from Lotus Professional is ultra-light and feels comfortable on the skin when sprayed. It contains SPF 50 that shields the skin against UVA and UVB rays, preventing suntans and burns. The blend of ingredients effectively reverses the signs of aging, creating a youthful, healthy glow. The product features an ultra-fine mist that is instantly absorbed into the pores without feeling sticky or greasy. It contains natural sun blockers, such as carrot oil, rich in antioxidants, to protect the skin against the sun's harmful ultraviolet rays. The potent blend of vitamin E traps moisture in the pores, enhancing hydration and skin elasticity.
Pros
Non-greasy
Lightweight
Absorbed quickly
Waterproof
Sweatproof
Preservative-free
Artificial fragrance-free
Artificial color-free
Cons
Protect your skin against the harmful UV rays with just a spritz of the SPF 40+ Sunscreen Spray Lotion by Greenberry Organics. It is enriched with certified sunscreen agent SunCat DE. This ingredient shields the skin against harsh UVA and UVB rays. The spray lotion also contains natural aloe vera, shea butter, vanilla oil, and argan oil that work in tandem to keep your skin nourished.
Shea butter offers intense moisturization to dehydrated skin. While aloe vera prevents sunburns, the vanilla oil infused in the lotion reduces dark spots. Argan oil has anti-aging benefits and protects your skin from developing blemishes and fine lines. This organic sunscreen spray does not leave any white spots and leaves your skin feeling refreshed.
Pros
Organic
Non-greasy
Lightweight
Water-resistant
Sweat-proof
Lasts up to 6 hours
Safe for children
14-free
Cons
Overpowering vanilla fragrance
The St. Botanica Sunblock Face & Body Mist has a potent formula with SPF 50 and botanical extracts that act as natural sun blockers. It is enriched with vitamin C, which neutralizes free radicals, prevents photodamage, and inhibits excess melanin production. The hyaluronic acid infused in the formula enables the skin to absorb more moisture while strengthening its barrier, preventing dryness. The spray contains a blend of chamomile, calendula, jasmine, green tea, and pomegranate that fights off free radicals to prevent skin damage. Vitamin E prevents sunburns and keeps the skin deeply moisturized, while vitamin C enhances radiance and improves the skin tone.
Pros
Lightweight
Non-greasy
Water-resistant
Sweatproof
Hypoallergenic
Non-comedogenic
Sulfate-free
Mineral oil-free
Paraben-free
Cruelty-free
Cons
The sun protection spray from Eau Thermale Avene comes with SPF 50, providing the ultimate shield against UVA and UVB rays. The formula is light, invisible, and has a non-greasy texture. It is formulated with a photoprotective active complex that ensures the sunscreen is free of chemicals. It ensures 98% protection that lasts for up to four hours after application. The formula is infused with pre-tocopheryl that enhances overall skin protection. The product is infused with Avene thermal spring water that soothes inflamed and sensitive skin with its anti-irritating properties.
Pros
Non-sticky
Absorbed quickly
Water-resistant
Fragrance-free
Cons
None
Now that you know about the best spray sunscreens available online, here's how to spray sunscreen the right way.
How To Use Spray Sunscreens
Shake the bottle well before use.
Move the bottle 4 inches away from the skin and spray it well, covering it evenly with a thin layer of sunscreen. Massage the formula well into the skin, paying attention to those parts that are more prone to direct sun exposure – like the hands, feet, and back.
Avoid spraying the sunscreen directly onto the face. Instead, apply it to your fingertips and massage it into the face.
Reapply the sunscreen when required or every 2 hours.
A good spray sunscreen protects and keeps your skin glowing with health. It is less messy, easy to apply, and allows you to shield those hard-to-reach spots from the sun. So, ditch those goopy sunscreen lotions, pick from these spray sunscreens, and step out into the sun worry-free!
Frequently Asked Questions
Are spray sunscreens as effective as lotions or creams?
Yes, all spray sunscreens that undergo FDA testing can be deemed to be effective. Using spray sunscreen properly can deliver the same results and efficacy as sunscreen lotions and creams.
Are there any potential drawbacks or disadvantages to using spray sunscreens?
Spray sunscreen is only effective if used correctly. Using it in windy conditions may lead to uneven application. There is also a chance of accidentally inhaling the spray which can lead to lung irritations and allergic reactions.
What factors should be considered when selecting a spray sunscreen?
Pick a formula that suits your skin type and caters to your skin concerns. If you have dry skin, select formulas containing natural oils, aloe vera, and glycerin that help moisturize your skin. If you have oily skin, choose a lightweight formula that contains isododecane. Always look for a broad-spectrum sunscreen with SPF 30 or higher than that.
How long does the protection from spray sunscreens last?
A spray sunscreen is effective for 2 hours after application. It is recommended to reapply it after every 2 to 3 hours for maximum protection.
Can spray sunscreens be used with other skincare products?
Yes, spray sunscreen can be easily used with other skincare products. One can use it both before or after moisturizer which is the last step of the morning skincare routine.
Recommended Articles