14 Best Squat-Proof Leggings For Every Kind Of Workout – 2022
Wear breathable clothes during intense workout sessions and keep yourself comfortable.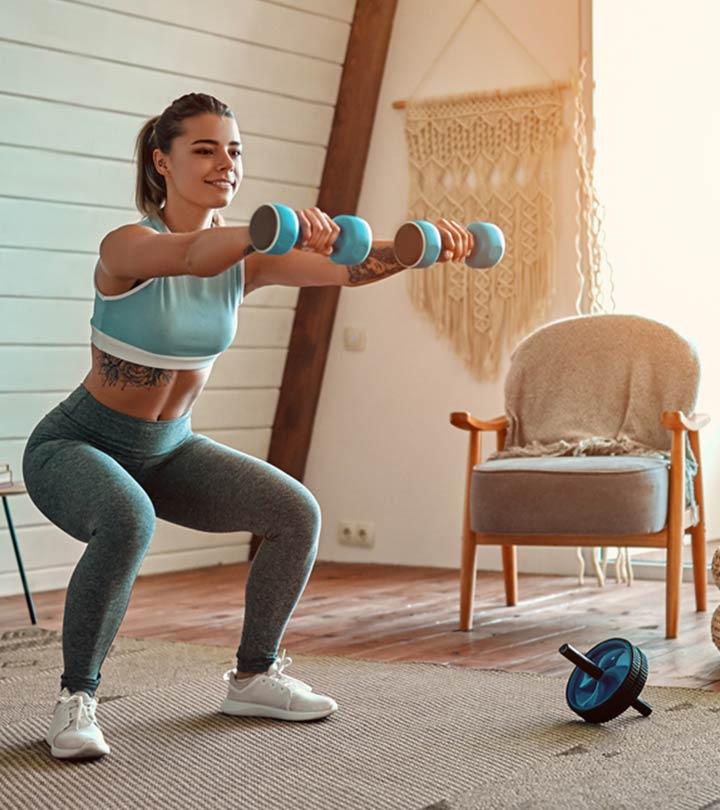 Squats are the best exercise to do and enjoy if you have the best squat-proof leggings with you. These flexible, breathable leggings let you stretch comfortably without worrying about multiple stares in the world. They ensure you do not have to compromise on comfort while doing the high-intensity workouts, and that's exactly why you need them. We have curated a list of the 14 best squat-proof leggings for women that would ease your exercise time and keep you fresh and comfortable.
What Are Squat-Proof Leggings?
Made of ultra-stretchable and seamless fabric (mostly nylon or polyester), squat-proof leggings stay opaque and sturdy no matter how many times or how much you stretch and sweat. Also, they are super-comfortable, guarantee no stuffy feeling, and make your curves look toned and contoured. Yep, they are squat-proof but perfect for your squat sessions!
Now, are you ready to squat and hold that position like a pro? Although several brands claim to be the best on the market, we took the liberty to round up some top choices that you'll love! Check out our list of the 14 best squat-free leggings of 2022.
14 Best Squat-Proof Leggings Of 2022 You Must Not Miss!
If you love anything with pockets, these high-waisted squat-proof leggings by IUGA won't disappoint you. A top choice for it to be your new favorite pair, it guarantees a streamlined and toned look with its 4-way stretchable, high-tech, and non-sheer fabric. Yep, no bunching or the fabric digging into your skin with this one, as it claims to be comfortable and breathable with every use. The material returns to its original shape no matter how many times you stretch it! Additionally, IUGA Capri leggings are designed with a gusset crotch and interlocked seams to prevent discomfort while heavy lifting too.
Pros
Ultra-soft fabric
Ensures flat tummy look
Delivers gentle compression when required
Features 2 side pockets and 1 hidden waistband pocket
Suitable for yoga, weightlifting, and all other workouts
Cons
Some may find it slightly thick for summer
Sometimes, all one needs is a good pair of black squat-proof leggings. Style meets comfort in these stretchable leggings with a high-waisted design! Made of non-sheer polyester-spandex fabric using 4-way stretch technology, you can perform a split in these if you want without thinking about it twice. High-tech, seamless, and breathable, these squat-proof workout leggings are not only ultra-comfy to squat in but are an ideal and super-trendy choice for all-day casual wear as well. Also, the high-waist band provides gentle compression to ensure a toned and trim look.
Pros
Butter-soft and lightweight fabric
Moisture-wicking material
Quick-drying
Features a hidden waistband pocket
Ensures protection and total coverage
Suitable for all ages and body shapes
Cons
Not suitable if you prefer thick material
Squats to running or yoga to workouts, this pair of high-waisted, stretchable Capri leggings provides you with comfort and style at the same time. The polyester-fabric blend in the soft peach skin fabric is a comfortable, body-hugging material that is 100% opaque. The pull-on closure and the waistband design allow easy and flexible movements without any sagging. It is available in 22 different colors for all sizes and body types.
Pros
100% opaque material
Stretchable waistband design
High-waist coverage
Available in various sizes for all body types
Available in 22 different colors
Cons
The crotch-to-waist fitting might be too long for short people
From squats to cross-training to yoga, there's nothing these squat-proof leggings with pockets cannot withstand! Be as flexible as you want in this 100% spandex leggings as it is made using 4-way stretch technology and has interlocked seams to prevent discomfort or chafing during high-intensity workouts. It guarantees no slip downs or ride ups, only ultra-comfortable wearability. And speaking of pockets, it has 1 hidden pocket in the high waistband to keep all your essentials safe.
Pros
Seamless design
Breathable and moisture-wicking
Ensures tummy control and full-coverage
Features a reflective center back for high visibility after sunset
The pockets are smartphone-friendly.
Cons
Not ideal if you need a low-rise legging
Looking for good squat-proof leggings? These leggings are objectively so soft, you'll never want to get out of them! One of the best leggings for squats, yoga, and other exercises, they are ultra-cozy, light, and have an elastic closure to deliver maximum comfort. And although they are lightweight, they claim to provide a non-see-through and seamless performance. Made of a spandex, nylon, and polyester 4-way stretch fabric, these squat-proof leggings are non-see through and offer breathability like no other. The high-waisted design will conceal your tummy bulge (if that's something you're trying to hide), thus flattering your curves effortlessly.
Pros
Sturdy and stylish
Ensures high breathability and total coverage
Moisture-wicking, quick-drying, and non-irritating
Guarantees no ride ups or slip downs
Cons
Some users found it slightly tight around the ankles
Take control of your cellulite and streamline your curves in these high-waisted leggings by Seasum. Designed with a posterior uplifting and double-layered construction, watch it enhance your hips, thighs, and rear-side naturally with every use. Go from flab to fab instantly with these squat-proof leggings made of non-see-through and breathable materials (polyamide, spandex, and polyester). The ribbed high-waisted design ensures tummy control too and the legging are available in a host of bright and vibrant colors.
Pros
Ensures maximum comfort
Supports glute contouring
Prevents itching and chafing
Moisture-wicking, non-irritating, and quick-drying
Moderately thick, lightweight, and seamless fabric
Cons
May not be ideal for summer
Here's an option that will excite the fashionista and the health enthusiast in you! With the camouflage print lining the cellulite and curves, this high-waisted band ensures tummy control too. Moreover, the 4-way stretch polyester-spandex fabric is ideal for all squat and stretching exercises and will not make your movements look awkward or uncomfortable. The snug fit flatters your curves while being ultra-cozy and breathable. And adding to that, the elasticity is no joke as the brand claims the fabric can stretch and rebound to its original form efficiently.
Pros
Ensures high breathability
Prevents muffin top, chafing, and rubbing
Features a hidden pocket to store essentials
Non-see-through and squat-tested
Moisture-wicking
Quick-drying
Cons
These leggings are so chic, you'll want to add it to your daily wear! These high-waisted squat-proof leggings will not only support your high-intensity squat sessions but be your go-to for lounging or running errands too. And the best part is, it claims to keep your body temperature-regulated, especially during winters! Also, the spandex-polyester fabric is ultra-stretchy, non-sheer, and ensures a rear-enhancing fit. And as for the tummy weight, consider it concealed with the high-waisted band!
Pros
Ultra-soft 4-way stretch material
Prevents itching, irritating, and chafing
Ensures full coverage and maximum comfort
Features an elastic drawstring for a secure fit
Designed with an inner pocket for essentials
Non-see-through, durable, and moisture-wicking
Suitable for intense, high-impact, and CrossFit activities
Cons
Some users noted that it wasn't as high-waisted as expected.
When it comes to camouflaging cellulite or concealing that tummy bulge, these high-waisted leggings might take some extra brownie points! Give your body a defined shape and structure with this squat-proof, non-sheer, and 4-way stretching fabric, which is also a great option for activities like running and yoga. Besides this, it is a must-try if you are conscious about your weight because the print on these leggings guarantees to create a slim and toned look.
Pros
Breathable fabric
Ensures full coverage
Prevents skin-digging and irritation
Available in other pastel colors
Cons
It may not be as stretchable as expected
What's special about this squat-proof pair is its hollow design that stimulates blood circulation and enhances your curves while you squat! Don't let the design give you the impression that they can be uncomfortable or stuffy because the brand outrightly claims the fabric is breathable and ultra-stretchable. Moreover, they are made of nylon-spandex material and have an elastic closure for a secure fit. And the best part is, they look absolutely trendy and selfie-worthy!
Pros
Suitable for all seasons
Premium and durable fabric
Provides maximum comfort and coverage
Moisture-wicking, seamless, and lightweight
Ensures no ripping, rides ups, or slip downs
Cons
Might run slightly long for short people
One word — classy! How about you add a chic touch to your everyday workout routine with these squat-proof leggings? A combination of style, comfort, and high-performance, whether you wear it for squat sessions or a dance class, they ensure full coverage and protection from rips, sheerness, or slip-downs. And that's not all; this polyester and spandex combo with an elastic closure delivers an ultra-cozy fit too. Also, the waistband will flatter your hips and control the tummy bulge efficiently.
Pros
Seamless fit
4-way stretch fabric
Quick-drying
Moisture-wicking
Ensures maximum comfort and breathability
Features an invisible zipper pocket for essentials
Cons
Some users found that the compression was not up to the mark
Looking for a comfortable pair of leggings that allows you to squat as much as you want without ever having to worry about its stitches and seams. Trust this one to blow your mind. The 4-way stretchable pair of leggings provide coverage like no other and is entirely non see through. Moisture-wicking and quick-drying, the pair follows the contours of your body while enhancing your curves. It also offers a gentle compression on the tummy area to mask any bulge you may be trying to hide.
Pros
Ultra-soft material
4-way stretchable fabric
Side pockets
Available in a variety of colors
Cons
Some may find the material slightly stiff
Not your regular squat-proof leggings, this one can withstand the toughest workout or squat sessions like a pro! Yep, no more see-through embarrassments or awkward slip-ups while squatting or bending. This polyester-spandex blend will contour your curves and conceal the tummy bulge to give your body a fit look. And the best part is that it has side pockets for your smartphone and other essentials too. Just the fusion of fashion, comfort, and convenience you need to up your style and squat meter efficiently!
Pros
Ultra-soft fabric
Ensures full coverage
Features a hidden waistband pocket
Durable, moisture-wicking, and trendy
Cons
Some styles are slightly expensive
Trust these ankle-length leggings to make those squat sessions a breeze! Stretch, twist, bend and lift all you want – these leggings will make sure no posture looks awkward or embarrassing with its non-sheer polyester-spandex blend. The seamless fabric will give the body a streamlined look, thus boosting your overall confidence. The moisture-wicking fabric also dries quickly, keeping you cool and fresh. And that's not all – the high-waisted band will give your tummy a toned appearance, and the hip-raised design will enhance your hips efficiently.
Pros
Suitable for all ages
Soft and ultra-stretchy fabric
Guarantees ease of movement
Ensures optimal coverage and protection
Side-tech pockets
Available in different colors
Cons
Might become very stretchy
Can't wait to flaunt your squats, can you? Us too! There you go, those were the 14 best squat-proof leggings to squat confidently this season. However, if you are still unsure how to pick the best squat-proof leggings, you must check out the buying guide below.
How To Choose The Best Squat-Proof Leggings For Yourself
Look out for the following features before buying a pair of squat-proof leggings:
Pick a fabric that is non-see-through, moisture-wicking, and designed using 4-way stretching technology for the best experience. Ideally, leggings made of nylon, polyester, and spandex provide the best squat-proof function.
Do not compromise on comfort! The legging should not be too tight, or the design should not cause discomfort while working out. Also, look out for leggings with a gusseted crotch and interlocked seams to prevent chafing or irritation.
No seams, no embarrassments. Inspect the design on the leggings and check how it will conceal the cellulite and flatter your curves with the seamless design.
Not a flat tummy? Or are you carrying around some holiday weight? No problem. You can choose high-rise or high-waisted leggings instead to give your belly a toned and slim look.
Lastly, choose squat-proof leggings with pockets, because why not? Ideal for keeping all your essentials and smartphone safe, leggings with pockets are always a good idea.
Why Trust StyleCraze?
Chaitra Krishnan is a beauty writer who is passionate about fashion and lifestyle products. She knows the importance of proper workout clothes and has, therefore, decided to create a comprehensive list of squat-proof leggings for her readers. She read hundreds of online reviews and product specifications to narrow down the best options. These leggings are made of high-quality soft materials, are lightweight, and have moisture-wicking qualities to ensure optimum comfort.
Frequently Asked Questions
How do you know if the leggings are squat-proof?
Squat-proof leggings are made of non-see-through nylon, polyester, or spandex (or blend of any two) using a 4-way stretch technology. Moreover, these leggings have a seamless design to prevent awkward slip-ups or slip downs.
Are Yogalicious leggings squat-proof?
Absolutely! Yogalicious leggings are not only squat-proof but ensure full coverage and protection no matter how many times you twist, turn. or bend during workouts.
Are IUGA leggings squat-proof?
Yes, they are! IUGA leggings are made of non-sheer fabric using 4-way stretch technology to deliver the ideal squat-proof experience with every use. Besides this, they ensure tummy control and have 3 pockets for convenience as well.
Are Gymshark leggings squat-proof?
Yes, Gymshark leggings are squat-proof and some of the best in the market.
Are Old Navy leggings squat-proof?
Yes, Old Navy leggings are squat-proof and very comfortable to wear.
Are Nike Pro tights squat-proof?
Yes, Nike Pro tights are squat-proof and highly versatile and comfortable.
Are New Balance leggings squat-proof?
Yes, New Balance leggings are squat-proof and enable easy movement.
Why are my leggings always see-through?
Either you are investing in the wrong, see-through fabrics or stretching your leggings' fabric beyond its stretchable point.
Are the American Eagle leggings squat-proof?
Yes, American Eagle leggings are squat-proof and comfortably stretchable.
Recommended Articles