13 Best Stair Steppers For Burning Calories At Home – 2022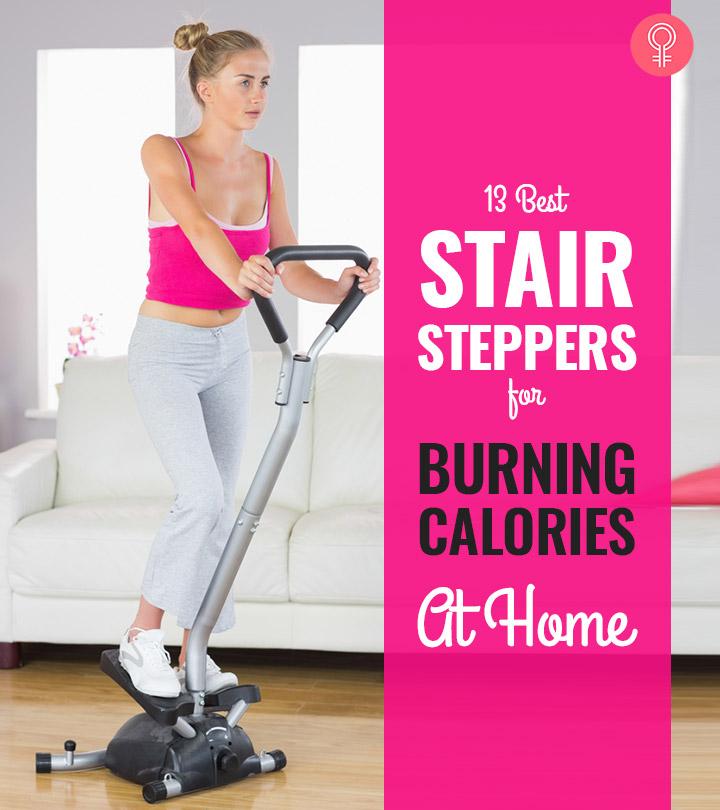 If you are seeking the easiest way to burn some calories, the answer lies in climbing stairs every day! However, if you don't have access to a lot of stairs in your neighborhood, you can always get the best stair stepper to achieve the same results. The machine emulates the same action of climbing a staircase, promoting fat reduction and keeping you in shape. Here are 13 of the most highly recommended stair steppers that will make it simpler to stay healthy.
Top 13 Stair Steppers Of 2022
The Sunny Health & Fitness Twist Stepper is a compact home gym equipment and is made of heavy-duty steel. It has an LCD monitor for counting steps, time, and the calories burnt. Its slip-resistant footrest and resistance band attachments make it a whole-body workout equipment.
The adjustment knob helps adjust the step motion height, helping the device work on the deep muscles without putting pressure on the bones and joints. The twist action of the stepper helps tone the glutes and thighs, while the resistance bands help work the upper body. It mainly targets the thighs, hips, shoulders, upper back, and arms.
Pros
Burns calories
Targets legs, hips, arms, shoulders, and upper back
Slip-resistant footrest
Resistance bands provided
Adjustable height
LCD monitor
Compact design
Portable
Cons
Expensive
Need to learn to twist your body in-line with the "front" step to keep knees and ankles in the same line and prevent injuries
The Bowflex Max Trainer Series resembles an elliptical machine at the gym but is smaller and lighter. You can get a full-body workout from this machine and burn some serious calories. It claims to deliver the cardio benefits of interval training in just 14 minutes.
You have access to eight workout programs with 16 resistance levels. The LCD monitor makes it easy to count steps, record calories burnt, and control resistance. This machine can withstand user weight up to 300 lbs and is slip-resistant. In this YouTube video, you will find a detailed review of the Bowflex Max Trainer Series .
Pros
Burns calories
Full body workout
Interactive LCD monitor
Targets legs, hips, arms, shoulders, lower belly, and upper back
Easy to assemble
Syncs with Free Max Trainer app
Bluetooth 4.0 compatible
Cons
Expensive
Shaft is not perpendicular to its mating plate, which may make it prone to breaking.
This is another stair stepper from Sunny Health. This Fitness Stair Stepper is a convenient home workout equipment. It is compact, comfortable, lightweight, burns calories, and targets the lower body. The LCD monitor helps you track the calories burned, time, and count.
The hydraulic piston cylinders have easy-to-adjust incline setting that range from 1-12. It works on the hamstrings, quads, gluteus maximus, and core muscle groups. It comes with patterned plates and a stabilizing bar for stability and grip and can withstand user weight of up to 220 lbs. It is foldable and easy to store in any corner of your house.
Pros
Foldable
Lightweight
Burns calories
Can withstand up to 220 lbs user weight
Comfortable
Stable
Cons
Only targets the lower body.
Can be prone to breaking.
The Xiser Commercial Mini Stairmaster is made of aircraft alloy. It is a lightweight and portable stair stepper that can be assembled or disassemble within minutes. All the parts are made in the USA, and it is the only step sprinter in the market.
It is designed by PhDs, provides ergonomically correct biomechanics, and offers easily adjustable resistance. You can use this for HIIT and aerobic workouts. It helps you build muscle and burn fat. It also improves fitness, metabolism, energy, and overall wellness. Check out this video for more information about the Xiser Commercial Mini Stairmaster.
Pros
Lightweight
Portable
Convenient
Burns calories
Firm grip pedals
Can be used for HIIT
Supports user weight up to 400 lbs
Easy to store
Sturdy
Cons
Might make noise
Expensive
The MaxiClimber(r) provides a full-body workout and a bonus workout app that is compatible with iPhones and Android phones. It emulates rock climbing. It is made of cold-rolled steel that is durable and lightweight.
This machine utilizes your bodyweight and puts no stress on the lower joints of the body. It helps tone the lower and upper body by targeting the glutes, thighs, triceps, biceps, shoulders, and upper back. It comes 90% preassembled, and it takes only 10 minutes to put the rest of the parts together. Have a quick look at this YouTube video for a detailed review of the MaxiClimber(r).
Pros
Easy to assemble
Lightweight
Easy to store
Adjustable height
Supports user weight up to 240 lbs
Can be used for cardio and toning
Cons
Timer display is too low.
May not be suitable for those with knee pain.
The Wagan EL2273 Mini Stepper Master looks like a scooter that the kids play with, but it is a highly effective lower-body toner. The LCD shows the steps taken, calories burnt, and workout time.
It has a solid, durable metal frame. The ergonomic handlebars are made of soft and resilient foam to offer control of the device and comfort. The step height can be adjusted with the knob. This machine is stable, the footrest has good grip, and requires low maintenance. It is good to be used by people of all ages. It requires 1 AAA battery.
Pros
Compact size
Solid, durable metal frame
LCD
Stable
Anti-slip pedals
Lightweight
Cons
Only for lower body toning.
May not support user weight of 200 lbs.
May need extra padding underneath to protect the floor.
The CITYBIRDS Vertical Climber emulates rock climbing and is great for a full-body workout. It combines weight resistance, muscle toning, and cardio exercise in one. Using this machine for an hour can help burn 500 calories. It targets the glutes, thighs, arms, shoulders, lower abs, and the upper back.
The frame is made of frosted steel that protects it from corrosion. It has steel springs and wear-resistant pulleys that reduce the impact on your ankles and knees and make your workout smoother. The climber supports user weight up to 300 lbs.
Pros
Adjustable height
LCD monitor
Foldable
Easy to store
2-year warranty
Cons
Not suitable for tall people.
The friction may wear the metal body.
Wobbly
The Montana Stair Stepper from Kettler Home Exercise/Fitness Equipment comes with ergonomically shaped handlebars that are wrapped with durable rubber grip surfaces to guarantee safe exercising. It has a LCD display that helps monitor calories burnt, workout time, step rate, step per work unit, total height climbed, and pulse rate. It has recovery heart rate feature that allows workouts for fitness levels from 1 to 6. Most importantly, it has built-in floor levelers to level the unit even on uneven surfaces; and an infrared earlobe clip heart rate sensor.
Pros
Stable unit
LCD display
Includes infrared earlobe clip heart rate sensor
Anti-slip footplate
Supports up to 250 lbs weight
Ajdustable resistance up to level 12
Cons
Calories burnt is showed in kilojoules vs kilocalories, which requires conversion to calories
Assembling can be a little time-taking
The Total Body Vertical Climber is a two-in-one exercise equipment. It has a stationary bike and a stair climber. It has an LCD screen that displays and tracks the time, speed, calories, and distance.
It mimics rock climbing and targets the glutes, thighs, arms, core, shoulder, and upper back. The machine has adjustable climbing arms and non-slip foot glides. It has eight levels of magnetic resistance. Overall, this product is useful and provides a full-body workout. It requires very little floor space and can be folded for easy storage.
Pros
Stationary bike and stair stepper in the same price
Provides full-body workout
Good for cardio and strength training
Foldable
Easy to store
Adjustable climbing arms
Non-slip footplates
Supports up to 330 lbs weight
Cons
The foothold becomes uncomfortable after a while.
Doesn't provide enough resistance.
The ProForm Cardio HIIT Elliptical Trainer has a professional-looking commercial-grade steel body. It comes with multi-function handlebars, cool air workout fan, oversized cushioned pedals, and an Inertia Enhanced flywheel.
It has an impressive 7" LCD, iPod compatible audio, 24 resistance levels, 5 inches elliptical stepping path with 10 inches vertical height of each step, and 32 workout apps. Additionally, this stepper comes with an integrated tablet holder, integrated in-handle controls, and a EKG grip pulse heart rate monitor.
Pros
Stable
Easy to assemble
Looks professional
7" LCD display
Anti-slip footplate
Water bottle holder
EKG grip pulse heart rate monitor
iPod compatible
3 year parts warranty, 1 year labor warranty
Cons
May make a squeaking noise.
Hand sensors need to be strong.
The Body Power 2-in-1 Elliptical Stepper Trainer comes with an innovative curved-crank technology. It applies constant tension to the X and Y axes, thereby delivering a dead-zone-free rotation as you use the stepper. It can be used for full-body cardio and HIIT as this equipment comes with easily adjustable resistance. It offers 24 progressive levels of resistance that can help you burn calories and strengthen your body.
The easy-to-read display helps you track calories burned, time, speed, and distance. It supports up to 250 lbs weight. This machine has a revolutionary resistance system that is quiet and smooth so that you can focus on your workout without any disturbance.
Pros
Full-body workout
Cardio and HIIT
Smooth rotation of the pistons
LCD display
Adjustable resistance
Compact
Space-saving design
supports up to 250 lbs weight
Cons
The Stamina 40-0069 SpaceMate Folding Stepper is a foldable, compact, full-body workout home gym equipment. Along with two adjustable-resistance hydraulic cylinders for stepping, this machine also provides foam-covered handlebars for a comfortable grip.
The multi-function LCD monitor helps track steps per minute, number of steps during the workout, workout time, and calories burnt. It supports up to 250 lbs weight. After you finish your workout, you can fold it and store it under a desk or in the closet.
Pros
Foldable
Compact
LCD display
Smooth stepping motion
Foam covered handlebars
Supports up to 250 lb weight
Cons
The hydraulic tubes are not very strong.
Not easy to assemble.
The Goplus Stair Stepper Twister provides a twist action along with a stepping motion, which shapes up your thighs and buttocks without putting pressure on your bones or joints.
The LCD screen helps you monitor the time spent, calories burned, and step count. A knob helps adjust the height easily. It provides built-in handle bars for balance, has a sturdy frame, and supports up to 220 lbs weight.
Pros
Great for shaping lower body
1 AAA battery included
Sturdy
Anti-slip footplate
Adjustable height
LCD display
Supports up to 220 lbs weight
Cons
May not be durable.
Can be difficult to assemble.
May have poor balance.
These are the 13 best stair steppers on the market that you may buy to keep your body in shape. Here are a few more things you may want to know.
What Does A Stair Stepper Do?
A stair stepper emulates the motion of going up the stairs. It works on your glutes, hamstrings, quads, and calves. It is a great equipment for shedding fat from the lower body and toning it up. These days, stair steppers also come with moving handles that target your triceps, biceps, shoulders, chest, and upper back.
How To Use A Stair Stepper
Follow these steps to use a stair stepper:
Hold the handle bar and step on one of the footplates.
Take your time to balance your body.
Place the other foot on the other footplate.
Hold the handlebar and push your right leg down.
Push your left leg down, while your right leg comes back up.
Some wonder how a stair stepper could be better than other cardio machines. We have covered that in the following section.
Benefits Of A Stair Stepper Compared To Other Cardio Machines
Here's a list of the ways a stair stepper could be better than other cardio machines:
Burns equal calories while occupying less space.
Stair steppers with handles are great for full-body workout.
Adjustable resistance allows HIIT to be performed.
Before you buy a stair stepper, here's a list of things to consider.
What To Pay Attention To When Choosing A Stair Stepper
Stability – Check if the stair stepper is stable and not wobbly.
Height – Check if the stair stepper's height is adjustable to your comfortable height.
Step Height – Check if the step height is enough for you to get a good workout. Ideally 6" to 8" of height is good.
Weight – If it is for your home, make sure it is not too heavy.
LCD Screen – Check if the display is not too below your eye level. Check for accuracy as well.
Why Trust StyleCraze?
The author Aditi Naskar has a diploma in health and wellness and is a fitness enthusiast. Stair steppers are her personal favorite machines that help burn calories easily at home. Additionally, she has gone through brand websites and many product reviews online to compile this list. These products can help promote fat reduction and keep you in shape that you are looking for.
Recommended Articles