11 Best Stand Mixers – Reviews And Buying Guide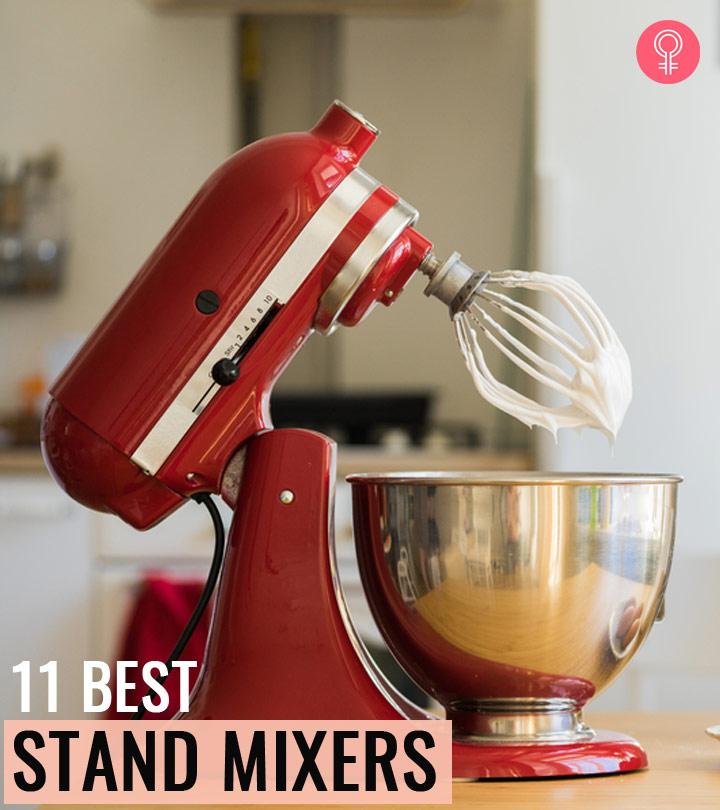 Stand mixers are a godsend to all the cake, pie, and meringue makers out there. More importantly, they function as a great gift to home bakers during holiday time! Thanks to them, you can now bid adieu to having to mix, knead, and whip the batters with your arms.
Here, we have listed the 11 best stand mixers available on the market. We also have included a buying guide that tells you the factors to be considered before making a purchase. Take a look!
11 Best Stand Mixers
This 6.5qt (quart) bowl of the Aucma Stand Mixer will be an excellent addition to your kitchen counter top. It comes with three additional accessories – a whisk, a dough hook, and a mixing beater. The device has a one year warranty. The double handles give it a convenient and robust hold. Its 660 W power allows it to perform at a higher level with 6 optimized speeds. This stand mixer has a tilt-head design that allows it and its attachments to be fixed or removed with ease. It also has a splash guard, and an LED light that indicates power supply.
Features
Size: 15.24 x 9.37 x 12.36 inches
Weight:82 pounds
Capacity: 5 qt
Material:Stainless steel
Pros
Affordable
Easy to use
Dual handles for convenience
Tilt head design
Easy to clean
Lightweight
Durable
Splash guard
LED indicator for power supply
Cons
Attachment replacements are not available
Noisy operation
The Cuisinart Stand Mixer is made of die-cast metal and comes with a 5.5qtbowl. It is ideal for mixing dough for cakes and bread and comes in a variety of bright colors. This stand mixer supports a high-precision 500 W motor and has 12 speeds that help in performing a plethora of mixing tasks. The tilt-back head allows for secure handling of the bowl. The mixer comes with three additional accessories – a whisk, a dough hook, and a flat mixing paddle. The attachments and the mixing bowl are safe to be washed in a dishwasher. The product also comes with a limited three-year warranty. You also get a recipe booklet with the mixer.
Features
Size: 50 x 11.20 x 15.90 inches
Weight: 17 pounds
Capacity: 5 qt
Material: Stainless steel
Warranty: Limited 3-year warranty
Pros
Easy to use and operate
12 speeds for performing various tasks
Dishwasher-safe
Sturdy build
Tilt head design
Minimal noise
Comes with a recipe booklet
Cons
Attachments do not reach the bottom of the bowl
This 6-speed stand mixer by Hamilton Beach gives the same mixing action as KitchenAid stand mixers. The mixing head spins too as it rotates completely inside the bowl and mixes better than stand mixers with 2 beaters. The mixer's stainless steel 3.5 qt bowl is dishwasher-safe and comes with three attachments – a dough hook, a flat beater, and a whisk. The Special Fold setting lets you add ingredients in between the mixing process without over mixing. The powerful 300 W motor is excellent for everyday use and can easily mix the thickest of doughs.
Features
Size: 66 x 13.58 x 11.88 inches
Weight: 5 pounds
Capacity: 5 qt
Material: Stainless steel
Warranty: Express warranty
Pros
Sturdy and durable
Easy to operate
Easy to clean
Lightweight
Dishwasher-safe
Prevents over mixing of ingredients
Cons
The Dash Stand Electric Mixer comes at an affordable price and is a useful addition to the kitchen. This mixer is easy to move around, and with a 250 W motor and a 3 qt bowl, your baking treats will be ready in a jiffy. It comes with 4 attachments – 2 large beaters and 2 dough hooks. This stand mixer is available in several trendy colors. It comes with a 1-year manufacturer's warranty. All the electric parts are dishwasher-safe.
Features
Size: 66 x 13.58 x 11.88 inches
Weight:65 pounds
Capacity: 3 qt
Material: Stainless steel
Warranty: 1-year manufacturer's warranty
Pros
Minimal noise
Lightweight and portable
Affordable
Dishwasher-safe
A recipe book
Access to online recipe database
A lever slides the bowl along the base
Cons
Could be too small
Not durable
The Aifeel Electric Kitchen Dough Mixer comes with a powerful 800 W motor that makes kneading, whisking, and blending look like a cakewalk. Its 4.3 qt bowl lets you bake up to 800 grams of flour in a single batch. It comes with three attachments – a dough hook, a whisk, and a flat beater. The mixer has an LED display that will make choosing functions easy. It also has overheat protection – the device stops automatically while overheating. It comes with 4 anti-slip silicone cups at the bottom to keep the appliance from slipping. Moreover, it has a 1-year quality warranty and good after-sales service.
Features
Size: 74 x 8.35 x 11.28 inches
Weight: 26 pounds
Capacity: 3 qt
Material: Stainless steel
Warranty: 1-year manufacturer's warranty
Pros
Compact
Lightweight
Overheat protection
Extra grip
Splash guard
Cons
Not dishwasher-safe
No handle on the bowl
This aesthetically appealing mixer by Klarstein makes baking mess-free and simple. It claims to have a quiet transmission. This 650 W powered stand mixer comes with a large 5.5 qt stainless steel bowl that can accommodate anything from pizza dough to soups. The tilting head allows one to attach and detach the mixing bowls easily. It has a 6-speed performance that performs kneading, beating, and pureeing with 2 types of stirring hooks and a whisk. This versatile stand mixer has an adaptable design where it lets the mixing arm fold up for easy access to the mixing bowl.
Features
Size: 2 x 15.4 x 9.1 inches
Weight: 76 pounds
Capacity: 5 qt
Material: Plastic and stainless steel
Pros
Good suction power
Easy to clean
Value for money
Quiet operation
Cons
The Nurxiovo Stand mixer is powered at 660 W and is a powerful appliance for your baking needs. It comes with three additional accessories – a dough hook, a beater, and a whisk, and has a large 6.5 qt stainless steel mixing bowl. The 6+ pulse speed controller and splash guard promise a delightful mixing experience. The mixer is available in black, silver, red, and white colors.
Features
Size: 6 x 11 x 14.54 inches
Weight: 11 pounds
Capacity: 5 qt
Material: Stainless steel
Pros
Durable
Splash guard
Excellent suction at the bottom
Dishwasher-safe lid
Cons
Certain parts are not dishwasher-safe
The Bar Dough Maker is a stand mixer that comes with a stainless steel mixing bowl and a multidimensional stereo cutter head. The panel is designed to keep the elderly from bending too much. The mixer saves human labor as it follows a microcomputer timing and allows you to set the dough mixing and the fermentation program both at one go. Its stable base also provides excellent support and doesn't shake while mixing.
Features
Size: 5 x 13 x 12 inches
Weight: 73 pounds
Capacity: 5 qt
Material: Stainless steel
Pros
Low noise
Anti-skid feet
Easy to clean and operate
Very convenient
Rust-free
Microcomputer timing
Cons
Does not properly knead large quantities
The THRITOP Stand Mixer has a 5qt stainless steel bowl that opens from the center for easier addition of ingredients. The mixer has 4 suction cups at the bottom that ensure even heat distribution and balance. Its 600 W powered motor with 6-speed control gives a lot of freedom to experiment with different recipes. The various accessories included are dough hooks, twin whisks, cookie paddles, and a spatula.
Features
Size: 39 x 10.3 x 17.3 inches
Weight: 18 pounds
Capacity: 5 qt (4 qt working capacity)
Material: Stainless steel, ABS, aluminum alloy
Pros
Easy to clean
Compact
Affordable
Even heat distribution
Cons
Noisy operation
Not durable
The Wondermill Kitchen Mixer is stress-tested to check its kneading capacity and can successfully knead up to 4 to 6 loaves of bread. Its rubber stoppers prevent the excess flour from falling out. The mixer also boasts of a break-resistant technology that protects it from damage in the kitchen. The brand also offers a lifetime warranty on parts that could break. The 990 W powered stand mixer has a 5.5 qt capacity and comes with multiple accessories like a blender, a dough hook, two French whips, two cookie whips, and a plastic dough divider.
Features
Size: 3 x 12.6 x 11.2 inches
Weight: 11 pounds
Capacity: 5 qt
Material: Plastic and steel
Warranty: Limited Lifetime warranty
Pros
Economical
Easy to move around
High kneading capacity
Easy to clean
Easy to assemble and use
Durable
Cons
The SanLidA Stand Mixer can knead up to 3 kilograms of dough and also comes with a 5-year quality warranty. This has a 9.5 qt mixing bowl that comes with a handle for easy handling. You also get three accessories – a dough hook, a whisk, and a flat beater. The bowl has a splash guard too. These accessories are dishwasher-safe. The stand mixer has 10 speeds to choose from, and includes a slow-speed start to keep the flour from spilling. Moreover, the brand also provides 24/7 online customer support online. This mixer is available in two colors – Mojito Green and Nero Nemesis black.
Features
Size: 5 x 9.5 x 13 inches
Weight: 12 pounds
Capacity: 5 qt
Material: Stainless steel, ABS, aluminum
Pros
Easy to move around
Value for money
Dishwasher-safe accessories
Cons
These are the top 11 stand mixers available online. In the following section, we have discussed the factors you need to consider before making a purchase.
Stand Mixers – A Buying Guide
Speed Control: Every stand mixer comes with different speeds as per the tasks it can perform. The mixer should be able to whisk eggs at a fast pace and knead pizza dough at a slower pace. Hence, speed options between 1-6 should be ideal. A slow start would also be beneficial as it lets you add in ingredients without creating a mess.
Motor Power: If your budget permits, and if you have frequent heavy kneading to do, opt for a stand mixer that is powered by the highest wattage.
Planetary Action: The beater and the mixer head move in the opposite directions simply to ensure the batter stuck at the sides of the mixing bowl is used up, and the entire mixture gets beaten up uniformly. Ensure the stand mixer you plan to purchase performs this action with ease.
Design And Ease Of Cleaning: Go for a stand mixer that can be easily moved from your kitchen counter top – something that is lightweight. Ensure its design allows the bowl to get detached without any hassles. You may choose colors that would stand out. Also, ensure most parts of the stand mixer are dishwasher-safe.
All-Metal Gearing: Mixers with all-metal gears are better equipped to protect the motor from damage should the appliance overload. Also, metal gears ensure the mixer's longevity.
Suction Cups: These cups beneath the mixer hold the appliance in place. They ensure the mixer does not move or run around while in use. They also keep the vibrations to a minimum.
Weight And Capacity: A heavier mixer would hold better and not move much while in use (especially while kneading hard doughs). Depending on your use, you can opt for mixers with various capacities. A mixer with a higher capacity (a bigger bowl) will serve multiple needs, including kneading, whisking, beating, etc.
Tilt Head Vs. Bowl-Lift: Stand mixers are usually available as two variants. While one has a head that can be tilted to detach the mixing bowl, the other has the mixing bowl latching itself onto hooks from the machine body that moves up and down. You can check which of these variants is suitable for you.
Warranty: It is not only about how long the warranty is, but also what all repairs it covers. Here, the after-sales service plays an essential role too. Go for a stand mixer with a good warranty period that also includes prompt customer service.
Conclusion
All those pizzas, breads, and cakes need a stand mixer to perfect them! If your needs are simple, go for a budget mixer. If you are into professional baking, do not hesitate to invest in a high-quality mixer. We hope you have found your pick from this list. Place your order today!
Frequently Asked Questions
What stand mixers do professional chefs use?
Most professional chefs use the KitchenAid Classic Plus Series Stand Mixer. It has an excellent design, is entirely made of metal both inside and out, and is quite durable.
Is there a better mixer than KitchenAid?
Yes, there are a variety of options you can choose from. There is the Bosch Universal Mixer that is 800 W. It also has suction cups and a plethora of other attachments similar to that of Kitchen Aid.
Recommended Articles
The following two tabs change content below.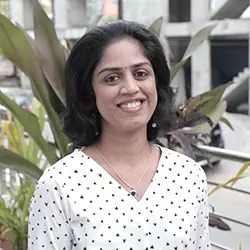 As Head Of Content Operations, Harini sets the tone and editorial direction for StyleCraze to deliver engaging, interesting, and authentic...
more