10 Best Standing Makeup Mirrors To Help You Elevate Your Makeup Game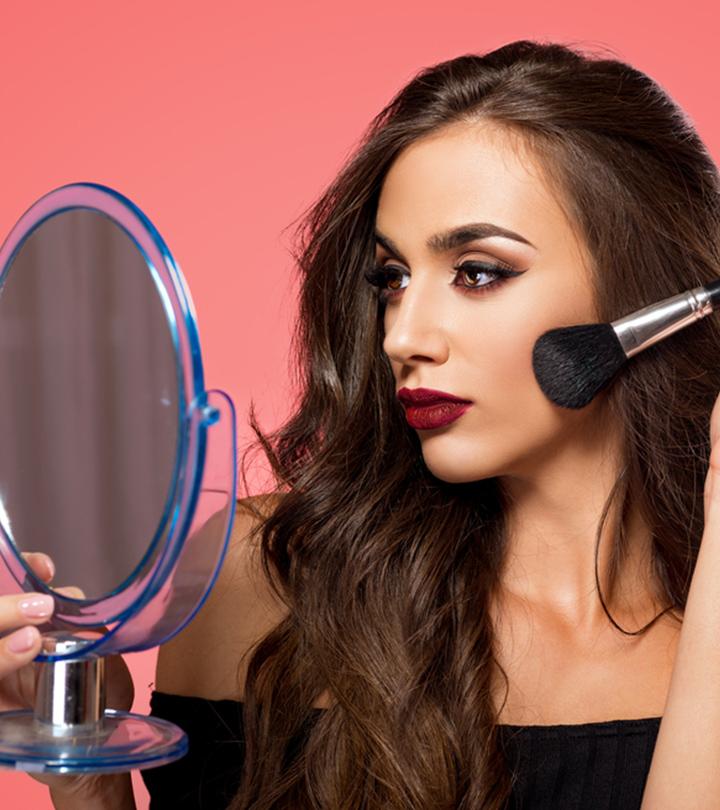 Mirror, mirror, on the wall, now you can be the most beautiful of them all! Any smart woman of today will tell you that your bathroom counter is not complete till it has a good standing makeup mirror to ensure you don't miss a single detail when it comes to your makeup and grooming. While a full-length mirror is essential to make sure your whole gorgeous look has come together beautifully, a standing makeup mirror is all about getting the little details right. It is the one simple tool that stands between you and a precisely made-up face with not a single hair out of place.
The best standing makeup mirror gives you the option between a normal view and a magnified view, has adjustable angles, and an inbuilt light for when the ambient lighting is just not enough for you to achieve professional salon-like results at home. Simple and ergonomic, it's a vanity tool you don't realize you need till you've tried it. Once you've applied makeup in the reflection of a good-quality standing mirror, you'll never again go back to using a plain old wall-mounted mirror that you have to lean against to get a good view. So what are you waiting for? Check our pick of the 10 best standing makeup mirrors in 2021 and get ready to elevate your makeup and grooming regime.
Look Gorgeous With The 10 Best Standing Makeup Mirrors In 2021
Take your makeup routine to the next level with this free-standing magnifying mirror that offers up to 10x magnification to make sure you don't miss a single detail, and your look is always on point. This dual-sided versatile mirror can be easily rotated to switch effortlessly between normal and magnified views. Portable and convenient, you can easily detach the base and pack it along for your travels. And there's more! The durable design and elegant chrome finish make this the ideal gift for the special woman in your life.
PROS
Dual-sided mirror
360° swivel rotation
Detachable base for better portability
Ideal for gifting
CONS
Some might find the base of this mirror is a bit prone to scratches.
Apply makeup flawlessly and expertly with this portable, countertop folding vanity mirror made of high-quality optical glass, so you don't miss a single detail! The convenient swivel gooseneck allows you to adjust the mirror to the height and angle you desire, while the lightweight and sturdy design makes it easy to move the mirror at your convenience. A bonus — if you're sharing your space with a man, this makeup mirror stand also doubles up as a shaving mirror!
PROS
Adjustable height
Rust-proof construction
Lightweight and compact design
Flexible rotating swivel gooseneck
CONS
Some might find that the base of this mirror is a bit unstable.
Bring Hollywood glamour to your bathroom counter with this gorgeous lighted standing makeup mirror that helps you elevate your makeup regime to the next level and get professional salon-like results. This double-sided mirror provides up to 10x magnification and has a dimmable light, ensuring your look is always on point. So whether you're using your mirror to apply precise makeup, remove blackheads, tweeze your eyebrows, or admire your pretty face, this modern must-have is sure to help you do the job well!
PROS
Double-sided mirror with 1-10x magnification
Inbuilt light with adjustable brightness
Durable and ergonomic design
360° swivel rotation
CONS
Some might find the light of this standing mirror a bit dull.
Here's a classic standing makeup mirror with lights to ensure you're always well-groomed and your makeup is in tip-top shape. This oval dual-sided mirror allows you to switch seamlessly between 1 and 7x magnification. And don't you think this is all! The energy-saving LED lights provide stunning results without you having to ever worry about changing a bulb again! The stylish chrome finish and battery-operated portable design are reasons enough that this mirror is a hot favorite amongst smart women everywhere.
PROS
Oval double-sided lighted mirror
Polished chrome finish
Lifetime energy-saving LED bulbs
Adjustable angle for easy viewing
CONS
Some might find the dimensions of this mirror a bit small.
Get your hands on this incredible rechargeable makeup mirror with lights, and never struggle with applying makeup again! This vanity mirror comes with 3 light modes options — warm, white, and natural, with adjustable brightness so you can expertly apply makeup and skincare as per your requirements and illuminate yourself like an absolute star. The flexible design allows you to adjust this ergonomically designed mirror to get the best viewing angle so you can prep and prime your pretty face. What's more, the high-performance battery ensures a single charge lasts over 15 days!
PROS
Compact and convenient design
Detachable base tray
3 light effect modes
Pocket-sized 7x magnification mirror
Stepless LED dimming
CONS
Some might find the pocket-sized magnification mirror a bit small.
Skip the expensive appointment with the makeup artist and get professional results at home with this great adjustable standing makeup mirror that is the perfect tool to get your face prettied up for the party of the season. Rechargeable LED bulbs provide soft and non-dazzling light, while the double-sided mirror makes it easy to switch between 1 and 5x magnification seamlessly. Additional features like the anti-skid bottom, which prevents scratches on your desk, and the attractive anti-corrosion finish make this vanity mirror every smart young woman's best friend.
PROS
Double-sided mirror with 1-5x magnification
Ergonomic and durable design
LED lights with adjustable brightness
Glare-resistant
CONS
Some might find the light dimmer switch a bit difficult to use.
Elevate your makeup routine to the next level and achieve flawless results with this double-sided makeup mirror that promises to be a 1-stop solution for all your grooming needs. The perfect gift for the glamorous diva in your life is that this mirror comes equipped with natural and soft LED lights that allow a shadow-free reflection and a non-slip stand that will let you adjust the viewing angle so that your face and hair are always in perfect view. So what are you waiting for? Try this out, and we promise you'll never go back to using a regular mirror again.
PROS
Double-sided mirror with 1-10x magnification
Portable and cordless design
Adjustable swivel angles
Non-slip base
CONS
Some might find it a bit difficult to replace the batteries in this makeup mirror.
Now you can admire your flawless beauty in any room of the house! This lightweight cordless mirror ticks all the right boxes for a product that is equal parts functional and stylish. The chrome-finished stainless steel body and double-sided mirror offering superior magnification make this mirror multi-functional and durable. The brightness of the LED lights can be adjusted easily using a convenient finger-touch button so that you're able to use the mirror for any requirement, be it to tweeze your eyebrows or to precisely apply some liquid eyeliner.
PROS
Finger-touch on/off button
Convenient micro USB charging port
360° swivel rotation
Cordless and rechargeable
CONS
Some might find the brightness of the light a bit dull.
With this stylish, travel-friendly standing makeup mirror, you no longer have to worry about your hotel room not having the right kind of vanity mirror for you to always look your best. Convenient and durable, this mirror can be used for a wide variety of functions, whether it is to get creative with your makeup, shape your eyebrows, wear contact lenses, or squeeze out those unsightly blackheads. Offering 1-10x magnification, this double-sided lighted mirror features circular LED lights, a 360° swivel joint that allows easy movement of the mirror, and wide applicability.
PROS
Compact, travel-friendly design
Double-sided mirror with 7-inch diameter
360° swivel joint
Ideal for gifting
CONS
Some might find the size of this mirror a bit small for professional use.
Here's a standing makeup mirror with a light so bright, it mimics natural sunshine! Now it's easier than ever to perfect your hair and makeup with this pretty vanity mirror designed to help make your grooming routine easier and more pleasurable. The dual-sided mirror offers 1-10x magnification, while the unique flexible design allows for multiple viewing options whether you're standing or sitting. So get your hands on this stylish vanity makeup mirror, and never miss a minute detail ever again!
PROS
Ultra-bright fluorescent lighting
Convenient accessory storage tray
Adjustable height and viewing angle
Built-in cord storage in base
CONS
Some might find the light bulbs on this mirror a bit difficult to replace.
Now that we've had a look at our pick of the 10 best standing mirrors in 2021, let us look at some things to consider when picking the best mirror to perfect your look.
Tips To Choose The Best Standing Makeup Mirror
Are you looking for a standing mirror that is the primary mirror on your dresser? If that's the case, you might want to pick a large standing mirror that allows you to see your entire face and neck easily. If you're looking for a mirror that makes tweezing your eyebrows and precise makeup application a breeze, a smaller mirror will suffice just fine. Another factor to consider is whether you're looking to travel with your mirror. A standing mirror with a detachable base is ideal for packing into your carry-on for your overnight trip, while a larger one might not offer similar portability.
Are you going for a costume party and want to make sure not to miss a single detail with your eye makeup? Or are you the kind who likes to tweeze and style her eyebrows daily to make sure not a single hair is out of place? If you belong to either category, or if you just like being able to scrutinize every pore, blackhead, and pimple on your face, you'd best pick a standing mirror that offers 7X-10X magnification. Many standing mirrors have dual mirrors that you can easily switch between, one with a standard view and the other offering magnification.
While the quality of an undistorted, clear mirror is something you shouldn't compromise on, you can easily choose whether you want a simple standing mirror or an inbuilt light, allowing you a better view of your beautiful features. When it comes to lighting, the choices are endless. LED lights are energy-saving and last longer, and as such, they are a better choice if you're looking for a hassle-free mirror to maintain. Pick between a battery-operated mirror and one with rechargeable lights as per your convenience and intended use.
The next time you have the party of the year to attend or just want to look your absolute best, you can easily skip the expensive appointment with the makeup artist and instead get creative with your hair and makeup at home. A good vanity makeup mirror makes this easier than ever! Now you no longer have to lean against your bathroom counter to get a close look at whether your eyeshadow is blended or if your eyebrows are perfectly shaped. With the right standing makeup mirror, every precise detail is easily visible, and you can make sure not even a single hair is out of place. Our carefully curated list of the 10 best standing makeup mirrors in 2021 is designed to be your starting guide to help pick the perfect accessory for your bathroom counter.