The 13 Best Anti-Static Hair Products Of 2023
These static hair products will help fix your static hair woes and give you a perfect look.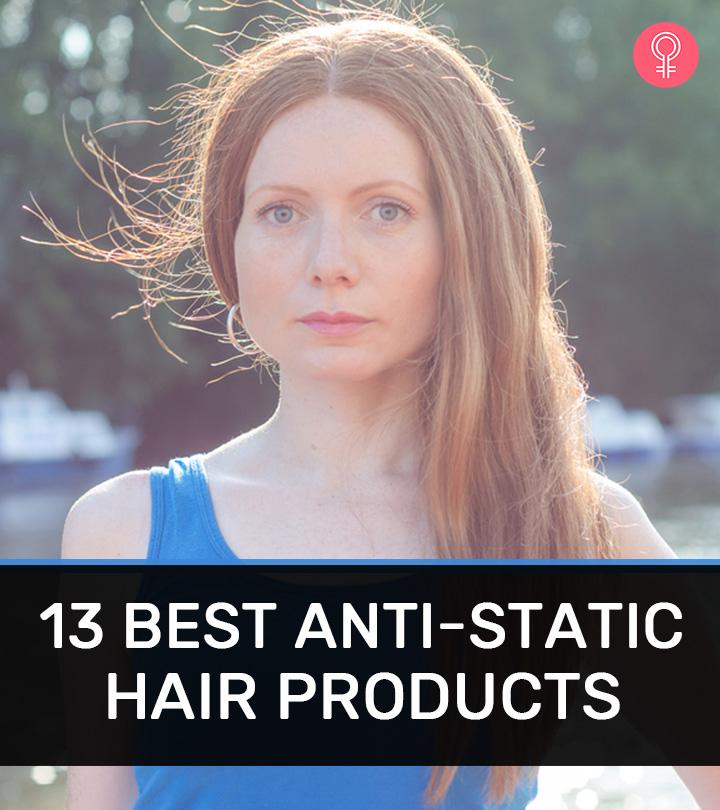 Fine hair is perfectly fine right until the air becomes dry or something brushes against the hair; then it is all about flyaways defying gravity and propelling our hair strands upwards. It's all physics: electrons and static charges and only the best anti-static hair products can salvage the situation. That's why we have carefully reviewed and gathered together all the best of these for you. "As a stylist, I understand the frustration of dealing with flyaway hair. Anti-static hair products, like serums, sprays, or leave-in conditioners, work by coating the hair shaft with ingredients that neutralize and minimize static charges. These specialized products are formulated to combat static electricity that can leave your hair looking frizzy, flyaway, and difficult to manage," says Cosmetologist Laura Dale. Read on to find the product that will take away your static hair woes and help you feel fine about your fine hair.
What Causes Static Hair?
When two surfaces rub against each other, one of them loses electrons and becomes positively charged, while the other gains the electrons and becomes negatively charged. This causes static electricity.
To simplify it further, your hair transfers electrons to the object it rubs against and is left with only positive charge. The strands start resisting each other, and you see them going upward! The following products can help you deal with static hair.
13 Best Anti-Static Hair Products – Best Of 2023
Product Type: Hairspray
The Color Wow Dream Coat Supernatural Spray is a non-greasy hair spray that is designed to reduce hair static and can be used as a heat protectant as well. This lightweight spray acts like a keratin hair treatment that prevents frizziness and protects your hair against humidity. The Color Wow DreamCoat Supernatural Spray gives smooth and glassy hair, lasting up to 3-4 washes.
Also Recommended By: The experts at Byrdie also think highly of Color Wow and Allure.[1]The 13 Best Anti-Static Hair Products of 2023 – Byrdie https://www.byrdie.com/best-anti-static-hair-products-7108120
Pros
Lightweight
Vegan
Gluten-free
Sulfate-free
Paraben-free
Cruelty-free
Anti-humidity formula
Provides frizz control
Cons
Can leave your hair feeling hard
Product Type: Hairspray
The Wella Professionals Invigo Nutri-Enrich Deep Nourishing Anti-Static Spray has a moisturizing formula that helps your hair against frizz and provides care to dry and damaged hair. This anti-static hair spray is a great addition to your hair care routine as it is infused with the goodness of goji berry which provides your hair with vitamins, minerals, and peptides which make your hair smooth and full.
Also Recommended By: The Wella has also made it to the list by Allure.[1]15 Static Hair Products That'll Tame Friction All Winter Long – Allure https://www.allure.com/story/static-hair-products
Pros
Nourishing formula
Contains Vitamin E
Works on damaged hair
Pleasant berry scent
Moisturizes hair
Cons
Product Type: Anti-static Bristle Hair Brush
This is an innovative ceramic and ion-infused hair brush and is perfectly designed to add volume to your hair while blow drying. The bristles of this hair brush are anti-static. It is ionic mineral-infused that maximizes shine and makes the hair smooth. It is also tough enough to withstand high heat. The polished bristles gently massage your scalp and prevent hair breakage and damage. If you need more convincing, check out this YouTuber's video detailing a tester's experience of using this product.
Pros
Lightweight
Ergonomic design
Sectioning tip included
Naturally antibacterial bristles
Cons
Tough to clean
The end of the barrel heats up during blow-drying.
Product Type: Leave-in Conditioner Spray
This leave-in conditioning spray helps to detangle your hair and manage frizz. If you have dry and damaged hair and/or static hair, this static-reducing hair conditioner is just for you. This product is a great add-on in your hair care routine as it deeply nourishes your hair and keeps it soft and moisturized, which helps prevent dryness, frizz, and static hair. It also helps strengthen your hair and protects it from the adverse effects of heat styling and other environmental factors.
Pros
Control flyaways and static hair
100% vegan
Gluten-free
Sulfate-free
Sodium chloride-free
Paraben-free
Cons
The smell might bother a few people.
Product Type: Anti-Frizz Dry Spray 
Be it frizzy hair, unpredictable fly aways, or static hair, this anti-frizz dry spray is a solution for all – anytime and anywhere. It contains argan oil that helps seal the hair strands to prevent moisture loss, thus preventing frizz and static hair, which is usually caused by dryness or humidity. You need to spray it on your dry hair and then comb.
Pros
Paraben-free
Lightweight
Doesn't weigh the hair down
Cons
Contains alcohol
Contains PEG
Product Type: Anti-static Mist
Ex Statyk is a water-based hair mist that helps tame static hair and fly aways. Its static-free formula distributes ionic charges evenly and helps neutralize and calm statically charged hair. It does not contain harsh drying alcohol and is a water-based product that adds moisture to hair instead of drying it. This helps to keep your hair smooth and without any static electricity.
Pros
Alcohol-free
Fragrance-free
Hypoallergenic
Sulfate-free
Safe for color-treated hair
Doesn't weigh the hair down
Cons
Might make the hair a bit oily (if you use a little too much).
Product Type: Anti-static Hairspray
This product is excellent for taming static and flyaway hair and eliminating frizz. It contains vitamin E that helps strengthen and nourish the hair and restore its luster and shine. It also contains argan oil that softens and nourishes the hair and improves manageability and thermal polymers that seal moisture and protect against heat styling tools. This product has received several positive reviews regarding its pleasant smell. Check out this review that features a tester's experience of using this product.
Pros
Paraben-free
Sulfate-free
Petrolatum-free
Mineral oil-free
Gluten-free
Cruelty-free
Works on wet and dry hair
Pleasant fragrance
Cons
None
Product Type: Leave-In Conditioner Spray
Restore your dull hair with the Fibonacci Beauty Conditioner Leave-In Spray For Synthetic Hair Wig. This anti-static hair product is suited for synthetic hair wigs and hairpieces along with natural hair. It is formulated with naturally-sourced, nourishing ingredients that help in keeping static at bay. The formula softens your hair and provides the ultimate hydration with just a few spritz.
Pros
Naturally-sourced ingredients
Easy spray nozzle
Easy to use
Non-greasy texture
Eco-friendly
Cruelty-free
Mineral oil-free
Sulfate-free
Paraben-free
Suitable for sensitive skin
Cons
Product Type: Anti-Frizz Hair Sheet
These anti-frizz sheets contain natural UV filters that keep your hair healthy-looking and prevent damage caused by UV exposure. They contain hydrating coconut oil and give you smooth hair texture and lustrous color with each use. The sheets control static hair and tame flyaways easily. All you need to do is to rub the sheet over your hair, and you are done.
Pros
Easy to use
Helps minimize frizz and static hair
Cons
Might make the hair a bit crunchy and dry.
Product Type: Leave-In Treatment Serum
Give your hair a transformative change with the Aveda Smooth Infusion Style-Prep Smoother. This pre-style protection leave-in hair treatment serum aids in preventing hair damage caused by heat styling, up to 450 °F, and protects your tresses against environmental aggressors. This leave-in hair treatment serum is packed with plant-powered technology and provides optimum defense from sun damage and frizz for up to 72 hours.
It comprises a plant polymer shield, along with botanical smoothing oil blend, and sand ginger. The plant polymer shield coats the hair strands and repels water to give it a silicone-free protection. The botanical smoothing oil blend consists of potent ingredients like kalahari melon seed oil and tamanu oil which give a deep conditioning treatment and smoothen the hair cuticles to boost shine and softness. Sand ginger has a naturally derived UV filtration property that protects your hair from the drying effects of UV damage and other environmental factors. This leave-in serum defends your hair against static, and humidity to give you sleek, shiny and healthy-looking hair.
Pros
Lightweight texture
Suitable for color-treated
Protects hair from heat damage
Suitable chemically-processed hair
Offers humidity control
Offers heat styling protection
Offers UV Protection
Offers frizz-free results
Cruelty-free
Vegan
Silicone-free
Paraben-free
Mineral oil-free
Petrolatum-free
Paraffin-free
Gluten-free
Formaldehyde-free
SLS-free
Triclosan-free
Triclocarban-free
Synthetic fragrance-free
Cons
May seem slightly greasy for oily hair type
Product Type: Anti-Static Mist (spray) 
This product is a leave-in oil mist for frizzy hair. It is a part of Redken's reinvented Frizz Dismiss collection. This professional-grade spray provides smoothing benefits and also protects the hair from humidity. It instantly smooths static hair and flyaways without weighing the hair down. It contains babassu oil that has proven efficacy in smoothing out the hair, controlling frizz, and making the hair manageable and shiny.
Pros
Best for mild frizz
All weather protection
Static-resistant formula
Paraben-free
Sulfate-free
Sustainably sourced ingredients
Sodium chloride-free
Doesn't weigh the hair down
Cons
None
Product Type: Serum 
Dry and frizzy hair is prone to static electricity. If you have the same issue, you need this rejuvenating hair serum. It contains a herbal oil complex that prevents excessive dryness caused by dust and humidity. This static reducing serum deeply conditions, nourishes and moisturizes your hair and prevents frizz and static hair caused by dryness.
Pros
Paraben-free
Sulfate-free
Alcohol-free
Cons
None
Product Type: Serum 
This anti-frizz serum contains argan oil from Morocco that penetrates deeply into your dry and frizzy hair and gives lasting smoothness, and makes your hair shinier. This scientifically proven formula tames static and unmanageable hair even in 97% humidity, making it an ideal choice for those with wavy hair, curly hair, and other hair type prone to frizz.
Pros
Paraben-free
Sulfate-free
Non-greasy
Makes the hair soft
Pleasant fragrance
Lightweight
Cons
Pump dispenser might give trouble
*The prices provided in this article are based on the latest available information. However, they may vary due to changes in pricing by the seller and/or promotional offers.
If frizziness is ruining every hairstyle you try, this list of products is your escape. But which one is the right for your needs? It might be hard to pick the best one when there are an overwhelming number of choices in the market. So, we have put together this guide to help you buy anti-static hair products that will salvage your hairstyles. Check it out!
What To Consider When Buying Anti-Static Hair Products – Buying Guide
Natural: Always look for natural products. Natural products are gentle on your hair and skin. Choose products with nourishing ingredients like herbal oil, argan oil, babassu oil, etc. These ingredients nourish your hair, smoothen them, control frizz, and make hair manageable and shiny.
Easy Of Use: Look for hair products that are easy to use. It should give you the best results without having you spend a lot of time applying it. The best anti-static products are a one-step process regardless of whether they are used on dry or damp hair. If you want a handy product that you can spray on whenever you head out, look for a formula suited for dry hair condition. However, make sure that it doesn't make your hair crunchy; otherwise, you might not be able to style your hair as desired.
Longevity: If you want all-day frizz control, look for a formula that can hold your hairstyle for 10-12 hours. Alternatively, you can also select a formula that you can spray on your flyaways mid-day to refresh the sleek look during a bad hair day.
Chemical-free: Go for a chemical-free anti-static product that is free from paraben, silicon, GMO, sodium chloride, sulfate, and alcohol. These chemicals increase dryness and might cause irritation on the scalp.
Hypoallergenic: Hypoallergenic anti-static hair products are for people with sensitive skin or thinning hair. Such products are made without common allergens that do not trigger any allergies. Hypoallergenic formulas are made without overpowering artificial fragrances and contain only a mild natural fragrance.
Why Trust StyleCraze?
The author of this article, Oyendrila Kanjilal, is a hair care enthusiast and loves reviewing new products for her readers. She has compiled this list of the best anti-static hair products after doing hours of extensive research and sifting multiple user reviews, feedback, and product information on trusted online forums. The shortlisted products can tame static hair and help your hairstyle look cleaner.
Frequently Asked Questions
How do you keep your hair from getting static in the winter?
Use anti-static hair products and heat style your hair less often. This will help you manage static hair.
How do I stop my hair going static on a plane?
You can carry a small bottle of anti-static hair spray or anti-frizz sheets with you when traveling or tie a scarf around your head.
Why does my hair get static when I straighten it?
This is because the flat iron stretches the hair and dries it out. Avoid dryness and protect your hair from heat damage by using heat protectant serums and sprays.
Does static hair mean it's healthy?
No. While static hair is not harmful, it can often lead to extreme frizziness and make your tresses appear brittle. Dry and damaged hair is more prone to being static as it lacks the level of moisture that can repel electric charges.
Does hairspray work as anti-static?
Yes, hairsprays can combat static buildup in your hair. It is a quick fix that offers you instant relief from dry tresses that have become unruly due to static electricity.
Why is my hair static when I brush it?
Static hair is often caused when your tresses rub against something. When you brush it, the electrons from your brush transfer to your strands which cause a buildup of electrons, making your tresses look static.
Recommended Articles