10 Best Steam Curling Irons In 2023 For Dreamy Curls
Curl your hair hassle-free without heat like never before to transform its look!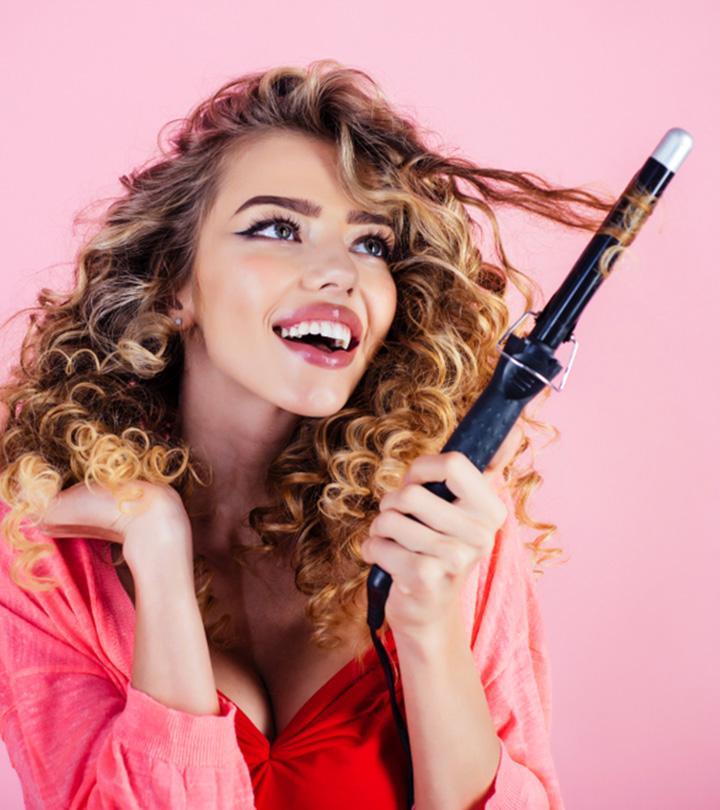 All the straight-haired ladies out there, let's face it — sometimes your look isn't complete without the vivacity of curls enhancing your silhouette. That's when you are supposed to bring out your trusty steam curling iron and curl those tresses away to glory, giving yourself the instant makeover you deserve. Better than a dry-heat curling iron, which can damage your hair, steam curling irons are magic sticks that keep your strands safe while giving you the look you've been dreaming of. Often, straight hair can be just as challenging to maintain as curly hair. However, when the curls are temporary, you can have all the fun without maintenance. You get to transform your appearance in a hot minute using a method that's safe, effective, and hassle-free! Not sure where to start your search? Here are 10 of our favorite steam curling irons in the market today that have gathered rave reviews and are sure to find a spot in your beauty aisle. Before we dive into the list, let's understand exactly how a steam curling iron works and how to pick the appropriate one for your needs.
What Is A Steam Curling Iron?
A steam curling iron is a curling wand that uses heat and steam release mechanism to style and curl hair. It is healthier for the hair as compared to regular curling irons that use dry heat and make your hair dry and brittle also leads to breakage and hair loss. However, a steam curling iron uses advanced technology to protect your hair. It is favored over regular curling irons for all kinds of styling purposes and is also suitable for both everyday use and special occasions. It also offers better shine and curls that are more defined.
10 Steam Curling Irons For Fabulous Curls Every Day
Get fabulous, smooth, and shiny curls on your healthy hair with this steam iron curler that uses nanotechnology to give you your dream look easily, without damaging your hair while steam also ensures that your tresses are left shiny and smooth. It comes with 4 time settings that allow you to experiment with different kinds of curls. But that's not all! This steam curling iron also comes with 4 kinds of heat settings, making it a good choice for all hair types. It has 3 controls to choose the direction of curls – right, left, and alternate and boasts a surround heat system that ensures it heats up and cools down fast. The MaxLife PRO brushless motor and its Smart Tech technology ensures effective energy-efficient styling and protects your hair from damage. Here's a video of a reviewer's experience with the product to help you know more.
Pros
4 temperature settings for all kinds of hair
4 time settings for easier use
3 controls to choose the direction of curls
MaxLife PRO brushless motor curls efficiently
Smart Tech technology saves energy
Uses a nano titanium curl chamber to curl
Cons
Some might find it difficult to get their hair out of the curling chamber
This is a no nonsense 2-in-1 steam straightener and curling iron that houses 5 ducts to let out steam that eventually styles your hair the way you want to. The combination of vapor and water adds hydration to your stresses, ensuring that you have healthy and moisturized locks. The steaming curling iron uses ceramic tourmaline plates that heats up quickly and gives a shine to your hair. It comes with an LED panel that displays 6 temperature settings, making it ideal for all hair types from coarse to fragile hair. It automatically shuts off after 60 minutes when not in use and comes with a swivel cord that makes it easy to use on damp hair. Reviews on Amazon mention that this product saves time and makes hair shinier and more manageable.
Pros
2-in-1 steam straightener and curler
Ceramic tourmaline plates for shiny curls
Shuts off automatically after 60 minutes of inactivity
3 heat settings
6 temperature settings
Ideal for loose curls
Cons
Owing to the compact size, some may find the grip slightly uncomfortable
This is an easy, automatic curling iron that gives you your desired curls in seconds. Simply pass sections of hair through it and see how they leave the barrel curled. The LED display with adjustable settings for temperature and time lets you create different kinds of waves in a jiffy. From loose waves to tighter curls, this steam iron curler lets you amp up your look every day without hassle. It features an auto-off technology and comes with a buzzer that tells you that the job is done and it is time for you to take your hair out. The spray function in it releases moisture into your curls to keep them hydrated, soft, and adds a silky shine.
Pros
Automatic curling chamber
LED display
Adjustable temperature range
Adjustable time settings
Armed with auto-off tech
Comes with a buzzer
Has a spray function to keep locks hydrated
Ceramic barrel
Cons
Some may find it slightly heavy
The QUICO 2-in-1 Hair Styler is designed with negative ion and steam technology, ensuring even heat and moisture. The steam technology helps you get the perfect curls and makes the hair appear shiny. It has a steam tank that needs to be filled before using the device. This hair styler comes with a 360° swivel cord allowing easy movement of the hair styler. In addition, the temperature lock ensures that the temperature is consistent while styling your hair so that it does not damage your hair. For a more detailed review of this product, here's a video of a tester's experience with it.
Pros
Lightweight
Easy access button
LED light display
Travel-friendly
Cons
Get salon-style curls from the comfort of your home with this steam curling iron that heats up fast but does not adversely affect your hair. It uses ceramic plates that neutralize the hair effectively and 3 temperature settings along with 3 time settings let you play around with the kind of curls you wish to create. The buzzer ensures that you are exposing your hair to the heat for exactly the right amount of time while the spray function ensures that moisture is retained in your hair and not stripped off due to heat. Reviewers have noted the product is easy to use and offers long-lasting curls.
Pros
Adjustable LED panel
Adjustable swivel cord
3 temperature settings
3 heat settings
3 curl directions
Spray function to keep your locks hydrated
Ceramic plates that neutralize heat
Cons
May not be best suited for very coarse hair
With this professional grade steam curling iron, get curls safely without having to ever worry about frizzy or flyaway hair. Designed with an advanced technology for its ceramic curling chamber, it heats up quickly yet prevents you from getting damaged hair due to overheating. The anti-static properties of this automatic steam curler offers frizz-free styling at the touch of a button. Instantly get shiny, soft curls with this steam curling iron that comes with a buzzer to remind you to remove your hair from the curling barrel. With this curling iron, you can choose between multiple curling styles for your mane.
Pros
Professional grade curler
Tames frizz and flyaways
Prevents hair damage from overheating
Choose between multiple curling styles
Cons
May not be travel-friendly due to its size
Want to look your best at a party without worrying about how long your curls will hold? Get this steam curling iron with a titanium auto-rotating barrel that will keep your curls in place throughout the day. Set yourself free of hassles and tangles as this iron uses a sensor to make sure your hair does not end up in tangles. The steam function is designed to softly heat and vaporize your hair in the curling chamber and avoid heat damage. You also get to choose between 3 temperature settings, 3 time settings, and curl directions to get those curls that you have always dreamt of. This video review takes you through this product's details.
Pros
Titanium heating chamber for curls that last
A sensor to avoid tangles
3 temperature settings
3 time settings
Options for curl directions
Cons
Might be a little bulky to use for some
Wave goodbye to heat damage from dry heating irons and switch to this steam curler that gives you bouncy curls that ooze style, shine, and softness. The Rejawece hair curler incorporates MCH technology allowing rapid heating within 3 seconds and the ceramic plates used ensure uniform heating. The automatic crimping cylinder gives you textured curls without you having to put in any extra effort. It comes with a sensor that ensures you don't suffer burns while styling your hair or damage your hair due to overheating. It allows for quick styling and comes armed with a power saver mode that makes it energy efficient.
Pros
Quick heating
Prevents burn and heat damage
Power saver mode
Anti-tangling sensor
Automatic crimping cylinder
Cons
The curls might not stay for very long
Add versatility to your life with this 2-in-1 straightener and curler that uses steam to style your hair. Ideal for use at home,this curling iron with humidity-resistant technology helps you achieve salon-grade smooth curls without frizz with the floating ceramic plates. The steam curler ionizes heat, so that it does not dry up your hair. Get hair that looks and feels soft and healthy but is styled the way you like it with this curler that comes in an ergonomic design and a 360° swivel cord for easy use.
Pros
2-in-1 straightener and curler
Ergonomic design
Comfortable grip
Lightweight
Cons
Some may find the grip slightly uncomfortable
This 2-in-1 steam curling iron and straightener makes use of 5 conditioning steam vents to style your hair and give it your desired kind of curls. It uses tourmaline plates with ceramic coating that ensures shiny curls without heat damage.It comes with heat protection gloves to prevent burning your fingers as you style your mane and has adjustable temperature settings with an LED display to keep you notified. It is suitable for use worldwide as it is dual voltage and has a swivel cord that rotates freely for ease of use.
Pros
6 temperature settings
5 conditioning steam vents
Automatically shuts off after 1 hour
LED display
Tourmaline plates with ceramic coating for shiny curls
Cons
Might be tedious to use due to its manual settings
*The prices provided in this article are based on the latest available information. However, they may vary due to changes in pricing by the seller and/or promotional offers.
Beachy waves and bouncy curls add glamor to your personality. However, these stylish crimps can be difficult to maintain at times, and that's where a steam curling iron comes into the picture. If choosing the right curler seems challenging, here are the important things to consider before buying the best stem curling irons for dreamy curls.
Things to Consider Before Buying Best Steam Curling Irons for Dreamy Curls
Multiple Temperature Settings
Choose a curling iron with multiple heat settings to ensure that your curler is suitable for all hair types. It also ensures one can choose the heat intensity per the desired style. The hot iron must also be equipped with advanced control panels and heat settings memory for ease of use. It enables the direction of curls, i.e., right, left, or alternate, and flaunts them with confidence. Finally, opt for curlers with even heat distribution to protect the hair strands from damage due to overheating.
Compact and Travel Friendly
The best hair crimpers are easy to use and ergonomic in design. They must come with a rechargeable battery or long swivel cord to ensure ease of use. Such hair curlers with compact designs can be carried along and used wherever one goes. It should have a comfortable grip, power saver mode, and support dual voltage to use anywhere.
When choosing a hair curling machine, be careful about the plate material and size. People with thin and fine hair should use curlers with ceramic material. These plates distribute heat evenly and distribute negative ions. It also prevents hair damage or stripping of hair moisture. Tourmaline and titanium curling irons are better suited for people with coarse and thick hair. Such hair curlers may tend to produce more heat but give you long-lasting curls.
People with short hair should choose curling irons having smaller barrel sizes. On the other hand, if you have long hair, use curlers with bigger plate sizes. The barrel size also depends on the types of curls one desires to create. For example, for smaller beachy waves, a small size barrel works better, whereas bigger barrels are better for loose, romantic curls.
Choose a steam curling iron with advanced safety features. These include auto-shutoff, a cool shot button, and a time set. In addition, many hot irons can act as hair curlers and straighteners to ensure better functionality. Finally, tech-savvy features such as an LED display, anti-tangling sensor, and adjustable time setting make the hair curler more useful. Also, if you have color-treated hair or keratin-treated hair, look for professional-grade tools compatible with the processed hair.
Now that we have looked at our top 10 steam curling irons, here's a quick guide, which will make it easy for you to pick one for yourself.
How To Buy The Best Steam Curling Iron
There are different kinds of curling irons with steam mist available in the market but you should pick one that is easy to use for you. While some function with automatic technologies where you put in sections of your hair and they come out curled, some need to be used manually. Others come equipped with technology that ensures that your hair does not get tangled inside the automatic curling barrels. You should pick one depending on how much time and energy you want to spend on curling your hair.
These days, most curling irons come with the added benefit of automatically shutting off after 60 minutes of inactivity and some also come with buzzers and alarms that remind the user to switch off the device. It is best to use a steam hair curler that comes equipped with safety features, so that you can style your hair without any worry or hassle and protect your hair from heat damage.
Thick hair types take more heat and time to get curled while fine hair is easy to curl. In this case, it is best to keep your options open by choosing a steam curling iron that has many features to choose from to ensure maximum benefit. For those with fine hair, the temperature should be set below 200° F and around 300° F for those with thicker and coarse hair. For frizzy hair, low heat is advisable, and ideally, for oily hair, heat should be avoided. Heat always works best on fresh and clean hair. You can simply use some dry shampoo to enhance your hair texture and get rid of oiliness before using your curler.
A plate in a steam curling iron is typically made of different materials such as ceramic, tourmaline, or titanium. A ceramic plate helps in distributing heat equally along the shaft of your hair and releases negative ions that seal the cuticle of your hair to repel moisture and humidity, which are the main culprits for causing frizziness. As a result, your hair looks shiny and silky. A tourmaline plate emits more negative ions than ceramic plates, which basically means that you get a lot more shiny and smooth hair that makes you look and feel good. A titanium plate ensures that heat is not just distributed equally along the entire length of your finer hair shaft but it also makes sure that your hair does not get stuck or caught up in the barrel but gets the job of curling done easily and smoothly.
The size of plate or barrel determines the kind or rather the size of curls you wish to achieve. For shorter hair – say for a bob – go for a barrel that ranges between 10 to 19 mm for smaller curls. For medium length hair, you can choose a 25 mm plate for relaxed waves. For longer hair, feel free to go all out with larger barrels, starting from 32 mm and above. It is useful to remember that no matter the size of the curls, they have a tendency of coming undone and eventually ending up loose, so it's best to start with smaller curls and then run your hand through them to loosen them a bit. For beachy waves, a 24 mm barrel is ideal and for loose, romantic curls, go for anything between 35 mm and above.
How To Use A Steam Curling Iron
Step 1: Start by combing your hair, so that it is not messy and free of tangles.
Step 2: Use some heat protectant spray for an additional layer of protection.
Step 3: Part your hair into narrow sections and start with the one closest to your neck.
Step 4: If it's an automated barrel, hold that section through the barrel of your steam curling iron as the barrel does the job. Release the section of hair when the time set for it is done. If you are using a manual steam curling iron, wind each section of hair around the plates and hold it for a few seconds till you get your desired effect. Repeat till you are done with all your hair.
Step 5: Finish off with some setting spray that will make your curls stay longer.
Cosmetologist, Lindsay Loo, suggests, "Use zig-zag partings when curling as this will give a more natural blended effect."
Steam Curling Iron Vs Regular Curling Iron
A steam curling iron uses heat and vapor to style your hair as opposed to a regular curling iron that uses only dry heat to curl.
Vapor ensures that your hair is soft and shiny with not much heat damage. In case of a regular curling iron, dry heat takes away moisture from your lock and makes them dry and brittle.
You will not need to quickly dry your hair after a shower to use a steam curling iron as the vapor takes care of it. Meanwhile, for a regular curling iron, putting wet hair through it will burn your locks and cause intense heat damage.
The only negative part is that you will have to refill the water outlet of a steam curling iron as per your use, which is not needed for a regular curler.
But one also has to be cautious about using a steam curling iron. Here are a few things you should pay attention to.
Important Safety Precautions
Use a heat protectant spray on your hair before using your favorite curling iron to ensure maximum protection.
Buying the right kind of steam curling iron is very important and read the instructions very carefully.
Always keep the water outlet filled so that steam can counter the harmful effect of heat on your hair when the curler is in use.
Always remember to follow the time specifications to avoid overheating.
Keep flammable things away when you're styling your hair.
Wait till the curler cools down completely before you store it away.
Why Trust Stylecraze?
The author of this article, Krati Darak, is a hair care enthusiast. She thoroughly explores various products used in hair care and brings the best compilation for readers, making their choice easy. This list of best steam curling irons was put together after extensive research and reading many customer reviews on trusted platforms. These curling irons are the best way to give you an instant makeover without damaging the hair.
Frequently Asked Questions
How often can I use a steam curling iron?
You can use this styling tool regularly. However, it is best to keep using a heat protectant spray too.
Can steam curlers be used on all hair types?
Generally, all steam curlers can be used for all hair types, including damaged hair types. However, it is best to pick one with different temperature and heat settings available, so that you can regulate them as per your need.
Does a steam curling iron damage your hair?
Since a steam curling iron uses both steam and heat to style your hair, this is one of the better ways to style your hair on a regular basis. However, any kind of heat might have adverse effects if used in a prolonged manner, so it always helps to take the necessary precautions as well.
Do steam curling irons help curl your hair without heat damage?
Yes. Steam curling irons utilize the mechanism of moist heat to curl your tresses and cause very low to no heat damage on textured hair.
Are steam curling irons good for African American hair?
Yes. Steam curling irons are suitable for African American hair. They maintain the luster and bounce of the curls without making the hair brittle and dull.
Can we use steam curling irons every day?
No. Although using a steam curling iron is a safer option, everyday heat styling damages the strands. Heat styling your hair too frequently causes hair breakage and makes the hair dry and brittle.
Does steam curling iron stop hair breakage?
Yes. Steam curling iron uses moist heat to curl the hair and causes less damage. They do not strip moisture out of the tresses and reduce hair breakage.
Recommended Articles