10 Best Steam Inhalers For Sinus Available In India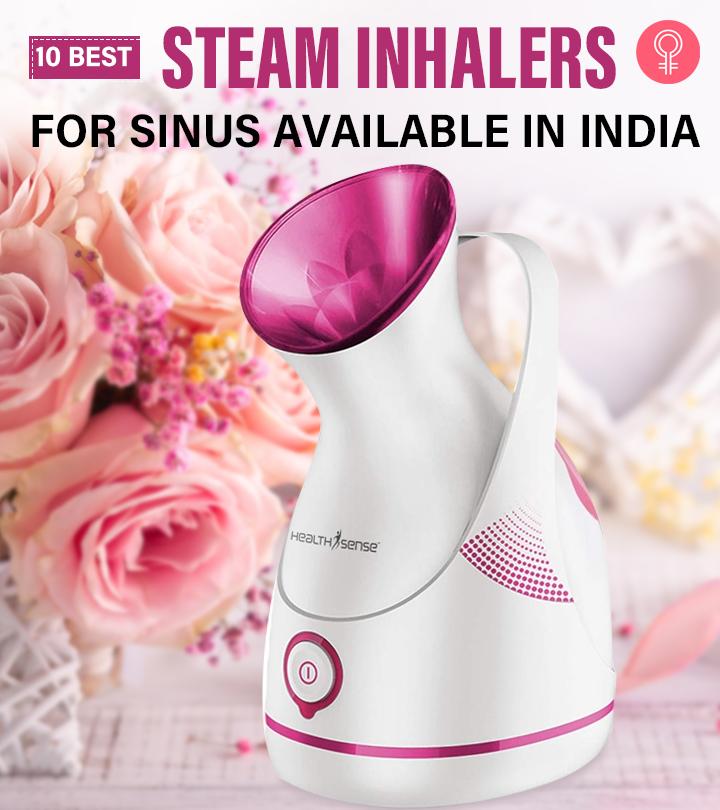 Steam has been an age-old remedy for common cough and cold. Through the years, doctors have recommended steam for clearing nasal tracts, treating sinusitis, and decongesting the chest.
Steamers act as hydrators and humidifiers and are used for beauty treatments as well. But taking steam is no longer about kettles and vessels with hot water and sitting with a towel over the head. Steam inhalation machines are convenient, portable, and easy to use. Give yourself instant relief by picking one from our recommended list of the 10 best steam inhalers available in India. Keep scrolling!
10 Best Steam Inhalers for Sinus In India
The Health genie 3-in-1 steam vaporizer helps in steam inhalation during sinus issues. The vaporizer comes with three attachments – a nasal steamer, a vaporizer, and a facial sauna. The nasal steamer has provision to add medicines, inhalants, and essential oils for added relief from cold and congestion. This quality increases the therapeutic effects of the steamer. The attachments have smooth edges and are comfortable to use.
The machine can be used for other respiratory problems like bronchitis, laryngitis, hay fever, or throat infections. The humid air created by the vaporizer dissolves congestion and makes breathing easy. It has a 105cm long cord for easy maneuverability. This steamer sprays humid mist, which hydrates and relieves dryness and issues like allergies, nosebleeds, and sneezes caused due to dehydrated passages. The facial sauna moisturizes dry skin and makes it rejuvenated and healthy-looking.
Pros
Shock-free
Lightweight
Easy to clean
Cons
No handle
Unpleasant smell
The Health Sense Medical Inhaler is powered with nano-ionic technology that hydrates the nasal tract while providing relief during cold, cough, sinusitis, and other respiratory issues. Nano-Cure has splatter-free functioning, which makes it safe for both adults and children. It provides effective therapy for allergies, rhinitis, bronchitis, and congestion and improving children's sensory capabilities.
This device clears the nasal passages and dissolves congested mucus. The nano technology produces fine steam with 10times more effective, negatively charged ions, facilitating faster absorption. The steam flow is wide and consistent and covers the whole face. It relieves headaches and migraines.
The ceramic PTC heating element allows the water to heat up and provide fast mist within 50 seconds, with a 15-minute mist cycle. The inhaler has a UV lamp that sterilizes the hot steam while treating skin or nasal passages. This steam machine features an auto-switch off feature when the water goes below the minimum level to ensure safety.
Pros
Whisper quiet operation
Stylish design
Child-safe
Compact
Cons
Short power cord
Unpleasant smell
The Asbob Steam Vaporizer is a 3-in-1 device inclusive of a nose steamer, cough steamer, and a nozzle inhaler for relief from cough and cold. You can use this steamer for respiratory therapies, aromatherapies, and to treat sinusitis, bronchitis, laryngitis, hay fever, asthma, and arthritis.
It is ideal for decongesting the chest and nasal passages. The steamer is perfect for a facial sauna as it cleans the clogged pores and provides moisture and hydration to the skin. Essential oils can be put in the vaporizer for optimum effects during aromatherapy.
Pros
Convenient handle
Lightweight
Cons
The Newnik Steam Inhaler comes with a power indicator and a two-level heat control. It also features auto-power off in case of low water levels. The vaporizer has a steam control feature, exhale outlet, and a specially designed nasal mask. It allows the steam to be directed into the nasal passage and mouth directly.
The moist and warm air from the steamer offers instant relief from congestion and persistent cough and cold. It opens up the clogged sinus and nasal passages and helps clear mucus. The sinus steam inhaler clears the chest and parched throat and ensures comfortable breathing.
This steam inhaler has adjustable steam control and a heat insulation design. It also has the facility to add decongestants and balms for aromatherapy to maximize the effect of steam therapy. With a capacity of 50ml water in a metal container, this inhaler has a run-time of 15 to 20 minutes.
Pros
Can be used for aromatherapy
Child-safe
Compact
Stylish
Cons
Expensive
Unpleasant smell
The Wonder Steam Inhaler has a plastic body that is shock-proof. This nasal steamer provides relief from cold, congestion, and throat irritation. You can add inhalants like balms and eucalyptus oil to the steamer for aromatherapies. It opens up the blocked sinus glands and offers relief from headaches, bronchitis, asthma, and similar respiratory problems.
The moist and warm air loosens the mucus in the lungs, throat, and nasal passages. It also soothes inflammation and swollen blood vessels in the nasal tract. This steam inhaler eases the discomfort caused by flu, fever, and common colds. It is safe for both adults and children.
Pros
Double-wall body
Special locking system
Lightweight
Portable
Cons
The MCP Steam Inhaler is a 3-in-1 device that provides quick relief from cough, throat irritations, cold, and nose block. It comes with smooth edge attachments for steam inhalation through the nose and mouth. A specially designed nozzle accommodates focused steam, which is helpful for elders and children. The machine has an auto-cut off feature in case the water level goes lower than the minimum requisite. The steamer is made of plastic.
Pros
Lightweight
Includes three attachments
Shock-proof
Cons
No heat controller or handle.
The Ozomax Elda is a 3-in-1 vaporizer with three attachments. It includes one for vaporizing steam, one nozzle inhaler, which is helpful for inhalation during nasal and throat infections, and one for facial sauna. The vaporizer offers relief from nasal congestions, throat irritation, and other symptoms of cold and flu. It is suitable for aromatherapy and treatment of respiratory ailments. The Ozomax steamer can be used during laryngitis, bronchitis, asthma, hay fever etc.
Pros
Handle for safety
Durable
Easy to use
Cons
The Dr Trust steamer is a 3-in-1 device with nano ionic atomization technology. It has a hollow design, where you can add balms to soothe the sinuses. It can also be used as a humidifier to retain moisture in the room and make you feel hydrated during fever and cold.
This compact steam inhaler helps open upa blocked nose, reduce congestion, and relieve sinusitis. It provides comfort during flu by effectively dissolving and expelling mucus from the nasal passage. The ionic steam penetrates deep inside the skin and improves blood circulation. The heating element of this device heats water within minutes and creates enormous amounts of fine steam particles. It has a 225ml water tank, which works for 15-40 minutes.
Pros
Lightweight
Built-in towel steaming chamber
Silent
BPA-free
Cons
Body of steamer gets hot.
The Health genie Steam Inhaler is a useful therapy tool for cough, cold, and congestion. It provides relief from asthma and other breathing problems. This steamer's heating design generates uniform steam, which is inhaled through the nose and the mouth. The vaporizer clears the mucus and blockages from the nasal and throat passages and eases throat irritation and cough.
This device does not splatter water or have room for leakages, making it safe for children. It has a 105cm cord for maneuverability and offers a 15-minute steam therapy to comfort and help cure respiratory problems. It also features a power indicator and an adjustable heat controller, which allows you to control the amount of steam. This steamer can be used for a facial to remove dirt and bacteria from the skin.
Pros
Electric shock-free
Rotatable nasal mask
Sleek and stylish
Insulated design
Lightweight
Noiseless operation
Cons
The Peachberry Steamer is 360° rotatable and fitted with a digital control panel. It is easy to use and provides nano ionic steam. Thermal therapy with this steamer can be very effective for sinusitis, asthma, allergies, cold, and cough.
The head can be adjusted to your comfort level, and you can even take the steam while lying down. It takes three to five minutes for the water to heat and the steam to start. A 20 to 35cm distance must be maintained from the machine to avoid scalding. This device can also be used for facial steaming as it hydrates dry skin and cleans clogged pores.
Pros
BPA-free
Multi-functional
Rotatable spray head
Nano ionic steam
Cons
Less water holding capacity.
There are many benefits of steam inhalers. Keep scrolling to find out what they are.
Benefits of Using A Steam Inhaler
Convenient: Steam inhalers are much easier to use than the old-fashioned hot water in a kettle. A steamer channels the steam to the mouth and nose and does not cause discomfort or eye irritation. It can also be infused with aroma balms like Vicks to relieve blocked sinuses and headaches.
Functionality: Steam inhalation relieves symptoms of sinusitis, asthma, breathing problems, chest congestion, nasal allergies, bronchitis, and the common cold. The inhaler creates steam and moist air from hot water that helps clear congested nasal and throat passages and restores proper respiratory functions. The steam also improves blood circulation and removes toxins from the body, alleviating migraine symptoms and headaches.
Beauty Purposes: Steam inhalers also open up the pores of the skin and hydrate the face. This reduces blackheads, acne, and accumulated dirt. Steamers make the skin appear fresh and healthy.
If you are wondering how to use these devices and how they work, scroll down for the answers.
How To Use Steam Inhalers
Close your eyes and slowly bendover the inhaler. Make sure you are about 8 to 12 inches away from the device. Avoid making direct contact with the water as it is very hot and can cause burns. Inhale deeply and slowly through your nose and mouth for at least three to five minutes.
How Does a Steam Inhaler Work?
Steam inhalers have a very simple mechanism. Pour cold tap water into the water chamber and plug it into a power outlet. Within a few minutes, the water will start to boil and release steam. The steam needs to be inhaled through the nose and mouth from a mouthpiece or the steam outlet.
While buying a steam inhaler, there are certain points to be considered.
How To Choose The Best Steam Inhalers
Functionality And Type: Steam inhalers fulfill a few functions. They offer relief during cold and cough and help in decongesting the chest. They are also used for facial saunas. Some steamers are used as humidifiers, towel warmers, and diffusers. When buying one for sinus purposes, look for one with attachments to direct the steam into the mouth and nasal passages without spreading out too much.
Adjustable Flow And Temperature: Some steamers come with a knob to adjust the amount of steam coming out at a time. This helps you control the amount and temperature of the steam.
Additives: Make sure the steamer you purchase has a feature where you can add medical decongestant balms. This helps in clearing up the sinuses more effectively.
Durability And Portability: Steam inhalers are usually small and lightweight. Look for one made of durable, heat-resistant material. A handle to hold it should also be available since the body of the steamer usually gets hot. It should be compact and travel-friendly and have a long cord for easy maneuverability.
Child-friendly: Children deal with chronic cold and cough and are often recommended for steam inhalation. Find a steamer that does not get very hot and has a lid lock in case the child tips it over. A child should be able to handle it easily, with the least supervision. An auto-shutoff feature or adjustable heat and steam control and heat insulation could be helpful if you need to use the inhaler for a child.
Budget-friendly: There are multiple steamers with different features in varying price ranges. You can choose one according to your needs and budget. Most steamers, basic or multiple featured, do the same job.
User-friendly And Noiseless: Make sure the steamer is easy to operate and handle. Try to pick one that is noiseless as you don't want a nagging or hissing sound while you take steam since you are already unwell and maybe have a headache. Steamers are also used for babies when they are asleep, so avoid one which is loud.
Common colds, allergies, and respiratory infections are a common feature in the present polluted world. Steam inhalers are a must in every household to keep the nasal passages clear and provide relief from sinus and other infections. Choose a device from the above list and give yourself and your family maximum comfort.

Recommended Articles
The following two tabs change content below.