6 Best Steamers For Cooking Available In India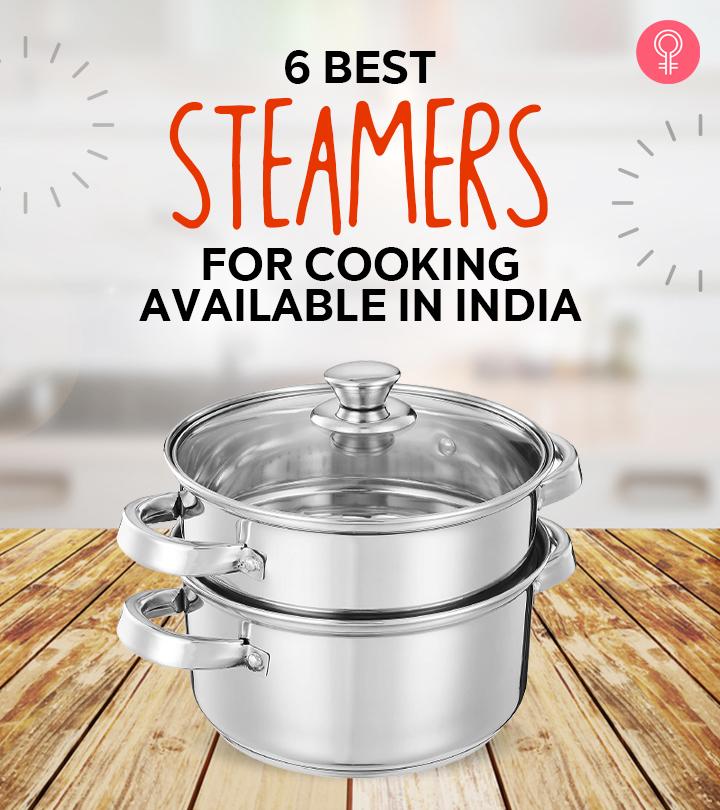 A steamer is a versatile utensil, ideal for people looking for healthy cooking options. The food is cooked in hot steam and does not require any additional oil or fats. You can steam vegetables, meat, fish, and poultry in this vessel and retain their nutritional value, unlike frying or boiling. If this has gotten you interested, check out the 6 best steamers for cooking in India. Scroll down!
6 Best Steamers For Cooking Available In India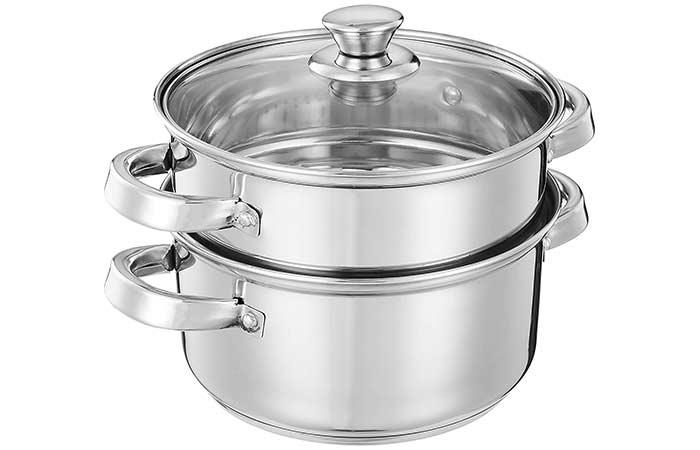 The Solimo Steamer is carved out of 100% food-grade stainless steel with a thick gauge induction base. The casserole and steamer come with a capacity of 2 liters, ideal for a small family's needs. It features double-riveted handles made of sturdy and durable stainless steel for a safe and sturdy grip and has a glass lid. This steamer is compatible with induction and gas stoves.
Specifications
Weight: 1.55 kg
Capacity: 2 L
Material: Stainless steel
Pros
Durable
Riveted handles
Easy to clean
For daily use
Easy to use
Cons
Not rust-free
Can develop hot spots.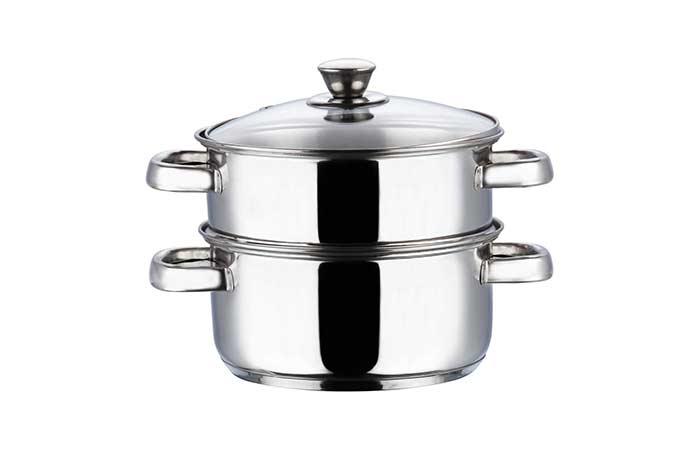 The 2-Tier Steamer from Vinod is durable and long-lasting. You can cook several healthy dishes like soft-cooked meat, steamed veggies, broth, soup, and momos in this easy-to-clean cookware. The thick aluminum-base uses sandwich bottom technology to prevent food from burning and reduce the cooking time. The tempered glass lid comes with a vent to release steam. This easy-to-use steamer is compatible with induction cooktops and gas stoves.
Specifications
Weight: 1.3 kg
Capacity: 2 L
Material: Stainless steel
Pros
Easy maintenance
Stay cool handles
Smooth mirror finish
Lightweight
Durable
Cons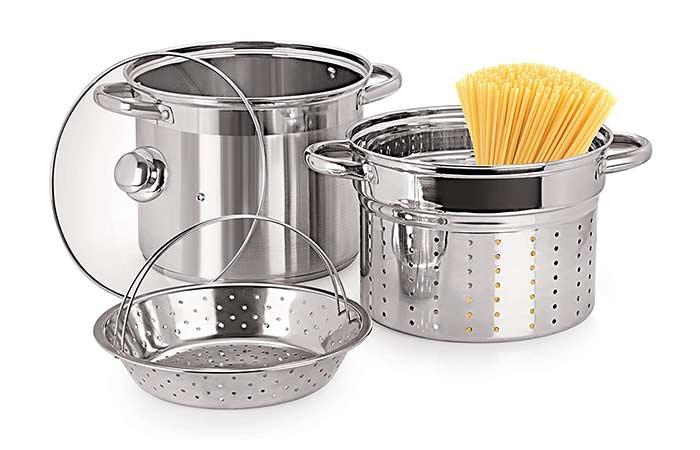 The Pristine Stainless Steel Steamer is ideal for large families. It has a heavy gauge sandwich bottom and heats up evenly to save fuel and time. This steamer ensures healthy cooking by maximizing nutrition retention and flavors. It comes with a stockpot, steamer basket, vegetable insert, and a glass lid. You can steam vegetables, meat, noodles, or pasta in this cookware.
Specifications
Weight: 2.77 kg
Capacity: 4.7 L
Material: Stainless steel
Pros
Lightweight
Durable
Heavy gauge
Multipurpose
Massive capacity
Cons
Not rust-proof
Flimsy handles
The induction base might come off.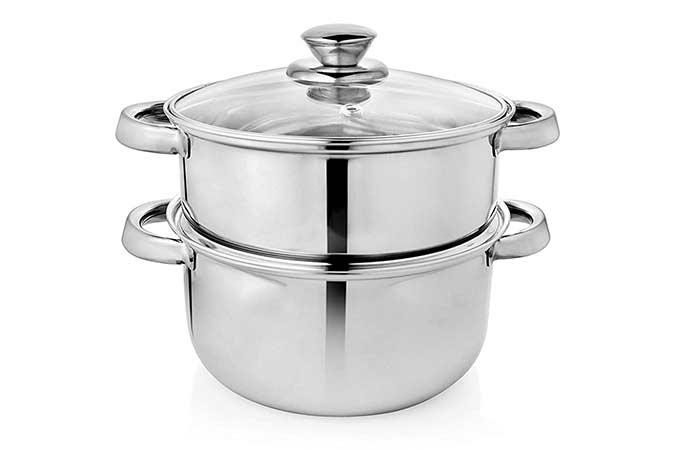 This steamer set from Vinayak Stores has a capacity of 4.5 liters and is suitable for cooking various healthy dishes. The safe and corrosion-resistant steamer is made from food-grade, high-quality stainless steel and is designed for daily use. It comes with a vented glass lid for steam release, while the pot can be used for stewing, sautéing, and frying. The sturdy and lasting handles of this steamer are made from stainless steel for a better and comfortable grip.
Specifications
Weight: 1.19 kg
Capacity: 4.5 L
Material: Stainless steel
Pros
Easy to clean
Rust-proof
Food-safe
For daily use
Dishwasher-safe
Induction compatible
Freezer-safe
Budget-friendly
Cons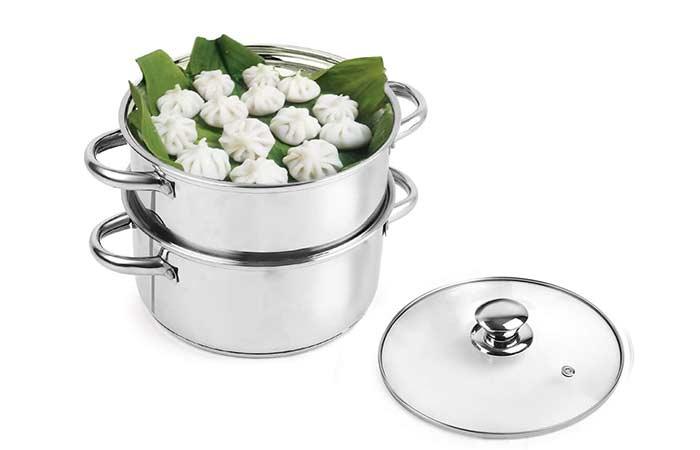 Cello's Steelox Steamer is made from durable and rust-free stainless steel of lasting quality and works perfectly on both gas and induction cooktops. Its 18/18 stainless steel construction is clubbed with a heavy gauge core for even heat distribution, ensuring efficient and fast cooking. It features stainless steel riveted handles with an anti-slip finish to offer a comfortable grip and safety. This flameproof steamer comes with a tempered glass cover to monitor your food while cooking.
Specifications
Weight: 1.66 kg
Capacity: 3 L
Material: Stainless steel
Pros
Rust-proof
Flameproof
Anti-slip riveted handles
Heavy gauge
Mirror finish
Durable
Easy to clean
Cons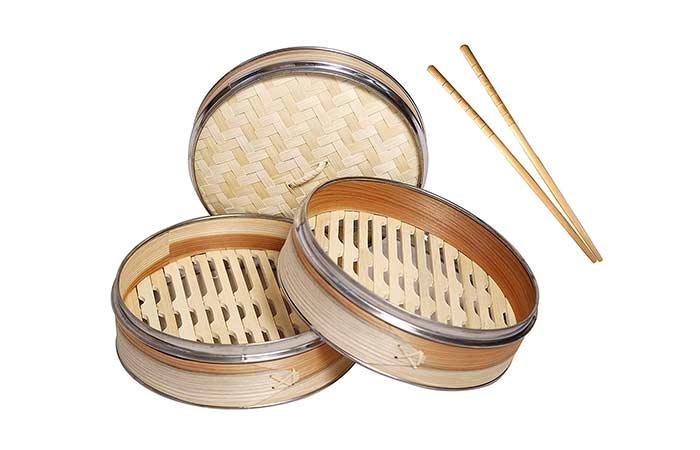 The Livzing 2-Tier Bamboo Steamer With Steel Ring Lid allows you to cook vegetarian and non-vegetarian dishes separately. It is entirely made from natural and sustainable quality bamboo, free of harmful toxins. These reinforced stainless steel bands make the steamer durable and sturdy. The carbonized basket is mold-resistant and splinter-free. This bamboo steamer evenly cooks the food while retaining its nutrients and flavors.
Specifications
Weight: 0.64 kg
Capacity: 3.6 L
Material: Bamboo
Pros
Lightweight
Sturdy design
Easy to clean
Dishwasher-safe
Microwave-safe
Cons
These were the 6 best steamers for cooking in India. But before narrowing down your choice, consider checking the below points.
How To Choose The Best Steamers For Cooking
Steamers come in various sizes or capacities. Choose the one that fits your requirements. There is no point in investing in a large steamer if you need it for personal use.
Steamers come with multiple tiers to let you cook food separately. You can use both baskets or remove one, depending on the quantity you need.
Depending on the material, you can figure out whether the steamer is easy to maintain or not. Generally, stainless steel steamers are easy to clean and maintain, but bamboo steamers are very delicate and require careful maintenance.
Steamed food is undoubtedly a healthy alternative to oily or fried food. Take your pick from the above list and prepare healthy and nutritious dishes in lesser time.
The following two tabs change content below.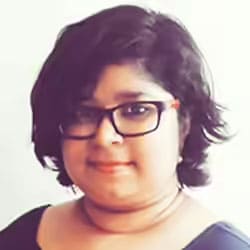 Pratyasha has a master's degree in English from the University Of Calcutta, West Bengal, and is an avid lover of...
more