10 Best Steel Dinner Sets Available In India
Combine efficient function and vintage style at your dinner table.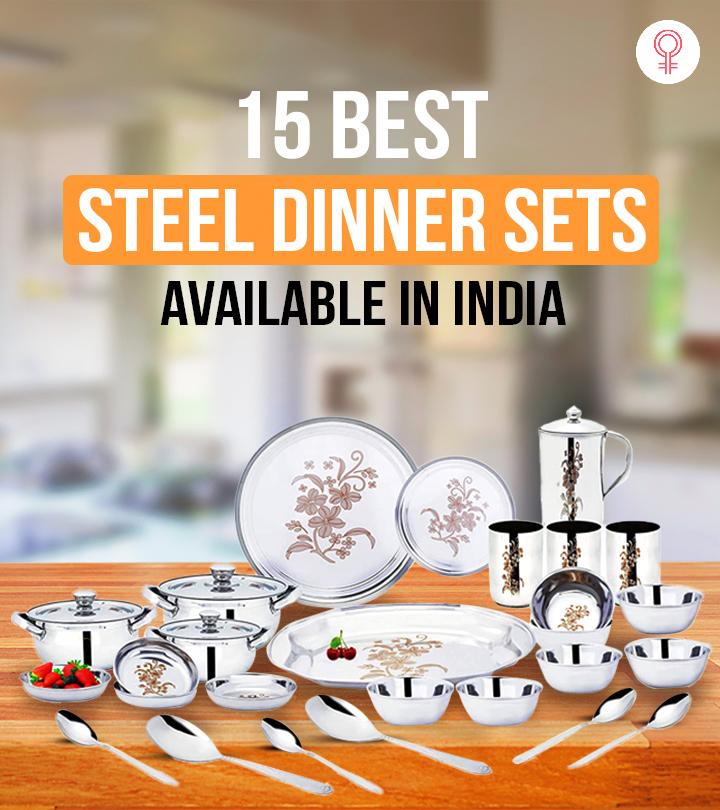 Are you looking for a dinner set that is easy on the pocket and offers longevity? If yes, you have landed on the right page! Steel dinner sets are often seen in Indian houses as they offer great durability and have high tensile strength and corrosion resistance. These dinner sets also make a better choice than clay or glass dinner sets as they are unbreakable, lightweight, and easy to clean or maintain. Scroll through our list of the 10 best steel dinner sets available in India and order the one that suits your requirements.
Top Picks
10 Best Steel Dinner Sets Available In India
The Classic Essentials Glory Stainless Steel Dinner Set consists of 61 pieces with beautiful floral designs. This silver-colored dinner set is made with high-quality and durable 202 stainless steel that is stain-resistant, freezer-safe, and rust-proof. The set includes 6 full plates (diameter: 28.5 cm), 6 quarter plates (diameter: 19 cm), 6 halwa plates (diameter: 12 cm), 6 veg bowls (diameter: 10 cm), 6 chutney bowls (diameter: 6 cm), 6 glasses (diameter: 9 cm), 6 forks, 6 spoons, 6 dessert spoons, 3 handis (diameter: 1-20 cm), 3 serving spoons, and a rice tray (diameter: 35 cm).
Pros
Long-lasting
Mirror finish
Stain-resistant
Dishwasher safe
Easy maintenance
BPA-free
Cons
This Stainless Steel Dinner Set from Kitchen Pro includes a total of 61 stainless steel pieces to fulfill all your dinner table needs. The silver, mirror-finish dinner set is made of high-quality steel and is freezer-safe and dishwasher-safe. It is also stain-resistant, easy to maintain, and its charm and luminosity last throughout its life.
Pros
Stain-resistant
Dishwasher safe
Freezer safe
Durable
Lightweight
Cons
Price at the time of publication: ₹62.48
Coconut's dinner set features an excellent mirror finish and is made of high-quality stainless steel. This 30-piece dinner set comes with 6 plates or thalis, 6 glasses, 12 teaspoons, and 6 bowls. This sophisticated dinner set is hygienic and rust-free. It is also easy to clean and maintain.
Pros
Food-grade quality
Easy to clean
BPA-free
Dishwasher safe
Cons
Prone to dents
Small bowls
Price at the time of publication: ₹82
The Uddhav Gold Stainless Steel Dinner Set includes 51 pieces of high-quality stainless steel full plates, halwa plates, rice plates, serving bowls, glasses, spoons, serving spoons, and a jug. Each of these utensils comes in a set of 6, and the pack also includes a rice spoon.
This multipurpose dinner set has a mirror finish with a floral laser printed pattern to enhance its aesthetic appeal. It is made from sturdy, non-breakable, food-grade material that stays rust-free and lasts long. This food-safe dinner set is free from toxins and keeps the taste and nutrition of the food intact.
Pros
Easily stackable plates
Corrosion-resistant
BPA-free
Durable
Easy to clean
Cons
The Stainless Steel Daisy Dinner Set from Jensons is a heavy gauge 19-piece dinner set with floral printed patterns on each piece. It contains 4 full plates, 4 curry bowls, 4 glasses, and 4 dessert spoons made of high-quality stainless steel.
This sturdy and shiny dinner set stays dent- and scratch-free and doesn't lose its sheen with daily use. The floral daisy pattern adds to the aesthetics of this dinner set, and the beaded edges decrease sharpness while preventing bends. The spoons feature ergonomically designed handles for a comfortable grip.
Pros
Easy maintenance
Dishwasher-safe
No sharp edges
Rust-free
Scratch-free
High heat resistance
Cons
Price at the time of publication: ₹80
The SPRINGWAY Brand of Happiness Stainless Steel Thali Bhojan Set contains dinner plates, halwa plates, bowls, glasses, and spoons. This dinner set is made from food-grade stainless steel of hygienic and rustproof quality. It is perfect for large families who enjoy their meal together and is easy to maintain and clean. The full plates have a diameter of 28 cm, and the glasses can hold 300 ml of water. The 200 ml bowls measure 10 cm in diameter and 4 cm in height. The halwa plates, on the other hand, have a diameter of 11 cm and a height of 2.5 cm.
Pros
Easy to clean
Dishwasher-safe
BPA-free
Durable
Non-breakable
Cons
SAGER's Platinum Collection Stainless Steel Dinner Set includes 4 full plates, 4 halwa plates, 4 big bowls, 4 glasses, and 8 spoons. This high-quality and long-lasting dinner set is made from heavy stainless steel and features a beautifully carved floral laser design. Its strong construction ensures no dents and bending with regular use. This dinner set saves space as the items can be nested one into another.
Pros
Non-breakable
Long-lasting
For daily use
Economical
Solid construction
Mirror finish
BPA-free
Cons
The Sumeet Stainless Steel Mirror Finish Dinner set is made from superior-quality stainless steel that is corrosion and rust-resistant. This easy to maintain and durable dinner set is ideal for a small family as it includes 4 full plates, 4 quarter plates, 4 glasses, 4 spoons, and 8 bowls. The dinner set features silver coating and is easy to clean or wash.
Pros
Non-breakable
Durable
Easy maintenance
Cons
Plates and bowls are small.
Neelam's Stainless Steel Premium Dinner Set is suitable for daily use. It includes 6 full plates, 6 quarter plates, 6 bowls, 6 glasses, 6 spoons and forks to fulfil all your lunch and dinner time requirements. The size of the dinner plates is widely accepted and are a little deep so that they can be used as alternatives to thalis. This fusion finish dinner set contains dining, cooking, serving, and storing items for your ease. The stainless steel body is corrosion-resistant and lasts long.
Pros
Economical
Corrosion-resistant
Non-breakable
Easy maintenance
Cons
This stainless steel dinner set from Pigeon comes packed with everything you can think of having on your dining table. It includes full plates, quarter plates, spoons, glasses, bowls, dessert spoons, rice plates, chutney bowls, soup bowls, forks, a dish with a lid, etc. This 101-piece stainless steel dinner set lasts long and is easy to maintain. The rust-proof and corrosion-resistant material ensures hygiene.
Pros
Corrosion-resistant
Value for money
Non-breakable
Easy to clean or wash
Cons
Contains products from different brands
Now that you know about the best and lasting steel dinner sets available on the market, it's time to learn about a few essential points, which are to be considered before investing in a product.
How To Choose The Best Steel Dinner Sets
Steel dinner sets come packed with a wide range of items. For example, some dinner sets are meant for 4 to 6 people, and the count can go up to 12. Choose a suitable dinner set based on your family's requirements.
Steel dinner sets that are easy to clean and wash are always an ideal choice. Some steel dinner sets are also dishwasher-safe, so choose accordingly.
The best way to determine any product's quality and life is by going through the user reviews. Therefore, always make sure to go through the user reviews to know about the strength, durability, and life of the dinner set you want to buy.
A steel dinner set with a brilliant mirror finish not only looks stunning but also lasts long. The dinner sets listed in this article help address all your dining needs and do not get rusty or corrode. Moreover, some brands manufacture easy-to-clean and dishwasher-safe steel dinner sets for the user's convenience. Hurry up and grab the one you like!

Recommended Articles
The following two tabs change content below.