11 Best Steel Toe Boots For Women For Comfort And Protection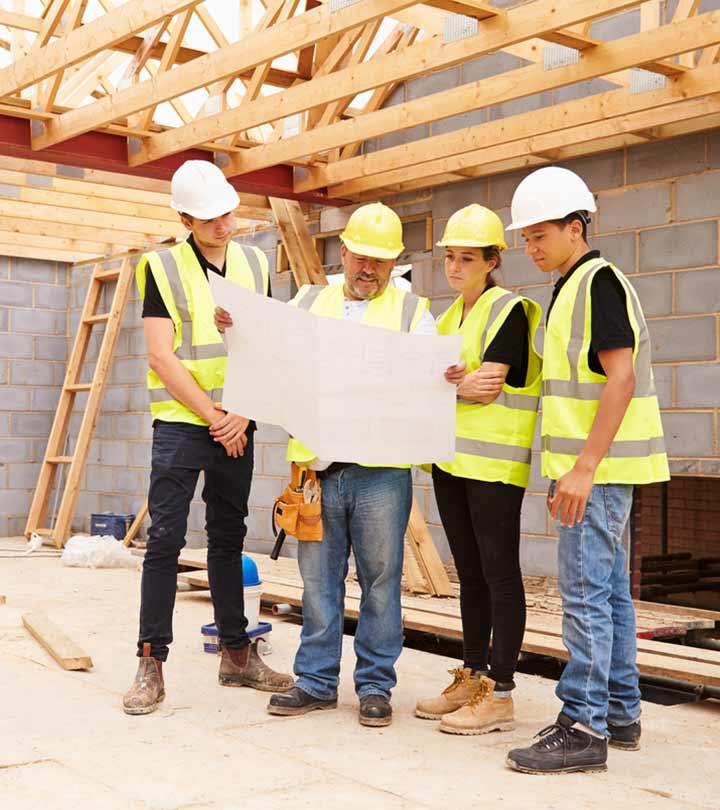 The best steel toe boots for women are sturdy, hardy, and durable. Also known as work boots, these are made of high-quality materials so that women who are working in heavy-duty jobs can keep their feet safe and comfortable. If you are one of these powerful women who are either working in the construction industry or at a factory, make sure you get these boots as they're a part of your protective gear. They combat shocks, abrasion, puncturing, and slipping.
Since industrial workspaces are more susceptible to accidents, steel toe boots are important for you. With the right pair, you will be also protected from aches from standing or walking around too much, or even frostbite. In this article, we bring you some of the best steel toe boots that you can choose from and wave goodbye to feet fatigue. Keep reading to know more.
11 Best Steel Toe Boots For Women To Safeguard Your Feet On-Duty
Skechers' women's black steel toe boots have a lace-up feature with a sporty-meets-casual look. The leather upper is textured, durable, and able to withstand high abrasion, so that your feet remain safe. As the inside is roomy owing to the Relaxed Fit design, your feet won't feel constricted. Unique Skechers Memory Foam is lined inside to cushion your feet in these stylish women's steel toe boots. The safety toe in the front is lightweight with the whole shoe being waterproof and puncture-resistant for your comfort.
Pros
 Resistant to high abrasion
 Roomy inner
 Memory foam cushioning
 Waterproof
 Puncture-resistant
 Available in 4 colors
Cons
 Might not have the best traction
With ORISTACO's steel toe work boots, women can work for longer hours owing to the slip-resistant sole. The upper mesh material is breathable and the padded collar offers cushioning for your ankles. A memory foam insole combines with a puncture-proof midsole to keep your feet in good shape throughout the day. With a supportive heel and moisture-wicking inner lining, these steel toe work boots for women are also flexible.
Pros
 Resistant to 200J of energy
 Puncture-proof
 Moisture-wicking lining
 Available in 3 colors
 Breathable upper
 Padded collar
Cons
 Some may find the mouth to be tight
Timberland's women's steel toe waterproof boots have a leather exterior stitched with sealed seams. For structural support, a contoured shock-diffusion plate is present along with protection from electrical hazards. The study rubber outsole is non-marking and resistant to slippage, heat, oil, and abrasion. To keep your feet safe from shock, the polyurethane footbed uses Anti Fatigue Technology. The inner lining of these women's waterproof steel toe work boots is not only breathable but offers odor control with antimicrobial treatment as well. While the padded top collar keeps feet comfortable, the shoe remains durable owing to the direct-inject construction.
Pros
 Breathable and moisture-wicking lining
 Shock-absorbing technology
 Odor control
 Slip-resistant outsole
 Padded collar
Cons
MandyQ's women's lightweight steel toe boots feature a Kevlar midsole that safeguards from 200J of energy. Being puncture-proof and anti-smash, they also protect against other sharp and harmful objects. The upper material is knitted and keeps your feet cool while the insole is thick and soft, allowing them to rest. With these steel-toed boots, women can gain traction on any kind of terrain while working owing to the patterned rubber outsole.
Pros
 Breathable
 Lightweight
 Available in 8 colors
 Puncture-proof
 Thick and soft insole
 Anti-slip patterned rubber outsole
Cons
These Caterpillar steel toe boots are built to precisely fit the foot and remain sturdy and durable with heavy-duty use. To protect against compression and impact, the steel toe springs into action while the slip-resistant sole works on areas of low traction. The full-grain leather is waterproof and keeps your feet dry and fresh with a nylon mesh and sockliner that add further breathability. Caterpillar's women's waterproof steel toe boots absorb shock with the molded EVA footbed and the nylon shank adds stability. With their Cement Construction design, they will last you a long time.
Pros
 Rubber sole resistant to oil, water, and abrasion
 Available in 3 colors
 Breathable
 Sockliner and nylon mesh
 Shock-absorbing
 Waterproof
Cons
 Some may find the cushioning to be insufficient
ARIAT offers the best women's steel toe boots that combine function and fashion with embroidery detailing. Using ARIAT's Four-Layer Rebound (4LR) footbed, the boots use soft cushioning to reduce fatigue. The Duratread outsole gives you maximum traction while the full-grain leather upper keeps the shoe flexible. These women's steel toe slip-on boots are a must have while riding horses or working at stables.
Pros
 Embroidery detail
 Reduce fatigue
 Rubber outsole for traction
 Flexible
 Slip-on
 Water-resistant
Cons
 Might not accommodate wide feet
KEEN Utility's women's insulated steel toe work boots feature asymmetrical caps that have enough room to move and flex your toes without pinching. To protect your feet against impact and abrasion, the patented molded reinforcement comes into action while the nubuck leather upper keeps the shoe flexible. The KEEN.DRY waterproof and breathable membrane pushes sweat out to keep your feet cool inside the shoe. No more fears of slipping, as the rubber shoe is non-marking and resistant to oil. The removable and metatomical dual-density EVA footbed keeps feet cushioned for all-day comfort.
Pros
 Roomy toe box
 Waterproof
 Breathable
 Anti-slip rubber sole
 Oil-resistant outsoles
 Removable EVA footbed
Cons
Made of microfiber leather, these steel toe safety boots for women feature mesh on the upper for added breathability. To keep your feet dry, the water-resistant membrane adds a protective coat with the abrasion-resistant upper. The dual-density shock-absorbing soles made of PU leather keep your feet comfortable with a wide toe area. SAFETOE's women's steel toe safety boots feature an anti-nail protection midsole. With the rubber outsole, you can avail a slip-resistant grip as the safety toe boots have a special channel design for flow of water and oil.
Pros
 Mesh upper for breathability
 Water-resistant membrane
 Abrasion-resistant
 Shock-absorbing soles
 Slip-resistant rubber sole
 Insoles and bamboo socks included
Cons
 Might be too snug for some
KEXUEJIA's women's steel toe sneakers resist impact and feature a Kevlar bulletproof midsole to keep them soft and flexible. The non-slip EVA outsole in these durable women's steel toe work boots provides good traction on even slippery surfaces. Lightweight, the sneakers are resistant to wear, smashing, puncturing, and stabbing. These comfortable steel toe boots for women are breathable with a stylish athletic design.
Pros
 Bulletproof midsole
 Non-slip hazard soles
 Lightweight
 Breathable
 Resistant to wear and stabbing
 Available in 4 colors
Cons
WOLVERINE's women's wide toe steel boots are made of 100% full-grain leather to keep your feet dry in all kinds of weather. Waterproof with a lightweight cement construction, your feet won't get fatigued as with regular shoes. The rubber lug outsole remains resistant to slipping, so you can focus on your work with no hassles. Available in 2 colors, you can rely on these women's steel toe work boots for all-round protection.
Pros
 Waterproof
 Lightweight
 Anti-slip rubber outsole
 Available in 2 colors
 Prevents fatigue
Cons
 Some might find them to cause slight chafing
These women's steel-toed rubber boots have an air-cushioned PVC outsole with a welted construction. For extra cushioning at the heel and forefoot the shoe uses Dr. Martens' SoftWair contoured memory foam sockliner. Underfoot airflow remains consistent with a raised grid pattern supported with a moisture-wicking inner lining. The medial zip on the side makes these comfortable women's steel toe boots easy to put on and remove.
Pros
 Available in 2 colors
 Air-cushioned outsole
 Moisture-wicking lining
 Memory foam sockliner
 Side medial zip
Cons
 Some may find the toebox to be constricting
Now that we've looked at the best steel toe boots for women, it's time to learn how you can choose the right ones for yourself.
How To Choose The Right Steel Toe Boots For Women
As work requires you to stay standing for long hours on concrete surfaces, pain is inevitable because of the pressure applied on the joints. To prevent this, look for shock-absorbing shoes that capture the tension and won't allow it to reach your body. To protect the base of your feet, a cushioned footbed is the best. This allows you to rest and move around comfortably. Ergonomic designs like sock liners or contouring fabrics adapt to your foot and make for great ease for moving around. As they are flexible, they are a great feature to keep an eye out for.
Steel or composite toes provide the best protection to your toes and save them from all kinds of dangers. To be safe from electrocution and related harm, look for steel toe boots with electrical hazard protection up to 200J. Industries like that of construction can often have you walking on uneven or slippery surfaces. Rubber outsoles that are patterned and give a good grip must be sought out as slipping is common indoors even when ascending or descending ladders.
Look for good quality materials such as leather, EVA foam, and thick rubber that also add to the look of the shoes. They should be resistant to water, punctures, oil, shock, smashing, and wear. 'Goodyear' or 'Cement Heel' construction methods are reliable and can be trusted to make tough shoes that will withstand any circumstance without falling apart.
Steel toe boots are the best gear to use in dangerous environments. Let's take a look at their many advantages.
Benefits Of Using Steel Toe Boots For Women
 Work boots have thick rubber outsoles that safeguard against slips or falls as they have a great amount of traction and can reduce friction.
 Materials and chemicals such as cement can splash onto feet and cause burns. The protective fabric of work boots keeps your feet safe from this kind of harm or sudden fires that can erupt.
 For workers that need to be out in harsh and cold environments or refrigerated spaces, keeping feet warm is super important. As steel toe boots keep your foot covered optimally, they also provide excellent insulation against the cold.
 Staying on your feet all day performing heavy work can take a toll on our feet. These shoes are specially designed to have cushioning on the bottom, around the ankles with a collar, and arch support. All of this combines to reduce fatigue, which soothes the muscles and reduces soreness or pain.
 Industrial spaces are a breeding ground for electrical hazards like short circuits. Leather and rubber are poor conductors of electricity and keep it away from your skin to keep it fully safeguarded. So, steel toe boots offer electrical hazard protection to a great extent.
Why Trust StyleCraze?
Priyam Gupta is a fashion buff who loves to keep up with the latest fashion trends. She has curated this list of the best steel toe boots for women after closely reviewing user feedback on trusted forums and brand websites. She picked steel toe boots that are made of high-quality materials so that women working in heavy-duty jobs can keep their feet safe and comfortable.
Frequently Asked Questions
How tight should steel toe boots fit?
Look for a snug fit on your steel toe boots such that the toe area is roomy enough for flexing without any squeezing or rubbing.
How much do steel toe boots weigh?
On an average, steel toe boots can weigh anywhere between 3.5 pounds to 4.5 pounds. This is because steel is generally heavy and when combined with other accessories on the shoe, the weight can be high.
Can I put work boots in the washing machine?
If your steel toe boots are made of suede, it is best to clean them gently by hand. However, other synthetic materials can be put in the dryer for maintenance.
How do I stop my steel toe boots from smelling?
Ensure to change your socks regularly, look for odor-controlling materials, antimicrobial lining, and store your shoes in a ventilated area.
Can steel toe boots cause foot problems?
No, but if the boot is ill-fitting, then it might cause pinching or rubbing. To prevent discomfort, choose the correct size.
Are steel toe boots meant to cut your toes off?
No, on the contrary, steel toe boots keep toes protected from outside harm.
Recommended Articles: