11 Best Comfortable Steel Toe Shoes For Women To Walk Safely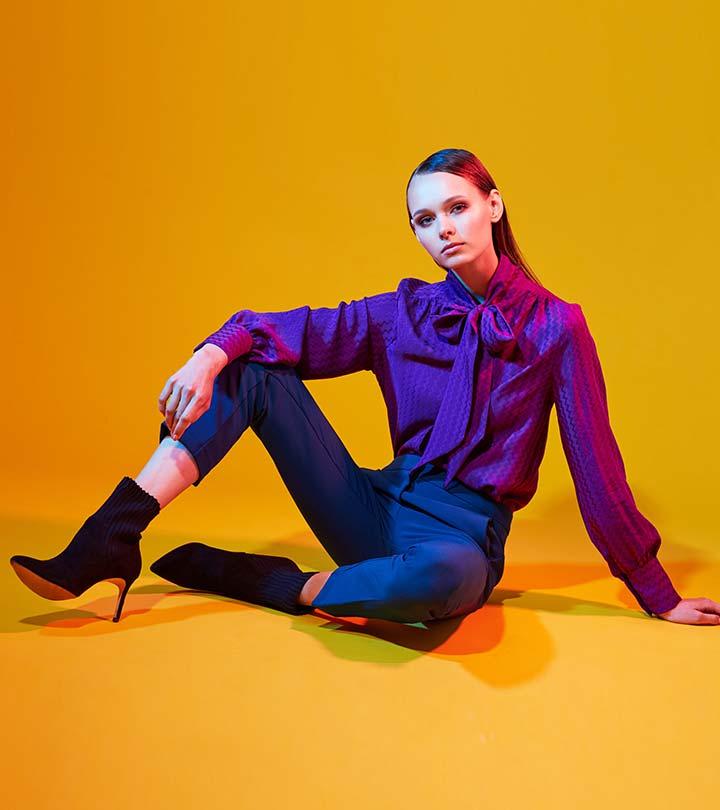 Women have always been up and about their feet for work, indoors or outdoors. But, if you do construction jobs, work at industrial sites, or other hazardous places, you must own a pair of good quality steel-toe shoes for women. Being on our feet all day can be quite tiring, and a good pair of shoes with the perfect arch support and foot cushioning can help save us a lot of trouble and pain. These shoes are also extremely durable and offer good value for your money.
A good pair of steel-toe shoes for women can protect your feet from impact and injury. Most of these shoes are puncture-proof, which means stepping accidentally on sharp objects will not lead to accidents. These shoes also provide ample support so that you can comfortably be on your feet throughout the day. The market has several brands that manufacture steel-toe shoes for people in dangerous work sites. Here, we have curated a list of the best steel-toe shoes for women that are perfect for women on risky job sites. So, go ahead and check them out to invest in your favorite pair. Keep scrolling!
Put Your Best Foot Forward With Our 11 Best Steel Toe Shoes For Women
Get yourself this pair of steel toe shoes for women (and men) that comes with a rubber sole, which is designed with slip-resistant outsoles. Working at an industrial site and slippery surfaces can often get risky but you will not have to worry about it anymore with these shoes that are resistant to wear and also provide a great grip on the ground. The rubber sole with electrical hazard protection makes this pair a great fit for those working on electrical projects. But the best part is that these shoes are lightweight and do not hinder movement so that you can run about and get things done easily!
Pros
Rubber sole suitable for work with electricity
Wear resistant
Slip-resistant soles
Offers a strong grip
Light on the feet
Unisexual design
Cons
The sizing might run too big for some.
Designed as sneakers, these look as good as the safety they provide to our feet with their steel toes. Made of a knitted fabric, these steel toe shoes for women let your feet breathe, which is especially important if you do heavy labor and involve sweating. The rubber sole of these safety toe footwear comes in handy for heavy-duty usage. The steel toes not only protect from impact but the shoes also come armed with Kevlar mid-soles that keep your feet comfortable and prevent them from getting punctured. The mesh lining in these athletic safety shoes provides comfort and ventilation, while the thickened insole provides great support to your feet and prevents them from getting tired too easily.
Pros
Breathable knit fabric
Mesh lining allows ventilation
Thickened insole for extra comfort
Kevlar mid soles for extra protection
Sleek design
Gender neutral
Cons
People with wide feet might have to order a size up.
These comfortable steel toe shoes for women in a sleek black look have a flying knit breathable linings top design that allows the feet to breathe. The sole is made of PU and has air cushioning that provides ample support to the feet along with generous comfort. The steel toe cap has a buffer area to ensure maximum safety for your feet, while the reform insoles allow you to always put your best foot forward with the least amount of impact. The heel damping support that these shoes provide is yet another reason for buying these. Light on the feet and quite the looker, these steel toe shoes for women are definitely a great choice.
Pros
Flying knit fabric
Allows ventilation
PU sole
Air cushioning in the sole for added comfort
Steel toe with buffer area for extra safety
Reform insoles for more support and an easy gait
Heel damping support to absorb impact and pressure
Cons
Not suitable for those looking for arch support
Pick up this pair of khaki steel toe shoes for women to get a pair of super comfortable and safe shoes for your work or commute. The steel toe cap ensures safety for your toes from both falling and rolling objects, while the Kevlar midsole provides support from further impact. The midsole is made of bulletproof fabric that effectively makes these shoes puncture proof, which means you will not have to worry about what you are stepping on anymore. The mesh is made of breathable fabric and the insole is super soft for your feet. The rubber sole does not slip and gives you a good grip. Plus it is flexible for added ease in mobility. Hikes, treks, or your daily job at a construction set – with this pair of durable women's steel-toe work boots, you are all set!
Pros
Nice khaki color
Kevlar midsole
Puncture proof
Made of breathable mesh
Soft insole
Flexible rubber sole
Anti slip sole
Sole with great grip
Cons
The toe cap might be too small for some.
If you do not like too much hassle with your shoes and just want something to slip on and get going out of your door, this is the one for you. Feels as comfortable as a pair of pull-on socks but provides the safety of steel toes, this is a pair of steel toe shoes for women and men that combines form with functionality. You can keep your feet fresh and dry with these shoes as their upper part is made of knit fabric that allows ventilation for your feet through the mesh panels. The shoes are equipped with an anti-smash feature that lets the steel toe cap protect your feet from impact of all kinds. But so many features do not mean that these shoes are bulky or heavy as they are super light and allow you to go about your day undisturbed.
Pros
Mesh panel for ventilation
Knit fabric to keep feet dry and fresh
Anti smash steel toe cap
Light on the feet
Pull on closure
Unisexual usage
Cons
Some might take time to get used to wearing these shoes without laces.
Fit for both work and casual usage for recreational activities, this pair of steel toe shoes has been designed to make life easier for you. The sole is made of a mix of rubber and TPU with a slightly elevated platform of about 1.25 inches on the heel. This allows a good bounce to your step and absorbs the shock from impact. The steel toe cap is roomy and allows space for your toes to wriggle so that you are comfy. These fashionable women's steel toe shoes also have great rebound with a responsive arch design. The knit fabric allows comfort to the feet while the slip-on closure with lace detailing as a design element combines form and fashion.
Pros
Versatile usage
Sole made with a mix of rubber and TPU
Elevated heel for better rebound
Anti-slip sole
Steel toe cap allows wriggle room for toes
Knit fabric for breathability
Easy to slip on
Lace detailing for design
Great cushioning for feet
Cons
The soles might make some sound while walking for some.
If you are looking for a sturdy pair of steel toe shoes for women, your quest ends here. Made of leather and synthetic material, these are durable shoes with the protection of a steel toe cap and a V notch for an Achilles heel wrap. The sole is made of rubber and provides great protection, comfort, and flexibility, along with good grip and slip resistance. The breathable mesh lining in the upper part of the shoes allows your feet to breathe and stay fresh. The soles are made of memory foam with a cool mesh sockliner that is great for your feet's safety and comfort. Pick these to go worry-free about your feet when you step out of your house next.
Pros
Synthetic fabric allows flexibility of motion
Rubber sole with good grip
Flexible sole
V notch Achilles heel wrap
Mesh panels allow your feet to breathe
Memory foam insoles
Cool mesh sockliner inside
Cool colors
Cons
Some might find these a bit bulky.
This one is a pair of steel toe shoes for women made of 100% leather that looks like a pair of stylish casual shoes but has all the safety features that you might need at work. The upper part is made of smooth-pigmented leather that feels like suede so that you can strut around in style. The soles are made of rubber so that you get good grip and form when you take your next steps. The shoes have a soft, nylon lining to let your feet breathe. The footbed is made of nylex and an EVA mold design to allow greater cushioning for your feet. Grab these for the look and feel of a trendy pair of shoes and the functionality of a sturdy pair of steel toe designs.
Pros
Smooth pigmented leather upper
Suede finish
Rubber soles for a great grip
Soft nylon lining
Nylex footbed
EVA mold design
Dissipates static
Cons
Some might find these to be heavy on their feet.
If you are one who likes to keep their shoes feminine even if they are for work, this pair of steel toe shoes for women are your bae. Take them for an outdoor workout or for your shift at the construction site for a safe day at work – the choice is yours. The Nubuck and suede leather uppers make this a good looking pair of shoes with steel caps that are especially designed for women. The brand uses a BreathActive formula in their lining to allow maximum breathability. The footbed is made of the brand's Evercushion BA design that is also removable, with iCell in the heel for greater comfort and rebound. The steel toes also come with protection from scuffs. Grab this pair for top performance and great comfort, pronto.
Pros
BreathActive formula for extra breathability
Laces for optimum fit
Evercushion BA design for cushioning
Removable cushioning
iCell in heel for better rebound
Scuff-resistant toes
Cons
The color might fade if not handled with care.
Give your toes great protection along with a good amount of comfort with this pair of steel toe shoes for women and men. The gender neutral design looks sleek on everyone and makes it go with everything you are wearing. The knitted fabric allows ventilation while the rubber soles offer good grip and flexibility. The 1.25-inch platform is great for optimum rebound so that you have a good gait. These anti-smashing steel toes can resist impact of up to 200J, while the midsole is resistant to puncture and can resist impact of up to 1100N. Get all-round protection for your feet with this sturdy pair of steel toe shoes for women.
Pros
Versatile
Knitted flying woven fabric
Allows ventilation
25-inch platform
Great cushioning
Good rebound
Anti-smashing steel toe
Puncture-resistant midsole
Cons
Some might find these shoes a tad slippery.
Gift your feet uncompromised protection with this pair of steel toe shoes for women. The steel toe cap is wide enough to allow enough room for wiggling your toes, and the Kevlar midsole offers added support and protection. Flying woven mesh upper allows passage of air, keeps your feet dry, and the soles with air cushioning are great for rebound and arch support. The polyurethane sole provides an anti-slip grip for your feet. From the warehouse to the factory or the gym, you can take these lightweight steel toe shoes anywhere!
Pros
Wide steel toe cap
Kevlar midsole
Good cushioning
Added arch support
Flying woven mesh upper
Allows ventilation
Anti-slip grip of soles
PU sole
Cons
Might run for small for some
Now that we have looked at our top 11 steel toe shoes for women, here is summarizing the different kinds of steel toe shoes for women for you to choose from.
Types Of Steel Toe Shoes For Women
These are no-nonsense boots with a steel toe cap that you can wear to your work worry-free, and they are especially designed for those who work at construction sites, factories, and industrial sites.
These come in the design of shoes but with a steel toe cap and are suitable for people who do not necessarily need the protection of boots but work at places where their feet could suffer impact or jobs that require people to stay on their feet for long periods of time.
These mainly come in the form of low-top sneakers or casual lace-up shoes that are easy to wear and are versatile enough to wear to the gym or even for activities such as treks and hikes. The steel toe caps protect the wearer from impact.
Additionally, here are a few tips for you to pick one that suits you best.
How To Choose The Best Steel Toe Shoes For Women
This is the most important factor as the usage determines which kind of steel toe shoe for women you will buy for yourself. Pick steel toe boots for heavy-duty usage and sneakers with steel toe caps for a more versatile usage. For jobs such as waiting at tables or at the supermarket, get yourself a sturdy pair of work shoes with steel toe caps.
Features such as the material of the sole, the kind of grip it offers, the amount of support and cushioning for your feet, and the kind of fabric used are all things that you should take into consideration. Rubber soles are the most common while mesh fabric allows your feet to stay dry and fresh.
While most shoes with steel toes are of moderate weight, some are designed to be extra light for comfort and outdoor wear while a few also tend to be a bit heavy. Pick a light one for outdoor use in the wilderness and heavy ones for more machine-related, seated work.
Steel-toe shoes can keep your feet comfortable while you perform heavy labor, which involves extra weight lifts or running around all day. These shoes also provide excellent ventilation with their thickened insoles that skillfully support your feet and keep them from getting too tired. These shoes come in a variety of colors and styles, which would go with your regular outfits seamlessly. Not just that, these shoes are gender-neutral, which is why they have a huge fanbase! While purchasing steel-toe shoes, make sure that the shoes provide good arch support and give you maximum safety. However, steer clear of steel-toe shoes that can suffocate your feet with their narrow design.
Why Trust StyleCraze?
The author, Priyam Gupta, is a fashion enthusiast and writes well-researched product reviews for StyleCraze. She compiled the above list of the best steel-toe shoes (ideal for use at construction and industrial sites) after carefully studying the reviews posted by the users. These puncture-proof shoes can protect your feet from impact and injury, and offer a strong grip and good comfort.
Frequently Asked Questions
Are steel toe shoes slip resistant?
Most steel toe shoes come with soles that are slip resistant. However, it is best to check with the brand before buying a pair.
What kind of steel toe shoes last long in heavy work activities?
For heavy-duty work, a pair of boots with steel toe caps are most advisable. However, go for a pair that is also lightweight.
Are steel toe shoes bad for your feet?
They are usually safe and protect your feet from impact. However, in case of medical conditions, it is best to check with a doctor.
What is the difference between steel toe and alloy toe?
The difference lies in the make of the protective cap of the shoes. While the steel ones use steel, an alloy one can use a mix of metals.
How do you stop your feet from hurting in steel toe shoes?
Choosing the correct size with ample width for the toes helps avoid hurting the feet.
Recommended Articles:
The following two tabs change content below.