10 Best Stem Cell Shampoos – 2022
Shampoos power-packed with rich elements to make your hair healthier and stronger.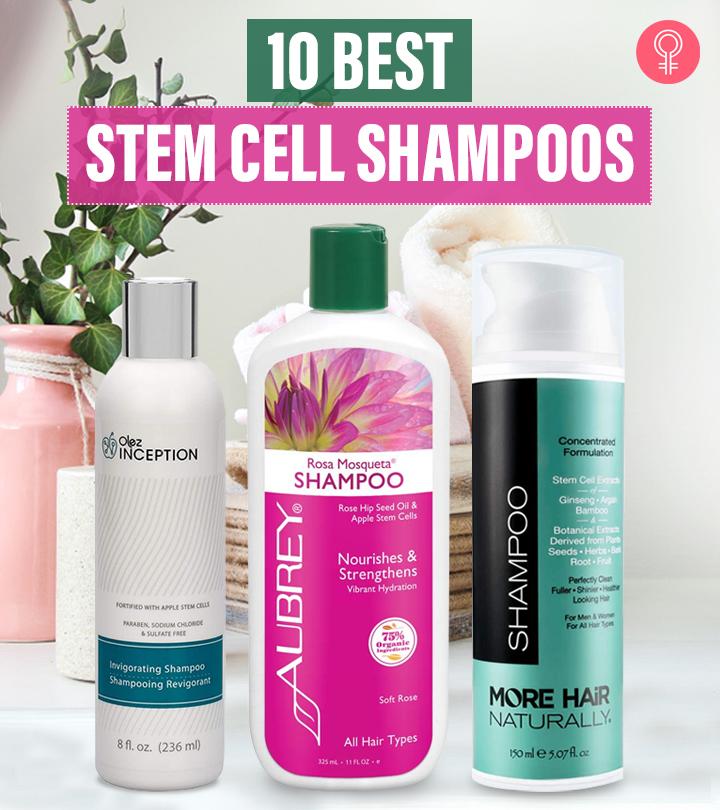 A stem cell shampoo is filled with minerals, vitamins, and antioxidants that promote hair growth and treat your hair issues. The best stem cell shampoo is specially formulated to strengthen hair strands, reduce hair fall, and remove hair strands. If you have dull, thin hair, then you must try out these shampoos to give your hair a boost of health.
In this article, we have mentioned the list of the 10 stem cell shampoos that deal with common hair issues tremendously well. Read more below!
Stem Cell Shampoos – How Are They Beneficial?
Stem cell shampoos are a mixture of vitamins, minerals, and amino acids that benefit the hair. These ingredients strengthen hair and boost its growth. Stem cell shampoos give the hair a deep and thorough cleanse while providing ample hydration. They also help replenish hair roots.
The shampoos aid the formation of new hair follicles as well. They are usually formulated with natural ingredients, without the use of chemicals.
Let us now take a look at the 10 best stem cell shampoos available online.
10 Best Stem Cell Shampoos
The Andalou Naturals Argan Stem Cell Shampoo is enriched with argan fruit stem cells. The shampoo washes away toxins, debris, and excess sebum from the scalp. It also strengthens the hair strands and reduces hair breakage. It nourishes and gives hair a beautiful shine. The shampoo contains argan oil that conditions the hair. It also contains aloe vera that creates a protective moisture barrier, and grape stem cells that protect hair against harmful UV radiation. The shampoo is sulfate-free and color-safe.
Pros
Sulfate-free
Color-safe
Reduces hair breakage
Nourishing
Cons
Price at the time of publication: $9.99
The Aubrey Rosa Mosqueta Shampoo is filled with nutrients and emollients. The shampoo cleanses hair gently and removes dirt and impurities effectively. It is formulated with cold-pressed rosa mosqueta oil rich in essential fatty acids and vitamin E. The shampoo also contains sweet almond oil that helps improve hair texture and restores natural hair shine. It contains apple stem cells that nourish the scalp and hair follicles. It is sulfate-free and safe for all hair types.
Pros
Sulfate-free
Safe for all hair types
Nourishes hair and scalp
Gentle
Removes residue
Paraben-free
Phthalate-free
Gluten-free
Cruelty-free
Cons
None
Price at the time of publication: $21.23
The Era Organics Tea Tree Oil shampoo is formulated with plant stem cells. These stem cells help repair damaged hair and soothe an itchy scalp. The shampoo is free of harmful chemicals like sulfates and parabens. It also rejuvenates and strengthens hair and soothes irritated skin.
Pros
Paraben-free
SLS-free
Silicone-free
Nourishing
No fillers
Cons
None
Price at the time of publication: $17.45
The Inebrya Ice Cream Shecare Reconstructor Shampoo is formulated without sulfates or parabens. The shampoo is great for dry and damaged hair. It is ultra-gentle on the hair and contains grape plant stem cells and keratin. These ingredients gently cleanse damaged and stressed hair. The shampoo also instantly hydrates hair and gives instant shine.
Pros
Hydrating
Ultra-gentle
Paraben-free
Sulfate-free
No added salts
Does not weigh hair down
Suits colored hair
Cons
None
Price at the time of publication: $43.0
Protect your scalp and stimulate hair growth with the PhytoWorx Hair Recovery Shampoo. This shampoo is infused with malus domestica stem cells that delay aging of your hair by preventing cell deterioration and maintain the health of your hair strands. Aloe vera infused in this shampoo protects the scalp and promotes hair growth. Additionally, the shampoo contains licorice extract that helps to reduce scalp infections, prevent allergic reactions, and minimize damage caused by chemical exposure.
Pros
Sulfate-free
Color-safe
Gentle
Irritation-free
No nasty chemicals
Cons
None
Price at the time of publication: $44.99
The Intelligent Nutrients PurePlenty Exfoliating Shampoo is designed for naturally fine hair. It makes hair lusher and thicker. The shampoo is gentle and clears any scalp build-up effectively. It is silicone-free and free from other synthetic ingredients. It is safe for color-treated hair. It contains nettle that helps cleanse the scalp and improves hair shine. The shampoo also contains ajuga plant stem cells that promote healthy hair follicles.
Pros
Clears scalp build-up
Improves hair shine
Safe for color-treated hair
Silicone-free
No synthetic ingredients
Cons
Price at the time of publication: $39.0
The More Hair Naturally Triple Stem Cell Shampoo is formulated with stem cell extracts of ginseng, argan, and bamboo. These ingredients are beneficial for hair. The shampoo removes build-up from the scalp and gives hair a beautiful shine. It is vegan, and is formulated without parabens and SLS.
Pros
Paraben-free
SLS-free
Nourishing
Vegan
Clears scalp build-up
Cons
None
Price at the time of publication: $49.0
The Eternal Spirit Beauty Silver Shampoo with Stem Cells is a sulfate-free shampoo that helps maintain hair shine. The shampoo has a purple pigment that is great for blonde and grey hair.
Pros
Sulfate-free
Suits blonde hair
Cons
None
Price at the time of publication: $19.0
The Abril Nature Stem Cells Gold Lifting Bain Shampoo helps define and shape hair naturally. The shampoo improves the external appearance of hair. It also increases hair shine and keeps hair from being frizzy. The shampoo is ideal for curly and wavy hair. It also provides a silky touch and a golden shine.
Pros
Boosts hair shine
Prevents hair frizz
Ideal for curly and wavy hair
Cons
None
Price at the time of publication: $20.0
The Olez Invigorating Shampoo uses apple stem cell technology. The shampoo makes the hair look healthy and adds shine and softness. It is formulated without harsh chemicals like parabens or sulfates. The shampoo is rich in hydrogen, phytonutrients, antioxidants, and age-resistant cells. Its apple stem cells, mica, and muru-muru fortify hair from within. They also strengthen the hair follicles.
Pros
Paraben-free
Sulfate-free
No sodium chloride
Boosts hair shine
Strengthens hair follicles
Cons
None
Price at the time of publication: $22.0
Why Trust Stylecraze?
The author of this article, Oyendrila Kanjilal, is a hair care aficionado. She prepared a comprehensive list of the best stem cell shampoos for her readers after reading several product reviews and customer feedback on brand websites and trusted online platforms. These products help reduce hair fall and make your hair strands stronger and healthy.
Frequently Asked Questions
Which is better stem cell shampoo or PRP for hair regrowth?
Both these treatments show effective hair growth results. However, stem cell shampoos start showing results within 4 to 6 weeks whereas PRP starts showing visible results only after 3 months from the last treatment.
How effective is stem cell shampoo?
Stem cell shampoo effectively promotes the growth of new hair and reduces hair thinning. Within a span of 4-6 weeks, you can see visible growth. These formulas are often packed with vitamins, minerals, and amino acids that make your hair healthier and stronger as well.
Are stem cell shampoos for hair safe?
Yes, stem cells are very safe for regular use. They impart a brilliant shine to your hair strands, restore and repair damaged hair, and promote thick, healthy hair growth.
How can I stimulate my hair follicles for hair growth?
Follow these practices to promote hair growth:
• Always wash your hair with cold water.
• Massage your scalp to promote blood circulation to the area.
• Use aloe vera and oils like coconut, fish, and castor for treating hair loss.
• Avoid chemical and heat treatments.
• Use hair growth shampoos and conditioners containing biotin, collagen, stem cells, etc.
Can I use stem cell shampoo every day?
Using stem cell shampoo 1-2 times a week is enough to give you visible results. Shampooing your hair every day is not recommended and it may not give you enhanced results. However, do refer to the instructions on the label of the product to get the right idea regarding that particular product.
Can I use regular conditioner after using stem cell shampoo?
Yes, you can use regular conditioners after using stem cell shampoo. However, using it with a stem cell conditioner will give you better results.
Recommended Articles