10 Best Stick Concealers To Hide Uneven Skin Tone In 2023
Comfortable and convenient, use these concealing sticks to give you flawless skin anytime.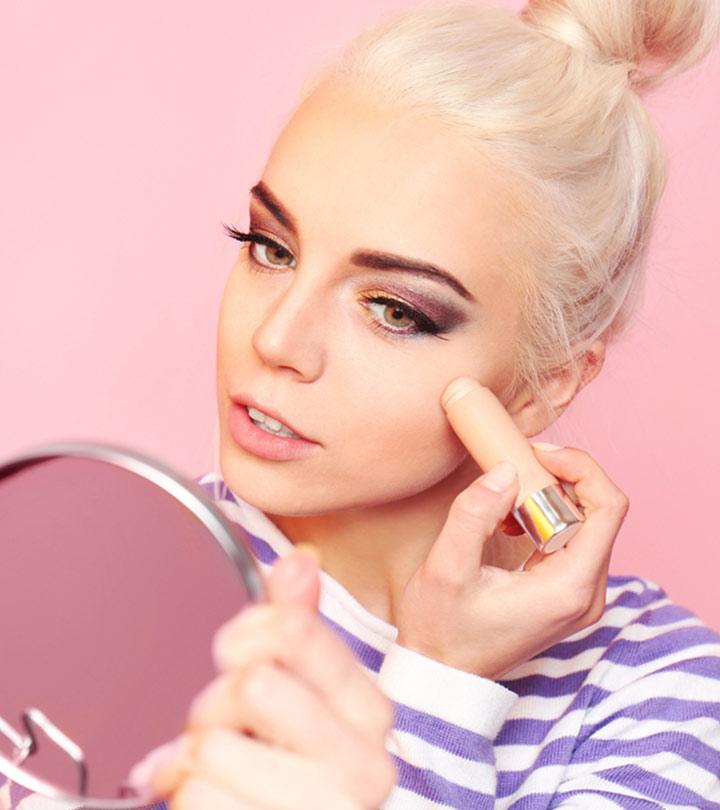 A concealer is one of the most essential parts of makeup because it covers all traces of a bad sleep cycle with its rich and cheeky consistency, making you look like a person well-rested. While they come in various consistencies and textures, traditional concealers that are often in a liquid formula tend to get a bit messy and goopy for prolonged hours. If you face similar instances with liquid concealers that usually turn patchy or melt quickly, we suggest opting for stick concealers. These types of concealers tend to be in a solidified state that resembles a lipstick bullet. So, if you're looking for a texture change in your favorite makeup item, switch over to a concealer stick, as it's thicker and heavier in texture as compared to its predecessors, making it ideal for giving you an even skin tone while hiding any demarcation.
You will definitely admire the small and compact size of a stick concealer and be amazed at how well it can be applied on top of your makeup. So, after going through numerous online reviews, we have listed the 10 best stick concealers that you might want to get your hands on before they fly off the shelves.
10 Best Stick Concealers That Bid Uneven Skin Tone Goodbye
Get ready to have your mind blown by the sheer power of cover-up with this cream concealer stick from Revlon. Its high-definition, buildable texture smoothly glides over any imperfection, giving your skin a filter-like quality that's free from any pigmentation and marks. Use this thick, full-coverage stick concealer for a real-life flawless finish, as it's designed with high-definition filter technology that reflects light and diminishes the look of dark circles for the perfect selfies. The tip of the concealer is slightly angled to offer better precision and help reach the difficult points, especially around the eyes and nose, making it one of the best concealer sticks for dark circles. This video featuring a tester's experience gives you more information about the product.
Pros
Full-coverage buildable concealer
Angled tip for precise application
Glides smoothly
Blends easily
Cons
Only available in 6 shades
Conceal visible dark eye circles and blemishes with this vitamin E and ginseng-infused cream stick concealer from Covergirl. Using this hypoallergenic concealer not only covers blemishes and fine lines but also keeps the area moisturized with the help of chamomile. This undereye concealer will last you all day long and is easy to touch up if needed. The fragrance-free drugstore concealer stick is gentle on the skin and is suitable for all skin types, especially sensitive skin. The formula of the Covergirl stick concealer may seem thick as it is full-coverage, but on applying, you'll realize how lightweight and breathable it is as it doesn't clog your pores or cause breakouts. Have a look at this video featuring the reviewer's experience to learn more about the product.
Pros
Fragrance-free formula
Hypoallergenic and ideal for sensitive skin
Doesn't settle in fine lines
Ideal for under-eye area
Glides on skin easily
Offers full coverage
Dermatologist-tested
Animal test-free
Cons
Consistency could seem a little thick at first
If you like your concealer to be buildable and hydrating, check this Hydro Boost stick concealer from Neutrogena. This oil-free stick concealer is easily blendable into your skin and effectively masks imperfections. The expertly crafted formula is non-greasy, lightweight and provides silky-smooth, natural-looking coverage all day long. Formulated with purified hyaluronic acid, it instantly quenches your skin while hiding any dark or red pigmentations. "Its moisturizing ingredients will help keep the product from applying too heavily and should allow the concealer to blend more easily.", adds makeup artist Azesha Ramcharan. Look fresh all day or evening with this oil-free, non-comedogenic, ophthalmologist-tested, easy to carry stick concealer without worrying about your skin's sensitive nature.
Pros
Moisturizing and breathable
Infused with hyaluronic acid
Oil-free and non-comedogenic
Long-lasting formula
Suitable for all skin types
Ophthalmologist-tested
Makeup artist-approved
Cons
Broader shade range would be preferable
Maybelline never disappoints with its products, and this Cover Stick concealer is yet another bombshell product that helps you bid adieu to dark circles. Dermatologist and allergy-tested, this full-coverage concealer stick comes in a mini tube that can fit into your smallest clutch and offers precise application. Upon application, the product blends into your skin, seamlessly and completely concealing all your spot-related woes. The waterproof formula of this stick concealer lasts for hours and stays in place with zero fading so you will be photo-ready always.
Pros
Suitable for most skin types
Waterproof formula
Comes in a range of shades
Easy to blend
Has a seamless finish
Dermatologist-tested
Allergy-tested
Cons
This non-drying concealing stick from Physicians Formula provides a smooth and easy application. Gentle on the skin, the full-coverage stick concealer hides blemishes, under-eye circles, and minor skin imperfections that are visible to the naked eye. The texture of this product makes it sweep easily onto your skin and leaves a soft, velvety look. This transfer-proof concealer is also charged with safflower seed oil, which acts as a good moisturizing element. This stick concealer is also hypoallergenic, fragrance-free, and non-comedogenic, making it an ideal choice for those with sensitive skin.
Pros
Hypoallergenic and free from fragrances
Non-comedogenic
Contains safflower seed oil
Non-drying concealer stick
Cons
Might contain talc in trace amounts
Every dermatologist's favorite, this full-coverage concealer comes with a staying power of 16 hours and neither budges nor transfers. Not only does it perfectly cover all imperfections and blemishes, but if you had a tattoo, this concealer stick would hide it, too! Never cakey or patchy on the areas you apply, this expert-recommended cream concealer easily camouflages itself into your skin tone. The high-performance pigments are what sets it apart while the lightweight and comfortable formula radiates through your skin.
Pros
High coverage
Sensitive-skin friendly
Cruelty-free
Does not include SLS, triclosan, phthalates, or fragrance
Does not cake up
Waterproof and transfer-resistant
Easy to blend
Dermatologist-tested
Cons
Texture might be slightly thick
Barepro by Bareminerals is the real deal. Consumers who tried-and-tested the product said it offered exceptional results. Promising to last a full 16-hour period with full coverage without smudging or sitting between creases, this waterproof concealer features a natural-looking soft matte finish as the Kaolin clay soaks up excess oil. It isn't just a concealer that hides your pigmented skin or blemishes, but it also has the power to improve your skin with ingredients like natural bamboo extracts, raspberry seed oil, blackcurrant seed oil, and sea lavender. These healthy additions to the formula nourish and hydrate your skin, protecting it from further damage.
Pros
Infused with natural bamboo extracts
Free of parabens, gluten, SLS, talc, and fragrance
Lasts up to 16 hours
Kaolin clay absorbs excess oil
Crease-proof and smudge-proof
Dermatologist-tested
Ophthalmologist-tested
Animal test-free
Cons
Might be on the drying side
If you're into looking natural and effortless and want to keep people guessing, try this creamy, weightless, perfecting stick concealer. The full-coverage creamy stick concealer masks over dark circles and blemishes while evening out your skin complexion in no time. Your skin will look natural, soft, and radiant post application and never turn cakey. When you apply this product, you are guaranteed a 12-hour stay on the skin without greasing up or becoming patchy. With a skin-friendly formula crafted without fragrance or oils, this concealer is both hypoallergenic and derm-approved. It is also a good fur-freindly option as it is formulated without any animal testing.
Pros
Hypoallergenic and fragrance-free
Lightweight and ultra-creamy concealer
Natural, soft finish
Works up to 12 hours
Evens out skin tone
Not cakey, crease-resistant
Cons
Might not be ideal for oily skin
Instead of a lipstick bullet, this one is slightly longer and has 2 features on each side. The Black Monster concealer stick comes with a sponge puff on one side of the stick concealer's body, whereas the concealer bit is found on the other end. This smoothens the task of having to use fingertips to blend in the product or an external brush, now that you can use the sponge to dab or blend it into your skin. As for the concealer itself, the expertly crafted formula is made to perfection. It offers exceptional results that cover anything and everything that you want to — as long as it's on your skin. The texture of the non-sticky blemish stick concealer is so creamy, it will glide on easily and stay all day long.
Pros
Comes with an attached sponge tip
Lightweight and creamy formula
Has sebum-controlling ingredients
Literally covers anything
Ideal for everyday wear
Blends seamlessly
Cons
Available in only 2 shades
The last product is especially for people of color who need a concealer to keep those annoying dark circles in check. The Black Opal concealer stick for dark skin has a smooth texture that blends into the skin perfectly. This enhanced beauty product has a true tone matching ability and full coverage. Along with exceptional results, this makeup concealer stick is also free from fragrance and parabens. It is rich in vitamins A, C, and E to boost your skin's appearance with loving nourishment and care. You will feel like you have a velvet blanket on your skin's surface with this hypoallergenic stick concealer.
Pros
Shade range is highly inclusive
Velvety-matte finish
Suitable for most skin types
Ideal to cover dark spots
High coverage
Cons
How To Choose A Stick Concealer For Your Skin
Always be sure of the kind of coverage you want to achieve. Most stick concealers do tend to have better coverage due to their thicker consistency, so you might want to make sure you get only the amount you need.
Stick concealers do have various end results. Some may feel velvety while others may be natural and soft. There are also dewy and matte options available, which means your choice would depend on your skin type and the kind of finish you want to achieve.
This one's a no-brainer, but choose a stick concealer that comes in a healthy number of shades. Stick concealers are versatile and have multiple uses, so look for a brand that caters to different light, dark, and medium skin tones.
Benefits of Stick Concealer
Stick concealers are generally thicker and heavier in texture than traditional liquid concealers. They are a breeze to apply as you have complete control over the amount you need to spread. A stick concealer is richly pigmented and has a creamy texture, so you don't have to work too hard to create an even surface.
Multiple coverage options
Whether you want medium-coverage effects for concealing redness and dry skin or total coverage for minimizing the appearance of acne and acne scars, you can find a stick concealer that does exactly what you need.
Stick concealers are versatile and can be used as an eyeshadow base, highlighter, contouring or shading stick, and more. They can even fight through sweat or water, as opposed to liquid concealers that melt into the skin really quickly.
Stick concealers are fun products to use on the go. They're tiny, compact, and versatile. You can use a solid block of concealer seamlessly and reach for that precise application you never could with liquid or traditional concealers. You can use them as an eyeshadow base, for contouring and highlighting, and of course, covering up pigmentation and blemishes. Since the market is filled with various types of concealers, it can be a little confusing to decide which one to opt for. That's why we have reviewed the 10 best stick concealers that are unbeatable and have a cult following for a reason.
Why Trust StyleCraze?
Srijani Roy Chowdhury, the author, is a makeup enthusiast. She has curated this list of the best concealer sticks after conducting thorough research. She went through numerous reviews and feedback on multiple forums and brand websites to pick the best concealer sticks for different skin tones. The shortlisted products blend into your skin seamlessly and conceal all your age spots and pigmentation.
Frequently Asked Questions
Are stick concealers good?
Stick concealers are generally in a thicker formulation, but are more high-coverage and have longer staying power than a typical concealer.
Is stick concealer good for oily skin?
Concealer sticks are good for oily skin as long as they are lightweight and not too creamy.
Is stick concealer better than liquid?
In terms of portability and lasting power, a stick concealer is preferably the better option.
Does stick concealer help acne?
While some of these stick concealers do have skin nourishing properties, a concealer can only go as far as to cover up the appearance of acne or acne scars based on its coverage power.
Which type of stick concealer is the best for normal skin?
A stick concealer that gives buildable coverage, a natural finish, and applies easily on the skin is the best for normal skin.
How long does a stick concealer last?
Even if you use the stick concealer every day, it can easily last you up to 6-8 months.
Where can you use stick concealer?
Stick concealers are compact and very easy to use on hard-to-reach areas of the face. You can use it under the eyes to cover dark circles, on the eyelids as a base for eyeshadows, on the hollows of your face as a contour, and on areas where you have dark spots to cover them.