10 Best Strapless Bra For DD Cups To Buy In 2023 – Reviews & Buying Guide
Cause it's time you said goodbye to heavy bust issues & hello to these life-saving bras.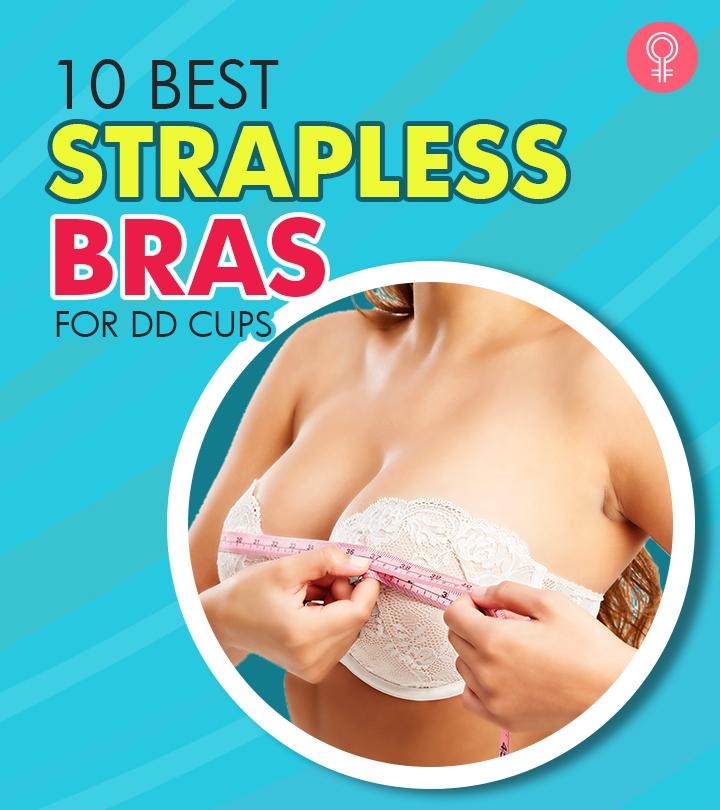 A woman's lingerie collection includes several different types of bras fit for various outfits and occasions. It also includes a strapless bra for the off-shoulder or cocktail dresses. But, finding that perfect strapless bra for DD cups can be quite a task! Most women understand that the quest of finding the perfect bras for larger bust sizes is a long and difficult one. But, getting the perfect fit without your strapless bra slipping off or needing multiple adjustments per minute is a dream for women with larger cup sizes.
Well, larger busts do not necessarily mean uncomfortable bras. At least, not anymore! There are multiple brands which offer well-fitted bras, provide maximum coverage without any spillover, and also support your girls without biting into the skin. To help you nail that perfect cocktail look, we have a list of the 10 best strapless bras for DD cups. So, go ahead and check them out now!
Top Picks
10 Best Strapless Bras For DD Cups
Flaunt your backless dresses and off-shoulder gowns with this sticky and skin-friendly silicone bra by Niidor! Unlike regular stick-on bras, which can slip and slide down easily, this bra sticks on perfectly without causing any pain. The unique front clip design allows you to easily clasp and unclip the bra yet is strong enough to support your breasts. The nude color design makes it seamless and invisible under your clothing. This bra also comes along with two pieces of sticky silicone nipple covers which can be reused any number of times.
Pros
Good support
Comfortable to wear
Non-irritating
Good size range
Soft on skin
Lightweight
Stretches well
Invisible under cloth
Reusable
Perfect cleavage
Cons
Price at the time of publication: $23.99
Pros
Good support
Lightweight
Comfortable
Non-irritating
Good size range
Full coverage
Lightly padded
Soft
Lightweight
Stretches well
Cons
None
Price at the time of publication: $22.99
Pros
Anti-slip designs
Good coverage
Excellent support
Optimal grip
Shapes your breasts
Quick-drying
Comfortable
Cons
None
Price at the time of publication: $29.99
Pros
Stretchable
Minimizes bulge
Smoothes your sides
Extra-wide band
Non-irritating
Comfortable
Versatile use
Cons
Price at the time of publication: $66
Pros
Versatile wear
Non-slip
Comfortable
Snug fit
Does not cause irritation
Adjustable fit
Cons
Price at the time of publication: $12.99
If you are looking for a well-fitted strapless bra to suit your plus-size body, look no further than this seamless balconette bra by Olivachel! This versatile design can be worn with straps as a normal bra or without straps under off-shoulder attires. The cup offers full-coverage and great support, which makes it perfect for plus-size breasts, and the unique balconette design adds a sexy flair. It features a wide elastic band that is equipped with silicone groupings at the bottom and wings, so you don't have to worry about any miss slips. The bra has underwire support and three hook and eye closures for a secure, adjustable fit.
Pros
Stylish
Good support
Lightweight
Comfortable
Non-irritating
Full coverage
Soft on skin
Lightweight
Stretchable
Wide color range
Good size range
Cons
None
Price at the time of publication: $22.88
Pros
All-day comfort
Stylish
Stretchable
Non-slip grip
Versatile wear
Quality stitching
Cons
None
Price at the time of publication: $32
Be it for your honeymoon or to spice things up with your partner, check out this beautiful sheer floral lace bra by Dobreva! The see-through bra features underwire and side boning, offers maximum support and lift. The silicone grip material along the edges keeps the bra in place without any slipping throughout the day. Unlike regular lace bras, this material is super soft and provides maximum comfort without any irritation.
Pros
Good design
Comfortable
Lightweight
Breathable
Soft to touch
Anti-slip design
Cons
None
Price at the time of publication: $25.99
Pros
Anti-slip design
Full coverage
Comfort
Optimal grip
Shapes your breasts
Quick-drying
Breathable
Cons
None
Price at the time of publication: $30.99
For larger breasts, it is ideal that one wear a supportive bra, even with backless outfits. To ensure maximum confidence along with exceptional support, check out this backless and strapless bra by Joateay! It features adhesive wing tapes, which keep the cups in place while leaving your back free. The cups are medium padded and underwired to offer lift and support to your breasts.
Pros
Lightweight
Reusable
Allergen-free
Gentle on your skin
Versatile where
Seamless
Medical grade adhesive
Cons
None
Price at the time of publication: $24.99
Lingerie forms an integral part of every woman's wardrobe. If getting the perfect strapless bras for your next party wear is on your list of agendas, help yourself to our favorites! But, find out below how you can incorporate a strapless DD cup bra in your wardrobe.
How To Use A Strapless Bra?
Strapless bras can be worn with any off-shoulder tops, dresses, or outfits. But, one of the most common mistakes many of us make is putting so much weight on the band. A strapless bra is already doing a lot of work to hold up your breasts, and wearing heavy dresses or tops that put extra pressure on the underwear can ruin your whole look. In case you're wearing a strapless top or dress, make sure that it is well fitted on the waist, so your hips support the weight of the garment instead of your chest.
Unlike the common myth, a strapless bra does not necessarily have to be uncomfortable and painful. The right bra that fits you perfectly can do wonders for your appearance. Check out the many benefits of a strapless bra in the next section.
The Benefits Of Using A Strapless Bra
Here are a few benefits of using a strapless bra:
Strapless bras are the Holy Grail for women who have sensitive skin or shoulder pain, as it does not cause any discomfort or rashes on the shoulder, which can happen with a regular bra.
Adjusting your straps for a good fit can be uncomfortable and inconvenient, whereas strapless bras give you effortless wearability and are easy to maintain.
Strapless bras are a great choice when it comes to giving you a relaxed fit on your bust as well as your shoulder.
Most strapless bras come with removable straps, so that you can re-attach them for added versatility.
Strapless bras are also known to help relieve back problems or scapular muscles strain.
They give you the adequate support, lift, and contour your curves without putting much pressure.
Many manufacturers have a range of stylish strapless bras, from laced to netted ones, so you get a lot of variety!
If you're already convinced and look forward to getting yourself the perfect strapless bras for larger cup sizes, here's a quick guide to help you make the best choices.
How To Select The Best Strapless Bras For DD Cups
The first and most important thing to look for is the perfect fit. You must know that the best support and shaping do not come from the underwire, but it depends on the overall structuring. Also, choosing a strapless bra with silicone grips gives you additional stability and a non-slip fit!
Measure your cup size and remember that it does differ from brand to brand. The wrong size bra can spoil your entire look and make your breasts look awkward over your clothes or cause sagging.
When you pick a strapless bra for larger breasts, make sure that it is highly structured, lined, and has seamless cups. Avoid bras that have just one or two hooks, as hefty bras need more substantial support than regular ones. Opt for a bra with multiple hook closures and wide sides for additional support and stability.
When choosing a strapless bra, you need to look for one with a tight and well-fitted band. This might cause back fat rolls, but to reduce the appearance of back fat, you can choose a strapless bra with a sturdier and wider band for that smooth appearance. Also, regular bras are meant to last about six months to a year with constant use, whereas strapless bras put in a lot of work which means they wear out much faster. So choose a strapless bra that fits properly at the loosest band setting so you can tighten it as it wears out.
Having larger busts, along with being plus-size calls for bras with fuller coverage. Bras that do not give you enough coverage can cause bulging and spillage, which can look awkward on top of your clothes.
Choosing a long-line style bra is an added plus! This lingerie style has additional fabric below the cups, which prevents your bra band from riding up. With larger breasts, you must choose a design that gives you extra support.
When looking for a strapless bra for large breasts, make sure you invest in a quality piece. Find the right kind of fabric that is breathable, lightweight, non-irritating, and most of all comfortable.
When buying bras, find the perfect color that compliments your outfit. For instance, if you choose a dark-colored bra for your light colored outfit, it will show through your clothes.
Why Trust StyleCraze?
The author, Baishali Bhattacharya, is a certified image consultant who is passionate about fashion and apparel. After reading user reviews and feedback available online, she has compiled this product list of the best strapless bras for DD cups for women. These bras will give you the perfect fit and help you slay those cocktail dresses or off-shoulder outfits.
Frequently Asked Questions
What type of strapless bra is best for large busts?
A bra that has well-supporting bands keeps your boobs in place, and is comfortable to wear is the best for large busts. It should give you full coverage preventing slip-offs and side boobs while not digging into your skin.
Are strapless bras supposed to be tight?
Yes, the strapless bras should fit properly around the bust so that you get the support you are looking for. If the underband is too loose or too big, then the bra might slip off. However, it should not be too uncomfortable or restrictive either.
Should I size up or down for a strapless bra?
You can go a size down one band size for a strapless bra to give the extra support that a strap can give. However, that can be a bit uncomfortable. Usually, your regular size fits you just right even if it is a strapless bra.
Can I wear a strapless bra every day?
No, do not wear a strapless bra every day. It doesn't give the extra support that straps give. If they are worn every day, it can lead to breast sagging.