10 Best Strapless Bras That Stay Up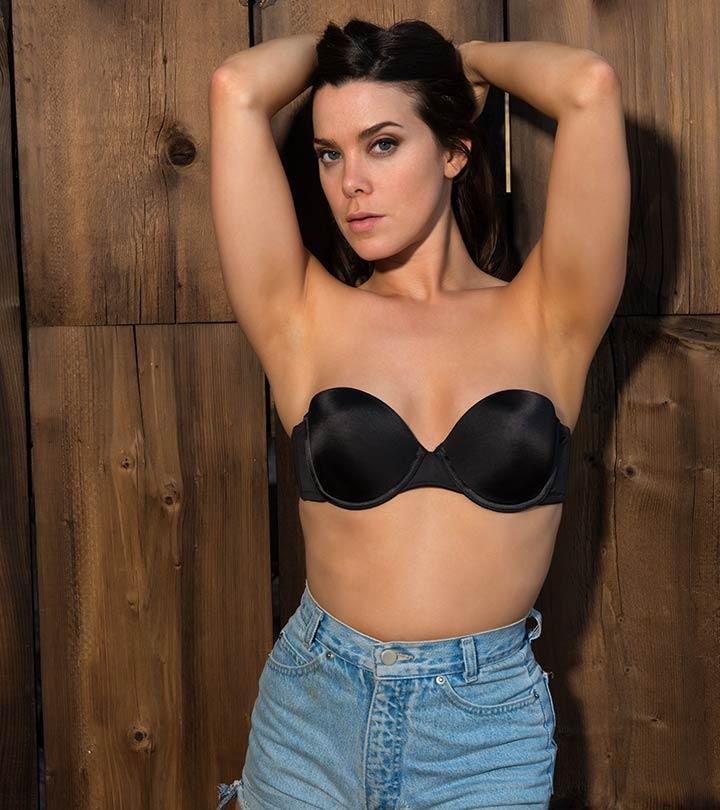 A good strapless bra is a blessing. On the flip side, if it doesn't fit well, it creates havoc in ways you don't want to imagine. We have all been there, haven't we? You'd appreciate the value of a well-fitting bra only if you've dealt with the pain of an ill-fitting one. However, having a good strapless bra is a whole new ball game. It solves one of life's biggest mysteries – 'What bra goes with this top or dress?' If only I had a dime for the number of dresses and tops I let go off because I couldn't find a good strapless bra to wear under them! To save you from going through that ordeal, I've found the 10 best strapless bras that you can buy online right now. Keep scrolling!
10 Best Strapless Bras That Provide Utmost Comfort:
People with heavy or medium-sized breasts may not have this issue, but people with smaller breasts know the struggle of finding a good push-up bra. If you are facing this problem, you need to get your hands on the Calvin Klein Seductive Multi-Way bra. Lace adds a sexy touch to the bra, while the seamless support takes care of the functionality.

While small-breasted women struggle with finding bras that give push-up support, women with large breasts have trouble finding a bra that can give them optimum support without the straps. The Beauty Back Strapless Underwire Bra from Vanity Fair has a thin silicone lining at the front and rear which prevents the bra from falling off. Though its cups are contoured with padding for coverage, they do not add weight to your breasts. It also comes with detachable straps that can be worn halter style or criss-cross, making it well worth the investment.

[ Read: How To Measure Your Bra Size ]
The Chantelle Vous And Moi strapless bra is a silicon bra that doubles up as a multi-way bra. It is smooth and soft as it was designed especially for people with sensitive skin. The back is deep, making it perfect for backless dresses or tops. It also comes with detachable straps that are wide, thin, and do not slide down. Its plunging neckline and seamless cups fit you snugly.

Plus size women and women with broad shoulders face difficulty finding a bra that fits them well in all the right places, is comfortable, and also makes for a great silhouette. Here's a bra that fits the bill and is perfect for sheer tops and strapless dresses. It is made with a smooth microfiber material that makes it comfortable to wear. It is contoured perfectly, and its no-show control holds everything in place.

Here's a bra that is perfect for wearing every day to work, travel, or school. It is made with ultra-soft microfiber and a foam underwire that adds support without digging into your skin. The row hook and eye back closure is snug and keeps your breasts in place while the built-in boning makes it comfortable to wear.

6. Best Plunging V-Neck Bandeau Bra
A bra that also works as a bandeau and a bralette is nothing less than a dream come true. Its satin sheath body looks luxurious but is functional too. The padding offers support and evenly rounds off your breasts while the plunge line keeps everything neatly in place. It is perfect for wearing under a bodycon or a backless dress.
[ Read: How To Wear A Bralette ]
If you have small breasts, you need a bra that can fully encompass them, evenly round them off, and hold them in place. Petite women especially worry about their lingerie and what to wear under dresses. Here's a bra that can be used strapless as well as with straps under regular tops. Invest in one of these for everyday use.

Regular strapless bras just don't cut it when it comes to white bodycon dresses and wedding gowns. You need a bra that does not ruin the silhouette of your dress with its thick padding. This sheer strapless bra is a must-have for that very reason.

9. Best Strapless Soft Padded Push-Up Bra
A strapless bra that works multiple ways is everything a girl needs. This Victoria's Secret bra comes with soft padding and makes your breasts look two sizes bigger without bulking them unnaturally. The sides and the front of this bra are made using a non-slip material to ensure comfort.
[ Read: 10 Best Exercises To Lift Breasts Naturally ]
A longline strapless bra is perfect for corset tops and bodycon dresses. This bra accentuates your figure and supports your breasts while being soft on your skin. Its stretchable microfiber fabric provides support till the end of the hemline to prevent rolling.

Invest in a couple of these strapless bras, and you are sorted for at least a year. Have you found the perfect strapless bra for yourself? Are you still on the lookout? Let us know by dropping a text in the comments section below.
Recommended Articles: