The 10 Best Strawberry Blonde Hair Dyes Of 2023 To Try At Home
Hop on this gorgeous, bubbly hair color trend that the internet just can't get enough of.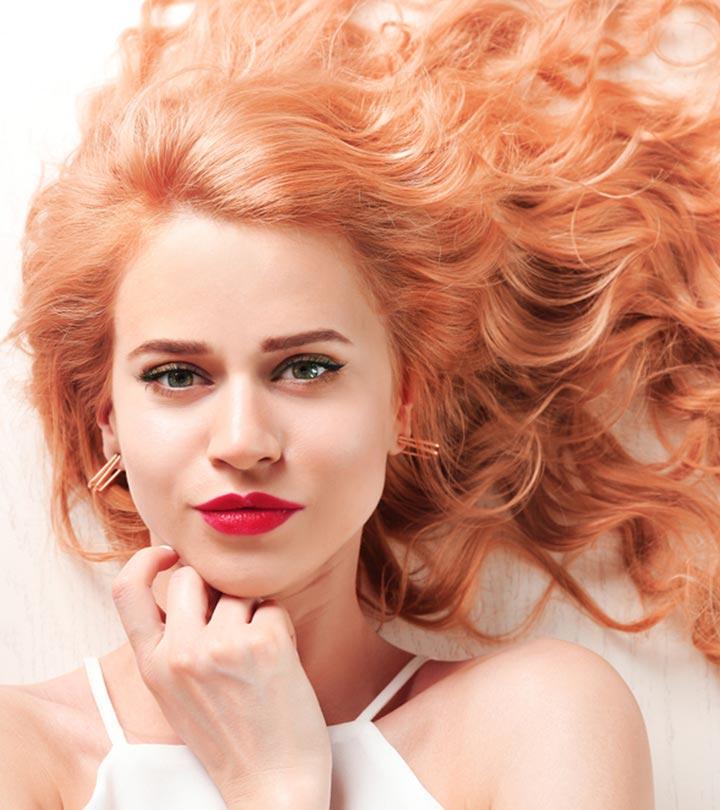 Have you ever noticed someone's hair color and wondered whether it is blonde or red? The answer is: it is both. And therefore, it is known as 'strawberry blonde' hair color. If you are stuck in a dilemma, should you go blonde or red, the best strawberry blonde hair dye will be your savior. Celebrities also love this trending hair color. Also, if you are into experimenting with different hair colors, this one is worth giving a shot. It looks refreshing and vibrant on pretty much all skin tones and complexion. The best part about strawberry blonde hair is that it comes in many different shades. It also means that you will not get bored of the color and choose a new variation.
If you are unsure which color complements your skin tone perfectly, bring some pictures to your stylist for a consultation. It will help you get the perfect hue that you want for your hair. Whether you color your hair at home or the salon, going strawberry blonde might take some time. It depends on how much lifting your hair needs. From highlights to ombré to balayage, you can use this trendy hair color in several ways. If you don't want to visit the salon to get your hair colored, you can do it at home with a coloring kit and follow the right techniques. To help you find the best strawberry blonde hair dye, we have mentioned some of our top picks in this post that will help you achieve the right shade according to your choice. Keep reading to explore our list and learn everything you need to know!
Top 10 Best Strawberry Blonde Hair Dye- How To Get The Look At Home
The power of the henna color is super strong when it comes to pigmentation. It is not only great to cover your roots but also effective to give your tresses the much-needed shine. This henna powder from the brand Surya is easy-to-use and gives you natural red undertones. Just mix it as per the quantity needed and apply it to gain that wonderful strawberry blonde color to your hair. The product is great for touch up and also contributes towards the health and shine of your hair. Check out the review of this product on YouTube to know why it is one of the best out there.
Pros
Natural hair color
Leaping Bunny-certified
Cruelty-free
Good quantity
Cons
Generous amount of product is required to get desired results
Price at the time of publication: $8.2
When looking for a natural strawberry blonde hair dye that results in a glossy finish, choose this one from dPhue. It is light blonde and has a semi-permanent stay. The best part about this hair color is that it conditions your hair while giving them a beautiful color of your choice. It is one of the best strawberry blonde hair dye for highly pigmented color and smooth finish. In this YouTube video, you will find a detailed review of this product.
Pros
No paraben
No sulfates
Vegan formula
Enhances color
Cons
Might not be perfect for dark hair.
Price at the time of publication: $37
Henna strawberry blonde color from Rainbow, gently coats the hair shaft with its organic color along with conditioning, covering gray, and enhancing shine and texture. Rainbow Henna is the dried, powdered leaves of a henna plant which is used for coloring hair naturally. This mixture when used on hair, gives a beautiful color and strengthens the strands. The application involves no mess and you can expect great light strawberry blonde hair color after wash.
Pros
Great color
Nourishes hair
Quick results
Long lasting color
Cons
Grainy texture can be difficult to apply
Price at the time of publication: $8.64
People usually prefer organic hair dyes to save themselves from irritation and allergies. Organic hair colors do exactly what your hair needs and take good care of your hair just like this one from Radico. You can get the most desired strawberry blonde hair color from this dye and keep your tresses healthy at the same time. Just mix the formula and apply it with the help of the hair dye brush that comes along and you are good to go.
Pros
No harmful effects
Chemical-free
Smells good
Cons
Price at the time of publication: $29.09
This strawberry blonde hair color from the brand Discovery Naturals, is utmost beautiful and nourishing for hair. The natural formula takes time to color hair but stays for long. The product claims to show no irritation or scalp issues. You can use it in three steps— mix, apply, and rinse. Mix the product, apply it on your hair and then rinse. The color stays for almost 4-8 weeks. You can enjoy intense natural red head along with great shine on your hair.
Pros
Safe formula
Zero chemicals
Easy application
Versatile product for coloring
Cons
Might be a little hard to clean
Price at the time of publication: $16.95
The L'Oreal Paris Superior Preference Fade-Defying Color kit comes in a gel formula. It adds incredible shine to your color-treated hair. It eliminates a brassy or dull look. The fade-defying color is available in 50 different shades. Each shade is crafted to cover your gray and lift the perfect blonde shade. This shade lasts up to 8 weeks.
Pros
Gray coverage
Long-lasting
Blends well
Cons
None
Price at the time of publication: $9.97
Revlon ColorSilk is a professional hair color kit that gives high quality hair color and can be easily used at home. The formula features Revlon 3D ColorGel Technology™ to provide natural multi-tonal shades to your hair. The product also creates a UV defense for your hair to keep away the sun damage. Revlon strawberry blonde hair dye has a special formula that allows silk proteins to strengthen every hair type and make them stronger and healthier.
Pros
Budget-friendly
No hair damage
Color stays long
Makes hair softer
Cons
Mixture needs to be used up immediately.
Clairol Nice'n Easy hair dye is a color crème that gives you an amazing hair color experience. The strawberry blonde hair color provided by this brand is beautiful, fresh, and natural. The colorant also claims to provide permanent color in one application, covering all the grays. While looking for the best strawberry blonde hair color, this product stands a chance as the color lasts long, makes hair soft, and keeps your hair healthy.
Pros
Adds luster to hair
Natural-looking color
Easy-to-use
Comes with allergy gentle molecule
Cons
This is the best strawberry blonde hair for those who experience greys in their 20s or 30s. If you are someone who can clearly see the aging signs, you must choose this product. The formula of this hair color is loaded with melanin, vitamin E, silk protein, and keratin peptide that fight five signs of aging and cover all your grays. Whether you are going through thinning of hair or want to reduce dullness, this is the product for you. Just mix the crème and developer in the ratio 1:1 and apply it for intense color.
Pros
Easy-to-mix
Good consistency
Moisturizing formula
Good for hair and scalp
Cons
Product does not come with gloves
Price at the time of publication: $12
Coloring hair while taking care of your tresses at the same time is a difficult task. But with the use of this natural hair color, you can take good care of your hair even while dyeing them. This formula is free from harmful chemicals that cause hair damage. The color is really intense and covers every strand of gray. This product is loved because it has no synthetic colorants, preservatives, or fragrance. It is certified natural by BDIH and can be trusted for its quality.
Pros
All natural formula
Ready-to-use product
Vegan formula
Easy-to-apply
Cons
Might cause stains if not applied carefully
Price at the time of publication: $21.67
When it comes to hair dyes, not every brand or color can offer you the best results. You have to go through some important inspections before purchasing any hair dye product. So, here are some factors to consider while you pick the best strawberry blonde hair dyes for your hair.
How To Select The Best Strawberry Blonde Hair Dyes
Check the ingredients of any strawberry blonde hair dyes before purchasing. Opt for a natural and vegan formula in hair dyes and avoid the ingredients that you are allergic to. Also, avoid using hair dyes that include PPD, hydrogen peroxide, ammonia, DMDM hydration, parabens, lead acetate, resorcinol, and other harmful ingredients. Look for moisturizing ingredients to avoid the risk of drying out.
Go for long-lasting formulas that last for at least 6-8 weeks without becoming brassy and dull. Also, there are various types of hair dyes available that have different results and lasting power such as temporary hair color, semi-permanent hair dye, demi-permanent hair dye, permanent hair color, etc. You can choose a hair dye type according to your preference.
Look for a color that is slightly darker than your skin tone to get a more attractive and highlighted look. If you have a fair skin tone, choose a light strawberry blonde color.
For an olive skin tone, go for a slightly cooler, pink-dominant shade. For a neutral skin tone, all shades of strawberry blonde hair color are suitable. For a pinkish-undertone, you can select the coral shade of strawberry blonde. Lastly, for a warm skin tone, opt for gold, orange, or copper toned hair dye.
How Can I Get Strawberry Blonde Hair Color At Home?
It is very easy to get strawberry blonde hair at home. Follow these tips and you can enjoy strawberry blonde hair:
Wrap an old towel or an old cloth around your shoulders to avoid any color mess.
Comb your hair properly and make your hair tangle-free.
Use Vaseline or any other greasy product along your hairline to avoid getting any stain on your face and ears.
Always put on your gloves before coloring your hair.
Determine your base color.
Blend the products, get the mixture ready and start applying.
Dye your hair one shade darker as the strawberry shade tends to fade quickly.
Start applying from roots to strands.
Keep the color and wash as specified on the product.
Shampoo and condition your hair for great results.
The process of getting strawberry blonde hair at home doesn't seem to end here. Post coloring care is important and must not be avoided at all costs. Choose the best shampoos and conditioners to clean your hair and condition them while retaining the color for longer periods.
Also, never ever forget to use a serum before styling to keep away the damages and enjoy great color. Always opt for spa treatments and conditioning processes to ditch the hair dryness and dullness.
Why Trust StyleCraze?
Haircare enthusiast Vaishnavi Kothuri loves to experiment with hair dyes and highlights. According to her, salon-style highlights are an achievable dream with the right products. After reading every product review on the market, she compiled a comprehensive review of the top products. Since strawberry blonde hair comes in different shades, you won't grow tired of this color and will want to try something new.
Frequently Asked Questions
Does strawberry blonde look good?
Strawberry blonde looks wonderful. It goes well with both pale and cool complexions.
Can you dye your hair strawberry blonde?
Yes, you can dye your hair strawberry blonde.
What colors make strawberry blonde?
Strawberry blonde is a combination of warm golden blonde and light coppery red.
Is Strawberry Blonde the rarest hair color?
Yes, strawberry blonde is one of the rarest hair colors.
Is strawberry blonde high maintenance?
No, strawberry blonde needs very less maintenance unlike other shades.
Recommended Articles