5 Best Lotions To Relieve Stress Quickly
Grab a lotion made with therapeutic ingredients that completely calm your senses.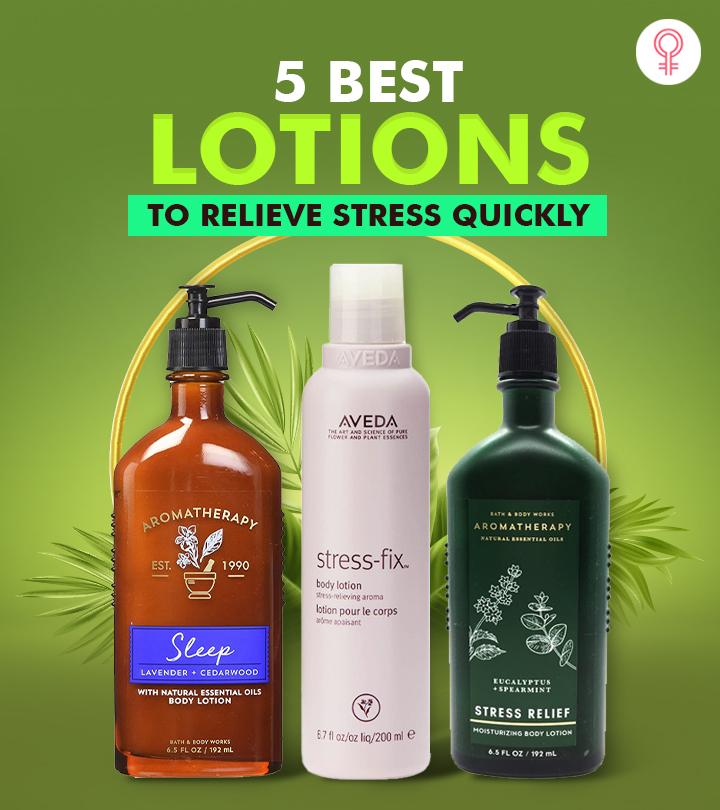 Juggling between strict deadlines at work and dealing with your personal issues can quickly give way to stress and tension. However, if you have the best stress relief lotion by your side, you're good to go! Your skincare kit will be up-to-date if you add this product to your bag. Containing beneficial essential oils, hydrating components, and other healing ingredients, these therapeutic perks can calm you down in no time, giving you the much-needed stress buster you need. You will also find a variety of fragrances to choose from, which sit right with your vibe. If you are in a dilemma to find your fave product, this list of the 5 best stress-relieving lotions will definitely help.
5 Best Lotions To Relieve Stress Quickly
The Aromatherapy Stress Relief Body Lotion from Bath & Body Works combines eucalyptus and spearmint essential oils to clear away stress and uplift your mood. It is blended with shea butter and vitamin E to deliver long-lasting hydration to the skin and seal skin moisture. It has antioxidant and anti-inflammatory properties that enhance skin health and fight free radicals. This rich and creamy lotion is fast-absorbing and can be massaged morning and evening to relax the mind and nourish the skin.
Key Ingredients: Eucalyptus oil, Spearmint oil, Vitamin E, and Shea butter
Pros
Absorbed quickly
Long-lasting
Cruelty-free
Artificial dye-free
Cons
Not suitable for sensitive skin
Price at the time of publication: $21.75
The lavender-scented Aveeno Stress Relief Moisturizing Lotion is crafted with chamomile and ylang-ylang essential oils. These calm and relax your body and relieve stress. It is enriched with natural oatmeal that seals moisture to keep the skin soft and smooth all day. This non-greasy lotion combats dryness and forms a protective barrier on the skin. It has a gentle formulation that makes it suitable for sensitive skin. It can be used post bathing or before bedtime for a soothing massage. This video will give you more insights into the product.
Key Ingredients: Oatmeal, Chamomile essential oil, Lavender, and Ylang-ylang essential oil
Pros
Non-greasy
Quick-absorbing
Dermatologist-recommended
Long-lasting
Suitable for sensitive skin
Cons
Price at the time of publication: $15.32
The powerful aroma of the Aveda Stress-Fix Body Lotion is a combination of lavender, clary sage, and lavandin essential oils. These alleviate feelings of stress. This hydrating body lotion is fortified with organic sunflower oil to nourish dry skin and deliver long-lasting moisturization. It has a lightweight texture and absorbs quickly to leave the skin silky soft. The aromatherapy properties of this lotion make it ideal for massage before bedtime or after bath.
Key Ingredients: Sunflower seed oil, Shea butter, Lavender, Lavandin, and Clary sage essential oils
Pros
Long-lasting
Non-greasy
Vegan
Cruelty-free
Cons
Price at the time of publication: $35.89
The magnesium-infused lotion from Nfuse has a gel-like formulation that is quick-absorbing and glides over the skin easily to leave it soft and healthy. The magnesium and lavender essential oils infused in this formula work together to restore skin health while reducing stress. This non-greasy lotion is crafted with cocoa butter and shea butter to heal dry skin and deliver intense hydration. It has a unique formulation that promotes deep relaxation and peaceful sleep.
Key Ingredients: Magnesium chloride, Lavender essential oil, Shea butter, and Cocoa butter
Pros
Vegan
Lightweight
Mineral oil-free
Paraben-free
Phthalate-free
Petrolatum-free
Silicone-free
Sulfate-free
Artificial fragrance-free
Gluten-free
Cruelty-free
Cons
Price at the time of publication: $14.99
The Sleep Body Lotion by Bath & Body Works has a soothing formula made with a potent and aromatic blend of lavender and cedarwood. While the cedarwood essential oil relaxes the body, the pleasant fragrance of lavender oil relieves stress and helps you unwind. This nourishing lotion keeps your skin hydrated and leaves it feeling soft and supple.
Key ingredients: Lavender and Cedarwood
Pros
Easy to spread
Non-greasy
Absorbed quickly
Cruelty-free
Cons
None
Price at the time of publication: $89.89
After a tiring day, a stress relief lotion can work wonders! These lotions contain hydrating elements along with various essential oils that keep your senses rejuvenated, and help you feel relaxed. They have anti-inflammatory and antioxidant properties that can help in improving your skin's texture as well. Moreover, you should choose stress relief lotions that can eliminate dryness while forming a protective barrier on the skin. You should however, avoid lotions that cannot combat stress while simultaneously nourishing the deeper layers of your skin.
Why Trust StyleCraze?
Choosing the right stress relief lotion can work wonders for your mood. Our writer, Shiboli Chakraborti, a certified skincare coach, has put together this list of the best stress relief lotions to help you relax. These stress-relief lotions contain essential oils and are included in this list after following a rigorous selection process and studying customer feedback on various forums.
Frequently Asked Questions
What does stress-relieving lotion do?
Stress-relieving lotions contain essential oils that rejuvenate and relax your senses. They also are infused with hydrating ingredients that relieve skin tension and work as stress busters.
What does Bath and Body Works stress relief smell like?
The Bath & Body Works Aromatherapy Stress Relief Moisturizing Body Lotion smells of mint and eucalyptus. The Bath & Body Works Sleep Lavender+Cedarwood Body Lotion releases a soothing lavender and cedarwood aroma.
How do you use body lotion to relax?
• Cleanse your skin.
• Pat the skin dry with a soft towel.
• Take a generous amount of the lotion onto your palms.
• Massage the lotion on your body in small circular motions.
• Wait until the lotion seeps into the skin.
Is Aveeno Stress Relief lotion good for sunburn?
No. The Aveeno Stress Relief Moisturizing Lotion boosts moisture into the skin but is ineffective in treating sunburn.
Is Aveeno Stress Relief Lotion safe for babies?
Yes. The Aveeno Stress Relief Lotion comprises calming and nourishing ingredients that are safe for people with sensitive skin. Therefore, it is safe for babies.
What does aromatherapy lotion do?
Aromatherapy lotion soothes sore muscles, reduces joint pains, regulates anxiety, and improves sleep quality. In addition, the lotion also hydrates the skin.
Recommended Articles
The following two tabs change content below.