10 Best StriVectin Products That Are Worth The Money – 2023
StriVectin offers medically tested products that improve your overall skin health.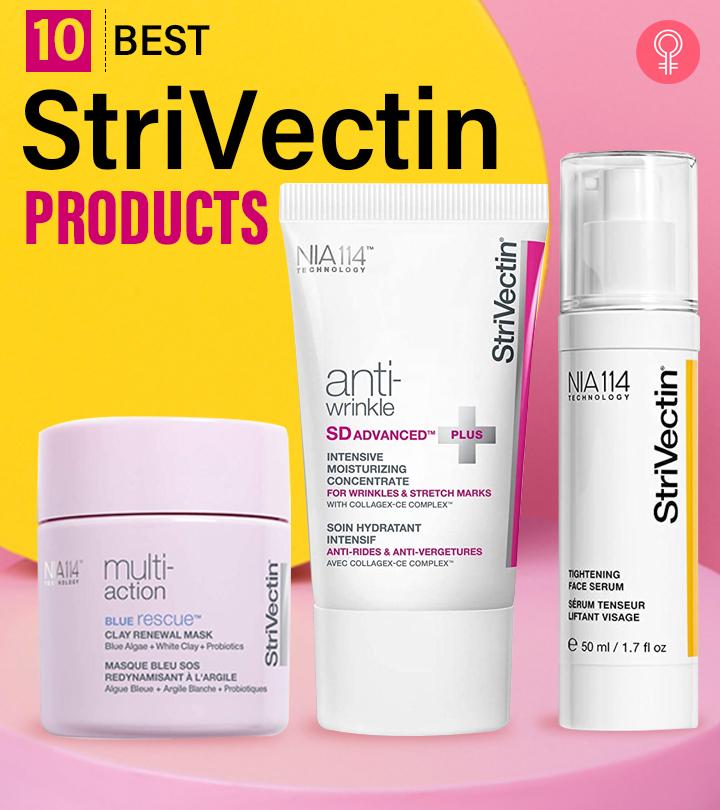 Once you add the best StriVectin products to your skincare routine, there's no turning back. Besides their most popular anti-wrinkle treatment termed "Better than Botox", this company also has a wide range of other skincare products that are effective and beneficial to the skin. What is the key to its continuing success? andStriVectin takes a tailored approach to skincare and offers high-performing and medically tested anti-aging products. All of their products feature their exclusive NIA-114TM technology to produce visible benefits. StriVection products are also paraben-free and cruelty-free, and they're suitable for all skin types. If you want to purchase a product for yourself or a whole StriVectin anti-aging kit for a complete skincare routine, check our list of their top 10 products.
The 10 Best StriVectin Products
The StriVectin TL Advanced Tightening Neck Cream is a hydrating neck cream that improves elasticity and tightens your neck skin and décolleté, giving an instant firming effect. It has a unique expert-recommended formula that combines Gravitite –CF Lifting Complex to tighten and firm the skin and the patented NIA-114 to keep it hydrated. Shawnda Dorantes, professional makeup artist and beauty advisor, says, " Gravitite-CF Lifting Complex is designed to reduce the appearance of skin sagging and wrinkles. It contains a blend of natural ingredients that work together to support the skin's natural collagen and elastin production, which can help improve skin elasticity and firmness." This cream also contains a Botanical Brightening Complex that reduces pigmentation and evens out the skin tone. This StriVectin collagen booster for promoting skin firmness and elasticity claims to show visible results in eight weeks with regular application. Go through this video that details a tester's experience of using this product. The review also features a demo of this StriVectin advanced formula for visible and long-lasting results.
Key Ingredients: Gravitite –CF Lifting Complex, NIA-114, and Botanical Brightening Complex
Pros
Improves elasticity
Brightens the skin
Reduces crepey texture
Cons
Price at the time of publication: $95.0
The StriVectin SD Advanced Plus Intensive Moisturizing Concentrate is the iconic stretch mark cream turned anti-wrinkle cream that took the beauty world by storm. This dermatologically tested cream is clinically proven to improve skin texture and reduce coarse wrinkles and fine lines.
It has an upgraded formula, infused with Collagex-CE Complex, a blend of copper tripeptide, and marine ferment. This complex targets 10 types of collagen in your skin with proven efficacy in boosting elasticity, reducing wrinkles in two weeks, and improving stretch marks in just four weeks. The white water lily extract in the formula locks in moisture and provides 72-hour hydration. This moisturizing concentrate refines and renews skin while also keeping it hydrated.
Key Ingredients: Copper Tripeptide, Seal Salt Ferment, and White Water Lily Extract
Pros
Cons
Price at the time of publication: $104.25
The StriVectin Line BlurFector Instant Wrinkle Primer reduces the appearance of wrinkles and preps the skin for makeup. It is a lightweight, breathable primer formulated with Optical Blurring Microspheres that immediately fill and blur fine lines and wrinkles. It is an antioxidant-rich product that also contains the patented NIA-114 to help your skin prevent free radical damage. This primer prevents the makeup from settling in the creases and extends the wear. Take a look at the video to watch the demo and learn more about a reviewer's experience using the StriVectin Line BlurFector Instant Wrinkle Blurring Primer.
Key Ingredients:  Optical Blurring Microspheres and NIA-114
Pros
Lightweight
Breathable
Improves deep-set wrinkles
Cons
Price at the time of publication: $31.2
The StriVectin Tightening Face Serum is a scientifically proven, unique formula to restore skin elasticity, improve sagging skin, and reduce discoloration. The formula contains two unique peptides (tetrapeptide and hexapeptide), the patented NIA- 114, and botanical extracts to tighten and brighten the skin. This serum gives you a firm and sculpted facial contour and reduces discoloration and patches to make the skin appear radiant. The StriVectin brightening serum for reducing hyperpigmentation and discoloration has a lightweight and non-greasy formula that gets absorbed immediately with clinically proven results.
Key Ingredients: Tetrapeptide, Hexapeptide, NIA-114, and Australian Kakadu Plum Extract
Pros
Restores elasticity
Non-greasy
Lightweight
Improves uneven skin tone
Cons
Expensive
Contains artificial fragrance
The StriVectin Wrinkle Recode Line Transforming Melting Serum uses BioRecode Technology to improve deep wrinkles, fine lines, dullness, and rough texture. It is an advanced StriVectin treatment for improving skin elasticity and texture. This technology is inspired by epigenetics (the study of how lifestyle and environment affect the skin) and is derived from calendula extract to revitalize the skin's wrinkle-fighting abilities. The formula also contains the patented NIA-144 that acts as an ingredient booster and dhatelo and macadamia oils to help the skin retain moisture.It is clinically examined and confirmed to give you visible results in just seven days. Watch this video to check the honest review of the StriVectin Wrinkle Recode Line Transforming Melting Serum.
Key Ingredients: BioRecode Technology, NIA-114, Dhatelo, and Macadamia Oils
Pros
Diminishes deep winkles
Improves skin texture
Easy to apply
Cons
Price at the time of publication: $71.2
The StriVectin Tightening and Sculpting Face Cream is a nourishing cream to improve facial contour, slackened skin, and volume loss. This intensely nourishing cream is formulated with the patented NIA-114 technology that strengthens the moisture barrier, plumps the skin, and enhances the effect of other ingredients. The Gravifill-CS Shaping Complex in this cream is proven to deliver visible results by targeting the loss of volume and sculpting the facial contour. It also contains hyaluronic acid that deeply hydrates your skin to keep it youthful.
Key Ingredients: Gravifill-CS Shaping Complex, NIA-114, and Hyaluronic Acid
Pros
Non-greasy
Lightweight
No side effects
Cons
May not suit sensitive skin
Price at the time of publication: $95
The StriVectin Multi-Action R&R Eye Cream repairs and rejuvenates the eye area to reduce the five signs of aging – dark circles, wrinkles, sagging, puffiness, and dryness. The StriVectin repair cream for restoring and repairing damaged skin has a dual-action Peptide Complex that improves firmness and tones the eye contour. It is clinically proven to strengthen the moisture barrier. The color-neutralizing apricot tint brightens the dark circles, and the patented NIA-114 enhances the efficacy of the ingredients. This eye cream revitalizes tired and fatigued eyes, giving them a well-rested appearance. Go for this effective StriVectin eye cream for reducing puffiness and dark circles.
Key Ingredients: Peptide Complex and NIA-114
Pros
Lightweight
Fragrance-free
Irritation-free
Cooling effect
Non-greasy
Visible results
Cons
Price at the time of publication: $52
The StriVectin-AR Advanced Retinol Eye Cream is an award-winning, multi-action eye cream that fights aging signs around the eyes. It is powered by retinol, which is a dermatologist-recommended skincare ingredient. It neutralizes irritation and improves wrinkles, fine lines, firmness, rough texture, and dullness.
The patented NIA-114 has proven efficacy in limiting the sensitivity caused by retinol and enhances its delivery for visible results. It also acts as a barrier to strengthen eye contour. This eye cream also contains mineral pigments to improve natural glow and radiance. The niacinamide and peptides in the formula moisturize the delicate skin around the eyes and give it a well-rested look.
Key Ingredients: Retinol, NIA-114, Niacinamide, and Peptides
Pros
Easy to apply
Non-irritating
Minimizes crow's feet
Refines skin texture
Cons
Contains mica
Contains phenoxyethanol
Price at the time of publication: $56.25
The StriVectin Glycolic Skin Reset Mask is powered by scientifically formulated micro-encapsulated glycolic acid that sloughs off dead skin cells and pollutants to improve skin texture, brighten it, and make your skin feel fresh and rejuvenated.
It contains evening primrose oil and NIA-114 that diminish fine lines and wrinkles without irritating the skin and claims to give you visible results in just five minutes. The myristyl nicotinate in the formula helps boost the power of other ingredients that dislodge stubborn dead skin cells in a single attempt for an instantly smoothened skin. Opt for this StriVectin skin brightener for a more radiant and even complexion.
Key Ingredients: Glycolic acid, NIA-114, and Evening Primrose Oil
Pros
Non-irritating
Gentle
Lightweight
Cons
May cause a burning sensation
Price at the time of publication: $59
The StriVectin Multi-Action Blue Rescue Clay Renewal Mask is a color-transforming clay mask that improves dullness, fine lines, pores, and dryness in just 10 minutes. This buttery mask contains white clay, nourishing oceanic extracts like encapsulated blue algae that nourish the skin deeply to reduce fine lines, and probiotic ferment that diminishes signs of fatigue and dullness.
The white clay draws out all dirt and impurities from the skin without any dryness. The encapsulated blue algae in the formula activate upon application, and the color of the mask changes from white to blue. This clinically-proven pore-refining product leaves your skin refined and renewed.
Key Ingredients: Blue Algae, Probiotic Ferment, and White Clay
Pros
No irritation
Easy to apply
Quick results
Cons
None
Price at the time of publication: $48
With StriVectin you get as close as possible to performing magic on your skin and reverse the effects of environmental aggressors and age. Their barrier-boosting NIA-114™ technology conditions the skin and keeps it youthful-looking. Thoroughly researched for 35 years, their award-winning solutions for aging skin have been formulated for every age and skin type. Finding the best Strivectin product depends on a variety of factors which we have listed below.
How To Choose The Best StriVectin Products
Before embarking on any changes in your skincare, identify your skin type and the concern. The products are formulated for specific skin types, and they should be suitable for your skin, else they may cause allergies and irritation. Use a product with niacinamide, peptides, and macadamia oil or any other nourishing oils to help dry skin retain moisture. A formula enriched with hyaluronic acid is suitable for oily skin as it does not clog pores or leave any heavy residue.
Check for other ingredients such as peptides, hyaluronic acid, retinol, vitamin C, collagen, and antioxidants that moisturize the skin and also prevent wrinkles and fine line formation. Antioxidants also protect against free radicals and other signs of aging for a youthful look. Opt for products that do not contain harsh chemicals, alcohol, parabens, and sulfates.
Look for products that are lightweight, non-greasy, and are easily absorbed into the skin. Look for non-comedogenic formulas that do not clog pores and lets the skin breathe.
If you plan to spend time outdoors, look for products that offer UV protection. One of the most important steps in any skin care routine is to protect the skin from premature aging caused by harmful sun rays and environmental aggressors.
Why Trust StyleCraze?
With her certification as a skincare coach and writing expertise on beauty products, Shiboli Chakraborti, the author of this post, understands most of the needs of her readers. Therefore, she has curated a list of some of the best StriVectin products after reviewing and comparing each one's feedback. This list includes a range of essential skincare products, from moisturizers to skin reset masks, along with a brief overview of each product's pros and cons. She has also answered some frequently asked questions about StriVectin to assist you in buying.
Frequently Asked Questions
What are the ingredients in StriVectin?
The patented complex NIA-114 is the star ingredient in all the StriVectin products. You will also find ingredients like niacinamide, retinol, peptides, hyaluronic acid, and natural oils.
Do StriVectin products work?
Yes, StriVectin products are developed for targeted treatment with clinically proven ingredients that give visible results
Does StriVectin have retinol?
Yes, the StriVectin Advanced Retinol Eye Cream contains retinol.
Does StriVectin work immediately?
Yes, StriVectin tightens your skin and improves elasticity noticeably within four weeks.
What are the side effects of StriVectin?
Using StriVectin may cause you a mild headache and redness on your skin.
Recommended Articles