9 Best Suave Shampoos
Let your tresses feel smooth, silky, and offer a salon-quality wash at home.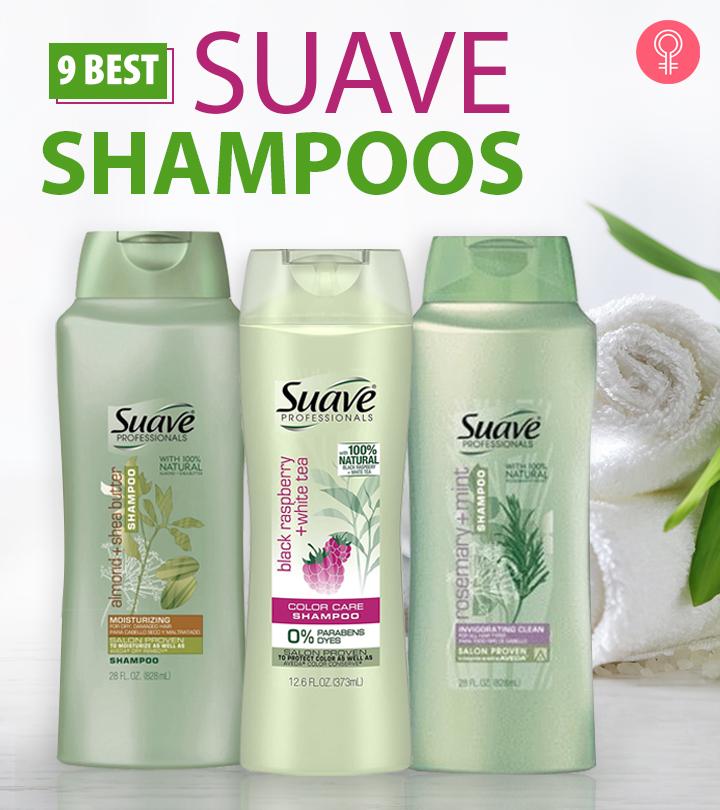 Suave is one of those brands that can hardly make a single unsatisfactory product. From the best Suave shampoos to any body-care product, it is definitely the one for any personal care issue. The convenient part is that its products serve the perfect salon-to-home vibe that you can use with good results and with ease. The formulations of these cleansers are high-class and can solve any kind of hair issues like dullness, greasiness, or frizz. Pick your fave Suave hair cleanser from our list below.
9 Best Suave Shampoos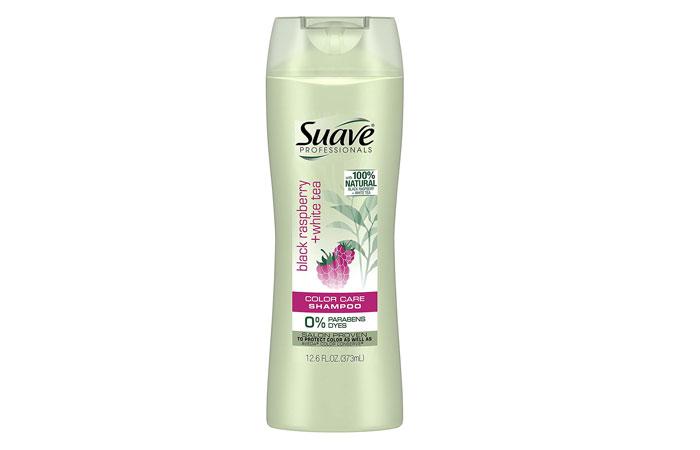 The Suave Professionals Color Care Shampoo is infused with black raspberry and white tea, which have strong antioxidant properties. It restores moisture to maintain hair color and keep it vibrant and bright. This shampoo is specifically formulated for color-treated hair. It provides color protection and prevents fading. It also offers exceptional 48 hours of frizz control with Keralock technology and a balanced pH level. It cleanses the hair and makes it manageable, sleek, and smooth. It is infused with keratin and UV treatment, which seals the hair cuticles from outside to extend the life of hair colors. This shampoo produces a rich lather that cleanses the hair gently without stripping off moisture. It keeps colored hair looking fresh and bright for up to 40 washes.
Pros
Makes the hair manageable
Softens the hair
Adds shine
Removes product build-up
Provides color protection
Cons
The Suave Essentials Tropical Coconut Shampoo has a coconut-based formula and smells like coconut. It provides deep cleansing and removes product build-up and residue from the hair without drying the scalp out. It gives your hair a refreshed, revitalized, and healthy look. It is enriched with vitamin E and coconut extracts and has a tropical vacation-like scent that lasts all day. You may check more about this productin this video.
Pros
Removes product build-up
Long-lasting fragrance
Refreshes your hair
Cons
None
Price at the time of publication: $12.44
The Suave Essentials Juicy Green Apple Revitalizing Shampoo is exclusively formulated for deep cleaning your skin by removing product build-up and any other residue. Its nourishing formula does not dry your scalp out. It leaves your hair feeling refreshed, revitalized,and with a natural and healthy-looking shine. The long-lasting green apple scent stays on for a while. Your hair can be further moisturized when used in combination with the Suave Essentials Juicy Green Apple Revitalizing Conditioner. Check out this video to learn more.
Pros
Moisturizes hair
Long-lasting fragrance
Removes product build-up
Cons
Price at the time of publication: $17.24
The Suave Professionals Strawberry Shine Shampoo is formulated with sun-ripened strawberries. It cleanses the hair deeply and removes dirt, grime, residue, and scalp buildup without drying it out. It leaves the hair feeling refreshed and revitalized. It has a long-lasting fragrance and does not strip away the hair's natural oils or moisture.
Pros
Improves hair texture
Removes product residue
Revitalizes the hair
Long-lasting fragrance
Adds shine
Softens the hair
Cons
Price at the time of publication: $34.54
The Suave Professionals Biotin Infusion Strengthening Shampoo contains vitamin B7 – a protective ingredient that protects the hair from damage and breakage. It reduces hair breakage by 95% when used with the biotin infusion conditioner. It makes the hair look thick, full, and voluminous. It cleanses the hair of dirt, residue, and buildup without stripping its moisture. Watch this video for more information about the product.
Pros
Strengthens the hair
Removes product buildup
Thickens the hair
Retains hair moisture
Prevents hair breakage
Prevents hair damage
Cons
May cause acne breakouts or allergic reactions.
Price at the time of publication: $13.5
The Suave Essentials Ocean Breeze Shampoo keeps the hair fresh and clean. It hydrates the hair and scalp deeply without stripping away moisture. It provides a long-lasting ocean air fragrance and revitalizes the hair. It removes dirt, grime, product buildup, and residue from the scalp and hair. It also makes the hair soft and improves its natural shine.
Pros
Does not dry out hair
Removes dirt and product residue
Imparts natural shine
Softens the hair
Refreshes the hair
Retains moisture
Cons
The cap can fall off easily.
Price at the time of publication: $36.5
The Suave Professionals Moroccan Infusion Shine Shampoo contains authentic Moroccan argan oil. It deeply conditions and cleanses the hair, repairs hair damage, and makes it shine. The formula produces a rich lather that removes dirt, grime, and product residue. It revives and refreshes the hair without leaving it dry or heavy. It deeply moisturizes the scalp and hair and leaves a long-lasting fragrance.
Pros
Moisturizes the hair
Luxurious fragrance
Lathers richly
Removes product buildup
Refreshes the hair
Cons
May weigh your hair down.
Price at the time of publication: $19.88
The Suave Professionals Invigorating Clean Shampoo works for all hair types. It is infused with 100% natural rosemary and mint, which repair dry and damaged hair and keep it nourished and healthy. It makes the hair soft and shiny. Rosemary and mint are known for their antifungal properties that keep the scalp fresh and protected from infections.
Pros
Refreshes the hair
Makes the hair healthy
Nourishes the hair
Contains anti-fungal properties
Softens the hair
Adds shine
Cons
May cause an allergic reaction.
Price at the time of publication: $22.8
The Suave Essentials Rainforest Fresh Shampoo is hypoallergenic. It is infused with aloe vera and bamboo that cleanse the hair gently. It removes dirt and grime from hair without losing moisture or natural oils. It provides long-lasting fragrance and leaves the hair fresh, soft, and manageable.
Pros
Moisturizes the hair
Softens the hair
Smoothens the hair
Removes dirt and residue
Retains natural oils
Cons
The cap can come off easily.
Price at the time of publication: $39.99
Suave shampoos cater to hair issues like greasiness, dullness, dryness, or frizz. Before you go ahead and choose a shampoo from the brand, it is vital that you consider some points in order to make an informed purchasing decision.
How To Choose The Best Suave Shampoos
Choose skin-friendly ingredients that work wonders without damaging your tresses. Most Suave shampoos are formulated with castor oil and mango butter that offer deep moisturization. There are a few ingredients that can cause irritation, allergic reactions, or even damage to your hair and scalp. Go for a shampoo that is free from chemical compounds like sulfates, parabens, and phthalates. If you have a sensitive scalp, you can also avoid formulas with witch hazel, as it can be irritating.
Consider your hair type when choosing a Suave shampoo. Choosing a wrong formula which does not cater to your hair type may lead to severe issues. If you have color treated hair that has already undergone chemical damage, choosing a shampoo with additional chemicals can make your color fade and cause scalp issues. In this case, make sure to always choose a shampoo that has a color-safe tag and comes with skin-friendly formulations.
If you have fine or thin hair, choosing a shampoo that has an intense moisturizing formula can weigh your hair down making it look dull with no volume. In this case, make sure to go for a shampoo that is volumizing and caters to hair growth. If you have dry hair, go for a shampoo with multiple essential oils and conditioning ingredients like aloe vera extract, hyaluronic acid, ceramide, shea butter, and coconut oil, which revive frizzy and dry strands. If your scalp and hair feels oily, stay away from shampoos that are loaded with butter and essential oil like shea butter, cocoa butter, olive oil, almond oil, coconut oil, and argan oil, which can leave your hair greasy and heavy. Go for a clarifying shampoo if you have oily scalp.
Environmental aggressions and every day styling can leave your hair dried out and prone to damage. This is why it is ideal to go for a shampoo that is infused with moisturizing ingredients like silk proteins, milk proteins, keratin, essential oils, coconut milk, and shea butter.
Why Trust StyleCraze?
Shiboli Chakraborti, the author of this article, is a haircare aficionado and a certified skincare coach. With an intent to help her readers purchase the best Suave shampoos, she conducted thorough research and compiled a comprehensive list of them. These listed items are enriched with supreme quality formulations and can fight dullness, greasiness, and frizziness. They are indeed a must-have.
Frequently Asked Questions
Is it safe to use a Suave shampoo?
Yes, Suave shampoos come with skin-friendly formulas free of parabens and sulfates.
Does a Suave shampoo cause an itchy scalp?
No, Suave shampoos do not cause an itchy scalp. Rather they combat dandruff, flakiness, and frizz while cleansing your scalp to remove harmful bacteria.
Is Suave good for oily hair?
Yes, Suave shampoos control sebum production and remove product buildup from oily hair.
Is Suave a mild shampoo?
Yes, Suave shampoos are mild and do not contain heavy ingredients or harmful chemicals.
Is a Suave shampoo good for frizzy hair?
Yes, a Suave shampoo retains hair moisture, which helps smoothen your locks and reduce unwanted frizz.
Recommended Articles