7 Best Suede Boots For Women That Are Perfect For Fall (2023)
Feel extremely comfortable and protected while walking in this cushioned footwear.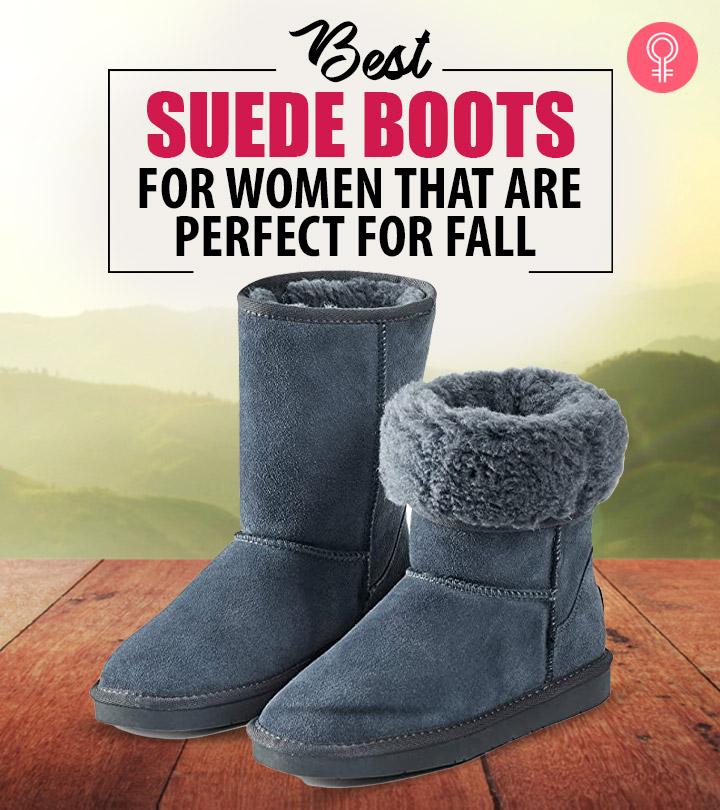 Suede boots can be a great option for women during the fall season. Suede is a type of leather that has a silky, napped finish, giving it a plush and velvety texture. This makes it a perfect choice for fall, as it provides warmth and insulation while also being comfortable and stylish. Suede boots come in a variety of styles, from ankle boots to knee-high boots, so you can find a pair that suits your personal style and works with your fall wardrobe.
Along with the quality of the material and looks, one also has to consider the support, cushioning, and price when choosing the ideal suede boots. To help you out, we have curated a list of the seven best women's suede boots that combine fashion and comfort. Read on and take your pick!
7 Best Suede Boots For Women
For a fashionable and trendy look, check out this pair of ankle boots by Dream Pairs! It has a sleek and clean look, with an outside metal zip for a snug fit. The padded faux are ideal for winter fashion as they offer amazing style while comforting the feet. The lining provides you with ample warmth, while the cushioned insole offers comfort. The heel height measures approximately 2.5 inches in size, making it perfect for all-day wear and lots of walking around! This footwear is the answer to all your suede boot trends, so get your hand on these right now and rock your winters!
Pros
Wide size range
Comfortable to wear
Easy to put on/off
Versatile
Ideal for prolonged wear
Does not cause blisters
Budget-friendly
Cons
None
Price at the time of publication: $46.99
This is an ideal pair for the end-Fall season when it starts to get more chilly, or the first flakes of snow turn up to surprise you. This mid-calf pair of boots by Adokoo has a 100% suede upper, which effectively repels moisture and keeps your feet dry and comfortable. The inner lining is made of thick wool blended faux fur lining that leaves your feet warm and toasty all day long. The sole is constructed with durable rubber that is flexible, durable, and delivers ample traction as well as cushioning. You can try out amazing styles for different occasions with this pair, be it indoors or outdoors. You can style these ankle boots with any outfit as they can be worn up or folded down to match your attire!
Pros
Flexible
Non-slip
Durable
Water-resistant
Comfortable to wear
Ideal for prolonged wear
Cons
None
Go out in style with this gorgeous pair of boots by DADAWEN! These feature a convenient zipper design, for an easy wearing experience, along with a sleek overlapping design for added breathability. The heel measures approximately 3.15 inches and looks elegant. These are ideal with dresses, while the classic round-toe design contours your foot shape to provide comfort and a good fit. These heeled boots also feature a soft and high-quality lining that prevents blistering or irritation.
Pros
Wide size range
Comfortable to wear
Easy to put on/off
Soft material
Perfect fit
Roomy interior
Prevents blistering
Cons
None
Price at the time of publication: $42.99
This stylish pair of lace-up boots by Harence features an ultra-soft padded fur collar that gives a comfortable fit around the ankle while protecting your feet from chilly winds. It has a thick rubber outsole design, which provides maximum comfort even with prolonged wear, and fits any occasion or attire, while the round toe design ensures that your feet stay pain-free. They also have a cushion footbed for extra protection, and the bottom is non-slip and durable, which makes it perfect for damp and snowy weather too!
Pros
Breathable insole
Comfortable to wear
Water-resistant
Great for wider feet
Anti-slip sole
Available in multiple sizes
Cons
None
Price at the time of publication: $32.1
If you are looking for a sophisticated and versatile ankle boot, look no further than these women's casual booties by Jabasic! These feature a block heel design and a non-slip outsole, which enhances stability and traction while walking. These have a super soft and buttery-to-touch lining, which prevents any stiffness or rubbing even with prolonged wear. The pull-on boards have improved elastic panels on both sides to ensure easy on and off. You can style these 2.75 inches heeled boots with a pair of jeans, a suit, or a sweater for a classy and stylish look.
Pros
Easy to put on/off
Non-slip sole
Durable
Comfortable to wear
Does not cause blisters
Not too heavy
Ideal for prolonged wear
Cons
Price at the time of publication: $44.99
For a mix of comfort and fashion, check out this pair of suede ankle boots by Soda! These have a 3-inch tall chunky block heel and a closed round toe design, which provides a sleek and comfortable fit. The boots feature smooth linings, soft insoles, and easy flexing soles. The seamless and minimalistic design suits any occasion or attire with ease. Time to invest in the right footwear and upgrade your fall wardrobe with a pair of these ankle boots!
Pros
Many color options
Comfortable to wear
Ideal for prolonged wear
Easy to put on/off
Great for wider feet
Cons
None
Price at the time of publication: $39.91
Stay prepared for chilly winds and surprise snowfall with these super thick and skin-friendly sheepskin boots by Vepose. These keep you warm in cold weather and have a durable and wear-resistant outsole that blocks cold air and water from getting into your feet. Although it provides optimal temperature regulating properties, this design is also lightweight and comfortable to wear. Its special sole provides a strong grip and is anti-skid to help you breeze through the seasons. These boots have a button closure for snug and easy wear.
Pros
Non-slip
Lightweight
Anti-skid
Comfortable to wear
Soft material
Durable
Easy to put on/off
Cons
Suede boots have been in fashion for a good while now. It has become a classic in the fashion world because of what it has to offer—comfort and style! But, choosing THE pair for yourself can be overwhelming because of the available choices.
In our next section, we have come up with a few factors to consider before you select the ideal pair of suede boots.
How To Select The Best Pair Of Suede Boots For Women
The most important pointer to consider when choosing a boot is the perfect size for your feet. Pay close attention to the structure of your feet in order to find the best fit and check the size guide properly. If you have wider feet or you are a plus-size woman, look for boots that are extra wide so you do not end up squishing your toe against the sides of the boot! If you have a petite shoe size, go for a smaller shoe size with laces to fit your perfectly. You need boots that seamlessly go with different body shapes, so choosing the right fit is a must. Also, boots tend to stretch after a few uses, so if you buy them loose, they will only loosen more.
High heels definitely look sexy but can sometimes be very uncomfortable. For prolonged comfort, make sure your heel is not more than two to three inches high. But, if you specifically want heeled boots, go ahead!
Arch Support And Cushioning
If your boots do not have good cushioning or arch support, it can be hard to walk around in them. Make sure the insoles are of quality material and provide you with ample cushioning as well as support for optimal comfort.
If you have a narrow foot, go for a narrow snip toe, if you have a wider foot go for a square toe boot, and if your toes are somewhere in between, choose a round toe for the perfect fit.
It does not matter if the sides of your boots are elastic or not if you choose one with tie-up laces, but if you choose a pair of pull-on boots, make sure the sides are made of quality elastic for durable wear.
If you are choosing a boot for the Summers, make sure the inner lining is made of quality mesh to ensure breathability and comfort. In case you are looking for a pair of winter boots, make sure the lining is made of fur or fleece to keep your feet warm and dry in the chilly climate.
Make sure the soles of your boots are made of quality rubber that offers a good grip on all terrains, be it in muddy or wet!
Why Trust StyleCraze?
The author of this article, Srijani Roy Chowdhury, is a big-time fashion enthusiast who loves to review different styles and fashion trends. She herself loves wearing suede boots and has conducted thorough research to help her readers make the best choice. These versatile boots are extremely comfortable and ideal for prolonged wear.
Frequently Asked Questions
How to clean suede boots?
Cleaning your suede boots can be made pretty simple by using everyday household items. Start by using a brush to remove any dirt from the surface of the shoe. Next, use an eraser to shift and rub off the remaining marks. If the stain does not budge, you can try gently smudging away the stain using white vinegar and a piece of cloth. Finally finish it off with the suede protector.
Frequently Asked Questions
Is suede or leather better for boots?
Boots are best made of suede. Suede is a soft, comfortable material with dense fibers to provide support, form, and cushioning and maintain strength with regular wear. It also has a really elegant and sophisticated appearance.
Are suede boots smart?
If you are looking to invest in a versatile option to wear on several outfits, suede boots are a smart choice.
Does suede get ruined in rain?
Yes. Suede boots can get severely damaged in the rain. However, the material absorbs water and can harden over time if not dried immediately So, you need to follow suede boot care tips during rainy weather to keep them in their optimal condition.
What lasts longer suede or leather?
Both suede and leather are durable. However, leather is tougher and can last longer.
Is suede more expensive than leather?
Yes, suede is more expensive than leather due to its soft material.
Is nubuck leather the same as suede?
No, the nubuck leather and suede are not the same. Nubuck leather is more thick, tough, and expensive.
Recommended Articles: