8 Best Sugar-Free Chewing Gums
Try these sugar-free chewing gums with fewer calories for lasting freshness and oral health.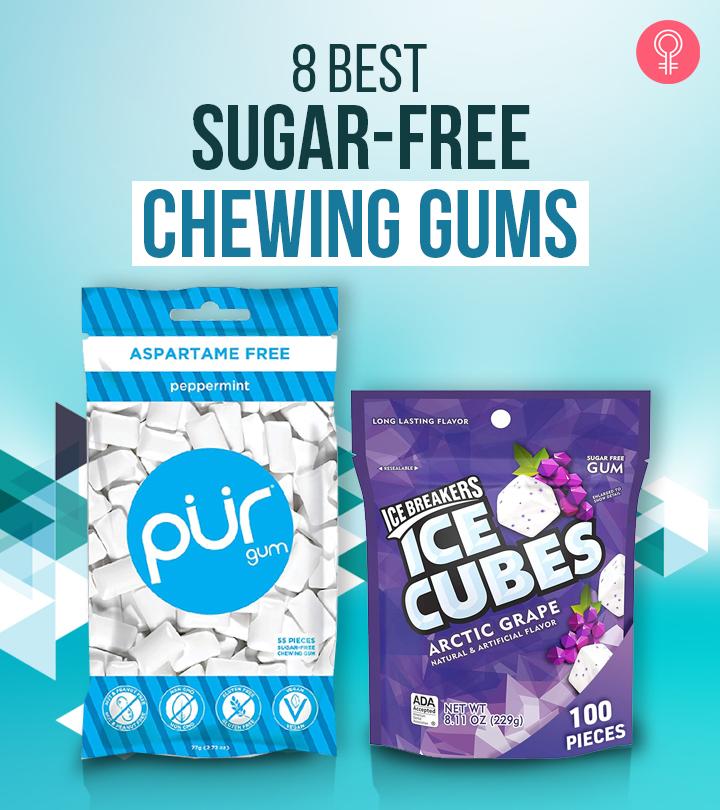 Though you don't swallow your chewing gum, some of the unnecessary sugars and ingredients might still make it to your gut. So, it helps to stick with the best sugar-free chewing gum, whether you want some jaw exercise, refresh your breath, or simply keep gnawing. While every stick of chewing gum is not harmful, there are chances you may be unknowingly chewing on some not-so-good stuff.
On the other hand, sugar-free chewing gums are beneficial for your oral health as they help prevent bad breath, cavities, plaque formation, tooth sensitivity, dry mouth, and enamel erosion. We have listed the 11 best sugar-free chewing gums that you can try. Read on!
8 Best Sugar-Free Chewing Gums
The Spry Chewing Gum offers long-lasting freshness and natural taste. It contains peppermint, which gives you a cool and refreshing taste. This sugar-free gum contains xylitol, a natural sweetener derived from fibrous plants that prevent bad breath, tooth decay, and cavities. This active ingredient helps increase your saliva output, kills bacteria, and neutralizes the acids, which leads to dry mouth and low pH levels. It contains 40% fewer calories than regular gums and is suitable for people with diabetes. Click on this video to know alleverything about the Spry Chewing Gum.
Pros
No fillers
Aspartame-free
GMO-free
Gluten-free
Vegan
No artificial color and flavor
Cons
None
Price at the time of publication: $8.1
The Trident Sugar-Free Gum offers a buzz of long-lasting freshness to your breath. It contains xylitol, an organic sweetener that fights cavities and plaque. This gum can be chewed post drinks or food consumption and comes in on-the-go packaging. It contains 30% less sugar than regular gums and helps in restoring the pH balance of your mouth. For more information about the Trident Sugar-Free Gum, check out this video.
Pros
Available in various flavors
Fights cavities and plaque
Long-lasting freshness
Cons
Price at the time of publication: $12.88
The PUR Gum is made with 100% naturally sweet organic xylitol. It also contains peppermint that helps maintain your oral health by eliminating bad breath, plaque, and dry mouth. It stimulates saliva to wash away the decay-causing bacteria and also helps reduce sweet tooth cravings. This gum is suitable for a sugarless, whole 30, or keto diet. It is vegan and free of harmful additives,artificial flavors, or sweeteners. There sealable pack is easy to carry, and each bag contains 55 pieces.
Pros
GMO-free
No harmful chemicals
No artificial flavors
Safe in pregnancy
Vegan
Gluten-free
Soy-free
Peanut-free
Nut-free
Available in various flavors
Aspartame-free
Cons
Price at the time of publication: $13.99
Awaken your taste buds with the Ice Breakers Ice Cubes Gum! This grape-flavored sugarless gum provides a burst of flavor and a rush of coolness to your mouth. It contains xylitol, which maintains oral health by preventing cavities and bad breath. The resealable on-the-go packis easy to carry and store. Chew this gum for 20 minutes after meals to get the best results. It also has the seal of acceptance by the American Dental Association.
Pros
Resealable package
Prevents cavities
American Dental Association approved
Cons
Price at the time of publication: $6.74
The Bazooka Bubble Gum is crunchy on the outside and soft from the inside. This on-the-go gumhasan original bubblegum flavor. It is approved by the American Dental Association and comes in an easy-to-carry packaging.Each box contains six go-to cups equipped with a pull-out label comics and a recloseable lid.
Note: Not suitable for children below three years.
Pros
Easy to carry
American Dental Association approved
Cons
Price at the time of publication: $22.99
The Dentyne Fire Sugar-Free Gum freshens up your breath and brightens your smile in no time! It has 35% fewer calories than standard sugar-filled gums. It is powered with the benefits and bold taste of cinnamon.This gum offers a fresh feel for an hour with just 20 minutes of chewing. Its small packaging is easy to carry and store anywhere.
Pros
Brightens the teeth
Long-lasting flavor
Cons
Price at the time of publication: $6.74
The Carousel Sugar Free Gumballs area sugarless fruity treat with ⅓ lesser calories than the regular sugar-filled gums. They contain Nutrasweet fused with pure bubblegum flavor.
Pros
Prevent mouth dryness
Fruity bubblegum flavor
Cons
None
Price at the time of publication: $8.91
The Project 7 Rainbow Ice Sugar-Free Gum is made from maltitol which prevents tooth decay and cavities. The icy flavor is similar to a snow cone and provides instant refreshment while also being low in carbs. These long-lasting gums come in a resealable pouch of 12 packs, each containing 12 pieces. Enjoy the delicious flavor of this classic summer flavor without worrying about additional calories.
Pros
Gluten-free
Long-lasting
Refreshing flavor
Travel-friendly
Cons
None
Price at the time of publication: $16.99
That was our round-up of the 8 best sugar-free gums. Listed below are a few factors to remember while buying sugar-free gums.
Things To Consider Before Buying Sugar-Free Chewing Gum
Sugar-free gums contain less than 0.5g of sugar in each serving. They use high-intensity alternatives to sugar like aspartame, saccharin, acesulfame-K, neotame, and stevia, including sugar alcohols, such as isomalt, mannitol, maltitol, xylitol, and erythritol. These sweeteners are non-cariogenic as they metabolize at a slower rate or not metabolize at all.
According to the US Food and Drug Administration (FDA), aspartame and sugar alcohol are considered nutritive sweeteners with calories above 2%, equivalent to the number of calories in sugar (1).
The addition of flavors or acids in gums can reduce the plaque pH level. When the plaque pH level goes below 5.5, it leads to oral issues, such as enamel erosion or demineralization and tooth decay.
The side effects of sugar-free gum depend on the ingredients added to it.
Side Effects Of Chewing Sugar-Free Gum
Phenylalanine present in aspartame is harmful to people with phenylketonuria (2).
Excessive sorbitols in sugar-free gums can cause diarrhea or unhealthy weight loss (3).
Excessive chewing of gum can tighten jaw muscles and cause jaw pain.
Aspartame allergy can lead to respiratory and gastric issues, and hives or rashes on the body (4).
Why Trust StyleCraze?
The author, Aditi Naskar, is our in-house health and fitness expert. She checked several health and wellness forums and customer testimonials before carefully curating this list of the top sugar-free chewing gums. These chewing gums are beneficial for your oral health as they help prevent bad breath, cavities, tooth sensitivity, and dry mouth.
Frequently Asked Questions
Can chewing sugar-free gum help with bad breath and dry mouth?
Your mouth becomes dry and causes bad breath when the flow of saliva is less. Chewing sugar-free gum promotes saliva production and reduces mouth dryness and bad breath.
What is the right time to chew sugar-free gum?
Chewing sugar-free gum for 20 minutes after every meal helps keep away oral problems like tooth stain, cavities, tooth decay, dry mouth, and bad breath.
How many times a day can I chew sugar-free gum?
Excessive chewing of gum can develop health concerns. It is safe to have a sugar-free gum post your meals to keep oral issues at bay.
How long should you chew sugar-free gum?
You should chew sugar-free gum for 15 to 20 minutes. This will increase the flow of saliva in your mouth to reduce the effects of cavity-causing dry mouth.
Is it healthy to chew sugar-free gum?
Yes, chewing sugar-free gum could help you safeguard your teeth and keep cavities at bay. It is better to chew sugar-free gum than their sugared alternatives. Sugar can feed the bad bacteria in your mouth which will further damage your teeth.
What happens if you chew gum for too long?
Chewing gum for too long can aid issues such as jaw pain, tooth decay, diarrhea, and acute headaches. It can also give rise to cavities and gum diseases and destroy your tooth enamel.
Recommended Articles