7 Best Sulfate-Free Shampoos For Greasy Hair – 2023
Clarify your oily scalp and remove buildup with these mild, irritant-free shampoos.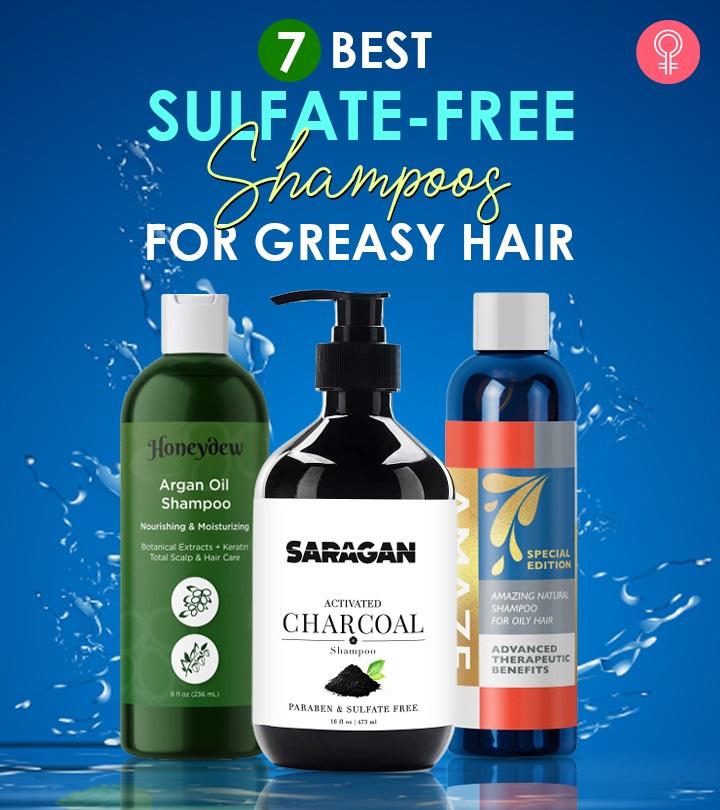 The best sulfate-free shampoos for greasy hair aid in deep cleansing without leaving any residue or stripping away the natural oils on your hair and scalp. While regular shampoos tend to irritate greasy hair more because of accumulation of residues, these are different. So, to help you decide better, we have put together the 7 best shampoos without sulfate that can work wonders for individuals with greasy and breakage-prone hair. Read on to know more and pick one out for your tresses.
7 Best Sulfate-Free Shampoos For Greasy Hair
The Honeydew Argan Oil Shampoo is a clarifying formula ideal for greasy hair. This volumizing shampoo combines the benefits of Moroccan argan oil, jojoba oil, and keratin to wash away excess oils and impurities gently. Keratin in the shampoo gives soft, shiny, and healthy hair, while argan oil nourishes dry, dull, and unruly hair. In addition, its hydrating ingredients alleviate common issues like hair loss by promoting hair growth.
 Key Ingredients: Argan oil, Jojoba oil, and Botanical keratin.
Pros
Anti-frizz
Paraben-free
Eco-friendly
Smells good
Value for money
Cons
None
Price at the time of publication: $9.95
HONEYDEW Shampoo For Oily Hair is a 100% pure therapeutic grade oil formula to cleanse oily and greasy hair. It is enriched with lavender, rosemary, jojoba, evening primrose,red thyme, and yarrow.Lemon, peach, basil, and cypress essential oils in the formula gently clarify the scalp giving lustrous and healthy hair. Additionally, the shampoo also contains keratin and jojoba oil to hydrate your hair and add volume.
Key Ingredients: Organic lavender, Rosemary, Red thyme, Yarrow, Evening primrose.
Pros
Anti-frizz
Paraben-free
Sodium Chloride-free
Vegan
Artificial fragrance-free
Artificial colour-free
Value for money
Cons
The Saragan Activated Charcoal Shampoo is infused with premium natural oils likeargan, avocado, jojoba, camellia, almond, and coconut combined with botanical keratin for healthy hair. This unique blend of oils with activated charcoal works on a 2-pronged scalp and hair care approach. The activated charcoal in the formula deep cleans your hair and scalp to remove dirt and product build-up, while the oils act as a natural conditioner to nourish, soften, and strengthen hair. This gentle daily shampoo strengthens damaged hair and leaves your scalp fresh, clean, and moisturized.
Key Ingredients: Argan (Moroccan) oil, Avocado oil, Jojoba oil, Camellia seed, Botanical keratin, Almond oil, Organic castor oil, and Coconut oil.
Pros
Gentle
Paraben-free
For daily use
Value for money
Cons
Price at the time of publication: $22.99
The Maple Holistics Degrease Shampoo hasa clarifying formula for build-up on greasy hair and itchy scalp. This anti-dandruff shampoo removes excess oil, flakes, and dead skin to leave hair clean and fresh. It contains basil, jojoba,peach, kernel, and lemon essential oils to nourish and detox your hair and scalp. Further, it also addresses hair issues like itchy, dry, and flaking scalp while promoting overall hair and scalp health.
Key Ingredients: Jojobaoil, Botanical keratin, Lemon oil, Cypressoil, Peach kernel oil, Rosemary oil, and Basiloil. 
Pros
Lightweight
Paraben-free
Pthalate-free
GMO-free
BPA-free
Synthetic color-free
Synthetic fragrance-free
Cruelty-free
A little goes a long way
For daily use
Cons
None
Price at the time of publication: $11.99
The Amaze Natural Shampoo for Oily Hair is enriched with natural oils to remove build-up, infuse moisture, and strengthen roots.Its vitalizing combination of lemon, rosemary, basil, and cypress rejuvenate your scalp. Jojoba, argan, and peach kernel in the shampoo infuse hydration and nutrients to hair follicles for stronger, softer, fuller, and refreshed hair. This shampoo gently re balances your scalp by removing impurities and soothing your scalp. It promotes hair growth and adds volume to thinning hair.
Key Ingredients: Lemon oil,Peach kernel oil, Rosemary oil, Argan oil,Cypress,Basil oil, and Jojoba oil
Pros
Anti-dandruff
Soothing
Hypoallergenic
Paraben-free
Cruelty-free
Color-safe
Value for money
Cons
Planative Charcoal Shampoo has a plant-based special formula along with activated charcoal for oily and dull hair and scalp.It has natural ingredients like keratin, jojoba oil, and coconut oil for powerful cleansing, nourishing, and moisturizing. It cleanses your scalp of impurities, excess oil, and grease to leave you with refreshed, vibrant, and bouncy hair.The shampoo further unclogs pores to strengthen hair follicles, maintain scalp health, and induce new growth.
Key Ingredients: Activated charcoal, Keratin, Vitamin E, Almond oil, and Jojoba
Pros
For daily use
Paraben-free
Vegan
Cruelty free
Value for money
Cons
Price at the time of publication: $16.95
Pure  Oily Hair Shampoo is formulated with lemon oil, sweet almond oil, tea tree oil, jojoba oil, and mint leaves. Lemon oil in the formula reduces oily hair and flaky scalp,while almond oil offers soft and shiny hair. Tea tree oil and mint leaves cleanse the scalp and clogged pores to promote hair growth, leaving a cooling sensation on your scalp feeling. Jojoba oil moisturizes the scalp, eliminates dandruff, and nourishes your hair.This shampoo is safe for daily use to get volume in your hair and prevent greasiness, irritation, and flakes.
 Key Ingredients: Tea tree leaf oil, Jojobaseed oil, Lemonoil, Coconut oil, Almond oil, and Mint leaves.
Pros
All-natural ingredients
Paraben-free
Cruelty-free
Value for money
Cons
Laura Dale, a licensed cosmetologist, suggests, "If you have oily scalp, try using a volumizing shampoo or clarifying shampoo with oil-absorbing ingredients like charcoal. These can help rebalance your scalp so it produces less oil to keep your locks looking fresh."
Why Trust StyleCraze?
The author, Shiboli Chakraborti, is a certified skin care coach and a hair care enthusiast. She understands how different shampoos work on different hair types and finds her passion in helping the users choose what suits best for them. She came up with the above list of the best sulfate-free shampoos for greasy hair based on her product experience, thorough research, and an in-depth analysis of customer feedback. These products have an anti-frizz formula and are value for money.
Frequently Asked Questions
Does sulfate-free shampoo help greasy hair?
Yes, sulfate-free shampoos help get rid of product buildup and residues without stripping the natural oils from your scalp and hair.
Why is my hair greasy after one day of shampoo?
This could be due to excessive oily scalp and sebum production, pollution, product buildup, and environmental factors like humidity and heat.
Why does sulfate-free shampoo make my hair feel like straw?
Sulfate-free shampoos are mostly non-drying but if your hair is still experiencing excessive moisture loss, look for ingredients like argan oil, jojoba oil, keratin, collagen, castor oil, and protein in product formula.
What happens when you switch to sulfate-free shampoo?
Your scalp is less prone to dryness, as the natural oils are not stripped after shampooing. Your hair also feels smoother, less frizzy, and more manageable.
Is it OK to use sulfate-free shampoo every day?
Yes, it is OK to use a mild sulfate-free shampoo every day.
Recommended Articles: