16 Best Sulfate-Free Shampoos Available In India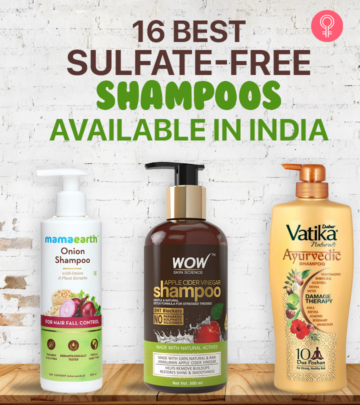 'Sulfate-free' has become a buzzword. There has been a lot of confusion around sulfates and their harsh effects on your hair.
Sulfates produce a rich lather and help remove grime, oil, and dirt. So ditching them might seem illogical as they give you that "clean" feeling. However, shampoos that contain sulfate may damage your hair and strip its natural oils. This is why most people are switching to sulfate-free shampoos! Unlike your regular shampoos, sulfate-free formulas prevent your hair from getting dull, frizzy, and brittle. They are usually made of gentle ingredients that enhance color retention and restore hair vitality.
Check out our list of the 16 best sulfate-free shampoos to pamper your locks and keep them healthy. Scroll down.
16 Best Sulfate-Free Shampoos Available In India
The Wow Skin Science Apple Cider Vinegar Shampoo helps restore weak, stressed hair. The Himalayan apple cider vinegar dissolves buildup, clears dandruff, retains the natural moisture of your hair. This ingredient balances the pH of your scalp and stimulates blood circulation in the follicles and scalp, making our hair stronger and thicker.
This shampoo contains sweet almond oil that smoothens and nourishes your hair and adds shine. Argan oil keeps the hair soft and hydrated and prevents split ends, flyaways, and frizz. This product detoxifies your hair and scalp, eliminating the buildup caused by dust, pollution, dead scalp cells, and styling products.
Key Ingredients: Himalayan apple cider vinegar, Sweet almond oil, and Argan oil
Pros
Contains natural ingredients
Gentle formula
Lightweight
Paraben-free
Silicone-free
Salt-free
pH balanced
Made of DHT blockers
Cons
None
This shampoo by Mamaearth is formulated with onion extracts and plant keratin. Onion extracts stimulate the hair follicles, boost blood supply, promote hair growth and volume, and prevent hair fall. Plant keratin smoothens and strengthens your hair, adding shine and bounce. This shampoo also contains vitamin E that protects the hair from damage and nourishes the scalp. D-panthenol softens and moisturizes your hair and prevents frizz.
Key Ingredients: Onion, Plant keratin, and Vitamin E
Pros
Safe for chemically-treated hair
Dermatologically tested
Paraben-free
Toxin-free
Cruelty-free
Silicone-free
Mineral oil-free
Dye-free
Suitable for all hair types
Cons
This ayurvedic shampoo from Dabur Vatika is infused with 10 botanical extracts that help repair damaged hair. Yashtimadhu makes the hair stronger and thicker, while bhringraj prevents hair fall, thinning and balding. Aloe vera moisturizes the hair and prevents split ends. Henna protects and conditions your hair, and methi prevents dandruff and frizz. Amla fights oxidative stress and delays premature greying. Reetha eliminates flakes and scales, and almond prevents hair damage. Rosemary promotes thicker hair growth, and javakusum adds shine and volume to your locks.
Key Ingredients: Yashtimadhu, Bhringraj, Aloe Vera, Henna, Methi, Amla, Reetha, Almond, Rosemary, and Javakusum
Pros
All-natural
Controls hair fall
Paraben-free
Silicone-free
Cons
Aggravates sensitive scalp
This shampoo from Wow Skin Science softens your hair, restoring volume and shine. It contains red onion seed oil extract that makes your hair stronger, unclogs blocked roots, and treats scalp infections. Black seed oil reduces hair loss, scalp dryness, and dandruff. The pro-vitamin B5 smoothens the hair and prevents frizz. This product helps rejuvenate and protect your tired scalp and weak hair.
Key Ingredients: Red onion seed oil extract, Black seed oil, Pro-Vitamin B5.
Pros
No artificial colors
Paraben-free
Silicone-free
PEG-free
Dermatologically tested
pH-balanced
Cons
The neutralizing sulfate-free shampoo from Schwarzkopf has been created by haircare professionals. The shampoo contains a unique combination of pigments extracted directly from purple and blue dyes. The shampoo revives the original shine and shade of blonde, silver, and grey hair. Its formula has a pH level of 4.5 to ensure effective results in just 10 minutes.
Birrea seed oil is rich in antioxidants, amino acids, and fatty acids that moisturize and nourish hair without stripping it off its nutrients. Hydrogenated castor oil promotes hair growth, stimulates follicles, thickens, and adds volume. It also deeply conditions the hair and scalp, thus preventing split ends and flyaways.
Key Ingredients: Birrea seed oil, Hydrogenated castor oil
Pros
Gentle cleansing
Neutralizes yellow undertones
Long-lasting effects
Tames frizziness and flyaways
Cons
This shampoo from Moms Co. is infused with coconut-based cleansers, wheat, and silk proteins. Hydrolyzed silk proteins lock hair moisture, prevent breakage, add shine, and make your hair silky smooth. Hydrolyzed wheat protein nourishes your hair and scalp, and enhances volume and bounce.
This shampoo contains beetroot extract that promotes blood circulation to the scalp, makes your hair thicker, and prevents hair fall. It cleanses excess oil, dirt, grime, dandruff, and buildup. Panthenol or vitamin B5 improves overall hair health.
Key Ingredients: Coconut based cleansers, Wheat, Hydrolyzed silk Proteins, Beetroot extract, and Panthenol
Pros
Paraben-free
Silicone-free
No synthetic fragrances
Toxin-free
Cruelty-free (PETA certified)
Color-safe
Suitable for chemically-treated hair
Cons
The hair gets tangled
Sticky
This shampoo is enriched with 26 ayurvedic herbs that restore hair health. It contains bhringraj, which treats dandruff, dry scalp, and premature greying. Manduka parni stimulates the scalp and follicles and prevents various scalp conditions like flakiness, scaliness, eczema, and erysipelas. Sudha dhatura protects your hair against oxidative damage and free radicals.
Neem repairs damaged hair and improves scalp health. Lemon, nili, kapurkachri, and manduka parni prevent itchiness. Banyan tree, yashtimadhu, sesame, and godhuma prevent hair fall, baldness, and thinning. Coconut, sesame, nili, godhuma, mustard, and lemon oils nourish and strengthen your hair from roots to tips. The Ayurvedic formula cleanses your hair gently without stripping its moisture. This shampoo prevents buildup, detoxifies the scalp, and promotes healthy hair growth.
Key Ingredients: Bhringraj, Manduka Parni, Sudha Dhatura, and Neem
Pros
Paraben-free
Ayurvedic formula
Suitable for all hair types
Hypoallergenic
Cons
None
Struggling with damaged hair and thinning? Try this volumizing shampoo from St. Botanica! It is formulated with plant-based ingredients and natural oils that gently cleanse the hair and scalp. Biotin helps regenerate hair cells, reverses hair fall, and prevents thinning. Collagen strengthens your hair, delays premature aging, and reduces brittleness and split ends. Oat extracts soothe, hydrate, and revitalize your mane.
Lavender and jojoba oils with aromatherapy properties promote hair growth and nourish the strands. Sunflower seed oil makes your hair grow faster, relieves itchy scalp, and soothes inflammations. Avocado prevents moisture loss, providing silky smooth hair. Rosemary oil penetrates the scalp and prevents hair loss.
Key Ingredients: Biotin, Collagen, Oat extract, Lavender oil, Sunflower seed oil, Jojoba oil, Avocado, and Rosemary oil
Pros
Paraben-free
Mineral oil-free
Phthalate-free
Contains DHT blockers
Cruelty-free
Suitable for all hair types
Cons
This shampoo from Biotique is infused with green apple juice that balances pH levels of your scalp, controls oil, and nourishes your hair. It contains manduk parni that treats damaged hair, scalp infections, and wound. Shikakai pulp boosts shine and softness, fights dandruff, provides stronger and thicker hair, moisturizes dry scalp, and delays greying.
Ghrit kumari relieves scalp itchiness, and hydrates and conditions the hair. Badam oil controls frizz and treat damaged hair. Coconut oil prevents hair loss, soothes inflammation, fights scalp infections, and stimulates hair growth. Sea algae and centella help purify and detox your scalp and hair. This shampoo makes your hair refreshed and imparts a natural body and shine.
Key Ingredients: Apple juice, Manduk parni, Shikakai pulp, Ghrit kumari juice, Badam oil, and Coconut oil
Pros
pH-balanced
Gentle formula
Long-lasting
Can be used daily
Suitable for oily hair and scalp
Cons
None
This shampoo is made with coffee beans to give you thicker and stronger hair. Coffee extracts stimulate the hair follicles and scalp and promote blood circulation. This shampoo helps strengthen the hair roots and reduces hair fall. Proteins help reverse hair damage and nourish your hair. Argan oil is deeply moisturizing and makes your hair soft and shiny. Caffeine, a rich source of antioxidants, protects your hair against free radical damage.
Key Ingredients: Coffee extracts, Proteins, Argan oil, and Caffeine
Pros
Suitable for all hair types
Silicone free
Paraben-free
Cruelty-free
Vegan
Dermatologically tested
Cons 
None
This shampoo from WishCare is made with fermented rice water. It is loaded with natural vitamins and minerals that repair damaged and weak hair. Fermented rice water is deeply moisturizing and protects the hair against damage from colors and heat. Soy protein revitalizes brittle hair and restores lost nutrients, while vitamin E boosts hair elasticity and imparts natural sheen. Coconut and almond oils promote healthy hair growth. This shampoo controls hair fall and provides volume and bounce to your hair, making it appear fuller.
Key Ingredients: Fermented rice water, Vitamin E, Soy protein, Coconut oil, Almond oil
Pros
Boosts shine
Volumizes the hair
Prevents hair fall
Paraben-free
Cruelty-free
Mineral oil-free
Suitable for all hair types
Cons
This sulfate-free shampoo has restorative and nourishing properties. It contains argan oil which moisturizes the hair and scalp, controls frizz and split ends, and strengthens weak hair. Hyaluronic acid, a natural humectant, draws moisture from the environment and locks it in your hair for long-lasting hydration.
Polygonum multiflorum root extract treats baldness and hair loss, and soothes scalp infections. Hydrolyzed rice extract conditions your hair and improves its texture. Ginger root extract eliminates scales, dead skin cells, and dandruff from the scalp, and dissolves product residue. Vitamin E makes your hair stronger and thicker. This shampoo enhances hair elasticity and restores natural shine and softness.
Key Ingredients: Argan oil, Hyaluronic acid, Polygonum multiflorum root extract, Hydrolyzed rice extract, and Ginger root extract
Pros
Paraben-free
Silicone-free
Colorant-free
Salt-free
Gluten-free
Pleasant scent
Long-lasting
Color-safe
Suitable for all hair types
Cons
None
This shampoo is enriched with argan oil, camellia, and white lotus that nourish damaged hair. Argan oil with antifungal properties treats dry and flaky scalp and dandruff. Camellia protects your hair from environmental factors and pollutants and reduces hair fall. White lotus provides nourishment to control frizz, mitigate damage from chemicals, and destresses the locks. This shampoo improves your hair elasticity and prevents split ends.
Key Ingredients: Argan oil, Camellia, and White lotus
Pros
Paraben-free
Toxin-free
Vegan
Cruelty-free
Mineral oil-free
Cons
This shampoo from TRESemme is gentle even on heat-styled and chemically-treated hair. It offers long-lasting vibrancy without stripping your hair color. This shampoo is enriched with Moroccan argan oil that moisturizes the hair from roots to tips. It fights dandruff, soothes the irritated and inflamed scalp, tames frizz, and reverses hair damage.
Key Ingredients: Moroccan argan oil
Pros
Paraben-free
Long-lasting
Ideal for colored and chemically-treated hair
Boosts shine
Cons
This shampoo is clinically proven to give you extra strong hair. It reduces hair thinning, breakage, excessive hair fall, and baldness. Onions, loaded with proteins and keratin, support healthy hair growth. Hibiscus nourishes, clarifies, and moisturizes your hair, and tones the scalp. Olive extracts smoothen your hair and protect it from UV rays. Argan oil restores shine, and omega 3 and 6 fatty acids prevent hair damage.
Key Ingredients: Onion, Hibiscus, Olive extracts, and Argan oil
Pros
Contains natural ingredients
Paraben-free
No colorants
Long-lasting
Value for money
Cons
This dermatologically-tested shampoo is specially formulated for dandruff-prone hair. It contains green tea that nourishes the hair, keeps the scalp healthy, adds luster, and reduces hair fall. Tea tree oil protects the hair and scalp from free radical damage and promote blood circulation. Rosebay cleanses the hair, eliminates toxins and dandruff, and soothes the irritated and inflamed scalp. Shea butter moisturizes the hair, while sweet almond oil tames frizz and prevents hair breakage.
Key Ingredients: Green tea, Tea tree oil, Rosebay, Shea butter, and Sweet almond oil
Pros
Paraben-free
Silicone-free
No artificial colors
PEG-free
pH-balanced
Dermatologically tested
Suitable for all hair types
Cons
Let's now look at a few benefits of shampooing your hair with a sulfate-free formula.
Benefits Of Using A Sulfate-Free Shampoo
Preserves Natural Oil: Sulfates produce a rich lather and can strip your hair of its natural oil along with dirt and buildup. On the other hand, a sulfate-free shampoo balances the natural oils of your hair and scalp and provides a healthy shine.
Prevents Color Fading: Sulfates do not just dry out your hair but also fade your hair color. Your hair becomes dull and lackluster with traditional formulas. Whereas a sulfate-free shampoo is an easy option to preserve your natural or artificial hair color.
Keeps Your Hair Healthy: The absence of sulfate in your shampoos means that your hair is no longer damaged by harsh chemicals. This helps your hair revive its lost health and strength.
Suitable For Sensitive Scalp: People with sensitive scalp should opt for sulfate-free shampoos as they gently cleanse the hair and scalp without irritating it further.
Keeps Your Curls Intact: Sulfates make your hair dull and dry by stripping its moisture. This can straighten your curls and become loose. If you want to keep your curls in shape, switch to a sulfate-free shampoo.
Now that you know the benefits of sulfate-free shampoos, consider the following points while buying them to make an ideal choice.
What To Consider When Buying A Sulfate-Free Shampoo
Several harsh ingredients can cause allergic reactions, irritate your scalp, and damage your hair. Avoid ingredients like parabens, alcohols, and phthalates while choosing a sulfate-free shampoo. If you have a sensitive scalp, stay away from natural elements like peppermint oil or witch hazel since they can be irritating.
Most products come with instructions for the type of hair. Choose a shampoo that suits your hair type. A shampoo that is not meant for your hair type will not deliver effective results.
If your hair is color-treated, avoid ingredients that can fade the color prematurely. Always check the label for a color-safe tag. For oily scalp, avoid shampoos with essential oils as they can make your hair heavy and greasy.
Look For Moisturizing Formulas
Look for shampoos with moisturizing ingredients such as milk protein, aloe vera, coconut milk, argan oil, keratin, jojoba oil, tea tree oil, and shea butter. These ingredients help keep your hair hydrated, smooth, and frizz-free.
Sulfates are harsh cleansing agents that wash off the moisture of your hair along with dirt and impurities, making it dull and brittle. Sulfate-free shampoos are gentle on your hair, which help maintain your hair health and protect its color. They can be a great alternative for people with eczema, contact dermatitis, and rosacea. Pick your favorite shampoo from our list that suits your hair type.

Recommended Articles