16 Best Sulfur Acne Products
Fight skin infections, acne, and inflammation with these skin-friendly topical products.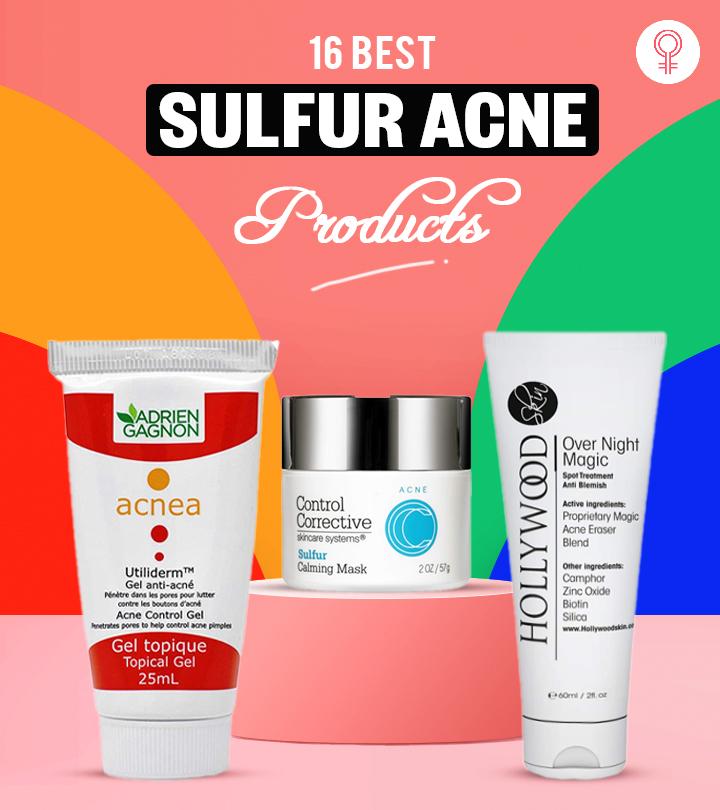 Studies suggest sulfur works great to treat acne (1). So, what are the best sulfur acne products? Why is sulfur the new buzzword in skin care circles? Well, it has the potential to fight against bacteria, fungus, and inflammation. Moreover, it tends to dry out your skin and is safe for sensitive skin (2) (3).
These properties play a key role in treating acne. This article lists the 15 amazing sulfur-based products that effectively combat acne. Read on!
What Does Sulfur Have To Do With Acne?
Acne usually occurs due to three factors bacteria, inflammation, and excessive sebum. Sulfur helps fight these issues and is an effective treatment for adult acne. It works as a drying agent and clears excess sebum, unblocking the pores. Sulfur prevents the formation of blackheads, whiteheads, and pimples. It helps soothe the skin, reduces breakouts, and treats blemishes.
Note: Do a patch test before using any sulfur product. Apply a small amount of the product on your forearm and keep it for the recommended time. If you experience itching, redness, or burns, gently wash the area and avoid using the product.
Let's now take a look at the 16 best sulfur acne products that you can buy online.
15 Best Sulfur Acne Products
The Acne Free Therapeutic Sulfur Mask is enriched with 3.5% sulfur that controls excess sebum production and prevents acne breakouts. It contains vitamin C and bentonite clay that helps reduce the appearance of pores and acne blemishes. The Color Changing technology transforms the mask's color to blue, which indicates that it has been absorbed into your skin. This mask clears oil, acne, blemishes, blackheads, and whiteheads and can be used 2-3 times a week.
Pros
Oil-free
Easy to use
Dermatologist recommended
Cons
The Kate Somerville EradiKate Acne Treatment combats acne and blemishes and prevents future breakouts. Sulfur eliminates existing acne and prevents the formation of new ones. This product is infused with BHAs that minimize the appearance of enlarged pores. Zinc oxide is a natural mineral that controls excess sebum production. Here is an informative video that tells you more about the product.
Pros
Gentle formula
Easy to use
Value for money
Cons
The Joesoef Skin Care Anti-Acne Soap deep cleanses your pores and combats oily skin. It helps treat body acne, whiteheads, blackheads, bacteria, fungus, dermatitis, and blemishes. This soap contains10%natural volcanic sulfur and 0.25% salicylic acid. The salicylic acid effectively removes dead skin cells and makes your skin healthy. The sulfur penetrates the pores and removes all the trapped bacteria and fungus.
Pros
Formulated by dermatologists
Alcohol-free
pH-balanced
Cons
None
The Sulfur-Lavender Soap by Naturasil is a natural plant-based (palm kernel and coconut oil-based) medicated soap that contains micronized volcanic sulfur. It is enriched with pure lavender essential oils that help calm the skin. This soap treats acne, fungal infections, scabies rash, tinea versicolor, tinea, ringworm, jock itch, and nail fungus.
Pros
Paraben-free
EDTA-free
SLS-free
Cons
None
The EbanelBioDrying Lotion helps draw out impurities, absorb excess sebum, and purify pores. It treats skin conditions like whiteheads, pimples, blemishes, and cystic acne. This lotion contains salicylic acid that minimizes the appearance of enlarged pores, prevents future breakouts, and makes your skin even-toned. It also contains calamine and camphor that calms your skin and reduces irritation.
Pros
Cruelty-free
Vegan
Hypoallergenic
Paraben-free
Sulfate-free
Cons
None
The Peter Thomas Roth Therapeutic Sulfur Mask is enriched with 10% sulfur. It contains kaolin clay and bentonite clay that clear acne blemishes and prevent their recurrence. Aloe vera soothes your skin and purifies clogged pores. This mask gently exfoliates your skin and absorbs excess oil. For more information about the product, click this video.
Pros
Cons
The Grisi Pharma Sulfur Ointment dries and cleans existing pimples and acne. This ointment contains 10% sulfur that helps lock your skin moisture. It prevents future scars and helps heal your skin. The lanolin visibly improves skin damage caused by acne spots.
Pros
Gentle
Long-lasting
Value for money
Cons
None
The NxN Acne Edit Spot Treatment is enriched with sulfur that reduces blemishes while eliminating acne-causing bacteria. The active ingredients include probiotics, licorice, ginger root extracts, and organic green tea. The probiotics replenish the good bacteria on the skin and prevent future acne breakouts. Licorice evens out the skin tone and soothes the skin. The ginger root extracts improve your skin tone and boost skin elasticity, while the organic green tea helps treat redness and skin inflammation.
Pros
Gluten-free
Paraben-free
Sulfate-free
Phthalate-free
Formaldehyde-free
Mineral oil-free
Urea-free
Propylene glycol-free
No harmful chemicals
Cons
None
The raya Bio-Sulfur Masque contains bio-sulfur, vitamin B, pure essential oils, kaolin clay, and fruit enzymes that help maintain the pH balance of your skin. This mask reduces oiliness and pore blockage while clearing the dead skin cells. The camphor and eucalyptus prevent redness and soothe irritated skin. This mask also helps eliminate debris that clogs pores.
Pros
pH-balanced
Cruelty-free
Paraben-free
Pleasant smell
Contains natural ingredients
Cons
None
The Earth's Care Acne Spot Treatment clears stubborn acne and prevents future breakouts. It is enriched with 10% sulfur that treats cystic acne, blackheads, and acne scars. This ointment contains colloidal oatmeal, sunflower seed oil, natural kaolin, and shea butter that extract pimples without drying your skin.
Pros
Paraben-free
No artificial fragrances
Non-comedogenic
Allergy tested
Vegan
Cruelty-free
Petrolatum-free
Phthalate-free
Cons
None
The Adrien Gagnon Acne treats acne and pimples, making your skin blemish-free. It helps heal pimples faster, reducing the size, redness, and swelling. This anti-acne gel boosts the healing process of your skin. It contains sulfur and resorcinol that clear acne and unclog the pores. This gel is infused with tea tree, oregano, olive, black seed, and bergamot oils that control future breakouts.
Pros
Vegan
Gentle formula
100% money-back guarantee
Cons
The Hollywood Over Night Magic is an anti-blemish spot treatment that reduces redness and swelling caused by acne. The potent formula contains a blend of salicylic acid and zinc oxide that eliminates acne-causing bacteria from your skin. This cream enables overnight healing and removes blackheads and whiteheads. It gently exfoliates the dead skin cells, unclogs pores, clears acne, and treats oily skin without scarring it.
Pros
Hypoallergenic
Vegan
Cruelty-free
Benzoyl peroxide-free
Cons
None
The Rodan + Fields UNBLEMISH Refining Acne Wash clears your skin of acne, blemishes, pimples, and blackheads. It contains salicylic acid and colloidal sulfur that prevent break outs. The hyaluronic acid, ceramides, and natural extracts moisturize and nourish your skin, making it youthful. The invisible broad-spectrum offers UV protection and imparts a matte finish to your skin.
Pros
Offers sun protection
Matte finish
Works like a primer
Gentle formula
Cons
This Sulfur Calming Mask by Control Corrective soothes your inflamed skin and absorbs excess oil. It contains aloe that absorbs excess oil and reduces the appearance of enlarged pores. This therapeutic mask also works like an overnight spot treatment for painful blemishes.
Pros
Paraben-free
No synthetic dyes
Phthalate-free
Triclosan-free
Cons
None
The DERMAdoctorAin't Misbehavin' is an aromatic mask that contains 10% sulfur. It clears acne blemishes and heals your skin. This medicated cleanser prevents the formation of new blemishes and blackheads. It contains witch hazel and kaolin clay that purify your skin and botanicals that soothe it. The non-drying formula reduces oiliness and imparts a matte finish to your skin.
Pros
Non-drying
Non-irritating
Dermatologist-tested
Hypoallergenic
Paraben-free
Cruelty-free
Non-comedogenic
Phthalate-free
Cons
None
Wondering what types of acne can be treated with these products? Check out the following section for your answer.
What Types Of Acne Can Acne Ointments Treat?
Sulfur is known for treating mild acne that occurs in the form of whiteheads and blackheads. These are non-inflammatory types that occur when oil and dead skin cells are trapped in the skin pores.
Moderate acne may not be healed with the help of sulfur alone. It works in combination with other acne-fighting ingredients. Severe acne, also known as cystic acne, cannot be treated with sulfur ointments. Dermatologists often prescribe medications and surgeries to treat cystic acne.
Although sulfur is gentle on your skin, it has some side effects. Check out the following section to know what they are.
Side Effects Of Sulfur For Your Skin
Sulfur acne products might feel very drying on your skin. If you are using a sulfur product for the first time, apply it once a day. Once your skin gets used to it, gradually increase the dosage to twice or thrice a day.
Why Trust Stylecraze?
Oyendrila Kanjilal is a certified skin care coach who loves writing about grooming and self-care. She has curated this list of the best sulfur acne products after consulting hundreds of user reviews and thoroughly researching the products. This article also has some pointers that you must consider while buying sulfur acne products. The shortlisted products soothe the skin and clear excess sebum.
Recommended Articles
Sources