11 Best Summer Eyeshadow Palettes For A Bright Look In 2023
Take your summer eye game up with these vibrant, bold, and metallic shades.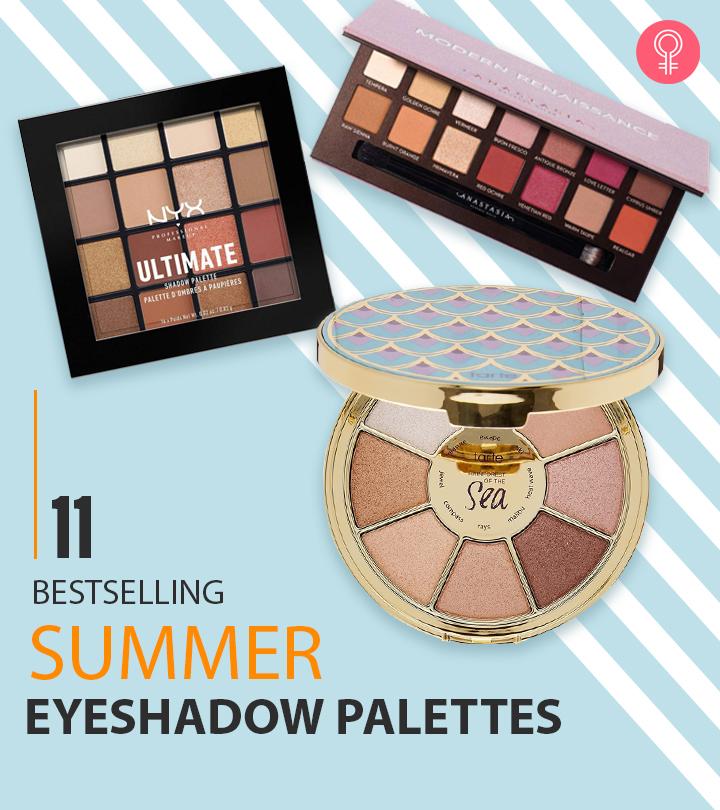 Summers are for bright, neon, fun colors all around! No wonder if you find yourself looking for the best summer eyeshadow palette to add that pop of color to your eyes. A good eyeshadow palette helps you experiment with different bold, bright, and metallic eye looks to take you from hot sweltering days to cool night parties. Now with the tons of shade and size options out there, it might seem a bit overwhelming to pick the right one. Fret not, the 11 best eyeshadows palettes enlisted here are all you need to take your summer eye makeup game up a notch higher! Read on to know more.
11 Best Recommended Summer Eyeshadow Palettes
The professional eyeshadow palette from e.l.f offers a flawless matte finish. The Mad For Matte Eyeshadow Palette consists of 10 different shades of summer breeze, which are specially curated to enable you to achieve subtle and bold looks each day. Every shade is richly pigmented, allowing you to experiment with shading, highlighting, defining the eyes, and customizing your look. They glide seamlessly over the eyelids and complement every skin tone and outfit. The shades have warm hues that add depth and drama to your eyes. If you are still unsure, check out this honest review.
Pros
100% vegan
Intense color payoff
Goes on smooth
Long-lasting
Cruelty-free
Paraben-free
Phthalate-free
Nonylphenol-free
Ethoxylate-free
Triclosan -free
Sulfate-free
Triclocarban-free
Hydroquinone-free
Cons
None
Price at the time of publication: $10.99
The Born To Run Eyeshadow Palette from Urban Decay has21 shades that are highly pigmented and last long. The shades range from darker hues to shimmery and matte colors. The velvety shades blend easily with your skin tone and makeup. This palette comes with a double-ended brush that lets you combine the shades over the lids conveniently. Its fine bristles glide smoothly over even to the hard-to-reach nooks and crannies. The full-sized mirror makes it easy for touch-ups while traveling. Click this video to learn more about the product.
Pros
Ultra blendable
Rich color payoff
Double-ended brush
Vegan
Travel-friendly
Cruelty-free
Paraben-free
Cons
Does not last on oily skin
Price at the time of publication: $49.0
The Lemonade Craze eyeshadow palette from Maybelline New York features a mix of 12 vibrant shades in soft and warm hues, along with few neutrals, that provide a shimmery matte finish and match all skin tones and outfits, offering endless possibilities. The eyeshadows coat your lids with highly pigmented shades to achieve the look you want and leave a citrusy fragrance behind. The lighter shades highlight the beauty of your eyes, while the darker shades define them with pops of color. Learn more about the product in this video.
Pros
Intense color payoff
One swipe application
Blends well
Cruelty-free
Paraben-free
Silicone-free
Cons
Chalky matte shades
Not long-lasting
Price at the time of publication: $13.21
If you want to create a sultry look, this is the eyeshadow palette for you! With intense bright and bold shades, the Huda Beauty Coral Obsessions eyeshadow palette lets your eyes pop with color. It features nine colors – two duo chrome and seven matte shades inspired by reds, oranges, and blush tones. They are easily blendable and give a matte, shimmery finish for a chic and trendy feel.
Pros
Blends easily
Highly pigmented
Long-lasting
Buildable colors
Sulfate-free
Cons
Price at the time of publication: $22.88
The classy-looking eyeshadow palette from Anastasia Beverly Hills offers shades that leave a satin, metallic matte finish and transform you into a gorgeous diva in seconds. It features 14 highly pigmented colors, ranging from neutral to berry-red. The eyeshadows are easily blendable and can help you create looks that fall between subtle to dramatic. The dual-ended brush in the kit helps in a convenient application. The palette comes with a large mirror for makeup touch-ups while you are on the move.
Pros
Intense color payoff
Versatile shades
Easily buildable
Easy to blend
Lightweight
Cons
None
Price at the time of publication: $45.0
The sunset-inspired shades in this eyeshadow palette from Tarte offer a stunning look. The eight shades include metallic light peach champagne, soft metallic pink, matte warm tan, metallic copper, matte brown, metallic plum, metallic deep rose gold, and matte pale pink. The Rain Forest Of The Sea Volume III Eyeshadow Palette is formulated with marine plant extracts that reduce fine lines and wrinkles. It also contains coconut and vitamin E that act as emollients and hydrate the skin. The colors are creamy and highly pigmented and impart a shimmery metallic finish.
Pros
Glides easily
Ophthalmologist-tested
Dermatologist tested
Safe for contact lens wearers
Paraben-free
Mineral oil-free
Phthalate-free
Triclosan-free
SLS-free
Gluten-free
Cons
None
Price at the time of publication: $94.99
The Naughty Nine Eyeshadow Palette from W7 comes with nine midsummer night colors that can help you create gorgeous looks for the day and night. The superior quality shades last throughout the day, avoiding frequent touch-ups. The compact has four silky smooth matte and five metallic shades that are highly pigmented. There are natural nude colors of peaches, plums, soft browns, and gold with a creamy, velvety touch that are perfect for all skin types and tones. The sturdy compact can be easily carried in your purse or handbag.
Pros
Smooth coverage
Blends easily
Minimal fall-outs
Non-creasing
Cruelty-free
Affordable
Cons
Price at the time of publication: $6.95
If you want to make your eyes pop with bold and beautiful shades, this is the palette to try out! The Ultimate Eyeshadow Palette from NYX Professional Makeup features shades that range from cool to warm neutrals. The 16 velvety rich complementary shades match most skin tones and have satin, metallic, shimmery, and matte finishes. The colors are smooth, long-lasting, and highly pigmented.
Pros
Vegan
Glides smoothly
Intense color payoff
Stays all day long
Cruelty-free
Cons
Price at the time of publication: $13.76
The Ucanbe Eyeshadow Palette from Charmcode Aromas offers a shimmery, glamorous look. It contains 18 highly pigmented shades with 11 velvety mattes that include nude pink, soft brown, and berry shades. It also features four reflective shimmers and one satin pearl fleck for a gorgeous duo-chromatic finish. The palette also has two copper glitter colors for a high shimmer metallic finish that can be layered effortlessly on top of the matte shades, giving you a dreamy look. The blendable eyeshadows are enriched with healthy ingredients that provide a soft and buttery finish.
Pros
Long-lasting
Smooth application
Blends well
Value for money
Cons
Price at the time of publication: $8.99
The Docolor Tropical Eyeshadow Palette features 34 different shades to create dramatic eye looks. They range from neutrals to warmer vibrant colors. The palette has 18 shades that offer a matte effect, while 12 shades offer a shimmer shadow effect. The palette's corners consist of a highlighter that enhances and brightens your eyes, and a blush that complements your makeup and boosts confidence.
On the opposite corners are the bronze shades that can be used to contour and slim your face or cover up blemishes, dark circles, pockmarks, and fine lines. The eyeshadows spread evenly across the eyelids and are formulated with natural moisturizing ingredients that prevent the skin from feeling parched with makeup. The lightweight eyeshadows feel comfortable to wear all day long.
Pros
Highly pigmented
Waterproof
Long-lasting
Blends smoothly
Cruelty-free
Cons
Price at the time of publication: $25.95
The Lamora Nudes Exposed Eyeshadow Palette contains 16 highly pigmented shades, ranging from neutral smokey, rose gold, and royal browns to natural bronze. Each of these shades leaves a shimmery finish and has a long-lasting staying power due to the ultra-micronized creamy formula. They can be used wet or dry to shade, shadow, line, and define your eyes. The colors are inspired by the no-makeup look and the softer feminine side.
Pros
Blends easily
Creamy formula
Lightweight
Vegan
Cruelty-free
Cons
Price at the time of publication: $12.95
Why Trust StyleCraze?
Baishali Bhattacharya, the author, is a certified makeup expert and image consultant, so you know you're in good hands with her. She knows how important finding the right eyeshadow palette is, especially when you love to try out new looks every season. She recommends using these eyeshadow palettes for summer because they offer intense color payoffs, last long, don't contain harsh elements, are travel-friendly, and have many other benefits.
Frequently Asked Questions
What shades of eyeshadow do you use for summer?
Pinks, blues, plums, and greens are summer-appropriate eyeshadow colors.
What kind of eyeshadow should we wear in summer?
Wear shimmery or matte eyeshadow colors with cooler undertones in the summer months.
How do you do summer eyeshadow?
• Apply a primer on your eyelids.
• Take a fluffy eyeshadow brush and apply a nude/neutral eyeshadow color on the lids.
• Dip the brush on a light coral shade or any similar summer-appropriate shade and apply it on your crease.
• Slowly build the color in and fill your lids.
• Take a vibrant cool shade, for example, blue.
• Apply it on the lower lash line and smudge it.
• Line your upper lash line with a black liner.
How to make eyeshadow last long in summer?
Prime your eyelids before applying the eyeshadow, and use a makeup setting spray at the end to make your eyeshadow last long in the summers.
How to remove summer eyeshadow easily?
• Pour a few drops of the makeup remover onto a clean pad.
• Press the pad on the lids.
• Swipe the pad downwards and wipe off the eyeshadow colors.
• Wash your lids with a gentle cleanser.
• Rinse the eye area.
How do you do a summer smokey eye?
• Apply primer to your lids.
• Use a fluffy eyeshadow brush and apply a lighter summer shade, for example, shimmery pink, on the lids.
• Swipe the brush on a darker color, for example, brown, and start applying it from the outer corner.
• Blend the darker color evenly with the base eyeshadow.
Recommended Articles