35 Fabulous Hair Colors To Beat The Heat This Summer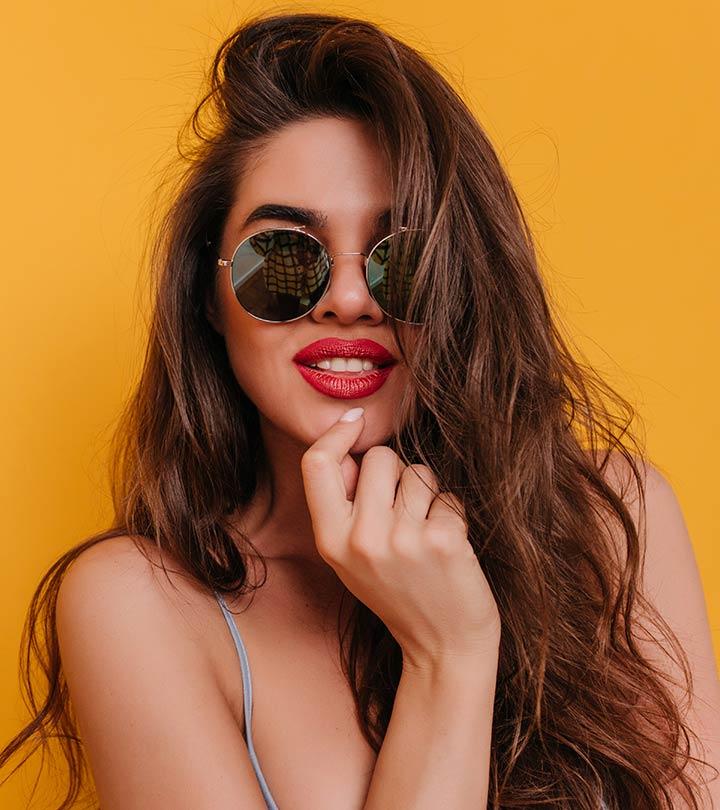 It's getting hot in here!
It's that time of the year when you pull out all your sleeveless dresses and shorts and wonder what hair color will suit them. That's right, I'm talking about summer. You'll notice a lot of warm colors like oranges, yellows, and goldens, but also some cool tones of blue and green. So, we'll be sticking to that theme even for our hair.
Let's get to it!
35 Fabulous Hair Colors To Beat The Heat This Summer
1. Muddy Blonde
Do you know what goes well with the abundant sun rays in the summer? Muddy blonde hair! Sun rays work magic on muddy blonde hair, giving it a lovely sun-kissed look that's perfect for a summer spent at the beach.
2. Sunlit Orange
Cold orange juice is just what you need on a hot summer day. It refreshes you like nothing else. Why not try the same for your lovely hair? Muted orange hair is perfect for summer. It looks like heated gold in the sunlight.
3. Light Ash Blonde
A cool color like ash blonde works well with the bright theme of summer. This light ash blonde shade looks great on women with cool-toned skin. You can also try an ash blonde dimension if you want to add more flavor to your look.
4. Dark Honey Blonde
Your hair can look as sweet as honey with this stunning dark blonde shade. If you are a natural brunette, keep your roots dark for about an inch. This will make the dark honey shade look natural on your brown locks.
5. Dark Chocolate Brown
Dark chocolate is good for your health and your hair! This shade of brown will make your hair look glossy and thick. The best thing about it is that it suits all skin tones. And don't worry, it looks incredible on curly locks as well.
6. Auburn Brown
This shade of brown looks surreal in the sunlight. Auburn looks like fire in the sun, and brown highlights accentuate this shade even more. Style your tresses in some loose beachy waves to get ready for your vacay!
7. Ash Brown
Summer is all about yellows, oranges, and other bright colors. This dusty ash brown will go well with these colors without seeming too out there. It is perfect for women who have to look professional during the day, but let their inner queen out during the night.
8. Golden Blonde
Gold is the color of queens, or at least it will make you feel like one. This golden blonde shade will make you feel royal. Pair it with cute short bob and bangs to ring in the summer with style.
9. Ginger
Ginger hair is being appreciated now more than ever. It is a stunning shade that is a mix of orange and red. Since you may be spending majority of the summer at the beach, this color is perfect for those flawless Insta-pics that you will click there.
10. Galaxy Riot
Have you seen pictures of the galaxy? You can see streaks of pink and purple that light up the sky so beautifully. It really makes you believe in a higher power! Take that awesomeness to your hair with this blend of pastel pink and purple.
11. Copper Brown
This combination of copper and brown makes for a wonderful hair color. Imagine sun rays hitting this shade. It would look out of this world! This shade is perfect for women with warm-toned skin. If you are cool-toned, consider getting a cooler, more intense version of this color.
12. Strawberry Red
Taylor Swift, Emma Stone, Blake Lively – these are just a few of the celebrities who have sported this stunning shade of red. It is perfect for women who want to venture into red hair but don't want to try anything too drastic.
13. Strawberry Blonde
Amy Adams has strawberry blonde hair. It is basically a blonde shade with a red tint. It looks gorgeous and really shines through in the summer. Add some life to your locks with this lovely shade.
14. Pastel Pink Ombre
Pastel pink is the biggest trend right. Whether it's home decor, clothes, ice cream, or hair, pastel pink is winning it all. But if you want to take it higher, opt for a pastel pink ombre.
15. Rose Gold
I'm not sure how this trend started, but it looks brilliant. Rose gold is the combination of blonde and pink hair, and it looks incredible. Mix it up with some pink and keep your roots dark to achieve this look.
16. Pink Highlights On Blonde Hair
I'm not telling you to go all out like Avril Lavigne. Opt for a warmer blonde that will suit the hot look of summer. Pair it with a bright pastel pink. This color blend is perfect for anyone with a sunny and carefree personality.
17. Candy Pastel Highlights
When you are blonde, there are some colors that just look better on your hair. So, opt for some pastel highlights to make the best of your hair this summer. They look bright, fresh, and oh-so-fun!
18. Pink With An Orange Tint
Sunsets are the perfect time to relax and take in the colors of the sky. Everything looks beautiful and calm. Take this feeling to your locks. Then, every time you look at your hair, you will be reminded of that incredible summer sunset.
19. Pastel Blush
Blush is one of the many shades of pink. It is a lovely shade that you can get in warm and cool tones and is perfect for the summer. Keep your roots dark to give it that stunning shadow root look.
20. Medium Brown
This medium brown shade leans a little towards the dark side. I mean, would you prefer delicious milk chocolate or just straight up unrefined chocolate? And, as you can tell from the picture, it looks incredible in the sun, which is basically all you'll see this summer.
21. Orange
Orange is just one of those colors that look surreal in the sunlight. In any other season, it would stand out too much. But in summer, it blends in with all the warm colors.
22. Cool Blonde Dimension
If you have a cool undertone, this hair color is for you. Opt for this stunning cool blonde dimension that frames your face beautifully and brings the cool in the summer heat.
23. Burgundy
Burgundy is a great color to sport during the summer. While many people believe that burgundy is a fall or winter color, I believe it is a great summer shade. You see a lot of bright colors in summer, so burgundy will add a nice balance to the mix.
24. Teal Blue
The one cooling factor in summer is water. Give yourself a cooling effect with this beautiful teal blue shade. It will also add a stunning contrast to your pictures in the sun. Go ahead, try it!
25. Turquoise
Doesn't this shade remind you of the clear blue sky? No limits, just freedom! Bring that feeling to your hair with this surreal turquoise blue. It is one of those cooling colors that looks like a breath of fresh air during summers.
26. Mermaid Green
Before you say that green is a forest-y shade and meant to be seen in the rainy season, hear me out. Have you ever gone to a forest in the summer and seen the light shine through the green leaves? It looks majestic. Now you know what I'm talking about!
27. Ginger Ombre
Ginger is one of those colors that look great in the summer. But if you already have ginger locks and want to try something different, opt for this ginger ombre that ends in a light blonde hue.
28. Platinum Blonde
Colors like blonde really shine in summer. Make your hair look glossy with this platinum blonde shade when the temperature starts rising. If you are dyeing your hair at home, remember to use some purple toner. This prevents brassy tones from developing in your hair.
29. Brown To Blonde Ombre
Some color blends look good no matter what the season. This is one of them. It is a great brown and blonde mix to sport during the summer. It gives your hair that flawless sun-kissed look.
30. Dark Roots
Regardless of whether it is an ombre or a full color change, go dark at the roots. Not only does it help in framing your face, but it also makes the color change look more natural.
31. Blonde Ombre
This is another hair color that is perfect for all seasons, but the key is to find the right blonde shade for your skin tone. Don't opt for a warm-toned shade if you have cool-toned skin. If you have neutral-toned skin, pick the shade you feel looks better on you.
32. Shadow Root With Champagne Blonde
Champagne blonde hair glistens in the sunlight. Accentuate that look with some dark, smokey roots. It will be perfect for that flawless Insta-selfie you want. Go on, book your appointment at your fave salon now!
33. Dusty Gray
Gray is that cool winter color that really blossoms during summer. It is a perfect way to balance out all those bright tops you'll be wearing. Infuse a tint of lilac to the gray to add some dimension to your hair.
34. Lilac
Lilac is the perfect hair color for the wild child in you. You automatically think of the sun and a big, green meadow when you see this color. Get ready to shine at all those late night guitar and bonfire sessions with this quirky color.
35. Midnight Blue
Clearly, this color was made to go with yellow, which is one of the major themes of summer. Blue is a cooling color. It reminds you of the sky and water, which is what you'll need to beat the summer heat.
That was my list of the top 35 shades for summer. I think the perfect look for summer is champagne blonde hair done up in a shadow root style and paired with a graphic T-shirt, blue jeans, and red Converse. What's your favorite summer look? Comment below to let us know!
The following two tabs change content below.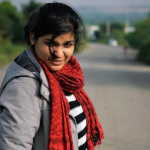 Latest posts by Anjali Sayee (see all)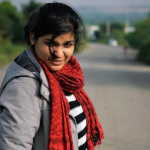 Anjali Sayee
Anjali Sayee is a writer and an introvert. From studying Aeronautical Engineering and wanting to design her own airplane to writing articles on hairstyles, she has been on quite a journey. She believes that hair is one of the key factors that define a woman's personality. To quote her, "What's the first thing they do in the movies to show a personality change? Change the hair – because it has a life of its own." She's here to help you find the hairstyle you need. This bookworm is a self-professed Wholocker, a talented drummer, and an amateur photographer.