9 Best Summer Wedding Guest Dresses Available In 2022
Look nothing but fabulous during the hotter days of the year with flowy clothing!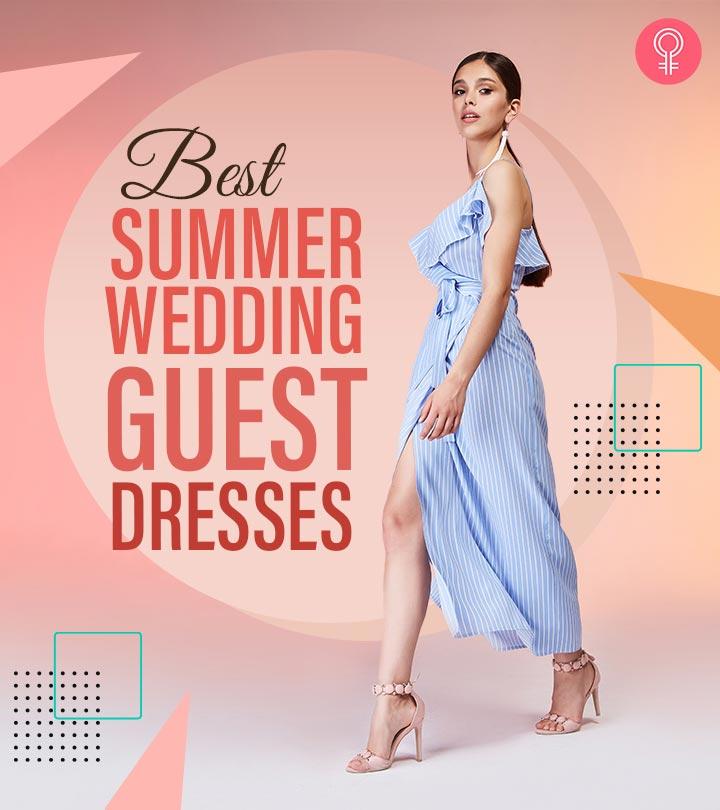 Being a guest at a summer wedding can be demanding, especially if you have not decided on a proper outfit yet. If you are attending a wedding that plans to make the best of the sunny forecast, you have to be ready for the high temperatures and the sunlight! Your makeup, hair, shoes, and most importantly, your dress must be perfect for the occasion and time of day and year.  Luckily, the options for the best summer wedding guest dresses are endless! For this fun-filled summer season, short dresses in floral patterns and bright colors are always fun. With the wide range of options, finding the perfect dress can be a huge challenge. To help you out, we have curated a list of the 9 best summer wedding guest dresses for every dress code, style, and budget! Take your pick.
9 Best Summer Wedding Guest Dresses To Wear
Amp up your fashion game with this gorgeous Blooming Jelly Floral Maxi Dress! It features a sexy upper lace, which shows the right amount of cleavage for the perfect summer wedding look. The open-back design and the asymmetrical skirt's irregular wrapped hem leave you feeling breezy and comfortable in high temperatures. The material is high-quality chiffon – durable, breathable, moisture-wicking, and soft on the skin. This maxi dress has adjustable straps to ensure a snug fit, which can be altered according to your convenience.
Pros
 Adjustable straps
 Hidden zipper
 Comfortable to wear
 Soft material
 Lightweight
 Stretchable
Cons
For an elegant and feminine look, check out the BTFBM Women's Summer Midi Dress! It is made of 100% polyester, which offers maximum breathability and comfort, even in rising temperatures. Although it is lightweight, the fabric is double lined, so you do not have to worry about the material being see-through. It features an overlapping V-neck design and ruffled sleeves and bottoms, which lends a soft, flowy, and vintage look. The waist has a tie-up design to accentuate your hips while visually prolonging your legs. It goes perfectly with a pair of strappy sandals and delicate jewelry!
Pros
 Wide color range
 Lightweight
 Breathable material
 Comfortable to wear
 Skin-friendly
 Opaque
 Stretchable
 True to size
Cons
None
This gorgeous BTFBM Women's Halter Neck Short Dress has a moderate stretch elastic waistband, which provides a snug fit and a self-tie belt to accentuate your waist. The material is 100% viscose, and super soft and gentle on your skin, thus does not cause any irritation or chafing. The lightweight and breathable fabric do not leave you feeling stuffy and hot, even in the hot weather. You can pair this dress with exquisite jewelry, a hand purse, and a pair of boots or heels for a chic look.
Pros
 Lightweight
 Breathable material
 Wide color range
 Comfortable to wear
 Soft fabric
Cons
None
For a beach side summer wedding, check out the elegant Dokuritu Women's Crochet Lace Maxi Dress! It features a gorgeous V-neck design and a long flowy skirt that can offer an elegant look. This maxi dress is well fitted above the waist, accentuating your curves for a feminine feel. Moreover, it is made of soft and breathable viscose material, which is super comfortable.
Pros
 Soft fabric
 Breathable material
 Adjustable straps
 Comfortable to wear
 Versatile
 Flattering fit
 Lightweight
Cons
None
Be it for a formal or semi-formal wedding, the KOH KOH Women's Long Evening Maxi Dress is sure to make a statement! It is made of a high-quality polyester and spandex blend, which is lightweight, stretchable, and soft. This maxi dress features a loose fit design with a high elastic waist to hide your muffin tops and provide a slimming appearance. It also does not wrinkle, leaving you feeling fresh and looking flawless throughout the day. This versatile maxi dress is available in several solid colors and ranges from XS to XXL – perfect for all body shapes and sizes.
Pros
 Stretchable
 Lightweight
 Breathable material
 Wide color range
 Soft fabric
 Comfortable to wear
 Tummy control
 Durable
Cons
The MSLG Women's A Line Dress is not an outfit that would eventually end up sleeping in the closet! The versatile design makes it a fine choice among young women. You can wear this dress on date nights or nightclub visits, or as a casual wear. It features a flattering short sleeve design and a round neck in the front, and a V-cut back for an elegant look. It has a full eyelash laced design lined till the mid-thigh, which is so beautiful that you are sure to get a ton of compliments! The fabric is 100% polyester, which is not stretchable but provides a snug fit and exceptional breathability to tackle the hot summer weather!
Pros
 Wide color range
 Soft fabric
 Comfortable to wear
 Flattering fit
 Durable
 Versatile
 True to size
Cons
The unique ULTRANICE Women's Floral Wrap Ruffle Dress is simple and elegant. It features a vivid floral print and irregular ruffles, perfect for any occasion. The fabric is 95% cotton and 5% spandex, which is soft, breathable, and has the ideal amount of stretch. It also comes equipped with a spaghetti strap that can be adjusted depending on your comfort and convenience.
Pros
 Adjustable straps
 Wide color range
 Stretchable
 Flattering fit
 Comfortable to wear
 Lightweight
 Soft material
 Budget-friendly
Cons
None
The Yathon A Line Spaghetti Dress makes it easier to carry your essentials like keys and phones during a busy wedding. It features two large pockets on either side to safely carry around your personal items. This unique dress features a gathered skirt and ruffled top design, which gives the dress a subtle personality and hides your muffin tops. It is made with 65% cotton and 35% polyester, which is super stretchy, lightweight, and perfect for the blazing hot weather. You can style this retro wedding dress with a pair of heels or wedges and minimal jewelry for a chic look.
Pros
 Lightweight
 Stretchable
 Soft fabric
 Wide color range
 Comfortable to wear
 Does not shrink
Cons
•  Not durable
The versatile Manydress Women's Bodycon Dress has a classic sleeveless design that accentuates your arm lines and shoulder, while the deep V-neck does justice to your girls! The fabric is skin-friendly and lightweight, thus providing comfortable and convenient wear throughout the day. You can pair this gorgeous dress with minimalistic jewelry and a pair of high heels for the perfect outdoor wedding look. This dress is also available in a wide range of royal colors and light pastel shades to suit any wedding venue or theme.
Pros
 Wide color range
 Comfortable to wear
 Stretchable
 Flattering fit
 Lightweight
 Breathable material
 Soft fabric
 Tummy control
Cons
None
The world of apparel has a lot to offer when it comes to wedding dresses for guests, especially a summer wedding date. But, the downside of this is that you are now spoilt for choice! There are too many options, including the best ones that we have curated. So, here is a quick buying guide for you to consider when you shop for the next wedding guest dresses for yourself.
How To Buy The Best Wedding Guest Dresses For A Summer Wedding
The very first thing to consider is paying attention to the dress code. Most of the information about the dress code is written in the invitation, and if not, you can consider the venue of the wedding to choose the right outfit. For casual weddings, you can wear short dresses and for luxurious 'black tie' ones, consider a long and elegant dress.
Color plays an important role, especially if you are on the curvy side. To accentuate and flatter your curves, choose dark colors like green, navy, or purple. However, make sure you stay away from black or white, as it takes away the wedding vibe and is generally saved for the bride and groom. Instead, look into bright and pastel colors that complement your style and look for summer weddings.
Just like any other dress you choose, the perfect sizing and fit of the dress are ideal for you to look gorgeous at the event. Make sure you choose a wedding dress with the right measurements for a relaxing day. It s better to avoid buying your attire at the last minute. Instead, order up ahead to have time to change the dress if the sizing is messed up!
If you are attending weddings in gardens and beaches, go for short dresses, and if you are going for an evening wedding, look for longer elegant dresses. Choosing a long dress for outdoor weddings can ruin your dress's bottom and make you feel uncomfortable.
The bet summer wedding guest dresses on our list are sure to bring you a lot of compliments and up your style game. When opting for any wedding dress, it is ideal to choose one that suits the wedding venue and the season. This summer, breezy lace dresses in bright hues and soft pastel floral prints are in the trend! It is also ideal that you select dresses made of lightweight and moisture-wicking material to get you through the hot weather. However, you can avoid outfits that are not true to size and can shrink after one wash only.
Why Trust StyleCraze?
The author of this article, Srijani Roy Chowdhury, is a fashion enthusiast who loves reviewing different products for her readers. She has carefully compiled this list featuring the best guest dresses for summer weddings after browsing online reviews on several trusted e-commerce websites. These summer dresses are lightweight, comfortable, and available in all sizes.
Frequently Asked Questions
What to wear to a summer wedding as a guest?
Dresses in bright colors and floral prints are always a fun choice for summer weddings. However, if the wedding opts for a formal dress code, you can consider wearing a mid-length to floor-length gown in breathable and lightweight fabrics.
Can short dresses be worn to a summer wedding?
Of course! Midi and short dresses are perfect for hot weather. However, if the wedding venue calls for formal attire, it might be best to opt for ankle or knee-length dresses.
How to accessorize a summer wedding guest outfit?
Woven accessories like clutches are perfect for the summer season, and colorful statement jewelry can glam up any wedding outfit. If the ceremony is going to be on sand or grass, look for sandals with block heels or flats.
Recommended Articles: