Best Sun Tattoo Designs – Our Top 10 Picks
Sun has always been an embodiment of life and prosperity and has been revered as a deity since pre historic times. The sun has religious and symbolic reference in many cultures. It is a timeless design for a tattoo and you can go for either a traditional or a modern design depicting the sun.
Sun tattoos are inked in many sizes as per the person's wish and can be done anywhere on the body like nape, collarbone, arms, backside, shoulders and legs. Usually shoulders and backside are the most popular places to get a sun tattoo inked. The beauty of sun tattoos lies not just in the simplicity of shape, but in the potential adaptability of the design. You can choose from tribal, celtic or contemporary sun tattoo designs depending on your preference.
What does Sun Tattoo Designs Depict?
Sun tattoos can be light or simple or deeply meaningful and highly elaborate. However you choose to depict this tattoo, it is certain to make a style statement. If done tastefully, they can be a source of great pride and satisfaction too.
The sun tattoo does not just mean power and supremacy. They have a plethora of other meanings like:
Strength
Growth
Fertility
Vitality
Endurance
Passion
Rebirth
Transformation
Reincarnation
Truth
Vigour
Sun Tattoo Designs – Top 10
Have a glimpse at the best sun tattoo designs and hope you will surely sport one of them.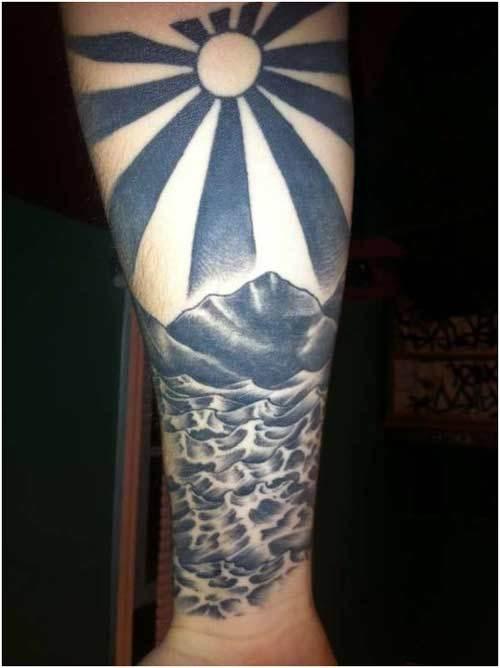 1. One of the best sun tattoo design is that of the Rising Sun. Rising sun denotes new life and beginnings. It also symbolizes vitality, energy, courage and knowledge. This tattoo is not inked in vibrant colours but just a single black ink is used. It nevertheless looks very eye catchy and attractive.
 [ Read: OM Tattoo Designs ]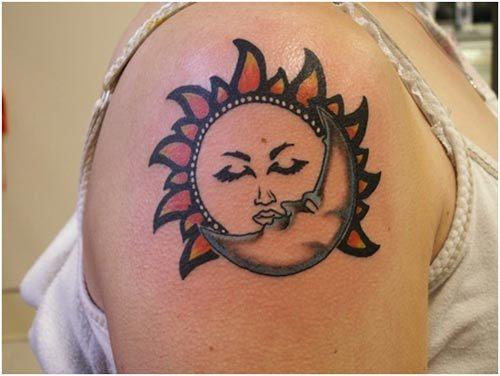 2. The sun is considered a masculine figure, so sun tattoos for women can be made more delicate and feminine by incorporating stars and moon that represent feminine features. This celestial tattoo is truly an artistic one and represents the inseparable relation of sun and moon and how incomplete both are without each other. The solar sphere is segregated into two halves, one has a sunny day and the other side has a moonlit night.
3. Sun tribal tattoos are also a popular sun tattoo design. They represent life, power and energy. Tribal sun tattoo designs are ideal for people who don't like colourful tattoos and are only drawn to black ink. This is an intricately designed sun tattoo with the parched sun and swirling effect. It is made in a simple black ink with jagged points jutting from it.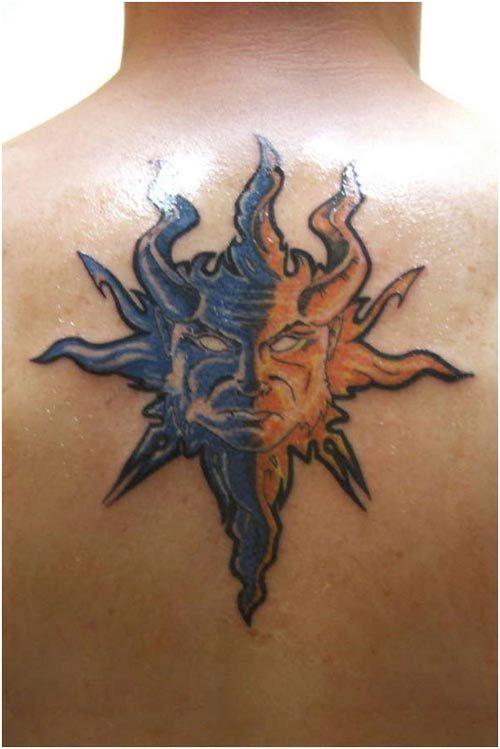 4. This tattoo gives us the impression of the Sun God as a mythological warrior. It is a replica of a fierce warrior armed with ammunition in the form of a spearhead. The look of this tattoo signifies the dormant anger of the celestial star.
 [ Read: Guitar Tattoo Designs for Girls ]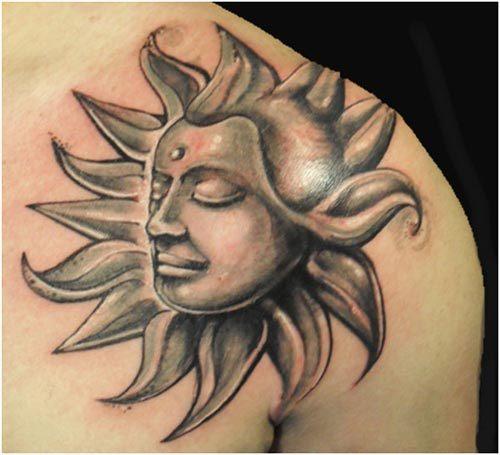 5. This is surely one of the most unique sun tattoo designs you must have ever seen. This tattoo is combined with the image of Buddha in the centre and is done in black ink which makes it stand out from other tattoos.
 [ Read: Arm Tattoo Designs ]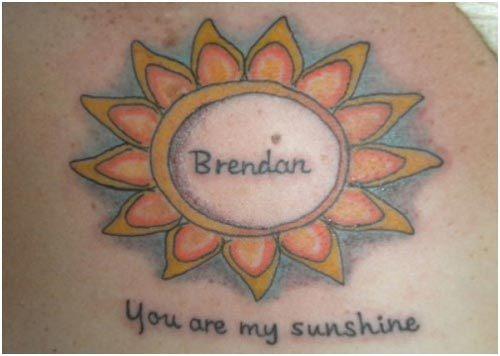 6. This is sweetest thing you can do to show love to your beloved. The name of the beloved is inked at the centre of the sun. The flames of the sun is inked with flowers which indicate that the sun is kind, warm and soft hearted and is the source of life for human beings on earth.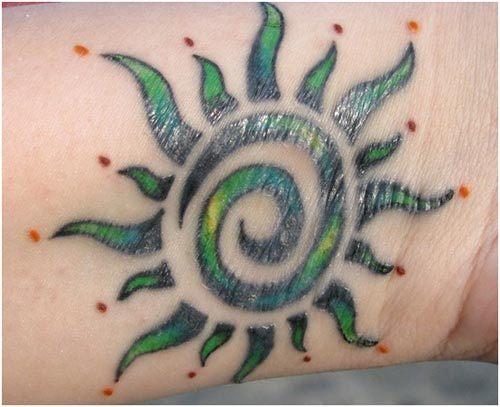 7. This tattoo is done in an unconventional colour of green, black and yellow which gives a dynamic look to this tattoo. The addition of orange dots at the corner of the rays adds a zing to the look of the tattoo.

8. This sun tattoo has the face of a human being inside the sun which is believed to provide protection from negative aspects and dangers of life.
 [ Read: Tattoo Designs for Hands ]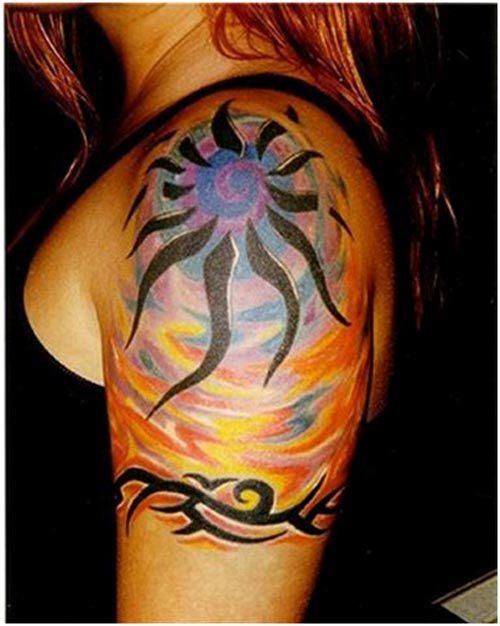 9. This sun tattoo is inked on the upper arm and is viewed to be the stable source of potential energy. The tattoo artist has given this traditional sun tattoo a makeover by adding a few geometric shapes which cluster together to represent the mighty flame of the sun. The colourful background here stands for happy weather on a sunny day. The vibrant shades of red, purple and orange are sure to catch the attention of onlookers
 [ Read: How To Remove Tattoo ]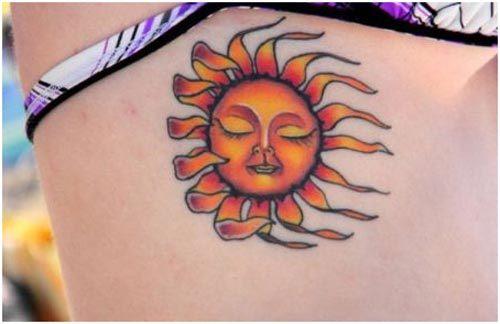 10. This is the cutest of all designs. The tattoo holder in this tattoo is attempting to give a breezy effect to her sun tattoo. The fiery rays of sun resemble the leaves of the tree that is fluttering in the soothing summer breeze.
Have you ever got any of these kinds inked over your skin? Leave your feedback with us.
Image Source: 1 , 2 , 3 , 4 , 5 , 6 , 7 , 8 , 9 , 10

The following two tabs change content below.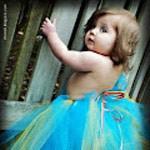 Latest posts by Arshi Ahmed (see all)