12 Best Sunday Riley Products You Will Get Obsessed With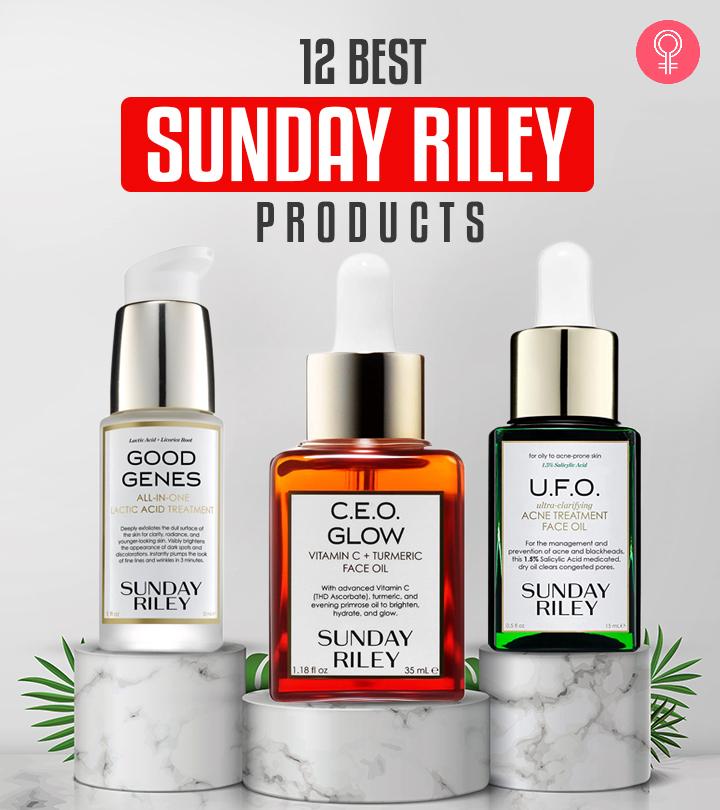 Regular skin care is important. However, most products on the market contain artificial ingredients and other chemicals. These could harm your skin in the long run. This is where Sunday Riley comes into the picture. Their products are safe and adaptive to your skin care needs.
If you have fine lines, bumps, or dark spots, you can choose Sunday Riley. These products contain a plethora of essential ingredients to support your skin structure. They also hydrate, rejuvenate, and keep your skin clear and clean.
Here, we have compiled a list of the top 12 Sunday Riley products recommended by dermatologists. Take a look.
12 Best Sunday Riley Products
This face oil from Sunday Riley is rich in vitamin C, raspberry seed oil, and turmeric. The face oil hydrates your skin instantly and removes dark and dull skin spots upon regular use.
Turmeric is known for its anti-inflammatory properties. It soothes skin from conditions like rosacea and acne. Therefore, if you are looking for a fast-absorbing formula with a radiant boost to your skin, the vitamin C and golden turmeric in this product are what you need. 
Key Ingredients: Raspberry seed oil, turmeric, and vitamin C
Pros
Fast-absorbing
Not greasy
Soothes inflammation
Anti-acne properties
Cons
May not suit sensitive skin (or those sensitive to orange flower extract)
The Sunday Riley Good Genes All-In-One Lactic Acid Treatment earned the best chemical exfoliator award in 2019 (Byrdie Skincare Awards). It contains filtered lactic acid that efficiently and deeply exfoliates your skin to even it out. It also gives you a smoother complexion. It is packed with plant-based ingredients. If you have sensitive skin, use this product as a mask and rinse in three minutes. You can also leave the formula overnight and be surprised when you look at yourself in the mirror the next morning.
This highly potent lactic acid helps reduce dark spots and wrinkles. It also helps remove dead skin cells. This treatment has been clinically proven to instantly and significantly improve your skin radiance and cover fine lines in just three minutes.
Key Ingredient: Lactic acid
Pros
Nice packaging
Reduces hyperpigmentation
Brightens skin complexion
Gluten-free
Paraben-free
Cons
Expensive
Causes a prickly feeling
Those with sensitive skin can only use it as a mask
The Sunday Riley U.F.O. Ultra-Clarifying Face Oil reduces the appearance of blackheads, acne, blemishes, and dark spots. This face oil is enriched with natural ingredients and clarifying plant oils such as black cumin seed and tree tea oils. These ingredients fight wrinkles and fine lines and reveal a smoother, even-toned complexion.
This product has a balanced formulation that keeps your skin hydrated and smooth. It ensures your skin does not go flaky or dry. For women with acne, this ultra-clarifying oil is worth a try. The product sinks into your skin fast, and its salicylic acid helps decongest the clogged skin pores.
Key Ingredients: Black cumin seed oil and tea tree oil
Pros
Shows results in a couple of days
Fights wrinkles
Fades fine lines
Hydrates skin
Unclogs pores
Fades acne marks
Cons
Overpowering fragrance
May not suit sensitive skin
The Sunday Riley Luna Sleeping Night Oil contains blue tansy essential oil, retinol, and German chamomile. The blue tansy essential oil fights skin redness and sensitivity.  The retinol reduces fine lines and makes your skin plump. The German chamomile helps with faster results – it can give you the desired results in less than four weeks.
The night oil is also packed with chia seed oil and avocado seed oil, along with lecithin, beta carotene, vitamins A and D, and fatty acids. All these ingredients help hydrate your skin and offer UV protection.
This oil suits sensitive skin that is otherwise susceptible to redness and acne.
Key Ingredients: Blue tansy essential oil, retinol, German chamomile, chia seed oil, and avocado seed oil
Pros
Anti-aging
Non-greasy formula
Suits sensitive skin
Cons
Expensive
Not safe for pregnant women
The Sunday Riley Martian Mattifying Melting Water-Gel Toner could be your ideal pick if mattifying is your key concern. This water-gel toner changes from a lightweight gel to an easy-soaking fluid that works wonders on your skin. The product has bentonite clay that reduces shine through the day. The toner, however, would feel too dry for sensitive skin.
This unique toner smells like fresh cucumber. It clarifies and tones your skin as it is packed with anti-inflammatory properties. The water-gel toner is ideal for blemish-prone skin. The cooling, transformative gel melts when applied to your skin. Using this product before applying makeup can leave your skin feeling less oily. It also extends your foundation wear.
Key Ingredients: Bentonite clay and marshmallow
Pros
Paraben-free
Sulfate-free
Absorbs excess skin oil
No residue
Fights inflammation 
Cons
Expensive
Could dry sensitive skin
Unpleasant smell
The Sunday Riley Ceramic Slip Cleanser strikes the right balance between a cleanser and a face wash. It deeply cleanses your skin without drying it too much. It boasts of four natural, plant-based, and extra-mild soaps. It also contains French green clay that functions as a magnet to drag excess oils, dirt, makeup, and other undesired elements that penetrate your skin. It also works as a natural detoxifier. The vitamin C in the cleanser provides antioxidant properties. The rice oil esters hydrate your skin and give you a balanced complexion.
The product is best for acne-prone and oily skin. It is gentle on the skin and does not irritate or aggravate breakouts.
Key Ingredients: Vitamin C and French green clay
Pros
No residue
Does not dry your skin out
Suits all skin types
Detoxifies skin
Hydrates skin
Non-irritating
Cons
Overpowering fragrance
Not effective in removing makeup
The Sunday Riley C.E.O. Vitamin C Rich Hydration Cream suits sensitive skin. You may also use it during the night if you do not have a dry complexion.
This hydration cream has 5 percent vitamin C as well as a lime pearl. These ingredients deeply moisturize your skin, brighten dull complexion, wane the signs of premature aging, re-texturize skin, and fight skin dehydration.
Key Ingredients: Vitamin C derivative and lime pearl extract
Pros
Ideal for sensitive skin
Anti-pollution extracts
Reduces signs of aging
Moisturizes skin
Cons
The Sunday Riley Tidal Water Cream is a good moisturizer. It contains two kinds of hyaluronic acid that pull moisture towards your skin. The cream's bouncy gel and oil-free touch feel naturally cool and invigorate your skin. The water cream is also infused with brightening alpha-arbutin and natural, exfoliating papain extracts that treat the unsightly dark spots and hyperpigmentation. You will also love the product's pastel turquoise color.
The formulation works overtime to moisturize and reload the skin cells in the epidermis. It also boosts skin brightness.
Key Ingredients: Hyaluronic acid, papain extracts, and alpha-arbutin
Pros
Two-in-one product
Lightweight
Easily absorbed
Reduces hyperpigmentation
Cons
This rich serum has a potent form of vitamin called THD ascorbate. This vitamin is oil-soluble, consistent, and absorbs into your skin in no time. It brightens complexion, smoothens fine lines, and offers antioxidant protection. You can use this serum as the perfect base layer for your sunscreen every day. You will also love its deep, orangey fragrance.
The cream instantly brightens your skin with a new radiance. Its phytosterols help minimize signs of skin sensitivity.
Key Ingredients: THD ascorbate and phytoesterols
Pros
Minimizes acne scars
Pleasant smell
Reduces skin sensitivity
Smoothens fine lines
Antioxidant protection
Cons
Feels greasy on oily skin
Expensive
May not reduce pore size
The Sunday Riley A+ High-Dose Retinoid Serum is a potent combination of stabilized botanicals and retinoids with comforting ingredients that treat fine lines, dark spots, wrinkles, uneven complexion, and skin breakouts. The essential nutrients in the product fight skin redness and irritation. Retinoids have anti-aging properties. They also boost skin cell turnover and fuel collagen production.
Regular application of this serum will leave your skin feeling smoother, brighter, and more even. The serum fights premature aging and enhances the appearance of UV-damaged skin.
Key Inrgedients: Retinoid blend
Pros
Fast-absorbing
Suits sensitive skin
Lightweight
Fragrance-free
Fights premature aging
Reduces skin redness
Boosts collagen
Cons
Expensive
Misleading ingredients
The Sunday Riley Auto Correct Brightening And Depuffing Eye Contour Cream contains the perfect blend of ginseng and caffeine. The cream helps reduce eye puffiness. Its moisturizing ingredients and antioxidants smoothen and hydrate crow's feet over time. The formula is also excellent for waning dark circles. Keep your eye contour cream in the refrigerator before use for best results.
Key Ingredients: Ginseng and caffeine
Pros
Reduces dark circles
Good packaging
Cons
The Sunday Riley ICE Ceramide Moisturizing Cream is perfect for hydrating normal and dry skin types. The formula attracts moisture and seals it in the skin. The ceramides keep your skin healthy and strong and protect its moisture barrier against environmental aggressors. You gain a baby soft, plumped skin. The creamy, rich structure of this cream is your best bet during the cold winter months or the night.
Grab this cream to reverse the age clock. It keeps your skin balanced and smooth all day. The coconut and beetroot extracts attract moisture to your skin. The vitamin F, ceramides, and pomegranate sterols reinforce your skin's moisture barrier.
Key Ingredients: Ceramides, vitamin F, pomegranate sterols, coconut extract, and beetroot extract
Pros
Creamy texture
Calms your skin
Protects from environmental aggressors
Reduces signs of aging
Moisturizes skin
Cons
Not suitable for oily skin
Unpleasant smell
These are the top 12 Sunday Riley products available online. In the following section, we have discussed how you can use them.
How To Use Sunday Riley Products
You can use some of the products that suit your skin type and beauty requirements.
Sunday Riley C.E.O. Glow Vitamin C & Turmeric Face Oil: You need two to three drops, or as required. Apply to your face and neck in the morning and evening.
Sunday Riley U.F.O. Ultra-Clarifying Face Oil: Once you cleanse your skin, massage the face oil on your face, chest, and neck. It is a dry oil and soaks fast into your skin. You can use it during the day or at night.
Sunday Riley Luna Sleeping Night Oil: You can use the oil at night to cleanse and dry your skin. The product turns from blue to clear when you massage the oil on your skin. Your skin tone and glow will improve, and skin redness and dryness will visibly reduce the next day.
Sunday Riley C.E.O. Vitamin C Rich Hydration Cream: You can apply this moisturizing cream to clean your skin once or twice daily. It also works well on sensitive skin.
Sunday Riley C.E.O. 15% Vitamin C Brightening Serum: For antioxidant protection and Vitamin C radiance, you need to use two pumps each morning. For an added vitamin C boost, you can blend the serum with two to three drops of C.E.O Glow Vitamin C & Turmeric Face Oil and use it together. In the evenings, use the mixture to cleanse your skin.
Conclusion
The Sunday Riley products are in the news for all the right reasons. They are clinically proven and contain natural ingredients. They are the perfect choice for beauty-conscious women. We hope this list has given you enough information. Choose your favorite Sunday Riley product today and start feeling more beautiful!
Expert's Answers for Readers Questions
Are Sunday Riley products worth the hype?
Yes, they are. Their face oils, serums, and moisturizing creams brighten, smoothen, and cleanse the skin. They help reduce dark spots, fine lines, and wrinkles. They also make your skin look moisturized and plump.
The natural ingredients exfoliate pore-clogged dead skin cells and even reduce hyperpigmentation.
Which order should you use Riley products?
You can use Riley skincare products in the following order:
Step 1: Double cleanse
Step 2: Toners, essences, and boosters
Step 3: Eye contour cream
Step 4: Face oil, treatments, serums, and peels
Step 5: Moisturizer or night cream
Are Sunday Riley products useful for treating rosacea?
The Sunday Riley C.E.O. Glow Vitamin C & Turmeric Face Oil could be effective in treating rosacea. Its lactic acid minimizes skin reactions like rosacea. Riley products also contain aloe, cactus, and prickly pear extract that help treat this condition.
Recommended Articles
The following two tabs change content below.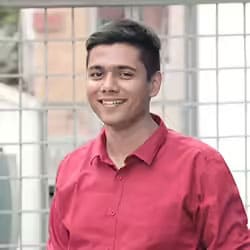 Ravi Teja Tadimalla
Ravi Teja Tadimalla is an editor and a published author. He graduated from SRM University, Chennai, and has been in the digital media field for over six years. He has a Professional Certificate in Food, Nutrition & Research from Wageningen University. He considers himself a sculptor born to chip away at content and reveal its dormant splendor. He started his career as a research writer, primarily focusing on health and wellness, and has over 250 articles to his credit. Ravi believes in the great possibilities of abundant health with natural foods and organic supplements. Reading and theater are his other interests.