10 Best Sunglasses Brands For Eye Protection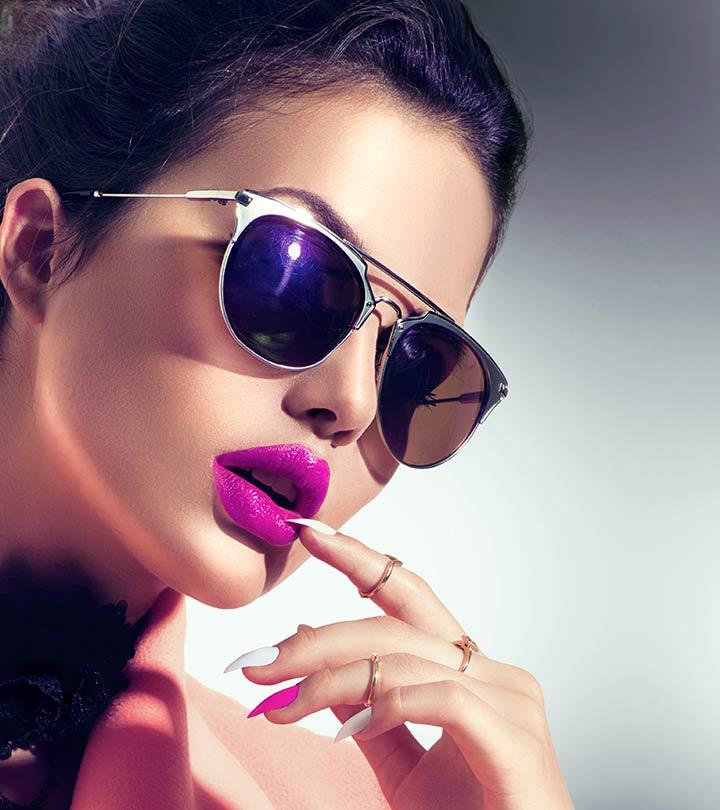 Sunglasses are one fashion accessory that can lift your entire outfit and put it on the pedestal. While some people are suckers for style, others are brand freaks, and most are hoarders (like me). In all this frenzy, sometimes we end up buying glasses for their sheer style, and do not bother to check if they protect our eyes from the sun (which is what they are supposed to do). I learned the hard way that sunglasses are worth the investment, and one robust pair is better than ten fancy ones. And when I say robust, I mean that they should at least be polarized, provide sun protection, or both (ideally). What does this mean? To know more, and about the top sunglasses brands for eyewear, you need to scroll down.
Types Of Sunglasses
UV Protection Sunglasses protect your eyes from the powerful 'Ultraviolet' rays that are known for causing damage to the skin, eyes, etc. Look for glasses that give 100% coverage, and are both UVA & UVB protected. UVA rays can cause cataracts and damage to the retina in some cases because they penetrate your eyes easily. UVB rays can be absorbed by your cornea, and are more harmful and powerful than UVA rays. The best and easiest way to protect yourself is by buying sunglasses that give your complete protection.
Polarized Sunglasses are sunglasses that nullify the glare, reflection, and the intensity of light. 'Glare' is one of the biggest issues while driving, walking or even being out in the sun. Without getting into the science of it, here's what they do – polarized glasses come with an invisible chemical coating that diminishes the intensity of light, and mellows down the sharpness. Polarized glasses are not always necessarily UV protectants, while the opposite is true. If you have to choose between UV protection sunglasses or polarized, go for the former, they are great value for that extra money you are going to spend.
Also, whichever one you choose to buy, make sure that your glasses cover your eye area completely to avoid skin discoloration, sunburns, tanning, etc.
Top 10 Sunglasses Brands
1. Ray-Ban
Ray-Ban has to be first on any list that talks about sunglasses. It has been in the business since the 1930s, when it first started making 'Aviators', which, till today, are its bestsellers. And probably a style that no other brand, however expensive, can replicate. It was started by Bausch & Lomb, who had to make glasses for the US Aviation Department to help the aircraft pilots protect their eyes from the sun. Then came the 'Wayfarers,' which was also a big hit. The best part is that they are unisexual. Ray-Ban has evolved into a giant, making sunglasses for men, women, and kids.
2. Oakley Women
A California based company that started as a manufacturer making sports and performance equipment including sunglasses, Oakley Women was considered a competitor to Ray-Ban even back then (even though both had their unique take). Oakley glasses are robust, durable, and perfect for outdoor activities, which is what garnered the brand's popularity. It has hundreds of patents under its hood for its innovation in technology, materials, designs, etc. that go into the making of sunglasses. From sportswear and fashionable sunglasses to prescription sunglasses, Oakley products mean quality and style.
3. Persol
'Persol' literally translates to 'for the sun' in Italian. It is the oldest sunglasses manufacturing company in the world. It started off making sunglasses for aviation pilots and race car drivers, and then started branching out into prescription glasses, cosmetic sunglasses, etc. It was established as a luxury brand back in the day and remains the same to this day too.
4. Polaroid
Polaroid Corporation created a revolution with inventions like the most inexpensive polarized film that came out in 1920. After that, they went on to use this technology for making sunglasses that give the highest level of UV protection, and that is why they are at the forefront even to this day. Initially, the technology was used for aviators, racers, divers, bikers, etc., but then, it started gaining popularity among celebrities. The technology was later used for making regular sunglasses, prescription wear, etc.
5. Maui Jim
Maui Jim is an Illinois-based corporation with roots in Hawaii. It, therefore, follows the Hawaiian theme. It started making sunglasses for aquatic sports and moved on to other lines rather quickly. Later, it went on to making non-prescription sunglasses, prescription glasses, etc., giving its customers fashionable choices. Today, Maui Jim has a vast range of products to offer and is a brand that many people want to be associated with.
[ Read: 50 Interesting Hair Accessories To Try ]
6. Police
Police is another Italian brand that started in the 1980s. It specializes in manufacturing sunglasses. It started gaining popularity when people began to like the designs, quality, and options Police had to offer. Later, it went on to make perfumes and apparel too.
7. Kate Spade
Kate Spade New York started in 1993 as a fashion house, giving fierce competition to Michael Kors right from its inception. What began with colorful bags went on to apparel, shoes, handbags, and sunglasses, all of which were equally popular. There is a colorful and vibrant energy associated with the brand.
8. Prada
Prada, an Italian luxury brand, joined the De Rigo group to make eyewear and launched its first collection in 2000. Prada is a dream brand for most women, and its eyewear only adds to their list. Prada sunglasses have a very retro and old world charm to them, yet are modern and impeccably stylish, which is why most women choose Prada.
9. Christian Dior
Christian Dior, a French company, is known for its couture apparel, handbags, perfumes, and eyewear – which turned out to be its most valuable brand extensions. Dior Eyewear was started more than 20 years ago in association with Safilo Group, and together they have been making remarkable eyewear, breaking barriers and exploring fashion boundaries. It continues to invest in research and development to create eyewear that is modern, feminine, and fashionable, while providing full protection.
10. Dolce & Gabbana
Dolce & Gabbana started in 1958, and is yet another Italian company that started off by making luxury apparel. It went on to expand its business after its big success in the fashion industry. D&G Eyewear is a part of the brand extension and became a massive hit with its signature D&G letters on either side of the rims. Today, the brand's products are coveted in most parts of the world.
Buying sunglasses that protect your eyes do not have to be dull or boring, this list just proves that. In fact, UV protection or polarized glasses are not always expensive – it's just a myth, so be sure to choose glasses that give your protection. What are your go-to sunglasses brands? How do you shop for sunglasses? Let us know by dropping a text in the comment section below.
Recommended Articles:
The following two tabs change content below.