9 Best Sunscreen Body Lotions Available In India
No more compromising on UV protection while looking for intense moisturization.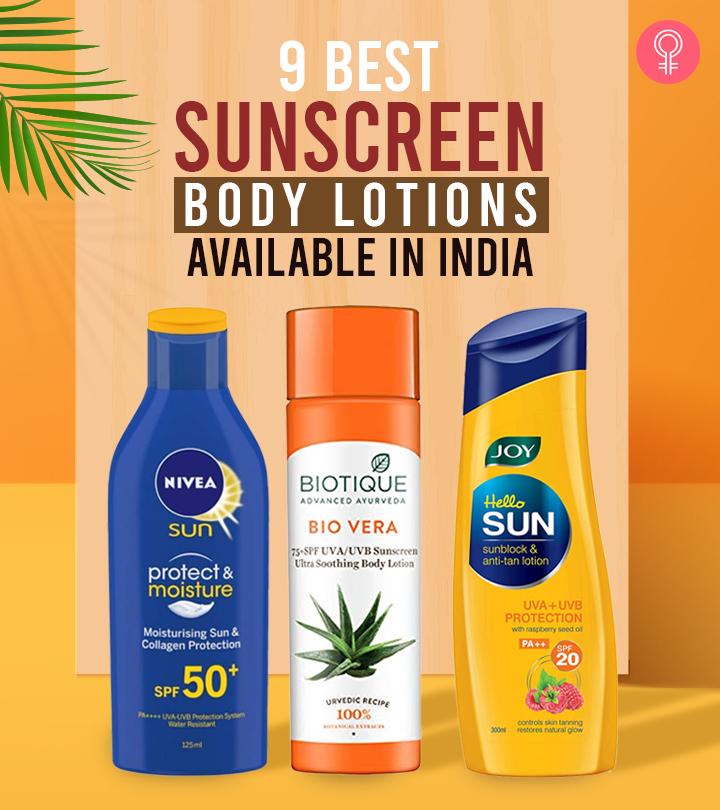 There is a simple rule when it comes to sunscreen – use it every day! Sunscreen is a must, especially for the Indian weather. If you don't use one, the sun damage is likely to be visible on your skin way sooner than you would have imagined. The harmful UVA and UVB rays cause your skin to age faster, resulting in fine lines, sunburns, skin darkening, and increased risk of skin cancer.
To prevent these possibilities, choosing the best body sunscreen for everyday use is key. We have compiled a list of the 9 best sunscreen lotions for the body available in India. Check them out.
9 Best Sunscreen Body Lotions Available In India
The NIVEA Sun Protect & Moisture has a lightweight, non-sticky, and water-resistant formula. It protects your skin from the sun, UVA, and UVB rays and prevents tanning. It is one of the best sunscreens for the body available in India. You don't have to wait 15 minutes before stepping out in the sun, as this sunscreen ensures instant protection with SPF 50PA++. The Advanced Collagen Protect Formula moisturizes the skin and prevents wrinkles caused by frequent sun exposure.
Pros
Non-greasy
Water-resistant
Lightweight
Cons
Does not absorb completely.
Price at the time of publication: ₹531.05
The Himalaya Protective Sunscreen Lotion has a double-action formula that not only protects your skin from harmful UV rays but also nourishes it. It is formulated with cinnabloc, which is extracted from herbs like spiked ginger lily, greater galangal, and crab apple. Each of these ingredients has natural UV ray shielding properties. This sunscreen lotion also intensely moisturizes your skin. It contains SPF 15 that protects your skin from sun-damaging effects like premature aging or tanning.
Pros
Non-sticky
Lightweight
Value for money
Pocket-friendly
Cons
Not suitable for sensitive skin.
The matte finish and oil-free formula of the UV Doux Silicone Sunscreen Gel makes it the best body sunscreen for everyday use. The easy-to-use gel formula is water-resistant and provides long-lasting hydration with a hint of luminous finish on the skin. This sunscreen body gel is for tified with SPF 50 PA+++ and infused with octyl methoxycinnamate and titanium dioxide. This potent blend ensures absolute protection of your skin from harmful UVA/UVB rays.
Pros
Water-resistant
Oil-free
Hypoallergenic
Dermatologically tested
Paraben-free
Cons
Does not hold makeup.
Expensive for the quantity.
This sunscreen lotion from khadi is absorbed instantly and does not leave any greasy residue behind. It provides broad-spectrum protection against the harmful UVA and UVB rays with SPF 30 PA. This sunscreen body lotion is formulated with naturally active ingredients that balance and lighten your skin to even out the skin tone. It has soothing properties of horse chestnut that nourishes your skin under the sun. This sunscreen is best suited for normal to oily skin types.
Pros
Mild fragrance
Non-greasy
Fast-absorbing
Value for money
Cons
The Bio VeraUltra Soothing Body Lotion from BIOTIQUE has a broad-spectrum SPF 75 to protect your skin from the harmful effects of UVA and UVB rays. This nutrient-rich sunscreen lotion is formulated with aloe vera and sunflower seeds that nourish, soothe, and protect your skin cells from environmental damage. Aloe vera has moisturizing, anti-inflammatory, and antioxidant properties, while sunflower seeds promote the health and vitality of the skin. Vitamin E from the sunflower seeds protects the skin from free radical damage to prevent wrinkles and scarring.
Pros
Suits normal to oily skin
Preservative-free
100% natural botanicals
Cruelty-free
Dermatologist-tested
Cons
This sunscreen body lotion from THE BLESSING TREE is mineral-based and offers broad-spectrum SPF 50 PA+++. It is formulated with a potent blend of zinc oxide and titanium dioxide that blocks the sun rays. This lotion seeps into the skin instantly to protect it from UVA and UVB rays, without feeling greasy. It is water-resistant and is perfect as a base for your makeup as it suits all Indian skin tones.
Pros
Water-resistant
Works as a base for makeup
Value for money
Non-comedogenic
Paraben-free
Cons
May not suit sensitive skin.
The Organic HARVEST Sunscreen is a triple-action formula with SPF 60 that protects your skin. It is formulated with olive oil, tamarind seed extract, and clay minerals. Olive oil hydrates the skin, while the clay minerals block the harmful effects of UVA and UVB rays. The hyaluronic acid from the tamarind extract keeps the skin healthy and moisturized. This sunscreen lotion is water-resistant and sweat-proof and contains 100% plant-derived extracts.
Pros
Water-resistant
Long-lasting protection
Cruelty-free
Paraben-free
Sulfate-free
Mineral oil-free
Cons
Price at the time of publication: ₹240.81
The sunscreen lotion from EnQ has SPF 30 that provides 12 hours of long-lasting sun protection and moisturization. The quick-absorbing formula contain speaches and milk that nourish the skin and make it radiant. Peaches deeply hydrate the skin and create a protective layer of moisture to prevent flaking and dull skin. This protective layer also blocks up to 97% of harmful UVA and UVB rays that cause dark spots, premature aging, sunburns, and tanning.
Pros
12-hour long-lasting effects
Non-greasy
Paraben-free
Sulfate-free
Cruelty-free
Mineral oil-free
No harmful chemicals
Hypoallergenic
Cons
None
This sunblock is loaded with the goodness of raspberry seed oil. The anti-sweat and moisturizing formula also protects the skin from sun damage caused by UVA and UVB rays. This lotion helps restore the natural radiance by combating dull skin and tanning. The sweat-free formula makes this sunscreen a perfect pick for summers.
Pros
Non-oily
Anti-sweat formula
Value for money
Pleasant fragrance
Cons
None
Here are a few things to consider while picking the best sunscreen lotion for the body.
How To Choose The Best Sunscreen Body Lotion
Check the labels for any harmful or allergy-causing ingredients. A sunscreen should have titanium dioxide or zinc oxide as they provide the ultimate protection from UVA and UVB rays. Also, it is best to pick a sunscreen for the body that is natural or made with plant-derived ingredients to avoid skin allergies.
Sunscreens come in various forms, including creams, lotions, gels, and sprays. It is best to opt for creams or gels rather than sprays. Creams and lotions are easier to apply evenly, while sprays may not evenly cover the body.
The Sun Protection Factor or SPF is a measure to ensure protection from the harmful effects of the sun. It is always advised to pick a sunscreen that has SPF 30 or higher.
Water And Sweat Resistance
A sunscreen that is water and sweat- resistant is highly recommended, especially if you indulge in outdoor activities or are stepping out to run an errand.
Price does not determine quality. Many pocket-friendly brands provide equally effective products as expensive ones. Hence, before spending on a sunscreen, check the reviews and pick the best.
Using a sunscreen on the body will help protect your skin from long-term harmful effects of the sun, like premature aging, tanning, skin darkening, uneven skin tone, and more. Pick the one that best suits your skin type from the above list.

Recommended Articles