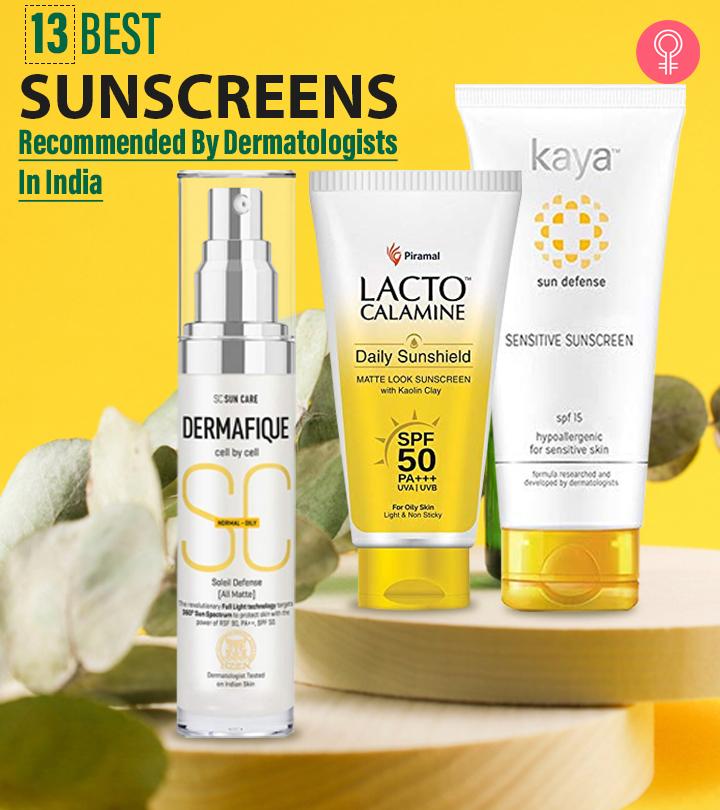 An important part of taking care of your skin all year round is to protect it from the harmful sun rays. As little as 10 to 15 minutes of sun exposure can cause substantial damage to the skin over time. A good sunscreen not only protects the skin from UV rays but also contains antioxidants to eliminate free radical damage.
However, with so many products flooding the market, how do you choose the right one? A sunscreen recommended by dermatologists definitely makes your decision easier! Here, we have listed the 13 best sunscreens recommended by dermatologists in India with high SPF and other skin-enhancing properties. Scroll down to check them out!
13 Best Sunscreens Recommended By Dermatologists In India
The Neutrogena Ultra Sheer Dry Touch Sunblock has a thick creamy consistency, which is absorbed easily by the skin and does not leave a greasy residue. The advanced Helio plex technology makes it one of the best sunscreens on the market as it protects the skin against harmful sun rays.
This SPF 50 PA+++ sunblock has anti-aging properties and is beneficial to your skin as it contains oat kernel extracts. It is light enough to be used throughout the year and will not clog pores. The mild and pleasant fragrance adds to the soothing effect it has on your face.
Pros
Non-comedogenic
PABA-free
Lightweight
Non-greasy
Fast-absorbing
Oxybenzone-free
Cons
Not suitable for very oily skin.
This sunscreen from Re'equil has a low penetration formula that offers six hours of protection from the sun. This non-greasy lotion is specifically made for oily-acne prone skin as it does not contain oxyben zone and OMC, which are the common triggers for adverse skin reactions. This sunscreen contains olive leaf bio actives with skin lightening properties and coral reef filters that make it very safe for your skin. The SPF 50 PA+++ protects your skin from all kinds of UV light damage.
Pros
Non-greasy
SLS-free
Paraben-free
Non-comedogenic
Oxybenzone-free
OMC-free
Cons
Causes sweating
May leave a white cast.
The mamaearth Ultra Light Indian Sunscreen is fortified with natural ingredients. Carrot seed oil has moisturizing properties, turmeric is antibacterial, and orange oil is anti-inflammatory and makes the cream non-greasy. This lightweight sunscreen also contains cananga oil that protects your skin even during the fiercest Indian summers. This lightweight sunscreen with SPF 50 PA+++ prevents UVA and UVB damage and reduces tanning while keeping your skin nourished.
Pros
Hypoallergenic
Sulfate-free
Phthalate-free
Paraben-free
Silicone-free
Petroleum-free
Noartificial preservatives
Noartificial colors
Cons
Causes sweating
Unpleasant smell
This sunscreen lotion from WOW Skin Science contains bioactive plant extracts, making it one of the safest sunscreens recommended by dermatologists. The presence of bioactives ensures your skin is safe from tanning, pigmentation, and premature aging.
This sunscreen lotion is formulated with altero monas ferment extract from French Polynesian sea waters, vitamin B3, and licorice extract to protect your skin from pollution, smoke, and other harsh skin irritants. It has SPF40 and provides adequate protection from UVA and UVB rays. This sunscreen is both water and sweat-resistant and is long-lasting in extreme weather conditions and even while swimming.
Pros
Quick-absorbing
Water-resistant
Sweat-resistant
Paraben-free
Mineral oil-free
Propylene glycol-free
Polyethylene glycol-free
Cons
Strong fragrance
Leaves a white cast.
Not suitable for sensitive skin.
The Brinton Sunscreen Gel is an easy-to-apply gel formulation that stays long on your skin without feeling greasy. The SPF 50 PA+++, octyl methoxycinnamate, and titanium dioxide provide total protection from the harmful sun rays. This gentle sunscreen also protects your skin against daily pollutants and has long-lasting hydrating properties.
Pros
Non-comedogenic
Hypoallergenic
Paraben-free
Water-resistant
Sweat-resistant
Cons
Not suitable for oily skin.
The La Shield Sunscreen Gel is a great choice for oily skin as it has a non-greasy formula that gives a matte finish. The SPF40 PA+++ provides high protection from harmful sun radiation. This gentle gel sunscreen contains antioxidants that fight the free radicals and give you younger-looking skin. It does not cause skin allergies or irritations and is one of the most trusted sunscreens recommended by dermatologists in India.
Pros
Non-comedogenic
Water-resistant
Preservative-free
Fragrance-free
No color additives
Alcohol-free
Cons
This sunscreen is an advanced silicone gel formulation with anti-tanning and anti-aging properties. It helps reduce fine lines and wrinkles and can also be used under makeup as it has a non-greasy matte finish. The SPF50 ensures phenomenal broad-spectrum radiation protection. This sunscreen gel is sweat and water-resistant, making it perfect to use while you are at the beach. It contains SPF boosters and photostable UV filters that eliminate the need to apply it frequently.
Pros
Preservative-free
Non-comedogenic
Non-greasy
Water-resistant
Cons
Can cause redness or irritation.
The BELLO Photostable Sunscreen Emulgel is fortified with vitamin E and antioxidantswithanti-aging and skin-nourishing properties. The SPF 40 ensures total protection from the harmful sun rays. This sunscreen contains photostable ingredients that prevent skin darkening and sunburns. The gel structure of this sunscreen ensures open pores are not clogged.
Pros
Non-comedogenic
Paraben-free
Hypoallergenic
Cons
Not suitable for oily skin.
This sunscreen gel from SUNCROS is gentle enough to be used on babies above six months of age. It is universally recommended by dermatologists for its broad-spectrum SPF 50PA+++. This sunscreen is sweat and water-resistant and provides long-lasting protection for up to eight hours. It has a soothing effect on sunburns and is suitable for acne-prone skin. It evens out the skin tone while giving a matte finish.
Pros
Water-resistant
Suitable for all ages
Matte finish
Cons
The Lacto Calamine Daily Sunshield is fortified with lemon extract and kaolin clay, which reduce tanning and promote oil absorption while giving a smooth, matte look to your skin. The SPF 50 PA+++ sunscreen protects the skin from harmful UVA and UVB rays and treats sunburns.
It prevents premature aging and is enriched with purified water, which makes it lightweight and quick-absorbing. Its water-resistant properties make it long-lasting and allow it to be used under makeup as well. This product ticks all the boxes for a multipurpose sunblock for oily skin.
Pros
Non-oily
Non-sticky
Water-resistant
Paraben-free
Sulfate-free
Cons
This sunscreen gel from DERMA ESSENTIA is enriched with advanced nanotechnology, which allows for easy application while providing an even skin tone. It is fortified with natural ingredients like thermus thermophilus ferment extract that shields the skin from the harmful sun rays.
The biosaccharide gum- 4 forms a layer to protect from dust particles, while thesaxifraga sarmentosa extract and vitis vinifera extract have antioxidant benefits. Its long-lasting properties and SPF 50 PA+++ provide extended coverage from UVA and UVB rays. This lightweight sunscreen also has skin brightening properties and is ideal for all skin types.
Pros
Cruelty-free
Non-comedogenic
Oil-free
Paraben-free
Cons
With the DERMAFIQUE Soleil Defense All Matte Sunscreen, which is fortified with advanced full light technology, yourskin is protected from the harmful UV rays that cause long-term damage to the skin. This is an oil-in-water blend that is lightweight and non-sticky, making it convenient to use in any season. It prevents pigmentation, premature aging, sun spots, and tanning while giving a matte and even skin tone.
Pros
Lightweight
Non-sticky
Fragrance-free
Non-oily
Non-patchy
Cons
Not suitable for oily skin.
This sunscreen from kaya keeps your skin hydrated and protects it from harmful UV rays that cause sunburn and premature aging. It has a non-greasy, easy-to-apply texture that gives a matte finish. This lightweight SPF 15 sunscreen is specially designed for sensitive skin and does not clog pores.
Pros
Hypoallergenic
Fragrance-free
Non-comedogenic
Cons
Keeping your skin type and lifestyle in mind, go ahead and take your pick from our list of 13 best sunscreens recommended by dermatologists in India. Use these products and protect your skin from long-term sun damage.
Recommended Articles
The following two tabs change content below.

Latest posts by Shiboli Chakraborti (see all)

Shiboli Chakraborti
Shiboli has a Master's degree in English Literature and is proficient in French. She believes that words have a healing power and considers poetry her lifeline. Her writing background and editorial dexterity help her guide her team members to create crisp and authentic content. Shiboli is also a trained Bharatnatyam dancer and has a fascination for traveling. She is passionate about cooking and dreams of opening a restaurant of her own.