8 Best Sunscreens For Acne-Prone Skin That Give You Complete Sun Protection
From matte to lightweight: Discover your perfect sun protection that does not clog pores.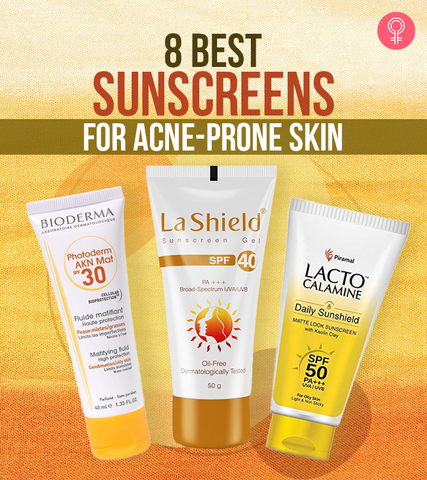 Wallet? Check.
Makeup? Check.
Sunscreen? Double-check.
You may think that sunscreen is not necessary unless you get baked in the sun. Well, skipping sunscreen is not a good idea if you want to keep sun damage and dark spots at bay. Sunscreen is a non-negotiable part of your skin care regimen as it protects your skin from many issues.
But for oily, acne-prone skin, sunscreen can result in a greasy T-zone, an oily sheen, and acne flare-ups. Acne-prone skin is likely to develop post-inflammatory hyperpigmentation, which may worsen the skin condition if exposed to sun rays. Since skipping on sunscreen is non-negotiable, you need a non-pore clogging, mattifying product that does not make you break out or cause oil slick besides protecting you from UVA and UVB rays. To help you find the perfect match for your skin, we have compiled a list of the 8 best sunscreens for acne-prone skin in India. Scroll down and check them out!
Top Picks
8 Best Sunscreens For Acne-Prone Skin
This water-based, non-sticky sunscreen from Lacto Calamine is specially designed for oily and acne-prone skin. Its triple-action SPF 30 provides broad-spectrum protection from UVA and UVB rays and prevents premature aging, wrinkles, sunburn, and tanning. Moreover, this matte formula is enriched with kaolin clay that helps in dealing with blackheads and pimples by absorbing excess oil.
The purified water adds a lightness to the cream, while lemon extract helps fade dark spots and tanning. Moreover, this sunscreen is dermatologically tested, paraben-free, and quick-absorbing. It also has a matte finish that works well as a great makeup base.
Pros
Dermatologically tested
Lightweight
Non-sticky
Non-oily
Matte finish
Fights the signs of aging
Quick-absorbing formula
Works great as makeup base
Paraben-free
Sulfate-free
Cons
Contains artificial fragrance
This sunscreen from RE'EQUIL checks all the boxes – dermatologically tested, non-comedogenic, paraben-free, and formulated with all clinically proven ingredients. This taskmaster is crafted with advanced UVA and UVB filters that offer low penetration and light wear for six hours. Its broad-spectrum SPF 50 sun protection allows you to move out without worrying about suntan, pigmentation, and acne breakouts.
The anti-inflammatory, antimicrobial, and anti-acne properties of this sunblock stem from Eurol Bt. Moreover, the aloe vera extract and vitamin E soothe skin irritation, fight free radical damage, and promote skin healing.
This sunscreen is free from two chemical agents – oxybenzone and OMC – that trigger skin sensitivity, allergic reactions, and acne breakouts. Apply a coin-sized amount of this effective sunscreen once a day for long-lasting protection.
Pros
Dermatologically tested
Non-comedogenic
Oxybenzone-free
OMC-free
Paraben-free
Pleasant fragrance
Long-lasting protection
Lightweight
Cons
Leaves a white cast
May cause excessive sweating
If you are looking for chemical-free sun-blocking products, this all-natural sunscreen gel from Aroma Magic is a good bet. This non-greasy gel is infused with non-nano zinc oxide that provides smart sun protection. Plus, it offers SPF 20 that creates a physical barrier between the sun and your skin, thereby lightening scars and reducing acne. Plus, the vitamins B5, C, and E in this sun-protecting gel provide natural safety from the sun and prevent the visible signs of aging.
Besides its moisturizing and purifying formula, this sunscreen is crafted with aloe vera and beeswax extract that soothe the skin and exfoliate it by sloughing away dead skin cells. This ultra-light sunscreen is enriched with peppermint, calendula, and roman chamomile oil that offer skin-saving benefits with their antibacterial, anti-inflammatory, and antifungal properties.
Pros
Non-greasy
Hydrates the skin
Lightweight
Works well under makeup
Oxybenzone-free
Paraben-free
Alcohol-free
No artificial fragrance
Fights the signs of aging
Lighten scars
Reduces acne
Cons
None
Price at the time of publication: ₹153
Are you the outdoorsy type? If yes, then this sunscreen gel from La Shield has got you covered with its superior broad-spectrum sun protection. Its SPF 40 PA+++ fortifies your skin from both UVA and UVB rays. Plus, this oil-free gel has a non-greasy formula that spreads easily, leaving behind a matte effect with a youthful radiance. Besides, its gel-based formula melts nicely without clogging pores and is suited for all skin types. This sunscreen is water-resistant, non-irritating, dermatologically tested, and safe for acne-prone skin. Moreover, it is free from alcohol, artificial fragrance, color additives, and preservatives.
Pros
Dermatologically tested
Water-resistant
Non-irritating
Oil-free
Fragrance-free
No color additives
Alcohol-free
Cons
When it comes to oily and acne-prone skin, this face and body silicone sunscreen gel from Briton Healthcare is the best pick. Its dermatologically tested, clinically proven formula provides all-around protection by controlling sebum, preventing the formation of free radicals, and slowing down cell aging. The SPF 50 and PA+++ protection safeguards your skin from harmful UVA and UVB rays. Moreover, this water-resistant sunscreen gel is fortified with octyl methoxycinnamate and titanium dioxide that aids in sun protection.
Its gentle formula is hypoallergenic and free from parabens, which makes it soothing on the skin. This lightweight gel is designed keeping in mind humid weather conditions and does not cause a balling effect or a goopy mess. Its gel formula melts on the skin and gets absorbed quickly, leaving behind a matte finish without clogging pores.
Pros
Dermatologically tested
Non-comedogenic
Hypoallergenic
Paraben-free
Lightweight
Oil-free
Matte finish
Water-resistant
Sweat-resistant
No balling effect
Quick-absorbing formula
Cons
Ditch traditional sunscreens that evoke the feeling of oil dripping down your face. The oil-free Acne-UV Gel from IPCA has got you covered for your acne issues while protecting your skin from sun damage. This sunscreen is highly photostable and comes with broad-spectrum SPF 30 and PA++ shields to protect your skin from harmful UV damage. It is water-resistant and does not get wiped off easily. Plus, this oil-free sunscreen is non-comedogenic and non-irritant and soothes your skin. Moreover, it is free from dyes, preservatives, alcohol, and color additives, thus ensuring skin safety.
Pros
Non-comedogenic
Water-resistant
Oil-free
No color additives
Alcohol-free
Works well with makeup
Cons
Price at the time of publication: ₹18.9
If the usual sunscreens are making you look ghostly white, switch to Plum Green Tea Daylight Sunscreen Gel. This gel-based sunscreen is a good bet since it is free from harmful chemicals. Make sure you go through the ingredients as it has chemical sunscreen agents infused with the natural extracts of green tea, aloe juice, and calendula. Besides combating acne, this vegan sunscreen gel provides SPF 35 and PA+++ sun protection. Its unique formulation contains antioxidants extracted from green tea. It also contains aloe juice, calendula extract, and niacinamide that soothe skin irritation and brighten the skin. Moreover, the formula is FDA-approved, non-comedogenic, and suitable for all seasons.
Pros
Non-comedogenic
Moisturizes the skin
FDA-approved
Vegan
Cruelty-free
SLS-free
Silicone-free
Phthalate-free
Mineral oil-free
Paraben-free
Vegan
Leaves no white cast
Cons
None
Price at the time of publication: ₹30
Give your face better sun protection with the Mattifying And Anti-Blemish Sunscreen from Bioderma Photoderm. The brand's patent Fluidactiv ingredient controls the sebum levels responsible for skin blemishes and helps reduce clogged pores. Its unique technology offers SPF 30 that protects the skin from harmful UVA and UVB rays. Moreover, its Cellular Bioprotection patent reinforces the skin's natural defense and prevents cellular damage from solar radiation. This water-resistant sunscreen is dermatologically proven to have anti-inflammatory properties and improves the overall acne condition. This sunscreen offers a dry touch with a mattifying finish without leaving behind a pesky white cast.
Pros
Reduces blemishes
Dermatologically tested
Non-comedogenic
Water-resistant
Long-lasting
Leaves no white cast
Matte finish
Prevents cellular damage
Non-greasy
Cons
The right sunscreen can make a huge difference in the overall health of your acne-prone skin. Here are some pointers to keep in mind while buying sunscreen for yourself.
How To Select The Best Sunscreen For Acne-Prone Skin
You need to be extra careful while buying sunscreen for acne-prone skin. Here is what you need to keep in mind:
Sunscreen should be non-comedogenic and hypoallergenic.
Look for broad-spectrum UVA and UVB protection.
Opt for mineral sunscreen as it is great for acne-prone skin. It does not clog pores.
Check the ingredient list and ensure the product is free of artificial fragrances and colors.
Go for a liquid or gel formula with a blendable texture.
Consult a dermatologist before you start using any sunscreen on your acne-prone skin.
Get rid of thick and gunky formulas that clog your pores and cause acne. Instead, apply a dollop of a soothing sunscreen that feels light as air and has a blendable formula. If you want to avoid a greasy mess and white cast on your skin, try out the Lacto Calamine Daily Sun Shield Matte Look Sunscreen. It is one of our best picks that ensures non-sticky coverage. Even the Aloe Vera Sunscreen Gel from Blossom Kochhar Aroma Magic is a great fit if you want an anti-aging formula besides sun protection.

Recommended Articles