11 Best Sunscreens For African American Skin – 2023
Keep your skin protected from heat and UV rays with specially formulated products.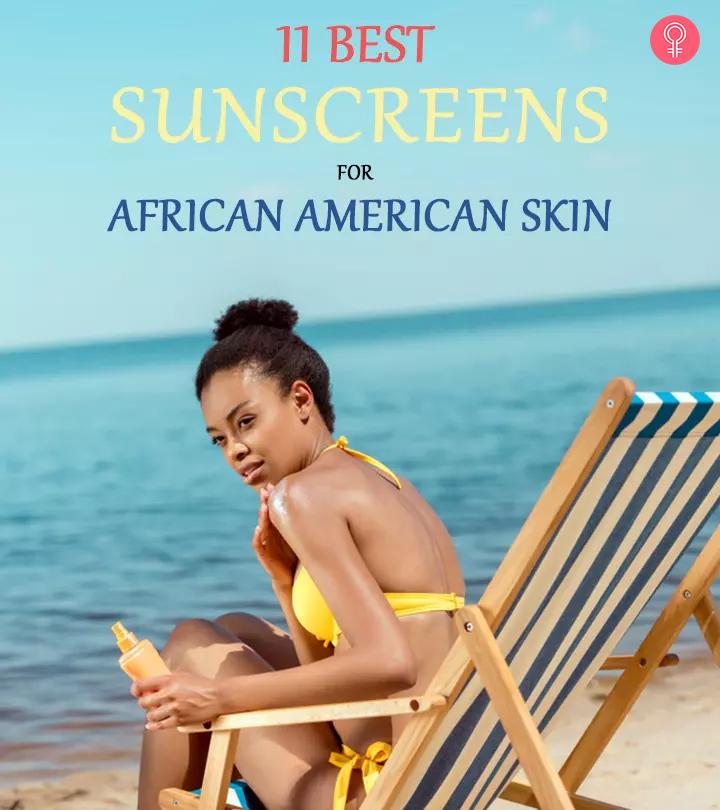 Sunscreens ideally protect your skin from harmful UVA and UVB rays. But generic sunscreens may also leave a residue if your complexion is a bit darker. Thus, for a darker complexion, you need the best sunscreen for African women. These sunscreens are specially formulated to blend with darker skin colors. Unlike conventional sunscreens, these sunscreens do not make your skin appear chalky or ghostly. A sheer or tinted sunscreen goes well with this complexion. In addition, dermatologists recommend sunscreen with a minimum of SPF 30, ideal for dark complexion. In this article, we compiled the best sunscreen for African women. Check them out below!
Top 11 Sunscreens For African American Skin
The EltaMD UV Sport Full Body Sunscreen is the perfect sunscreen for those with an active lifestyle and people who love spending time outdoors. It is a mineral-based and water-resistant sunscreen. You don't have to worry about it washing off in the water or burning your eyes when you sweat.
The antioxidants in this sunscreen protect against free radical damage caused by UV and IR radiation. You get broad-spectrum sun protection against both UVA and UVB rays. This sunscreen is formulated with zinc oxide and is suitable for use on the face and body. It does not leave a whitish cast on the skin.
Pros
Suitable for all skin types
Oil-free
Water-resistant
Broad-spectrum SPF 50
Travel-friendly packaging
Dermatologist-recommended
Fragrance-free
Paraben-free
Non-comedogenic
Non-drying 
Cons
None

Price at the time of publication: $28
The La Roche-Posay Anthelios SX Daily Sunscreen is a perfect choice if you have sensitive skin. It is a moisturizing sunscreen and is free of oxybenzone and octinoxate. You get broad-spectrum UVA/UVB protection, which helps prevent sun damage and premature aging. It is particularly effective against short UVA rays due to the presence of Mexoryl SX (ecamsule) in the formula.
The moisturizing effects of this sunscreen keep the skin hydrated for up to 24 hours. The non-greasy, lightweight formula is suitable for use under makeup. With so many promising benefits, it is hardly surprising that this sunscreen has won multiple beauty awards since the time it was launched.
Pros
Suitable for use under makeup
Broad-spectrum SPF 15
Provides 24-hour hydration
Allergy tested
Octinoxate free
Oil-free
Fragrance-free
PABA-free
Oxybenzone-free
Dermatologist-recommended 
Cons
Price at the time of publication: $33.99
The Thrive Natural Daily Defence Sunscreen Balm is a skin repairing face moisturizer that also provides sun protection. The broad-spectrum SPF 30 sunscreen lotion nourishes, hydrates, and rejuvenates your skin while treating any damage caused by the sun and environmental stressors.
The sunblock formula is infused with antioxidants to protect against free radicals. It is a lightweight composition formulated with a zinc oxide mineral base, making it a healthier and safer alternative to chemical sunscreens. It is perfect for dark complexions as it is non-tinted and leaves no white residue on the skin when applied.
Pros
Reef-safe
Broad-spectrum SPF 30
No chemical sunscreen filters
Paraben-free
Fragrance-free
GMO-free
Non-greasy
Vegan
Made in the USA 
Cons
Price at the time of publication: $24.95
The Supergoop! Sun-Defying Sunscreen Oil is ideal when you want lightweight moisturization along with your sun protection. It has a non-greasy formula that leaves your skin with a dewy, radiant glow without feeling heavy. The nourishing ingredients in this sunscreen oil include meadowfoam seed oil, marigold extract, and grape seed oil. Take a look at this video to know more about the product.
This sunscreen provides fantastic UV protection and prevents the signs of UV damage. The spray oil is rich in antioxidants, giving the skin superior sun protection. It also helps that the formula is water-resistant, so you can have your fun-filled day at the beach without worrying about getting burned.
Pros
No greasy residue
Provides intense hydration
Adds a dewy glow to your skin
Broad-spectrum SPF 50
Water-resistant
Rich in antioxidants
Lightweight formula
Clinically tested
Paraben-free 
Cons
The Palmer's Cocoa Butter Moisturizing Sunscreen Lotion is an excellent sunscreen for African American skin tones. It is an intensely moisturizing lotion, enriched with the goodness of shea butter and coconut oil. The sunscreen is water-resistant for up to 80 minutes, so it serves you well for a day at the beach. Remember to reapply at regular intervals.
The formula also contains vitamin E and offers broad-spectrum SPF 30 sun protection. It is specially formulated to leave a sheer radiance on the skin without any white, pasty residue.
Pros
Suitable for all skin tones
Broad-spectrum SPF 30
Provides intense hydration
No white residue
PABA-free
Paraben-free
Phthalate-free
Cruelty-free 
Cons
May irritate sensitive skin. 
The Ultrasun Face with SPF 50 Plus offers moisturizing, anti-aging, sun protection. It is an advanced blend of lamellar broad-spectrum SPF50+ protection with GSP-T for Infrared protection and Ectoin. Regular use of this sunscreen helps restore moisture levels to dehydrated skin.
The anti-aging properties of this facial sunscreen help reduce the appearance of signs of aging caused by the sun, such as fine lines, wrinkles, and large pores. The composition is impressively lightweight and non-greasy. It gets absorbed quite easily, making for a quick and hassle-free application. You may check more about this product in this video.
Pros
Gentle on sensitive skin
Rich in antioxidants
Water-resistant
Broad-spectrum SPF 50
No added perfume
Mineral oil-free
No emulsifiers
Preservative-free 
Cons
Price at the time of publication: $31.99
The Coppertone Glow Hydrating Sunscreen Lotion gives you a shimmery glow while keeping your skin protected against sun damage. The lotion contains illuminating shimmer particles that sparkle in the sun and look particularly gorgeous on dark skin tones.
The lotion is also intensely hydrating and makes your skin feel silky soft and smooth. The formula is safe for daily use and especially useful for the time at the beach or pool, as it is water-resistant for up to 40 minutes. The lightweight lotion dries quickly and gets absorbed easily.
Pros
Suitable for daily use
Broad-spectrum SPF 30
Water-resistant
Paraben-free
PABA-free
Phthalate-free
Oxybenzone-free 
Cons
Contains added fragrance.
Packaging may be half-empty. 
Price at the time of publication: $8.07
The La Prairie Cellular Swiss UV Protection Veil is a luxury sunscreen lotion with a lightweight yet intensely hydrating formula. It is naturally enriched with trace elements and minerals that keep your skin moisturized for a long time. The composition also includes a licorice-based brightening complex that controls melanin production and improves skin tone.
The SPF 50 serves as a powerful sun barrier, especially against UVA rays that can cause premature skin aging. The lotion is sheer enough to be layered over a moisturizer in case of dehydrated skin. It also doubles up as a primer for the final step in a skincare ritual.
Pros
SPF 50 UVA protection
Travel-friendly packaging
Lightweight formula
Provides long-lasting hydration
No white residue
Gets absorbed easily
Non-drying 
Cons
Expensive
Availability may be an issue 
Price at the time of publication: $138
The SPAfrica Broad Spectrum SPF 29 Sunscreen Spray provides daily sun protection, keeping your skin safe from UV damage that causes premature aging in the form of fine lines, wrinkles, and hyperpigmentation. The nourishing spray formula is lightweight and gets absorbed quickly into your skin.
The moisturizing sunscreen is also free of synthetic fragrances that can irritate your skin. The absence of other harsh chemicals also helps, making this sunscreen sensitive-skin-friendly. It leaves no whitish cast when applied and is particularly well-suited to darker complexions, including African American skin tones.
Pros
Suitable for all skin types
Broad-spectrum SPF 29
No artificial fragrances
Paraben-free
Hypo-allergenic
Cruelty-free
Made in the USA 
Cons
Availability may be an issue.
Contains octinoxate
The Glossier Invisible Shield Daily Sunscreen has a lightweight, transparent, water-gel formula. It does not leave any greasy residue or whitish cast after application. While it is perfect for everyday use, the fact that this sunscreen is not water-resistant makes it unsuitable for a beach or pool day.
It is a sunscreen that feels like a serum and is filled with active microcapsules that are instantly absorbed into the skin. You can layer it with makeup and not worry about the product sitting heavy on your face. It prevents sun damage, neutralizes free radicals, and protects your skin from sunburn. Check out this video to learn more.
Pros
Suitable for all skin types
Broad-spectrum SPF 35
Paraben-free
Dermatologist-tested
Vegan
Cruelty-free 
Cons
Expensive
May irritate sensitive skin
Not water-resistant 
Price at the time of publication: $17.32
The Unsun Mineral Tinted Face Sunscreen simultaneously works as a sunscreen, primer, and color corrector! Impressive, right? That's not all. It is available in several different shades to cater to a wide range of skin tones, ranging from olive to dark chocolate, and does not leave behind that annoying white residue.
The hydrating facial sunscreen helps minimize pores and is formulated with all-natural, reef-safe ingredients to make it safe for your skin and the ocean. The powerful sun protection also comes with the goodness of vitamin E, shea butter, coconut oil, and multiple fruit extracts.
Pros
Suitable for all skin tones
Reef-safe
Cruelty-free
No white residue
Available in different shades
Mineral-based sunscreen 
Cons
Thick consistency
May cause breakouts
Availability issues 
Price at the time of publication: $29
Why Trust StyleCraze?
The author, Sakshi Bahal, has a keen interest in makeup and skin care products. She is familiar with the whitish residue that generic sunscreen leaves behind and has, therefore, found a solution for the benefit of her readers. After reviewing every online product review, she has compiled a thorough list of the best sunscreens for African American skin. These products do not make your skin look chalky after application, and the sun rays are kept at bay.
Recommended Articles
Best Recommended Sunscreens For Every Skin Type