9 Bestselling Sunscreens For Golfers – 2023
Protect your skin from irritation due to exposure to UV rays while you ace your game.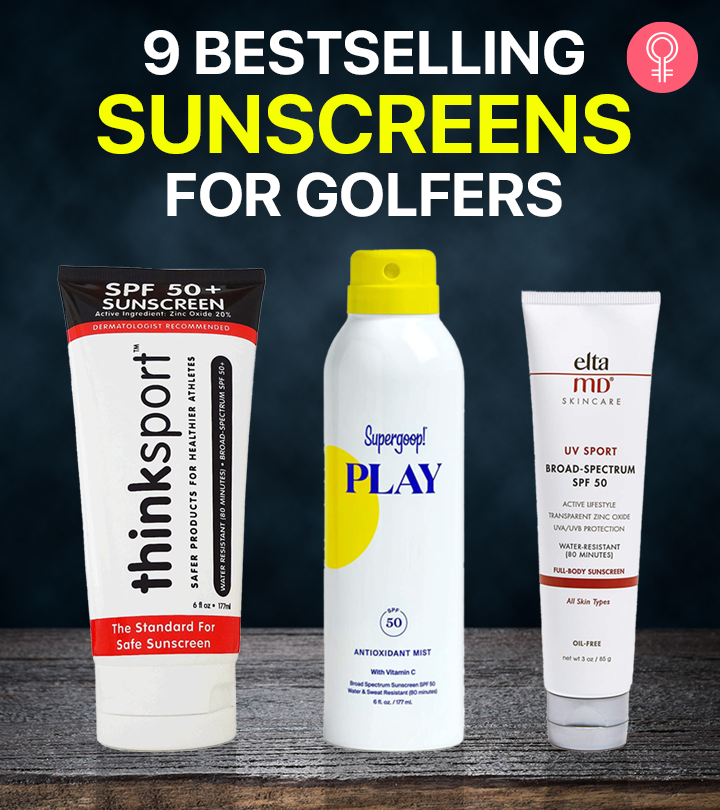 An avid golfer probably loves sunny days with bright blue and clear skies. But being out in the sun for too long can leave your skin damaged. What you need is a list of the best sunscreens for golfers! And, luckily for you, we have that list!
When you play golf, often you know you need all your attention focused on the golf ball and the cup it goes into. But if you don't wear sunscreen, your focus can be diverted to your skin. The sun emits harsh UV rays that can cause the skin to age quickly and become inflamed and irritated easily. The more you stay out in the sun to finish a game of golf, the more irritated your skin becomes. In fact, you run the risk of getting skin cancer if you get too much sun exposure. You need a sunscreen that not only protects your skin but is sweat-resistant, waterproof, and lasts all day. So we did the research and have compiled a list of 9 effective sunscreens you could use on your next golf game! Check them out now!
9 Best Effective Sunscreens For Golfers
This SPF 50 broad-spectrum sunscreen from Banana Boat is a performance-packed spray specially crafted keeping outdoor activities in mind. The lightweight and the quick-absorbing formula is sweat- and water-resistant and does not turn greasy. This breathable sunscreen is clinically tested to offer optimum protection to your skin from damaging UVA and UVB rays.
Pros
Lightweight
Non-greasy
Water-resistant
Sweat-resistant
Quickly absorbed
Smells good
Easy to use
Reef-friendly
Cons
Does not offer full coverage.
Price at the time of publication: $12.97
The EltaMD UV Sport Full-Body Sunscreen has an ultralight formula that spreads smoothly and is absorbed quickly into the skin. It has broad-spectrum SPF 50 to protect the skin from harmful UVA and UVB rays. This waterproof sunscreen provides water resistance for up to 80 minutes without dripping or stinging the eyes. Its mineral-based formula is non-comedogenic. This clear mineral sunscreen contains zinc oxide that does not leave any white cast or residue post-application. The product is oil-free and non-sticky, which lets you enjoy your game freely.
Pros
Lightweight
Unscented
Quickly absorbed
Water-resistant
No stinging
No white cast
Non-comedogenic
Non-greasy
Dermatologically tested
Cons
Price at the time of publication: $28
Thinksport's SPF 50+ Sunscreen provides broad-spectrum protection from harsh and damaging UVA and UVB rays. Its non-nano zinc-based formula is water-resistant and is absorbed quickly without being sticky or greasy. This safe and effective sunscreen is organically produced and doesn't leave an unpleasant smell or residue on the skin. You may check this video for a better understanding of this product.
Pros
Absorbed quickly
No unpleasant smell
Water-resistant
Non-oily
Absorbed easily
Cruelty-free
Paraben-free
Phthalate-free
Oxybenzone-free
Gluten-free
Dairy-free
No chemical UV absorbers
Cons
Not suitable for sensitive skin.
Leaves a white cast.
Price at the time of publication: $8.12
This broad-spectrum SPF50 sunscreen from Coppertone is specially made for sports enthusiasts. The highly protective formula is sweat-proof, water-resistant, and offers up to 98% protection from UV rays to let you enjoy yourself in the pool or on the beach. This lightweight and breathable lotion contains vitamin E and moisturizers that keep the skin hydrated while protecting it from the sun.
Pros
Lightweight
Breathable formula
Sweat-proof
Water-resistant
No burning/stinging
Cons
Price at the time of publication: $34.51
This lightweight sunscreen from Supergoop! contains clean and safe ingredients to suit sensitive skin. The broad-spectrum and skin-caring sunscreen has SPF 50 to provide adequate UVA and UVB protection to the exposed skin. The quick-absorbing, hydrating, and refreshing formula includes vitamin C, acai extract, and green tea to nourish and protect the skin. It provides up to 80 minutes of water resistance. The unique bag-on-valve technology allows you to spray from any angle until you use the last drop of this sunscreen.
Pros
Lightweight
Quick absorbing
Non-aerosol spray
Reef-safe
Comfortable
Non-sticky
Leave no residue
Water/sweat-resistant
Oxybenzone-free
Octinoxate-free
Cruelty-free
Paraben-free
No chemical propellants
Cons
Price at the time of publication: $21
BullFrog's Sunscreen Land Sport-Dri Spray has a super light formula to offer broad-spectrum protection from UVA and UVB sun rays with SPF 50. The water- and sweat-resistant formula keeps your skin sweat-free and breathable. It is absorbed quickly and provides lasting protection to exposed skin.
Pros
Lightweight
Water-resistant
Quick absorbing
Breathable
Sweat-resistant
Non-sticky
Lemony scent
Cons
None
Price at the time of publication: $85
The SPF RX Sport Sunscreen is safe to be applied all over the face and body. This broad-spectrum SPF50 lotion uses state-of-the-art technology to provide high-performing results. The long-lasting formula offers complete UVA and UVB protection and is suitable for daily use.
Pros
Travel friendly
Long-lasting
A little goes a long way
Paraben-free
Cons
Price at the time of publication: $190.95
Solimo's Sport Sunscreen Spray offers broad-spectrum protection to your skin from harsh and damaging UVA and UVB rays with SPF 50. This reef-safe sunscreen spray is suitable for all skin types and offers up to 80 minutes of water resistance. It is easy to use and carry, and the package includes two bottles of sunscreen spray to offer lasting protection to your skin.
Pros
Water-resistant
Reef-safe
Travel-friendly
Non-sticky
Unscented
Value for money
Octinoxate-free
Oxybenzone-free
Cons
Stains clothes
Wide spray pattern may cause wastage.
Dermalogica's Protection 50 Sport sunscreen lotion has a lightweight formula that stays non-greasy and offers broad-spectrum protection to your skin from damaging UV rays. The hydrating sunscreen protects the skin from environmental aggressors that can cause early aging. It is water-resistant and suitable for sports enthusiasts and outdoor lovers. The Oleosome Technology in the formula hydrates and protects the skin from damage. It is feather-light and safe and blends seamlessly without leaving a white cast or residue.
Pros
Lightweight
Water-resistant
No white cast
No residue
Absorbed quickly
Gluten-free
Vegan
Cruelty-free
Paraben-free
Cons
Why Trust StyleCraze?
The author, Shiboli Chakraborti, is a certified skin care coach who loves trying out different skin and hair care products. She has browsed through online reviews and carefully selected these sunscreens which she believes are must-haves, especially for golfers. Not only are these effective sunscreens sweat-free, oil-free, and waterproof, but also provide protection against UV rays without leaving your skin with a gresy feeling.
Frequently Asked Questions
Is sport sunscreen better?
Yes. Sports sunscreens offer enduring sun protection to the user. They are water- and sweat-resistant and provide optimum protection before the SPF wears off.
What sunscreen should I use if I sweat a lot?
A sheer and mattifying formula works best for those who sweat a lot.
Does sunscreen make you hotter?
Sunscreens may cause an increase in body temperature in hot weather conditions.
What type of sunscreen do PGA players use?
PGA players prefer sunscreens that have SPF 50 and are sweat-resistant.
What SPF is good for golf players?
SPF 50 is good for golf players as it provides broad-spectrum protection from harsh and damaging UVA and UVB rays.
How can you protect your skin when playing golf?
• Stay hydrated.
• Put on light-colored clothing.
• Find a shadow whenever you can.
• To protect yourself from the sun's rays, wear sunscreen and a cap.
Recommended Articles: