7 Best Sunscreens For Keratosis Pilaris To Buy In 2022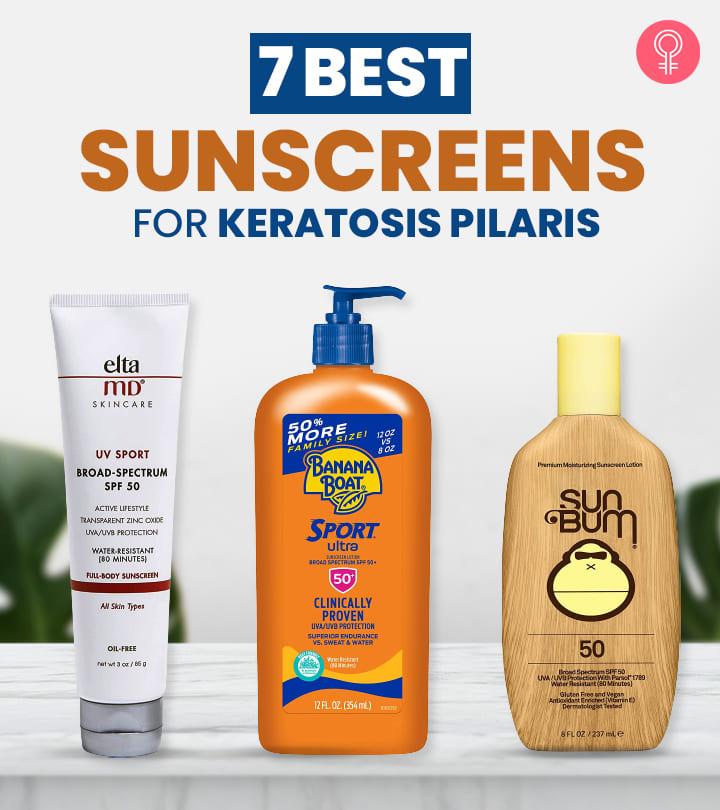 Keratosis pilaris is a skin condition also known as 'chicken skin'. The best sunscreens for keratosis pilaris should offer multiple skin benefits. Whether using mineral or chemical sunscreens, it is a must that it is a skin-friendly formula. Your sunscreen should have not only broad-spectrum SPF but also be moisturizing, waterproof, and have non-inflammatory ingredients to reduce the redness of the skin.
In keratosis pilaris, the skin develops small red or white bumps that are not really harmful or painful. But, people with keratosis pilaris tend to have extremely dry skin that gets itchy and agitated quite easily. So, make sure your sunscreen has soothing ingredients.
In this article, we have listed the best sunscreens for keratosis pilaris that will take care of your skin's needs without further irritating it. So, go ahead and check them out now!
7 Best Sunscreens For Keratosis Pilaris
The Sun Bum Original SPF 50 is an ideal everyday sunscreen lotion with dual moisturizing and sun protection. It is enriched with vitamin E that provides antioxidant benefits, and liquidates free radicals, thereby preventing premature aging. This sunscreen is enriched with the proprietary Sun Bum Original scent to enhance the sensory appeal.
Key Ingredients: Vitamin E, Avobenzone 3%, Homosalate 10%, Octisalate 5%, and Octocrylene 10.00%,
Pros
Easy to apply
Moisturizing
Hypoallergenic
Reef-friendly
Water-resistant
Oxybenzone-free
Octinoxate-free
Vegan
Cruelty-free
Oil-free
Paraben-free
Gluten-free
PABA-free
Cons
None
If you are looking for a high-performance sunscreen made specifically for athletes and sports enthusiasts who sweat in the sun while playing outdoors, go for the Banana Boat Sport Ultra Sunscreen Lotion. It provides long-lasting, broad-spectrum SPF 50 sun protection with superior sweat and water resistance, all this without running into your eyes! This sunscreen features a lightweight and breathable formula that absorbs quickly into the skin.
Key Ingredients: Avobenzone 2.7%, Homosalate 9.0%, Octisalate 4.5%, and Octocrylene 6.5%
Pros
Lightweight
Non-greasy
Long-lasting
No white cast
Quick absorbing
Easy to spread
Reef-friendly
Water-resistant
Oxybenzone-free
Octinoxate-free
Cons
None
For athletes, swimmers, golfers, or skiers subjected to prolonged sun exposure every day, a specially designed sunscreen like the EltaMD UV Sport Broad-Spectrum SPF 50 is an ideal choice. This mineral-based sunscreen is enriched with zinc oxide for broad-spectrum coverage and the organic compound of octinoxate that increases UV protection. It also contains tocopheryl acetate or vitamin E that minimizes free radical damage to prevent visible signs of aging. This transparent sunscreen is ideal for all skin types and ensures zero white casts.
Key Ingredients: Zinc oxide, Octinoxate, and Tocopheryl acetate (Vitamin E)
Pros
Fragrance-free
Oil-free
Paraben-free
Non-comedogenic
Water-resistant
Cons
If you are looking for a 100% mineral sunscreen with a rich and luxurious cream formula, go for the MD Solar Sciences Mineral Crème. This lightweight sunscreen spreads easily, provides a gentle application for sensitive, acne-prone, and rosacea-prone skin while drying to a true matte finish. It is ideal for all skin tones as it leaves no white cast and doubles as a makeup primer by blurring out imperfections.
This formula is enriched with nature-derived Eco-cert zinc oxide to prevent photo-aging and skin cancer. Additionally, the antioxidant-rich extracts of green tea, cranberry fruit, and pomegranate work to combat damage from sunrays and free radicals.
Key Ingredients: Non-Nano Zinc oxide, Vitamin C, Green tea extract, Cranberry fruit extract, Pomegranate extract
Pros
No white cast
Gentle
Lightweight
Non-comedogenic
Hypoallergenic
Fragrance-free
Water-resistant
Vegan
Reef-safe
Oil-free
Fragrance-free
Oxybenzone-free
Octinoxate-free
Cruelty-free
Cons
None
The reef-safe sensitive mineral sunscreen by Blue Lizard Australian Sunscreen provides complete face and body protection. This SPF 30 formula is enriched with a combination of zinc oxide and titanium oxide to deliver broad-spectrum sun protection from up to 97% of the sun's harmful rays. It is also ideal for people struggling with sensitive skin, rosacea, or eczema while being safe for your children as well.
Key Ingredients: Titanium oxide 8% and Zinc oxide 10%
Pros
Eases eczema
Water-resistant
Sweat-resistant
Reef-safe
Paraben-free
Fragrance-free
Oxybenzone-free
Octinoxate-free
Cons
None
The Glycolix Sunscreen with broad-spectrum SPF 30 protection is ideal for anyone struggling with redness and irritation. It is enriched with vitamins A, C, and E that nourish the skin and fight free radical damage, thereby delaying any signs of aging. It also contains green tea extract to reduce inflammation and sunburns. This sunscreen lotion provides a matte finish that makes it ideal for wearing under your makeup.
Key Ingredients: Zinc oxide 17%
Pros
Safe for sensitive skin
Absorbs quickly
Non-greasy
Relieves rosacea
No white cast
Cons
None
The dual-action formula of Aveeno Protect + Hydrate sunscreen is an effective solution for people with dehydrated skin. It provides intense 24-hour hydration and broad-spectrum SPF 60 sun protection while also eliminating signs of aging. It is enriched with an antioxidant-rich prebiotic triple oat complex that helps maintain the skin's pH levels, strengthen its natural moisture barrier, and soothe sensitive skin.
Key Ingredients: Avobenzone, Homosalate, Octisalate, and Octocrylene
Pros
Sweat-resistant
Hydrating
Waterproof
Oil-free
Lightweight
Oxybenzone free
Dye-free
Non-comedogenic
Budget-friendly
Cons
None
Sun protection plays a pivotal role in our skin care routines. Whether you are indoors or outdoors, lathering up against the sun's harmful rays is a must! If you have dry, itchy patches from keratosis pilaris, don't forget to apply a sunscreen lotion after exfoliating, moisturizing, and applying a keratolytic.
Find out how to select the best formula for yourself in the next section.
How To Choose The Best Sunscreen For Keratosis Pilaris
Go mineral: Not that chemical sunscreens are bad for sensitive skin, there is a chance that filters like oxybenzone, avobenzone, and octisalate may aggravate skin conditions for certain people. So, it is best to focus on mineral or physical sunscreens or a combination of chemical and physical sunscreens as they are less likely to irritate your skin. Look for zinc oxide or titanium oxide on the ingredient label when looking for a mineral sunscreen.
Choose hydrating formulas: Skin conditions like keratosis pilaris need a 2-in-1 sunscreens that contains skin-soothing and hydrating ingredients like colloidal oatmeal and ceramides. They offer the benefits of both sunscreens and moisturizers in one formula.
Avoid fragrances: Added artificial fragrances may provide a pleasing scent to the sunscreen, but it may lead to aggravated keratosis pilaris for certain people, including increase in irritation, redness, and sensitivity. So, it is best to stick to fragrance-free formulas regardless of whether you choose chemical or physical sunscreens.
Why Trust StyleCraze?
Shiboli Chakraborty is a certified skincare coach that uses her expert knowledge of product formulations and ingredients to bring you, the readers, the leading products in skincare. She sifted through hundreds of reviews online and put together this list of the best sunscreens for keratosis pilaris. These sunscreens are made of ingredients that reduce inflammation, moisturize and soothe your skin.
Recommended Articles