The 14 Best Sunscreens For Melasma In 2023
Expert-reviewed sunscreens to effectively fight the most severe signs of sun damage.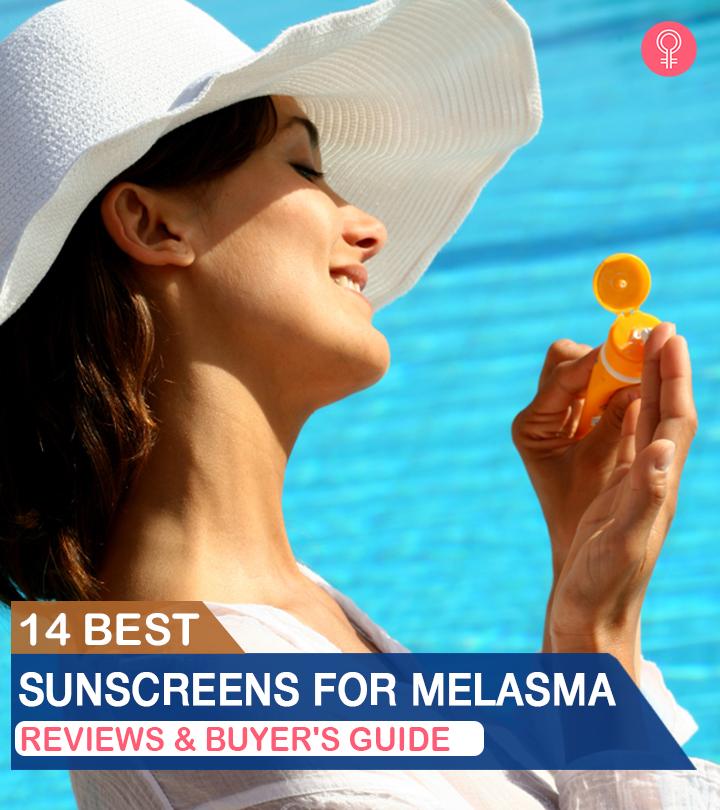 When you have melasma, you get brownish patches and spots on your face. Dr. Priya Gill, a Malaysian dermatologist, says, "Melasma is a skin condition characterized by brown /blue-gray patches or freckle-like spots. It's often called the "mask of pregnancy." Melasma happens because of overproduction of the cells that make the color of your skin. It is harmless. However, many people find it cosmetically and aesthetically disturbing."
This common skin condition can intensify due to UV exposure. So, you need to use the best sunscreen for melasma. Wondering which is the best available sunscreen for this condition? Here, we have compiled a list of sunscreens you can use to manage melasma. Scroll down to find the best recommendations!
The 14 Top-Rated Sunscreens For Melasma In 2023
Pros
Oil-free
Suits all skin types
Paraben-free
Non-comedogenic
Cons
Price at the time of publication: $39.0
Pros
No white residue
Water-resistant
Fragrance-free
Dye-free
Oxybenzone-free
Paraben-free
Reef-friendly
Gluten-free
Vegan
Cruelty-free
Cons
May not suit sensitive skin
Price at the time of publication: $9
This oil-free sunscreen provides a UVA/UVB broad spectrum of SPF 50. It contains non-comedogenic zinc that creates a barrier to protect the skin from harmful sun damage. It is a hypoallergenic formula that doesn't irritate the skin. The moisturizing formula contains Vitamin E that fights free radicals, prevents premature aging, keeps the skin feeling fresh and soft. It is also reef-friendly and stays water-resistant for up to 80 minutes. Need more information on this sunscreen? Watch this video.
Pros
Paraben-free
Cruelty-free
Gluten-free
Oil-free
Reef-friendly
Hypoallergenic
Cons
Some people may find the smell strong
Price at the time of publication: $21.75
Pros
Water-resistant
Non-messy
No white cast
Non-greasy
Fragrance-free
Paraben-free
Cons
Price at the time of publication: $69
Pros
Matte finish
Non-greasy
Non-comedogenic
Paraben-free
Allergy-tested
Oxybenzone-free
Cons
Price at the time of publication: $24.99
Pros
Hypoallergenic formula
Fragrance-free
Oil-free
Dermatologist recommended
Non-greasy
PABA-free
Cons
Contains methylisothiazolinone
Contains PEG
Price at the time of publication: $8.97
Pros
Oxybenzone-free
Oil-free
Allergy-tested
Fragrance-free
Paraben-free
Cons
Price at the time of publication: $14.99
Pros
Lightweight
No white cast
Non-comedogenic
Water-resistant
Sweat-resistant
Cons
Price at the time of publication: $22
Pros
Lightweight
Matte finish
Non-comedogenic
Ecocert compliant
Fragrance-free
Oil-free
Cons
May leave a white cast
May sting the eyes
Price at the time of publication: $22.5
Pros
Photostable
Oil-free
Fragrance-free
Dye-free
Preservative-free
Cons
Price at the time of publication: $43
Pros
Cruelty-free
Oil-free
Fragrance-free
Travel-friendly
No white cast
Hydrating
Cons
None
Price at the time of publication: $17.95
Pros
Lightweight
Vegan
Silicone-free
Matte-finish
Paraben-free
Cruelty-free
Vegan
Sulfate-free
Cons
None
Price at the time of publication: $67.73
Pros
Hypoallergenic
Sheer coverage
Fragrance-free
Cons
Price at the time of publication: $53
This mineral sunscreen has SPF 40 and PA+++ rating, meaning it provides broad-spectrum protection to your skin. It has a sheer matte formula that covers up pigments and discolorations without making the skin feel greasy. The sunscreen prevents dermal heat build-up, thus protecting the skin from collagen depletion. It has an oil and fragrance-free formula that blends easily and works like a primer under your makeup.
Pros
Non-greasy
Oil-free
Fragrance-free
Available in 3 shades
Cons
Price at the time of publication: $27.5
As established, sunscreen is one of the most essential parts of our skincare routine even if you have melasma. Your choice of sunscreen product can make your melasma better or worse. Choosing the right sunscreen can fade the patches of melasma or hyperpigmentation. Therefore, we are providing a buying guide so that you can select the ideal sunscreen for melasma.
Things To Be Considered Before Purchasing Sunscreens For Melasma
If you have melasma, purchase mineral-based sunscreens that contain zinc oxide and titanium dioxide. These ingredients offer protection against the harmful UVA and UVB rays. You can also go for hypoallergenic formulas containing vitamin E to avoid skin irritation and make your skin appear softer and fresh.
The other important ingredient is SPF. Go with sunscreens that have SPF 30 or more. Your sunscreen's SPF will tell you how long it would take for the sun's UV rays to cause skin redness.
For melasma, it is highly recommended to go for oil-free and non-greasy formulas in sunscreens. Always use sunscreens that are fragrance-free, dye-free, oxybenzone-free, paraben-free, cruelty-free, gluten-free, oil-free, and allergy-tested.
It is better to use a sunscreen cream or lotion rather than a sunscreen spray or powder to keep your melasma from getting triggered. Sunscreen spray or powder can be used as a top-up but should not be used as your primary sunscreen or base layer of protection.
Avoid sunscreens with alcohol in the top five ingredients if you have dry skin. If you have sensitive skin, avoid using sunscreen with synthetic fragrances. Avoid sunscreens with oils mentioned as one of the first three ingredients if you have oily skin.
For oily skin types, a sunscreen containing aloe is typically a preferable option. If you have oily and acne-prone skin, go for water-based sunscreen, not oil-based formulas.
To find the best sunscreen for melasma, you can also compare the reviews of various sunscreens in several e-commerce websites and make your buying decision accordingly. Scroll through reviews to understand whether the product that you are choosing has been useful to people with similar skin conditions.
These are the best sunscreens for melasma. The list includes chemical, physical, tinted, and transparent sunscreens. If you are confused about which one to go for, here are some tips.
How To Find The Best Sunscreen For Melasma
Look for the following factors before you buy a sunscreen:
Easy To Use: Sunscreens must be easy to apply and blend. Choose one that blends well without a white cast. Go for water-resistant sunscreens if you sweat a lot.
Affordable: High price doesn't indicate quality. You will get good sunscreens at an affordable rate too. Before buying one, check the price and quantity.
Broad-Spectrum: Choose a sunscreen that has "broad-spectrum" written on the package. It is best if you go for one that has both SPF and PA rating. This ensures your skin is safe from UVA, UVB, and infrared rays. Go for a sunscreen that has at least SPF 30 and PA ++ rating.
Physical Or Chemical Filters: Physical or mineral sunscreens block the sun rays, whereas chemical sunscreens absorb the sun rays and release it in the form of heat. If you have melasma, choose physical sunscreens over the chemical ones. Mineral sunscreens have titanium dioxide andor zinc oxide as the filters, while chemical sunscreens have oxybenzone.
If you have melasma, you need to be aware of certain ingredients in your sunscreen.
What Sunscreen Ingredients To Avoid When Treating Melasma?
Avoid sunscreens that contain:
Oxybenzone
Avobenzone
Octisalate
Octinoxate
All these ingredients carry a risk of allergy and skin irritation.
Why Trust StyleCraze?
Shiboli Chakraborti, the author of this article, is a certified skin care coach. She is enthusiastic about skin care and has a deep understanding of the skin's cellular demands. She believes if you have melasma, sun protection is a must. Thus, she has selected the best sunscreens for melasma after thorough research to keep your skin hydrated and protect it from harmful sun damage by forming a barrier.
Frequently Asked Questions
Does sunscreen help melasma?
Yes. Sun exposure triggers melasma and aggravates it. Use sunscreen to protect the areas.
Can sunscreen make melasma worse?
Yes. The chemicals in the chemical sunscreen may trigger an allergic reaction and worsen melasma.
How can I remove melasma from my face naturally?
Consult a doctor. They may prescribe medication or ask you to undergo procedures like microdermabrasion and dermabrasion. You can take care of your skin at home by keeping it moisturized and using sunscreen.
Can melasma be cured permanently?
No, it can't be cured. However, with proper care and treatment, you can improve its appearance.
What is the difference between hyperpigmentation and melasma?
Melasma is a type of hyperpigmentation and is often caused by hormonal changes. On the other hand, hyperpigmentation is an umbrella term. It refers to a condition in which the skin may darken due to factors like acne, sun damage, eczema, or any other skin condition.
Is zinc oxide sunscreen good for melasma?
Yes. If you are experiencing melasma, physical sunscreens that contain zinc oxide are the best suited to protect from UVA and UVB rays.