The 9 Best Sunscreens For Oily Skin You Should Try In 2023
Add a protective shield to your oily skin and prevent it from sun damage.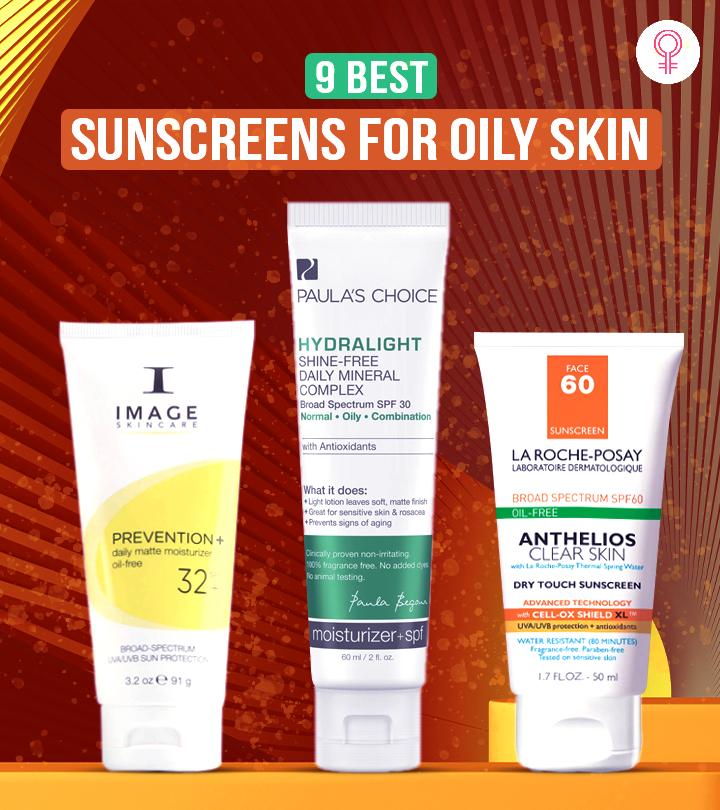 Oily skin starts looking shiny and greasy again just within a few hours of face wash as it produces excessive sebum, especially when you are out in the Sun. This is why you need the best sunscreen for oily skin that not only acts as a protective shield on your skin but also prevents your skin from becoming oily.
UV rays from the Sun cause blemishes, acne, fine lines, and wrinkles and make your skin even worse. So, applying a sunscreen designed for oily skin is necessary when you are going out. We compiled a list of the 9 best sunscreens for oily skin. Check them out below!
9 Best Sunscreens For Oily Skin
The LA ROCHE-POSAY Anthelios Clear Skin Dry Touch Sunscreen is a broad-spectrum SPF 60 sunscreen that offers a matte and shine-free finish. It is formulated with antioxidants, UVA/UVB filters, and Cell-Ox Shield Technology to provide utmost sun protection. It absorbs excess oil to keep your skin dry and clean even in hot and humid weather. The silica and perlite eliminate pore-clogging oil. This sunscreen offers up to 80 minutes of water and sweat resistance while protecting your skin from oxidative damage.
Pros
Dermatologist-tested
Oil-free
Fragrance-free
Paraben-free
Non-comedogenic
Allergy tested
Oxybenzone-free
Octinoxate-free
Can be used under makeup
Cons
Price at the time of publication: $19.99
Th eelta MD SKINCARE UV Clear Facial Sunscreen contains transparent zinc oxide that calms and protects acne-prone and hyperpigmented skin. The broad-spectrum SPF 46 protection battles UV and IR rays.
The non-greasy formula combats free radicals, signs of aging, and burning due to UVA and UVB rays. This sunscreen contains lactic acid, niacinamide, and hyaluronic acid that promote healthy skin. It is ultra-light and smooth and can be worn alone or with make-up. It is recommended by the Skin Cancer Foundation and does not contain parabens, oil, or fragrance. Take a look at this video to get more information on the product.
Pros
Fragrance-free
Paraben-free
Non-greasy
No residue
Dermatologically tested
Suitable for daily use
Cons

Pro Tip
Keep a sunscreen stick handy and apply it back and forth for even coverage to help protect your skin from harmful UV rays, when you are stepping out for longer durations of time.
Price at the time of publication: $39
The IMAGE SKINCAREPREVENTION+ Daily Matte Moisturizer is oil-free and offers SPF 32+broad-spectrum protection. Its antioxidant-rich base, mineral and chemical UV filters, and marine extracts prevent sunburns. These antioxidants also act as a shield against environmental aggressors.
The micro-sponge effect technology absorbs excess oil to offer a shine-free matte finish. This sunscreen also contains apple stem cells that fight the signs of aging and improve the appearance of wrinkles. It is sheer, lightweight, and can be used as a protective primer.
Pros
Sheer texture
Lightweight
Dermatologically tested
Paraben-free
Phthalate-free
Mineral oil-free
Dye-free
No artificial fragrance
Cons
Looks cakey under makeup.
Strong fragrance
Price at the time of publication: $50.0
The Safe Sun UV Screen Matte Gel from LOTUS HERBALS protects your skin from skin tan and sunburns caused by UV rays. The gentle formula contains natural nutrients that nourish and protect your skin. The antioxidant-rich chestnut extracts and essential vanilla protect your skin from sun damage and prevent premature aging, while lime, a natural skin lightening agent, kills bacteria and eliminates toxins. This SPF 50 UV sunscreen stays oil-free and offers a fresh and matte finish.
Pros
Matte finish
Doesn't turn ashy
Pleasant fragrance
No white cast
Fast absorbing
Cons
Price at the time of publication: $8.94
The Blossom Kochhar aroma magic Aloe Vera Sunscreen Gel offers non-greasy sun protection to oily and acne-prone skin. The skin-friendly formula is infused with grape seed, wheat germ, and avocado oils to nourish the skin and provide natural safety from the sun.
The vitamins C, E, and B5 reduce aging, while the essential oils of peppermint, calendula, and Roman chamomile hydrate and soothe the skin and reduce acne. The mineral reflectors like non-nano zinc oxide scatter harsh sun rays, and aloe extracts purify and hydrate the skin. This sunscreen does not contain harsh chemicals, parabens, artificial fragrances, alcohol, and oxybenzone.
Pros
Matte finish
Works as a primer
Lightweight
Non-greasy
Absorbed quickly
Paraben-free
Alcohol-free
Oxybenzone-free
Artificial fragrance-free
Cons
Low SPF
Not water-resistant

Pro Tip
Some people might be allergic to certain chemicals used in sunscreens, so always do a patch test before applying it properly.
Price at the time of publication: $153
The Age Minimize3DDay Cream from MARY KAY offers SPF 30 broad-spectrum protection and delays the visible signs of aging caused by the harsh UVA and UVB rays. The non-greasy and quick-absorbing formula improves the skin's resilience and makes it soft and smooth.
This sunscreen contains nopal cactus extract that helps support the skin's natural moisture barrier. The patent-pending Age Minimize 3D Complex is a blend of encapsulated resveratrol, vitamin B3, and an age-defying peptide that protect and brighten the skin and improve the appearance of fine lines and wrinkles. This product makes your skin feeling soft, smooth, and youthful. This video offers a more detailed explanation of the product.
Pros
Anti-aging
Works as a primer
Lightweight
Pleasant fragrance
Dermatologist-tested
Non-comedogenic
Fragrance-free
Cons
Strong fragrance
May feel greasy
Price at the time of publication: $28.99
The makep:rem UV defense me. Blue Ray Sun Gel comes with PA++++ protection from direct sunlight and UV rays. The vegan formula lowers your skin temperature by 4.7o and contains 68% moisture essence that protects your skin from UV rays and prevents premature aging. It also contains antioxidant-rich Rubus Arcticus stem cells that improve and heal the skin. This sunblock is irritation-free and leaves your skin feeling soft and smooth. It is quickly absorbed and does not feel greasy or sticky.
Pros
Anti-aging
No residue
Works with makeup
Reef-safe
Suitable for all age groups
Pleasant fragrance
Dewy finish
Cons
Price at the time of publication: $27.99
The plum Green Tea Day-Light Sunscreen offers SPF 35 PA+++. The non-greasy, ultra-light, gel formula is non-comedogenic and does not leave a white cast on the skin. It contains plant betaine and argan that hydrate the skin. This sunscreen is enriched with green tea fights acne and licorice and goji berry extracts that help in lighten blemishes.
Pros
Sulfate-free
Paraben-free
Phthalate-free
Vegan
No residue
Smells good
Cons
Price at the time of publication: $30
The PAULA'S CHOICE HYDRALIGHT Shine-Free Daily Mineral Complex comes with SPF 30 to protect and nourish your skin. the smooth and lightweight formula promotes even skin tone while hydrating and softening the skin. This mineral formula contains zinc and titanium oxides to offer broad-spectrum protection. Licorice and chamomile calm sensitivity and prevents redness. Aloe and algae restore the skin's natural barrier while hydrating it from within.
Pros
Works with makeup
Lightweight
Non-greasy
Non-irritating
Cons
Price at the time of publication: $29
Now that you know which sunscreens are the best for oily skin, it's time to look at the factors to be considered while buying one.
Things To Consider Before Buying Sunscreen For Oily Skin
The sun protection factor or SPF implies the level of protection a sunscreen can offer. Pick one with SPF 30 or above to protect your skin from the harmful UV rays.
Choose a non-comedogenic sunscreen as it does not clog skin pores and prevent breakouts and acne.
Invest in a sunscreen that offers sweat and water resistance if you stay in a humid climate or prefer water activities.
Water-based sunscreens are recommended for oily skin as they do not make it oilier and prevent breakouts or acne.
Avoid spray packaging as it leads to product wastage. In case, you opt for a spray, ensure to not accidentally inhale the mist after spraying.
Oily skin is different from other skin types. The skin tends to become oily after a few hours due to the excessive production of facial oils. Therefore, it would be best to have sunscreens specially formulated for oily skin. These sunscreens protect your skin from harmful sun rays and act as anti-aging formulas that reduce fine lines and wrinkles. In addition, sunscreens for oily skin are paraben-free, non-greasy, and non-comedogenic. However, some products may leave a white residue. Consider SPF levels, water-resistance, and ingredients before investing in one of these products.
Why Trust StyleCraze?
The author, Shiboli Chakraborti, is a certified skin care coach. She conducted thorough research and selected the best sunscreens foroily skin. These sunscreens are water-based and non-comedogenic, making them perfect for oily skin. She checked user reviews and feedback before shortlisting the products.
How much SPF is good for oily skin?
A non-comedogenic sunscreen with SPF 30 or above is recommended for oily skin.
Is mineral sunscreen better for oily skin?
Yes, mineral-based sunscreens that won't clog pores are better for oily skin.
Is SPF 50 good for oily skin?
Any sunscreen with SPF ranging from 30 to 50 offers optimum sun protection when applied correctly. SPF 30 offers 97% sun protection, while SPF 50 offers 98%, and SPF 100 provides 99% protection. No sunscreen can provide 100% sun protection.
Which type of sunscreen is best for oily skin?
For oily skin, gel-based sunscreens are the ideal choice because they are usually lightweight and oil-free.
Does sunscreen make skin oily?
No, oil-free sunscreens that are gel-based or powder-based, do not make your skin oily.
Can I skip moisturizer and use sunscreen?
Yes, if the sunscreen has moisturizing characteristics and keeps skin hydrated and nourished, you can skip the moisturizer. There are many such dual benefit products available nowadays.
The following two tabs change content below.