11 Best Sunscreens For Runners (2023): Reviews & Buying Guide
Enjoy a carefree jog under the sun while staying protected from the UV rays.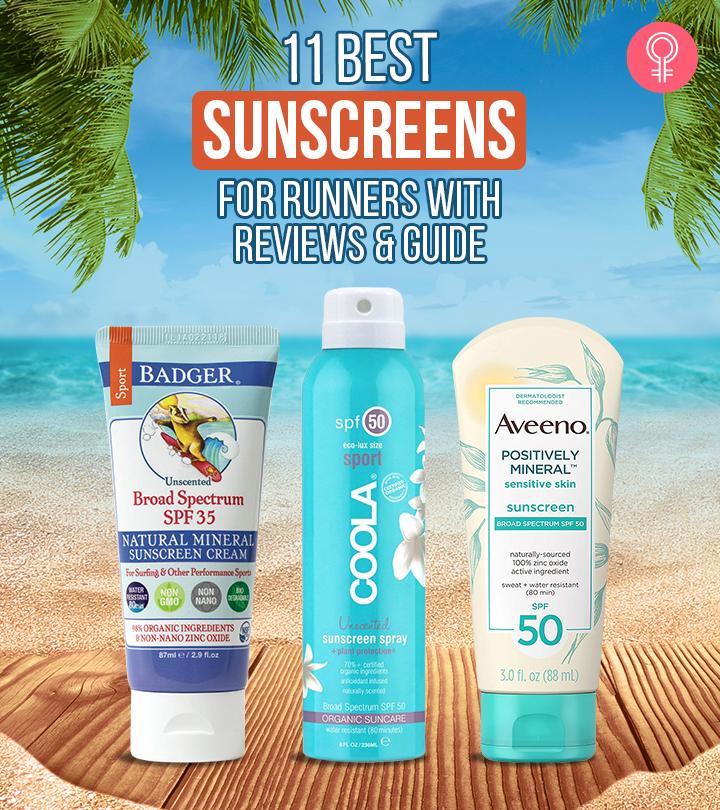 Sunscreens help to protect your skin from harmful sun rays. If you are running or jogging regularly, the chances are high that your skin gets exposed to the Sun, resulting in premature aging. So, the best sunscreen for runners comes in handy to protect your skin. Choosing a broad-spectrum, high-quality, sweat- and water-resistant sunscreen is necessary to ensure that you get the best protection and that this protection does not get washed away with sweat. Look for a sunscreen that is long-lasting and protects you from sunburns. In this article, we have provided you with a list of the 11 best sunscreens for runners. Check them out below!
11 Best Sunscreens For Runners – Reviews
The EltaMD UV Sport Broad SPF 50 is suitable for runners, skiers, golfers, swimmers, and other athletes. It does not drip in your eyes, rinse off in water, or sting when you sweat. This sunscreen contains 9.0% zinc oxide, 5.0% octisalate, and 7.50% octinoxate.
Zinc oxide is a natural mineral compound that helps reflect both UVA and UVB rays. Tocopheryl acetate or vitamin E is an antioxidant that helps prevent free radical damage. This suncreen also works as an early anti-aging agent. You can apply it on both wet and dry skin. This product is non-comedogenic and free of fragrance, oil, and parabens. Here's a personal review video to help you get a better understanding of the product.
Pros
Water-resistant for 80 minutes
Sweat-resistant
Absorbed easily
Non-dripping
Non-comedogenic
Fragrance-free
Oil-free
Paraben-free
Cons

Quick Tip
Reapply the sunscreen every two hours or more if you are swimming or sweating.
Price at the time of publication: $53
The Australian Gold Extreme Sport Continuous Spray Sunscreen dries quickly and is water- and sweat-resistant. The menthol gives a cooling sensation, and Kakadu plum protects the skin from radicals and increases collagen production. Tea tree essential oil is a powerful antioxidant that helps fight odor. This vegan sunscreen is cruelty-free and does not contain PABA, oxybenzone, phthalate, CFCs, and gluten.
Pros
Water and sweat-proof for 80 minutes
Contains SPF 50
Pleasant fragrance
Long-lasting
Absorbed quickly
PABA-free
Oxybenzone-free
Phthalate-free
No CFCs
Vegan
Cruelty-free
Gluten-free
Cons
Might cause a burning sensation.
Price at the time of publication: $10.29
Pros
Water-resistant upto 80 minutes
Non-sticky
Sweat-proof
Lightweight
Octinoxate-free
Cons
Not suitable for acne-prone skin.
Price at the time of publication: $22
Pros
Suitable for sensitive skin types
Contains SPF 30+
Paraben-free
Fragrance-free
Octinoxate-free
Oxybenzone-free
Non-greasy
Non-sticky
Cons
Might leave a chalky residue on the skin.
Price at the time of publication: $12.99
The Coola SPF 50 Sunscreen Spray is non-greasy, fragrance-free, and water-resistant. It contains 70% organic ingredients that are rich in antioxidants. This vegan sunscreen is formulated with 2.9% avobenzone, 4.9% octisalate, 4.0% homosalate, and 9.5% octocrylene. It is cruelty-free, hypoallergenic, and reef-friendly. This product is free of GMOs, gluten, and parabens.
Pros
Fragrance-free
Vegan
Absorbed quickly
Non-greasy
Hypoallergenic
Reef-friendly
GMO-free
Gluten-free
Paraben-free
Cons
Price at the time of publication: $10
Pros
Water-resistant
Contains SPF 50
Sweat-resistant
Non-greasy
Non-irritating
Gentle formula
Fragrance-free
Paraben-free
Phthalate-free
Dye-free
Hypoallergenic
Suitable for daily use
Cons
Price at the time of publication: $9.97
Pros
Water-resistant
Lightweight
Non-greasy
Reef-friendly
Oxybenzone-free
Octinoxate-free
Value pack of 2
Cons
Smell might be bothersome
Price at the time of publication: $12.97
This sunscreen can be sprayed on wet and dry skin. It is lightweight and water-resistant for 80 minutes and contains 3% avobenzone, 10% homosalate, 5% octisalate, 5% oxybenzone, and 10% octocrylene. The no-drip formula does not leave any white residue on the skin. This product is free of PABA and oil, safe for kids, and suitable for all skin types.
Pros
Water-resistant for 80 minutes
Kid-friendly
Oil-free
PABA-free
Lightweight
Suitable for all skin types
Cons
Price at the time of publication: $59.99
Pros
Non-sticky
Contains SPF 30
Water-resistant
Absorbed quickly
Lightweight
Dye-free
PABA-free
No synthetic preservatives
Cons
Price at the time of publication: $13.74
The Goddess Garden Sport Natural Mineral Sunscreen cruelty-free and comes with SPF 30 protection. This sunscreen contains active vitamin E, sunflower oil, and coconut oil that nourish the skin. It also contains titanium dioxide (6.4%) and zinc oxide (6%) and is water- and sweat-resistant for 80 minutes. This sunscreen is vegan, biodegradable, and reef-safe. It is free of synthetic fragrance, oxybenzone, and parabens.
Pros
Water-resistant
Sweat-resistant
Suitable for sensitive skin
Contains SPF 30
Vegan
Biodegradable
Reef-safe
No synthetic chemicals
Cruelty-free (Leaping Bunny certified)
Cons
Pros
Paraben-free
Water-resistant
Non-greasy
Lightweight
Oil-free
Water-resistant upto 80 minutes
Fragrance-free
Cons
Price at the time of publication: $15
Now that you know what the best sunscreens for runners are, here are a few points to consider before buying one.
What Runners Should Look for In A Sunscreen – Buyer's Guide
Broad Spectrum Protection
UV radiation is of two types – UVA and UVB. Most sunscreens offer protection from UVB rays, which cause sunburns. But you also need protection from UVA rays as they can cause DNA damage, leading to melanoma. UVA rays also increase the signs of premature aging like sagginess, fine lines, and wrinkles. Hence, choose a product that offers both UVA and UVB or broad-spectrum protection.
The SPF (Sun Protection Factor) indicates how long the product can protect your skin from the sun. A sunscreen with SPF 15 protects 15 times longer than the time it takes your skin to burn without sunscreen. It protects the skin from 93% of the sun rays, while SPF 30 from 97%, and SPF 50 from 98% of the rays. No sunscreen can protect the skin from 100% UV rays.
Sunscreens are of two types – physical and chemical. Physical sunscreens reflect the radiation away from the skin with their active ingredients, while chemical sunscreens absorb the radiation, preventing it from reaching the skin. Chemical sunscreens contain endocrine disruptors like oxybenzone that affect hormones. Physical or mineral sunscreens contain zinc oxide and titanium dioxide, are long-lasting and non-irritating, and have a long shelf life. 
Sunscreens that are not water-resistant rub off and may get into the eyes while sweating. Water-resistant products are effective for a particular duration. This time tells you when to reapply the product – it can be between 40 or 80 minutes. Go for water- or sweat-resistant product and reapply when required.
Spray sunscreens are easy to apply, especially when you are on the go. But sprays increase the chances of accidental inhalation, leading to lung injury. Besides, it is difficult to create a uniform layer on the skin with a spray. Hence, a lotion would be a safer option.
Should Be Safe On The Skin
Ensure that the ingredients are safe for daily use. The Environmental Working Group or EWG rating gives scores to all types of sunscreens. Rank 1 means it is top-rated, and anything between 1 to 3 means it is safe. Hence, check these ratings to make the right decision.
Why Trust StyleCraze?
The author, Shiboli Chakraborti, is a certified skin care coach with a penchant for discovering new products that improve your skin. She understands how important it is to protect your skin from daily damage caused by sun exposure, especially if you run regularly. That is why she spent hours browsing through numerous products and their reviews to curate this list of the best sunscreens for runners. These sunscreens get absorbed into the skin easily, are water- and sweat-proof, and offer additional benefits like non-comedogenic properties.
Frequently Asked Questions
Is sunscreen alone enough for my skin?
No. Sunscreen alone is not enough for the skin. Wear full sleeved tops and a hat during day time to protect yourself from the sun.
Spray, powder, or lotion – which is better?
Sunscreen lotions are most effective for the skin, while sprays are easy to use but least recommended.
How do I remove waterproof sunscreen?
Use oil-based makeup remover for wiping waterproof sunscreen.
Which is the right sunscreen for damaged and sensitive skin?
Sunscreens with organic ingredients are suitable for sensitive and damaged skin.
Should I wear sunscreen while running?
Yes, wear waterproof or sweat-proof sunscreen while running.