11 Best Sunscreens For Sensitive Skin Available In India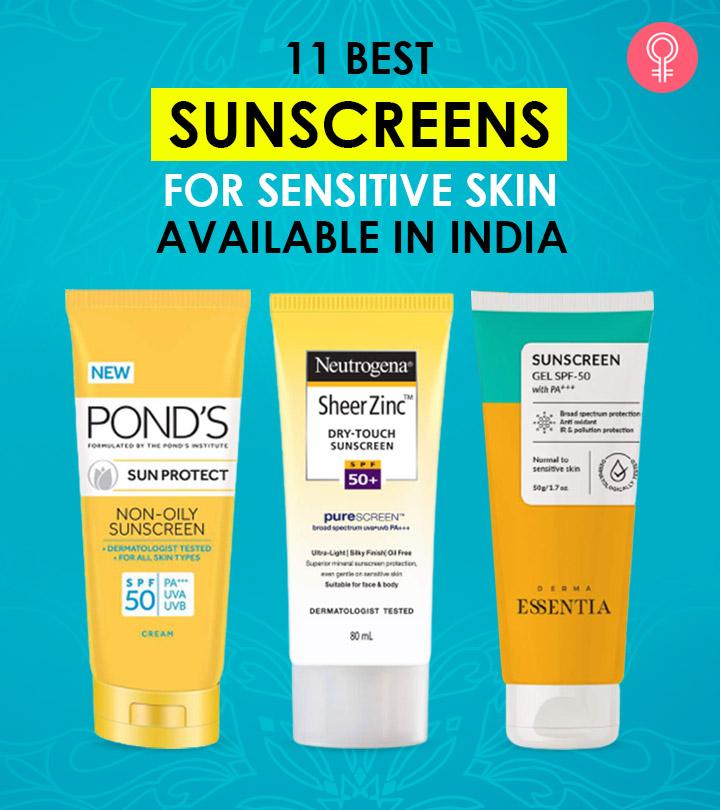 If you have sensitive skin, you need to use sunscreen daily to protect your skin from sunburns and rashes. However, it can be frustrating if the sunscreen triggers the opposite reaction, leading to breakouts, irritation, and redness. Worry not! Here is a list of the 11 best sunscreens in India for sensitive skin that shield your skin without causing a reaction. Scroll down to check them out!
11 Best Sunscreens For Sensitive Skin
This sunscreen by Neutrogena has an SPF of 60+ and provides physical broad-spectrum UVA/UVB protection from the sun. It is formulated with PureScreen technology and contains 100% naturally sourced sunscreens, such as titanium dioxide and zinc oxide, that protect your skin.
This sunblock lotion gets absorbed easily, is extremely light on the skin, and does not feel greasy. It is also hypoallergenic and free of chemicals, dyes, oil, and fragrances, making it the best sunscreen for sensitive skin. It has the National Eczema Association's Seal of Acceptance and is deemed safe for people with eczema or sensitive skin issues.
Pros
Water-resistant up to 80 minutes
PABA-free
Hypoallergenic
Oil-free
Fragrance-free
Chemical-free
Dye-free
Lightweight
Cons
The Re'equil sunscreen is an ultra-light formulation suitable for acne-prone and sensitive skin. It provides a matte look and is non-greasy.
This sunscreen is formulated with advanced UVA and UVB filters and protects your skin for up to six hours. It does not require frequent reapplication. This product is free of oxybenzone and octyl methoxycinnamate, which are commonly used chemical ingredients in sunscreens that can trigger allergic reactions, acne, breakouts, and even hormonal imbalances. This sunscreen provides broad-spectrum protection and has an SPF of 50 PA+++.
Pros
Non-comedogenic
Non-greasy
Paraben-free
Oxybenzone-free
OMC-free
No white cast
Dermatologically tested
Cruelty-free
Sulfate-free
Silicone-free
Mineral oil-free
Cons
This broad-spectrum sunscreen with SPF 40 is water-resistant and stays on for a long time, even when you go swimming or sweat. It protects sensitive skin from darkening, pigmentation, and premature signs of aging. This sunblock protects your skin from the damage caused by pollutants, smoke, smog, and fuel exhaust. It spreads evenly and smoothly over your skin.
This sunscreen is formulated with licorice extract, vitamin B3, and alteromonas ferment extract that reduce pollution-induced skin irritation. The physical UV blockers include zinc oxide and titanium dioxide that form a barrier and protect the skin from UV damage. This sunscreen stops PM2.5-sized pollution particles from affecting the skin. It also increases your skin's inner healing ability to fight against free radicals and rejuvenates it.
Pros
Non-greasy
Quickly absorbed
Water-resistant
Vegan/vegetarian
Cruelty-free
Paraben-free
Mineral oil-free
Cons
This sunscreen gel by aroma magic has SPF 20 and creates a physical barrier between the skin and the sun. It is non-greasy and skin-friendly and contains avocado, wheat germ, and grapeseed oils that nourish your skin.
This sunscreen is formulated with vitamins B5, C, and E that prevent visible signs of aging and pigmentation. It also contains notes of peppermint, calendula, and Roman chamomile essential oils, which effectively moisturize, soothe, and reduce acne. The non-nano zinc oxide is a natural mineral reflector that scatters the harmful rays of the sun. The aloe vera extracts hydrate and purify the skin and provide smart sun protection.
Pros
Non-greasy
Oxybenzone-free
Paraben-free
No harsh chemicals
Alcohol-free
No artificial fragrances
Cons
This sunscreen by Aveeno has been formulated for babies and is, hence, very mild and perfect for sensitive skin. It offers broad-spectrum protection from UVA/UVB rays of the sun and has SPF 50.
This sunscreen contains skin-soothing ingredients like oats and naturally-sourced 100% pure zinc oxide. It is sweat- and water-resistant for 80 minutes, so you can easily wear it to swim or outdoor workouts. It spreads smoothly on the skin and locks in moisture. This sunscreen is suitable for use on both the face and body. It has the National Eczema Association's Seal of Acceptance.
Pros
Pediatrician-recommended
Hypoallergenic
Non-comedogenic
Non-greasy
Sweat-resistant
Water-resistant
Paraben-free
Phthalate-free
Fragrance-free
Tear-free
Cons
The UV Doux Sunscreen has a gel-based formula, excellent for oily and sensitive skin. It has SPF 50 PA+++ that protects the skin against both UVA/UVB rays.
This non-greasy sunscreen spreads easily on the skin and gets absorbed, leaving a velvety matte finish. It is fortified with octyl methoxycinnamate and titanium dioxide and provides complete protection from the sun's harmful rays. This sunscreen is long-lasting and protects your skin against daily aggressors to keep it radiantly youthful.
Pros
Lightweight
Paraben-free
Hypoallergenic
Matte finish
Sweat-resistant
Water-resistant
Dermatologically tested
Cons
Does not work well under makeup.
This mamaearth sunscreen is a gentle and effective sunblock for sensitive skin. It contains carrot seed oil, an excellent sun protectant and moisturizer that penetrates deep into the skin. Orange oil is non-greasy and anti-inflammatory and increases the skin's ability to absorb the product quicker and protects it from the sun's rays.
Cananga oil forms an external protective layer on the skin, keeping it safe even in the harshest of weathers. Turmeric has antibacterial properties that protect the skin from infections. With SPF 50 PA+++, this sunscreen protects the skin from UVA and UVB damage for up to six hours.
Pros
Pleasant fragrance
No white cast
Long-lasting
Silicone-free
Sulfate-free
Phthalate-free
Paraben-free
No artificial colors
Dermatologically tested
Cons
Expensive
Not sweat-proof or water-resistant.
The POND'S Sun Protect Non-Oily Sunscreen is an amazing choice for those with sun-damaged skin. It has SPF 50 PA+++ and provides broad-spectrum protection from the harmful rays of the sun (UVA and UVB rays) and prevents skin issues like uneven patches, fine lines, dark circles, dark spots, redness, and premature aging. The non-oily formulation makes it a good choice for the hot and humid summers in India.
Pros
Smells good
Non-oily
Dermatologist tested
Hypoallergenic
Non-comedogenic
No white cast
Quickly absorbed
Lightweight
Non-greasy
Cons
This gel-based lotion from DERMA ESSENTIA is formulated with encapsulated sunscreen and spreads smoothly on the skin. The lightweight formula gets absorbed quickly and does not clog the pores. It contains antioxidants and has pollution-protecting and skin-lightening properties.
This sunscreen provides a non-greasy finish without leaving a white cast. With its SPF 50+ PA+++, it protects the skin from UVA and UVB rays. It is oil-free, non-sticky, and water-resistant, which makes it a great choice for oily and sensitive skin.
Pros
Dermatologically tested
Non-comedogenic
Water-resistant
Sweat-resistant
No white cast
Non-greasy
Cons
This Dry-Touch Sunscreen from Neutrogena has SPF 50+ and PA+++. It provides broad-spectrum protection against the burning UVB rays and the aging UVA rays of the sun.
The mineral-based sunscreen is formulated with Dry-Touch technology and Purescreen technology, which uses naturally sourced zinc oxide to create a physical screen barrier on the skin to effectively absorb or reflect and scatter UVA and UVB rays. It is gentle on the skin and is great for those with sensitive skin prone to sunburns. The sweat-proof and water-resistant formula dries to a non-greasy finish.
Pros
Lightweight
Non-greasy
Non-comedogenic
Water-resistant
Sweat-resistant
Oil-free
Hypoallergenic
Fragrance-free
Paraben-free
Phthalate-free
Dye-free
No irritating chemicals
Cons
The Suncros 50 Aqualotion is a medicinal sunscreen with SPF 50 that protects the skin against the harmful UVA and UVB rays of the sun. It is a thick textured cream that moisturizes dry, lifeless skin.
This sunscreen moisturizes and rejuvenates the skin and removes existing tan. It stays on the skin for a long time and does not need frequent reapplication. This sunscreen evens out the skin tone and brightens the complexion.
Pros
Medical-grade
Pleasant fragrance
Moisturizes the skin
Long-lasting
Reasonably priced
Cons
Greasy
Not water- and sweat-resistant.
Choosing a sunscreen to suit your sensitive skin can be quite a task. However, the following tips can help you.
How To Choose The Best Sunscreen For Sensitive Skin
1. Broad-Spectrum Protection
Make sure that your sunscreen offers broad-spectrum protection and shield your skin from both UVA and UVB rays.
2. High SPF
Opt for one with an SPF of 30 or higher. A higher SPF sunscreen will provide more protection from the harmful rays of the sun. It will also eliminate the need to apply the product at frequent intervals.
3. Water-Resistance
Your sunscreen should be resistant to water and sweat. This is important if you are going to spend time swimming, exercising, or by the beach.
4. Formulation
Don't buy sprays or powder sunscreens as they are mostly mineral-based and contain nano-particles that can enter your bloodstream. This can affect your health. Go for gel-based formulations. Spray sunscreens cause a lot of product wastage. Hence, it is best to steer clear of them
5. Ingredients
Purchase a sunscreen that contains zinc oxide and titanium dioxide as they are physical blockers. Those that contain other chemicals, such as avobenzone and oxybenzone, are harmful.
That was our list of the best sunscreens for sensitive skin available in India. The products listed above will not irritate your skin and offer adequate sun protection. Choose one and get set to flaunt that gorgeous skin.
Recommended Articles
The following two tabs change content below.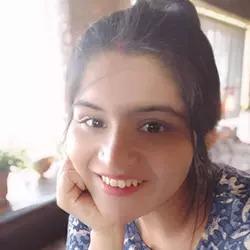 Ishani has over 5 years of experience in writing articles related to beauty, lifestyle, health, and wellness. She loves to read, write, cook, and travel. A nerd at heart, she spends her free time learning new things on the internet and likes to paint.