Best Sunscreen Lotions And Creams For Oily Skin – Our Top 15 Picks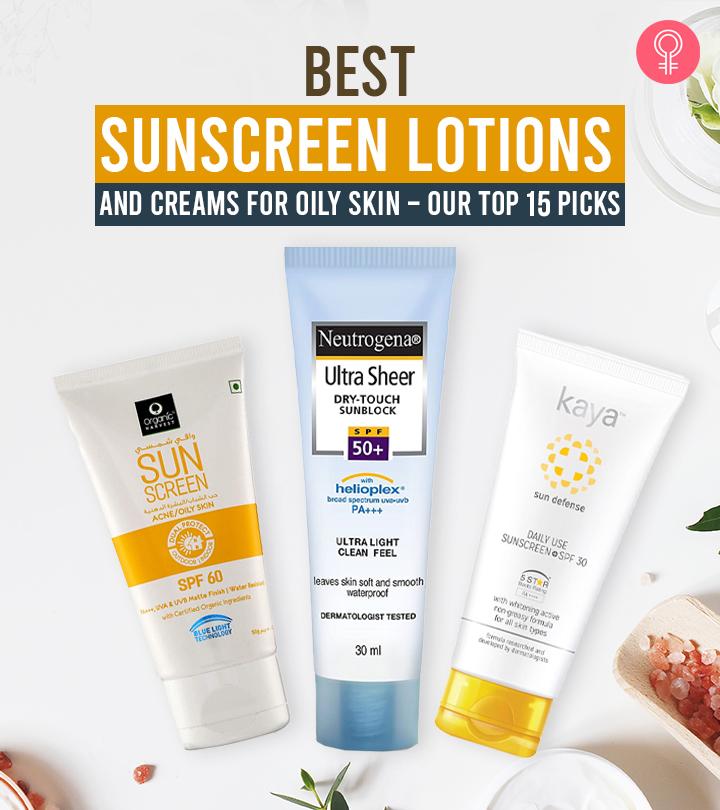 If you have oily skin, the thought of slathering sunscreen over it might seem scary. Well, not anymore! The market is flooded with sunscreens for oily skin that are lightweight, non-greasy, and do not leave your skin feeling suffocated or shiny. This article lists the 14 best sunscreen lotions and creams for oily skin. Check them out!
15 Best Sunscreen Lotions And Creams For Oily Skin
The Neutrogena Ultra Sheer Dry-Touch Sunblock SPF 50+ is a dermatologist-tested, revolutionary sunscreen for both men and women. It is powered by the Helioplex technology and balanced broad-spectrum SPF 50+ that protect the skin against harmful UVA (aging) and UVB (burning) rays.
This ultra-light formula offers a non-shiny matte finish and leaves the skin soft and smooth. It does not clog pores and contains oat kernel extracts and other active ingredients that are gentle on the skin. This sunscreen is free of PBA and has a light scent.
Pros
Oil-free
Non-comedogenic
Waterproof
Sweatproof
PABA-free
Smells good
Cons
Brave the brightest sun without worrying about tanning or skin damage with the Ayuga 2% Chandanam Sunscreen SPF 50/PA+++. It brightens, tones, and moisturizes the skin, apart from providing sun protection. The non-comedogenic sunscreen is enriched with anti-inflammatory and antiseptic sandalwood that reduces blemishes and itching and soothes inflammation.
The antioxidant-rich turmeric in the formula prevents sun damage and reduces hyperpigmentation, while vetiver balances skin pH levels and evens out the skin tone. The non-greasy product also contains the antibacterial manjishtha that combats skin infections and lightens dark spots. This fast-absorbing sunscreen is suitable for regular wear and perfect for all age groups.
Pros
Lightweight
Suitable for mature skin
Paraben-free
Silicone-free
SLS-free
SLES-free
Vegan
Cruelty-free
Cons
None
The Lotus Herbal Safe Sun Matte Gel is a mix of gel and crème and is made from naturally sourced extracts. It comes with SPF 50 PA +++ that protects the skin from 98% of UVA and UVB rays.
The horse chestnut extract is rich in antioxidants that protect the skin from sun damage. The vanilla extract makes the skin soft and smooth, and the comfrey extract moisturizes and soothes the skin. This sunscreen is lightweight and oil-free and protects the skin from tanning, redness, and pigmentation/sunspots.
Pros
Oil-free
Non-greasy
Cruelty-free
No white cast
Easily absorbed
Cons
The StBotanica Vitamin C SPF 30 PA +++ Sunscreen is a mineral-based and water-resistant sunscreen fortified with vitamins C, E, and B3 to reduce dullness. It is sourced from natural ingredients like amla, orange, saffron, turmeric, rose, licorice, sandalwood, and tamarind.
This blend of natural extracts provides an antioxidant defense to the skin and makes it healthy and radiant. The soothing bioactive natural ingredients help moisturize, nourish, and hydrate your skin. This broad-spectrum sunscreen protects the skin from UVA and UVB rays and free radical damage and improves its firmness and elasticity.
Pros
Silicone-free
Sulfate-free
Paraben-free
Mineral oil-free
Phthalate-free
Water-resistant
Cons
Price at the time of publication: ₹357
The Lakme Sun Expert SPF 50 PA+++ is a high-performance, broad-spectrum sunscreen that blocks up to 97% harmful UVA and UVB sun rays. Through its dual protection effect, it prevents tanning, sunburn, dark spots, and premature aging. The lightweight formula is hypoallergenic, dermatologically tested, and has an ultra-matte texture that glides effortlessly and seeps fast into the skin. You can wear this sunscreen under makeup.
Pros
Non-sticky
Lightweight
Quickly absorbed
Hypoallergenic
Cons
The Re'equil Sunscreen with SPF 50 PA +++ is an advanced, dermatologically tested, low penetration formula that protects the skin against harmful UVA and UVB rays. It has a matte finish and provides 6 hours of protection with a single application. The clinically proven ingredients prevent acne, tanning, and pigmentation, and visible results can be seen in 4-6 weeks.
Pros
Oxybenzone-free
Octyl methoxycinnamate (OMC)-free
Non-comedogenic
Non-greasy
SLS-free
Paraben-free
Cons
The mamaearth Ultralight Indian Sunscreen has SPF 50+++ and protects your skin for up to six hours. It contains bioactive and natural ingredients like carrot seed oil, turmeric, orange oil, titanium dioxide, and cananga oil.
Carrot seed oil is a moisturizer and sun protectant that penetrates deep into the skin without leaving any residue. Turmeric has antibacterial properties that prevent skin infections. Orange oil has anti-inflammatory properties and increases the skin's ability to absorb the cream quickly without making it oily.
Titanium dioxide protects the skin against UVA and UVB rays, and cananga oil forms a protective layer on the skin and keeps it safe even in harsh weather conditions. This lightweight sunscreen does not dry out your skin or leave patches and keeps it moisturized and glowing.
Pros
Paraben-free
Silicone-free
SLS-free
Petroleum-free
No artificial preservatives
No artificial colors
No artificial fragrance
Mineral oil-free
Non-greasy
Non-comedogenic
Toxin-free
Cons
Can't be used under makeup.
The Aloe Vera Sunscreen Gel from aroma magic is an all-mineral, gel-based formula with broad-spectrum SPF 20 that protects the skin from UVA and UVB rays. This sunscreen is enriched with wheatgerm, avocado, and grapeseed oils that protect the skin from the sun.
The non-nano zinc oxide scatters the sun's rays, while the vitamins B5, C, and E prevent the visible signs of aging. This sunscreen also contains calendula, peppermint, and Roman chamomile essential oils that hydrate and soothe the skin, reduce skin acne, and lighten scars. The aloe vera extracts hydrate and purify the skin and provide sun protection. This non-greasy sunscreen can be worn alone or under makeup.
Pros
Non-greasy
Oxybenzone-free
Paraben-free
Alcohol-free
No harsh chemicals
No artificial fragrance
Cons
Price at the time of publication: ₹153
The Clinique Super City Block with SPF 40 is a remarkably sheer, weightless formula boosted with antioxidants. It provides protection from the harmful UVA and UVB rays and environmental aggressors. This sunscreen has a smooth texture that ensures quick absorption and does not leave any residue. It is safe for the delicate eye area. You can also use this as a primer under makeup. It is a great choice for winter and can blend with all skin tones.
Pros
Fragrance-free
Oil-free
Non-sticky
Dermatologist-developed
Paraben-free
Phthalate-free
Cons
The POND'S Sun Protect Non-Oily Sunscreen is a dermatologist-tested SPF 50 formula that helps protect your skin from sun damage. The non-oily formulation is perfect for the hot and humid Indian summers.
This sunscreen provides broad-spectrum protection against both UVA and UVB rays. It helps prevent the five major skin problems caused due to sun exposure – uneven patches, dark circles, fine lines, dark spots, and redness. This product is hypoallergenic and does not block pores. It is suitable for all skin types and can be used by both women and men.
Pros
Lightweight
Non-comedogenic
Non-sticky
Non-greasy
Pleasant fragrance
Cons
The Green Tea Day-Light Sunscreen from plum has SPF 35 PA+++ and contains green tea extracts, encapsulated sunscreen, and calendula extracts. Green tea extract has potent antioxidant properties and interrupts the acne-creation pathways on the skin. The encapsulated sunscreens shield the skin from UVA and UVB rays.
Aloe juice and calendula extracts have anti-inflammatory and antimicrobial properties that soothe the skin. Niacinamide helps even out skin tone. This sunscreen is also enriched with licorice and goji berry that lighten blemishes, making it the perfect choice for oily and acne-prone skin. It also offers balanced hydration with argan and plant betaine. The non-comedogenic formula comes in a travel-friendly flip-top cap packaging.
Pros
Non-greasy
No white cast
Non-comedogenic
Paraben-free
Phthalate-free
SLS-free
Vegan
PETA-certified
Travel-friendly
Cons
Unpleasant smell
Makes the skin look pale.
May not be effective in humid climates.
Price at the time of publication: ₹30
The Kaya Sun Defense Daily Use Sunscreen works effectively in all weathers by reducing exposure to harmful UVA and UVB rays to protect the skin against premature aging. Its PA++++ shield and SPF 30 ensure the highest UVA protection. This sunscreen contains niacinamide, a potent whitening active that removes tan and lightens the skin. It is highly suitable for oily and combination skin types, gives a matte finish, and stays throughout the day without making the skin look oily.
Pros
Lightweight
Non-greasy
PABA-free
Cons
The Dermafique Soleil Defense All Matte Sunscreen is a combination of potent ingredients and scientific innovation, backed with the expertise of dermatologists and cellular biologists. The revolutionary Full Light Technology protects your skin from the 360-degree sun spectrum with SPF 50, PA++, and RSF 90.
This sunscreen prevents skin tanning, photoaging, skin damage, and persistent pigmentation. The oil-in-water emulsion offers a non-greasy, matte finish and is enriched with vitamin E and antioxidants. It is gentle and suitable for oily skin and can be worn under makeup. This product is clinically proven and dermatologist tested on Indian skin.
Pros
Non-greasy
No white cast
Fragrance-free
Dermatologist-tested
Lightweight
Cons
Might make the skin look darker.
BIOTIQUE BIO ALOE VERA Sunscreen contains pure aloe vera, sunflower, and safflower oils that keep your skin soft and moisturized in the sun. Aloe vera has anti-inflammatory and antioxidant properties that soothe the skin and protect it from environmental damage.
Sunflower seeds are rich in vitamin E that protects the skin from free radical and sun damage and prevents the appearance of signs of aging, like wrinkles. This sunscreen offers broad-spectrum protection with SPF 30. This unique formula is suitable for all skin types, especially for oily skin.
Pros
Nice fragrance
Non-oily
Value for money
Cons
The Organic HARVEST Sunscreen is India's first certified organic broad-spectrum sunscreen with Blue Light Technology. This advanced formula protects the skin from harmful UVA and UVB rays and blue light emitted from electronic devices. It provides indoor and outdoor dual protection and keeps the skin hydrated and nourished through the day.
This sunscreen contains the antioxidant-rich rice extract that nourishes the skin, controls oil production, and prevents skin aging. Aloe vera purifies and hydrates the skin and offers sun protection, while kaolin absorbs excess oil. This sunscreen is water and sweat-resistant and free of parabens and mineral oils.
Pros
Matte finish
Water-resistant
Sweat-proof
Non-greasy
Quick-absorbing
Mineral oil-free
Paraben-free
Vegan
Cruelty-free
Cons
Now that you are aware of the best sunscreens for oily skin, here's what you need to check and how to choose while picking one.
What To Consider Before Buying A Sunscreen For Oily Skin
You need a sunscreen with an SPF of at least 30 or more for optimum sun protection.
Look for a sunscreen that offers broad-spectrum protection. This ensures that your skin is well protected from UVA and UVB rays.
Opt for a sunscreen that is non-oily and non-comedogenic to prevent greasiness and clogging of pores. Avoid products containing PABA and oxybenzone as they might irritate the skin. Look for ingredients like titanium dioxide and zinc oxide to protect your skin.
Opting for waterproof sunscreen is a sensible decision, especially when you have oily skin. Oily skin is prone to excessive oil production and can ruin the effectiveness of sunscreens. A waterproof sunscreen helps avoid this.
Sunscreens come in cream, gel, or spray forms. Go for water or gel-based or spray sunscreens for oily skin. These are easily absorbed into your skin and do not leave a white cast.
Most of the above-mentioned sunscreens are naturally sourced, and using them regularly can protect your skin from the harmful UVA and UVB rays and prevent skin damage. Choose the one that best suits your skin type and texture.

Recommended Articles