13 Best Spray Sunscreens To Protect From Harmful UVB And UVA Rays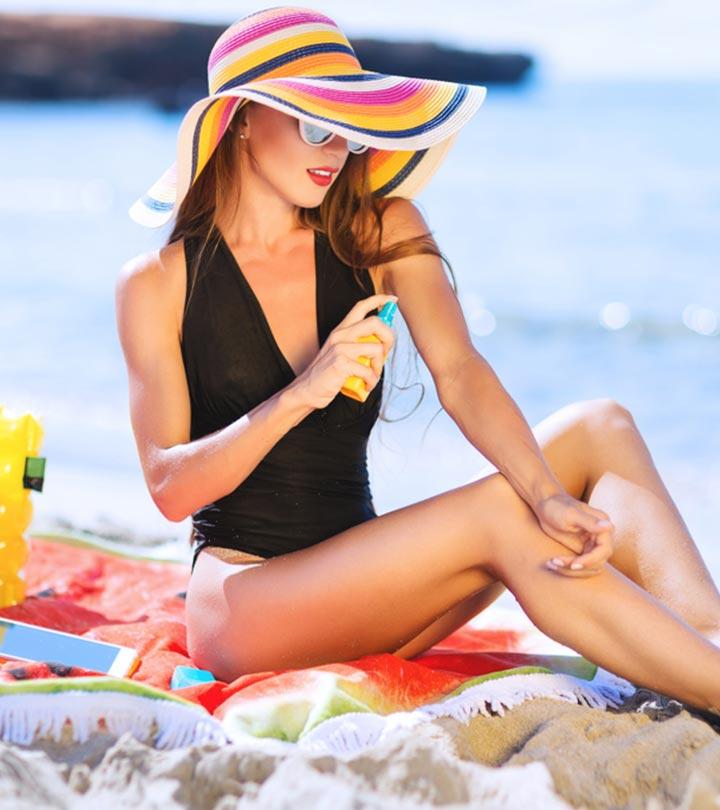 Sunscreens are an indivisible part of the skincare regimen, and they offer effective protection from sun damage. But at times, applying the creamy sunscreens can seem messy. Here is where the best spray sunscreens can serve the purpose. These spray sunscreens can effectively combat dark spots, signs of aging like wrinkles, fine lines, and even dry skin like regular sunscreens. The best part is you can spray these easily, even on the areas like your back, as the application is easier when compared to regular sunscreens. These are also less sticky and require less time for application compared to those thick creamy sunscreens.
Since there is a range of spray sunscreens available, you may feel overwhelmed while making a choice. To help you with it, we have compiled a list of the 13 best spray sunscreens. Check out what these are from the article and select the one which best suits your skin type. Continue reading further to know more about them
13 Best Spray Sunscreens For All Skin Types With A Buying Guide And Reviews
If you are looking for a good spray sunscreen that is non-sticky and has a refreshing scent, the Australian Gold Botanical Sunscreen Natural Spray is a great choice. Its revolutionary formulation offers optimal sun protection, and it doesn't include any harmful chemicals. This lightweight spray is rich in antioxidants and vitamins that are extracted from native Australian ingredients like kakadu plum, red algae, and eucalyptus for skin that is soft and healthy. It offers broad-spectrum protection, so you can enjoy a sunny day out without having to worry about sun damage. Click here to check out a detailed personal review of this product.
Pros:
Water-resistant
Lightweight texture
Suitable for daily use
Contains natural ingredients
Offers broad-spectrum protection
Cons:
May clog pores as it contains non-comedogenic ingredients.
Sports fans, rejoice! Now you can play in the sun while staying protected with the best sunblock spray designed for high-performance activities. The Banana Boat Ultra Sport Sunscreen Spray is sweat and water-resistant. Its quick-absorbing formula doesn't leave behind a greasy residue, making it an ideal companion for all your outdoor adventures. The sunscreen is filled with antioxidants and vitamins and offers SPF 50 for skin that is protected from the sun's harmful rays. This mineral sunscreen spray provides protection from UVA and UVB rays, so you can spend more time outside in the sun without any worries. To understand the nuances of the product in detail, you can check out this review.
Pros:
Absorbs quickly
Clear formula
Reef-friendly
Water-resistant for up to 80 minutes
Offers broad-spectrum protection against UVA and UVB rays
Cons:
May contain added fragrances
For a summer schedule filled with outdoor activities like hiking, trekking, and camping, only the strongest and safest spray sunscreens will do. The Coppertone Sunscreen Spray checks all these boxes and more, making it the perfect choice! Not only can the formula withstand harsh temperatures and high-intensity activities, but it also has an SPF 50 to protect your skin from the harmful rays of the sun. This broad-spectrum SPF spray includes ingredients like vitamin E and antioxidants to keep your skin moisturized and refreshed all day long.
Pros:
Water-resistant for up to 80 minutes
Non-comedogenic
Lightweight formula
Shield 97% of UV rays
Travel-friendly packaging
Offers broad-spectrum SPF protection
Cons:
The Neutrogena Beach Defense Water+Sun Protection Sunscreen Lotion is an oil-free sunscreen that protects your skin from sun damage when you are enjoying a day out at the beach. It is fast-absorbing and lightweight and provides broad-spectrum UVA/UVB sun protection. It acts as a shield against all the harsh outdoor summer elements. The lotion stays water-resistant for up to 80 minutes. It is suitable for all skin types and does not leave any residue on your skin.
Pros
Water-resistant up to 80 minutes
Recommended by dermatologists
Clinically proven
Lightweight
Paraben-free
Fast-absorbing
Oxybenzone-free
Cons
Enjoy a warm, sunny day at the beach with this spray sunscreen that protects your skin from harmful UVB and UVA rays. Its SPF 50 formulation is moisturizing and quick-absorbing for skin that is soft, protected, and hydrated. With ingredients like shea butter, coconut oil, and avocado oil, your skin is left feeling moisturized and nourished with each use. This sunscreen spray is water-resistant for up to 80 minutes, so you can splash around in the ocean without any worries.
Pros:
Cruelty-free
Reef-friendly
Vegetarian formula
No synthetic fragrances or ingredients
Cons:
May leave behind a sticky residue
Do you love to spend time in the sun but hate the risk of sun damage? The SunBum physical sunscreen spray is the perfect summer buddy for you! This sunscreen offers broad-spectrum SPF protection while leaving your skin feeling moisturized and fresh. You don't have to worry about it feeling greasy or sticky because it's filled with non-comedogenic ingredients like vitamin E and oil-free minerals that are suitable for all skin types.
Pros:
Cruelty-free
Paraben-free
Hypoallergenic
Vegan and gluten-free
Dermatologist-approved
Water-resistant for up to 80 minutes
Offers SPF 50 broad-spectrum protection
Cons:
Filled with sunflower seed oil, avocado extracts, and organic watercress, this naturally formulated hypoallergenic sunscreen spray protects your skin efficiently, even on a hot summer day. The essential fatty acids and vitamins A, D, and E from avocados penetrate the skin and keep it moisturized and nourished. The mineral and botanical-based formula is ideal for both kids and adults with sensitive skin. The broad-spectrum sun protection spray enriched with jojoba oil is excellent for when you have to step out during peak sun hours as it not only protects your skin but also ensures it is hydrated and healthy!
Pros:
Cruelty-free
Reef-friendly
Hypoallergenic
Natural ingredients
Suitable for sensitive skin
Offers broad-spectrum protection
Cons:
May leave a white cast behind
This lightweight suntan spray is one of the best spray sunscreens available in the market. It contains ingredients like guava extract and mineral oils that your skin will love, along with broad-spectrum protection that will keep sun damage at bay. This non-greasy and oil-free formula also contains mango fruit extract along with shea butter for skin that feels moisturized and hydrated. The scents provided by coconut, passionflower, and plumeria extracts will transport you to a tropical island, no matter where you are.
Pros:
Oil-free
Non-greasy formula
Hydrating properties
Travel-friendly packaging
Broad-spectrum protection
Water-resistant for up to 80 minutes
Cons:
This sunscreen may need frequent reapplication.
When it comes to sun protection, the Hint Sunscreen Spray has got you covered! Hailed as one of the best spray sunscreens, this product is made from tropical ingredients like pineapple and grapefruit extracts, which nourish and hydrate your skin. The formula is hypoallergenic, so people with sensitive skin can use it without worrying about the product aggravating their skin. It's perfect for a splash in the pool or a day at the beach because of its water-resistant formulation that lasts up to 80 minutes.
Pros:
Paraben-free
Hypoallergenic
Broad-spectrum protection
Water-resistant for up to 80 minutes
Cons:
Some may find the tropical scent to be a bit unpleasant.
The Eltamd unscented spray sunscreen is a water-based sunscreen that offers broad-spectrum sun protection. It is a mineral sunscreen with zinc oxide as its main ingredient, which is a photostable known for its protective ability that shields the skin against the sun's UVA and UVB rays. You can enjoy a fun day in the pool with this spray-on sunscreen that is water-resistant for up to 80 minutes.
Pros:
Oil-free
Paraben-free
Fragrance-free
Non-comedogenic
Suitable for all skin types
Water-resistant for up to 80 minutes
Offers broad-spectrum sun protection
Cons:
In rare cases, it may lead to skin irritation.
The La-Roche Posay sunscreen is a popular choice known for its oil-free, hypoallergenic formula. With its proprietary Cell-Ox Shield Technology, this spray-on sunscreen provides broad-spectrum protection. It is filled with antioxidants, which combat the effects of free radicals for skin that is soft and nourished. It offers SPF 60, which protects your skin from the summer sun and replenishes the skin's barrier with lost moisture. This formula is free from fragrances, alcohol, and parabens, making it ideal for sensitive skin.
Pros:
Oil-free
Paraben-free
Alcohol-free
Fragrance-free
Hypoallergenic
Non-comedogenic
Dermatologist-approved
Cons:
It may take longer than expected to absorb into the skin.
Slay your summer getaways with this iconic natural sunscreen spray! The Coola chemical-free sunscreen spray is a fantastic choice for high-intensity activities, and its smooth texture glides effortlessly over all the areas of your body. The water and sweat-resistant formula contains nourishing ingredients like red raspberry oil, meadowfoam seed oil, and prickly pear extract to fight free radicals and provide nutrients to your skin. You can apply this sunscreen throughout the day, and we are sure you will not feel greasy or uncomfortable with its reapplication.
Pros:
Vegan
Non-GMO
Unscented
Cruelty-free
Gluten-free
Paraben-free
Reef-friendly
Cons:
May need frequent reapplication
This organic spray sunscreen has gained much popularity over the years and for the right reasons. It has active ingredients of zinc oxide and titanium oxide to protect you from the harmful effects of sun. The non-nano mineral formula contains safflower oil that leaves your skin nourished and refreshed. It offers broad-spectrum protection with an SPF 30 and is water and sweat-resistant, making it perfect for high-intensity sports and activities.
Pros
 Vegan
 Cruelty-free
 Oxybenzone-free
 Water-resistant for 80 minutes
 Paraben-free
 Non-greasy
 Water-resistant
Cons
 It may require constant reapplication
Now that you have taken a look at our list of the 13 best sunscreen sprays that offer maximum sun protection, here are some points that you need to keep in mind before deciding on the perfect sunscreen for your skin.
Things To Consider When Buying The Best Spray Sunscreen
When it comes to spray sunscreens, choose one that offers broad-spectrum protection. This means it will protect you from the harmful UVB and UVA rays of the sun. Remember to also pick mineral and natural sunscreens that contain nourishing ingredients like vitamin E, zinc oxide, jojoba oil, avocado oil, and titanium dioxide to hydrate your skin. Steer clear of harmful chemicals like parabens, alcohol, and oxybenzone, as they harm the surface layer of the skin, which leads to further skin damage.
SPF or the sun protection factor indicates how well the sunscreen protects skin against sun damage. Pick a sunscreen spray that has an SPF of 30 or higher for best results. This ensures that your skin is protected from skin damage and reduces the risk of skin cancer.
It's crucial that you choose a sunscreen that is ideal for your skin type. If you have dry skin, look for sunscreen sprays that have nourishing and moisturizing ingredients like glycerin, jojoba oil, and avocado oil. If you have oily skin, pick gel-based formulations that are lightweight and non-comedogenic. For sensitive skin, we suggest you opt for hypoallergenic and fragrance-free formulas that are free from alcohol and preservatives.
Why Trust StyleCraze?
Kirtana Divakar, the author of this article, is a skin care enthusiast who loves to write comprehensive beauty content for her readers. She believes that spray sunscreens provide your skin with maximum sun protection. She analyzed user feedback and went through various platforms to provide you with the best spray sunscreens. The products listed above are reef-friendly, water-resistant, and non-greasy.
Frequently Asked Questions
Is a spray sunscreen as effective as a tube sunscreen?
Yes, spray sunscreens will protect your skin from harmful UV rays and sun damage just as effectively as a tube sunscreen, if not better. Sunscreen sprays are more convenient to apply and travel-friendly too.
How long does a spray sunscreen last?
Most sunscreen sprays last for up to 80 minutes, after which it will need constant reapplication.
Does a sunscreen spray cause cancer?
It depends on the ingredients that are termed as lung irritants, hence it's recommended that you use sprays that contain natural ingredients.