17 Best Sunscreens For Sensitive Skin To Try, According To An Expert – 2023
Skin-friendly and chemical-free products that offer perfect protection against UV rays.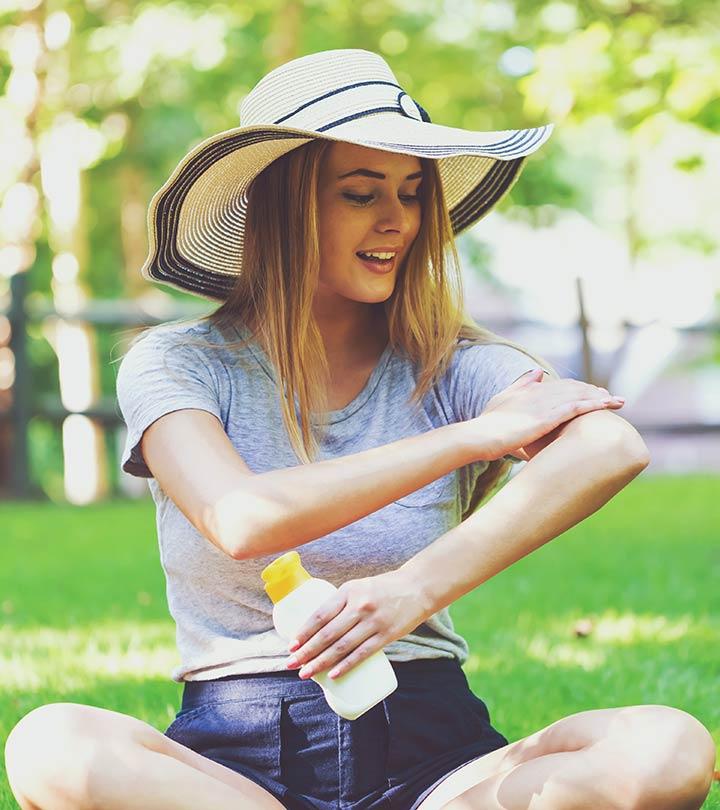 If you have sensitive skin, picking the right sunscreen can be challenging. The best sunscreens for sensitive skin not only provide effective sunburn prevention with good SPF but also feature soothing ingredients and calming properties. Unfortunately, most sunscreens are formulated with skin-irritating chemicals that block UV rays. However, there are a few brands that cater to people with sensitive skin. Here is a list of the 17 best sunscreens for sensitive skin you can buy online. Read on!
17 Top-Rated Sunscreens Of 2023 That Won't Irritate Sensitive Skin
Product Claims
This sunscreen will protect your skin from sun damage as well as dark spots, redness, fine lines, and inflammation. This is why this sunscreen consistently ranks well in the EWG ranking system (Environmental Working Group database). This is a chemical-free tinted sunscreen that you can use as a BB cream to prime, cover, and protect your skin. But if you still need more reasons to go ahead with this product, then don't hesitate to explore it further on Amazon and read various reviewers vouching for it.
Pros
100% vegan
Contains active zinc oxide
Hygienic packaging
No parabens
No phthalates and mineral oils
No synthetic dyes and sulfates
No chemical UV absorbers
Fragrance-free
Cruelty-free (PETA and Leaping Bunny certified)
Non-greasy
Reef-friendly
Cons
None
Product Claims
This facial sunscreen contains niacinamide that calms your sensitive skin and protects it. It is especially beneficial for those who have rosacea and acne-prone skin and discoloration issues. It is incredibly lightweight and easy to apply.
Pros
Dermatologist-recommended
Non-comedogenic
Fragrance-free
Paraben-free
Zinc oxide-based
Available in both tinted and untinted versions
Oil-free
Sensitivity-free
Cons
None

The St. Botanica Vitamin C Mineral-Based Sunscreen provides complete UV protection with its broad spectrum SPF 30 PA+++ formula. The water-resistant sunscreen is formulated using a blend of the lemon peel oil, orange peel, amla fruit, licorice, turmeric, saffron, tamarind seed, rose flower, sandalwood, and vitamins B3, C, and E. It is rich in antioxidants and keeps your skin protected against free radicals. Raisa Zarin, a licensed esthetician says, "The ingredients give this product an added benefit of brightening the skin."

Pros
Suitable for all skin types
Paraben-free
Sulfate-free
Mineral oil-free
Silicone-free
Cons
None
Product Claims
This is a mineral-based dermatologist-recommended sunscreen that is free of harmful chemicals. It is a broad spectrum sunscreen, and the best part is, the bottle turns blue when exposed to UV rays. In this way, it also reminds you to reapply sunscreen.
Pros
No parabens
No artificial fragrance
Dermatologist recommended
Water-resistant formula
Reef-safe
No harmful chemicals
Cons
None
Product claims
Neutrogena Sensitive Skin Mineral Sunscreen is formulated with Purescreen technology that prevents the harmful effects of sun rays by reflecting them. The mineral sunscreen has titanium dioxide and zinc oxide as the active ingredients that offer a broad-spectrum protection from UVA and UVB rays. This dermatologist-recommended sunscreen offers high SPF protection of 60, is water-resistant, and free of dyes, harsh chemicals, and oils. The gentle and non-greasy formula spreads evenly on the skin and keeps the skin hydrated.
Pros
Naturally-sourced minerals
Water-resistant for 80 minutes
Hypoallergenic
Dermatologist-recommended
Fragrance-free
Oil-free
PABA-free
Cons
None
The Simply Protect Sensitive Sunscreen Spray by Banana Boat comes with broad-spectrum coverage of SPF 50 to prevent sunburn, photoaging, and other damaging skin concerns. It is formulated with homosalate, zinc oxide, octocrylene, and octisalate, and is also water-resistant. The lightweight and non-greasy formula ensures an even application, while the spray bottle makes it mess-free. Moreover, this fast-absorbing sunscreen is also free from harmful substances such as oxybenzone and octinoxate, making it a safe choice.
Pros
Lightweight
Naturally-sourced zinc
Non-greasy
Hypoallergenic
Dermatologist-tested
Fragrance-free
Paraben-free
Reef-friendly
Cons
May not be suitable for dry skin
Product Claims
This sunscreen is perfect for normal, combination, and sensitive skin types. It is a tinted sunscreen that contains 100% mineral filters that are incredibly gentle on your skin. It provides a broad spectrum of coverage and gives a radiant finish. It contains plankton extracts that boost your skin's resistance to the stress induced by UV rays and heat.
Product Claims
This is a mineral-based sunscreen, which means it doesn't contain UV-absorbing chemicals that often irritate sensitive skin. It has an oil-free formula and contains ceramides. It locks in moisture and keeps your skin hydrated. This sunscreen also helps repair your skin's natural barrier and prevents premature aging.
Pros
Safe for babies and kids (6 months and older)
Fragrance-free
Water-resistant (up to 80 minutes)
Non-comedogenic
Contains antioxidants
Non-oily
Cons
None
The CETAPHIL Sheer Mineral Sunscreen is specially formulated for sensitive skin and infused with vitamin E and prebiotics. It is designed with a gentle microbiome formula to protect your skin's delicate microbiome and lock in moisture to keep the skin hydrated. This clinically-tested sunscreen has an SPF of 30 and actives like zinc oxide and titanium dioxide. It has a lightweight and non-greasy formula with no residue and is also water-resistant. Additionally, it is free from oxybenzone, avobenzone, and octinoxate, making it reef-friendly.
Product Claims
If you are tired of applying (and reapplying) sunscreen lotions and creams, try this lightweight mineral powder. It has a brush applicator with which you can simply dust your face, and you are good to go. It comes in a variety of shades (to match your skin tone) and protects your skin throughout the day.
Pros
Can be used alone or on makeup
Chemical-free
Dermatologist-recommended
Water-resistant formula
Travel-friendly
Suits all skin types (even hypersensitive skin)
Cons
None
Product Claims
The formula of this sunscreen is pure love for sensitive skin. It is good for skin that is prone to breakouts, rashes, and hives. It has a non-greasy formula that will not weigh your skin down.
Pros
No synthetic dyes
No artificial fragrance
No lanolin
No parabens
No formaldehyde
Gluten-free
Oil-free
Water-resistant (for 80 minutes)
Cons
None
The OLAY Complete UV365 Daily Moisturizer With Sunscreen is unscented and has SPF 30 to prevent sun damage. It is also infused with Vitamin E, B3,B5, and aloe vera to soothe and hydrate your skin, making it an ideal moisturizer too.The blend of vitamins and aloe vera condition your skin to maintain its overall health and youthful appearance. It also protects your sensitive skin from 97% of the ultraviolet sun rays with its SolarSheer technology.
Pros
Has SPF 30
Lightweight
Non-comedogenic
Recommended by the Skin Cancer Foundation
Fragrance-free
Oil-free
Non-greasy
Dermatologist-tested
Cons
None
Product Claims
This lightweight sunscreen does not clog your skin pores and offers the highest sun protection. This sunscreen with antioxidants can keep your skin healthy and glowing, protecting you from both UVA and UVB rays. Not to mention, the brand is also supported by clinical data, thus promising visible results with daily use.
Pros
Non-comedogenic
Lightweight
Easy to apply
Cons
None
Product Claims
The CeraVe Hydrating Sunscreen is 100% mineral-based and recommended by dermatologists. The broad-spectrum SPF 30 protects the skin from harmful UVA and UVB rays. This sunscreen contains three essential ceramides (1, 3, 6-II) that protect your skin's natural moisture barrier. Moreover, the product is also tested for allergens, so you can be safe from possible allergic reactions.
Pros
Lightweight
Gentle formula
Non-greasy
Non-comedogenic
Paraben-free
Oxybenzone-free
Allergy-tested
Dermatologist recommended
Fragrance-free
Safe for kids
Cons
Product Claims
This sunscreen doesn't feel sticky on your skin and is ideal for acne-prone skin. It contains avobenzone, which is an FDA-approved chemical for protecting the skin from UVA rays. It is formulated with advanced cell-ox shield technology and is suitable for sensitive skin.
Pros
Fragrance-free
Paraben-free
Non-greasy
Dermatologist-tested
Allergy-tested
Non-comedogenic
Cons
Leaves an ashy residue on the skin.
The innisfree Daily UV Defense Sunscreen has a water-based formula offering broad-spectrum protection of SPF 36. It is infused with sunflower seed oil and green tea that helps to hydrate, soothe, and nurture your skin. The lightweight sunscreen is easy to spread and blend for getting a protected and glowing skin. Additionally, the sunscreen leaves no white cast and is suitable for all skin types.
Pros
Reef-friendly
Lightweight
Water-based formula
No white cast
Wears well under makeup
Cons
None

Product Claims
This ultra-moisturizing sunscreen lotion protects your skin against both UVA and UVB rays. The formula of this sunscreen contains oats extracts that keep your skin hydrated, protect the skin barrier, and also calm it down. Suitable for adults engaging in outdoor activities or sports, this sunscreen is an ideal choice for daily use.
Pros
Oil-free
Non-comedogenic
Dermatologist-recommended
Cons
Why Trust StyleCraze?
The author, Shiboli Chakraborti, is a certified skin care coach and writes research-based product reviews for StyleCraze. She has curated this list of the best sunscreens for sensitive skin after checking a wide range of products available on the market and scrolling through user reviews on trusted online forums. These sunscreens are free of harmful and irritating chemicals and contain hypoallergenic ingredients. Moreover, they are non-sticky and non-comedogenic.
Frequently Asked Questions
Why does sunscreen irritate my skin?
Sunscreens contain several active ingredients that react differently to each skin type. If you are allergic to certain chemicals, you may experience severe irritation and redness. Also, synthetic fragrances and preservatives in the formula may cause itchiness.
Is mineral sunscreen better for sensitive skin?
Yes. Mineral sunscreens contain anti-irritants like zinc oxide and titanium dioxide that create a protective barrier and prevent UV rays from penetrating the skin.
What sunscreen should I use if I am allergic?
Use the La Roche-Posay Anthelios Clear Skin Dry-Touch Sunscreen if you are allergic. This allergy-tested product is infused with cell-ox shield technology, making it suitable for sensitive skin. It is also free of potential irritants like paraben and synthetic fragrances.
Which is better for sensitive skin, sunscreen or sunblock?
Sunscreens absorb UV rays and prevent sun damage, whereas sunblocks block the UV rays from hitting your skin. Both work effectively to protect your skin from the harsh sun. Therefore, select a formula based on your skin needs, but filter products that contain irritants.
How do I know if I am allergic to sunscreen?
You are allergic to the product if you feel itchy or have a stinging sensation on your skin after applying sunscreen. Also, if your skin turns red after application, the formula is not suitable for your skin.
Why does my face sting when I put on sunscreen?
If you have sensitive skin or eczema, toxic irritants in sunscreens may react to your skin and cause a stinging sensation.
Can I use both sunscreen and sunblock for sensitive skin?
No. Do not use sunscreen and sunblock together for sensitive skin. Using both may cause product buildup, dry skin, and turn both products ineffective. Therefore, choose any one formula free of toxins with a broad spectrum.
Recommended Article