9 Best Sunsilk Conditioners Available In India – 2023
Bring dull strands back to life with intensely hydrating formulations.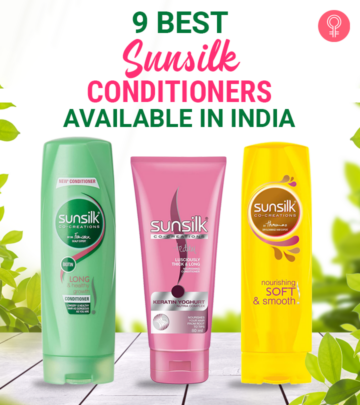 Sunsilk is a hair care brand that truly understands a woman's need for beautiful hair. It was started in the UK in 1954 and is Hindustan Unilever's leading haircare brand. Today, Sunsilk is almost synonymous with healthy choices for hair conditioning. It has a wide range of hair care products for different hair types, ranging from shampoos and conditioners to serums. In this article, we have listed the 9 best Sunsilk conditioners available in India. Scroll down to know what makes these conditioners the top sellers of 2023.
9 Sunsilk Conditioners For Soft And Strong Hair
The Sunsilk Nourishing Soft & Smooth Conditioner has been co-created with hair expert Thomas Taw. It restores natural softness and shine to your hair. The gentle formula preserves the natural texture and keeps the hair manageable.
The essential oils from argan, sweet almond, tea seed, and babassu seeds form the nourishing base of this conditioner. They maintain the moisture-sebum balance of the scalp and deeply condition individual hair strands. This smooth conditioner is enriched with Egg Ceramide Complex that makes your tresses bouncy, shiny, and tangle-free.
Key Ingredients: Argan oil, Babassu oil, Almond oil, Panthenol, and Tea seed oil
Pros
Pleasant scent
No residue
Affordable
Cons
The Sunsilk Long & Healthy Growth Conditioner has been co-created with Dr. Francesca, a scalp expert. It is enriched with biotin that nourishes the hair roots. Biotin is a member of the vitamin B family that naturally boosts hair and nail growth.
This formula is laboratory-tested to reduce breakage and support natural hair growth. The conditioner seals the cuticles and improves the anchorage of hair shafts. With regular use, this fortifying conditioner can show visible hair growth of up to 1.3 cm per month. Like all other Sunsilk products, this one smells and feels great.
Key Ingredients: Biotin
Pros
Smells good
Suitable for all hair types
Cons
Price at the time of publication: ₹153
The Sunsilk Stunning Black Shine conditioner has been co-created with Jamal Hammadi, who is a shine expert. This conditioner nourishes your hair with deep-penetrating ingredients.
It contains Pearl Complex and Indian gooseberry (amla) extracts that pump in nutrients and accelerate hair growth naturally. They moisturize your scalp and rejuvenate dull hair fibers to make them look fuller. This conditioner also contains UV protectors and essential amino acids that shield your hair from heat, humidity, and static. It leaves your hair feeling healthier, shinier, and manageable after every wash.
Key Ingredients: Pearl Complex, Amla extract, and Panthenol
Pros
Protects the hair from UV damage
Imparts shine
Cons
The Sunsilk Perfect Straight Conditioner ensures your hair retains its natural straightness through the day. This gentle formula has been co-created with Yuko Yamashita. It contains hydrolyzed silk extract and vitamin B5 that keep your hair frizz-free, straight, and bouncy.
This conditioner prevents damp-dry hair from losing its shape and texture by nourishing individual hair strands. You can now wear your hair loose and sleek all day long in any weather. This conditioner also makes hair styling easy and long-lasting.
Key Ingredients: Hydrolyzed silk extract, Panthenol, and Silicone
Pros
Doesn't weigh the hair down
Pleasant fragrance
Easy to wash off
Cons
Not suitable for dry hair.
The Sunsilk Lusciously Thick & Long Conditioner is co-created with Teddy Charles, hair care expert. It is enriched with keratin and yogurt, both of which are rich in essential amino acids. These components provide the building proteins for thicker, stronger, and fuller-looking hair.
This protein-rich conditioner gives dull and thin hair natural bounce and body. It makes fine, long hair look luscious by separating each hair strand when you wear them loose. Dealing with damp thin hair would be less painful as this conditioner makes it easier to brush and detangle.
Key Ingredients: Hydrolyzed keratin and Yogurt powder
Pros
Protects from sun damage
Adds shape and volume
Cons
Tired of living with tangled curly mess? Try using the Sunsilk Captivating Curls De-Frizz Conditioner. It is specially formulated to address the needs of curly, coily, and frizzy hair that is tough to manage. With nourishing and softening aloe extracts, this conditioner tames frizz and unruly curls. It makes brushing through your hair much easier and quicker after a hair wash. This conditioner is gentle enough to be used on freshly-permed, colored, and heat-styled hair.
Key Ingredients: Aloe extract and Panthenol
Pros
Safe for color-treated hair
Gentle formula
Protects the hair from heat and humidity
Pleasant fragrance
Cons
The Sunsilk Hairapy Daring Volume Conditioner is thin hair's BFF. It comes with Collagen-C that helps in reconstructing and strengthening hair fibers. When used regularly, this conditioner lifts thinning hair and gives it volume and bounce. Your hair will no longer fall flat and limp after a hair wash.
Key Ingredients: Collagen-C
Pros
Ideal for thin, fine hair
Adds shine and bounce
Suitable for daily use
Cons
May not suit all hair types.
If you are a brunette with classic rough and wild curls, this conditioner is for you. The Beyond Brunette Conditioner is Sunsilk's solution for luscious, deep, and flowy brown tresses. It is enriched with pure cocoa bean extracts that provide essential fats, vitamins, and growth factors. This color-safe conditioner adds depth to your natural or treated hair color and nourishes individual hair strands with regular use.
Key Ingredients: Cocoa bean extracts
Pros
Color-safe
Ideal for natural brown and auburn hair
Cons
The Sunsilk Almond & Honey Smoothness Conditioner is formulated with sweet almond oil and pure honey and works well on weak hair. These natural ingredients nourish hair strands from root to tip and visibly reduce hair breakage. Honey and almond oil contain moisturizing fatty acids and vitamins that deeply condition hair shafts and open cuticles. This conditioner leaves your hair looking healthy, soft, shiny, and pampered after every wash.
Key Ingredients: Sweet almond oil and Honey
Pros
Alcohol-free
Long-lasting
Luxurious fragrance
Cons
None
These were the 9 best-selling conditioners from Sunsilk. Each product is formulated to address a specific set of hair needs. You can find an option for every hair type, texture, and color. This makes it easy for you to choose a favorite. So, order the conditioner that works best on your hair type right away.
Frequently Asked Questions
Can Sunsilk conditioners help in reducing hair breakage and split ends?
Yes, the Sunsilk Long & Healthy Growth Conditioner is formulated to reduce hair breakage and split ends. Its laboratory-tested formula supports natural hair growth by sealing cuticles and improving hair shaft anchorage.
How long does it take to see noticeable results after using Sunsilk conditioner?
The time it takes to see noticeable results after using a Sunsilk conditioner can vary depending on individual hair condition and needs. Generally, users may notice improvements in hair texture and manageability after a few uses, but significant changes in hair health and growth may take a few weeks of regular use.
Are Sunsilk conditioners suitable for all age groups, including children and adults?
Sunsilk conditioners are generally suitable for adults of all age groups. However, it's advisable to use child-specific hair care products for children to ensure they are gentle and safe for their specific hair and scalp needs.
What sets Sunsilk conditioners apart in terms of fragrance and scent?
The Sunsilk conditioners are known for their pleasant and long-lasting fragrances, which leave the hair smelling fresh and revitalized. The variety of scents available allows users to choose one that suits their preferences, adding an enjoyable sensory experience to their hair care routine.
Recommended Articles